Wheels - Road Bike Shop
Shop
>
Components
>
Wheels, Tires, Tubes
>
Wheels
Easton EA70 XL Wheel - 29in
Tugging the mountain bike along in awkward growth spurts, market trends have bounced from one extreme to another. Those waves, however, are diminishing as the modern mountain bike finds its groove. Take Easton's EA70 XL 29in Wheel for example. It has a slightly wider rim profile than the regular...
Easton EA90 RT Road Wheel - Tubeless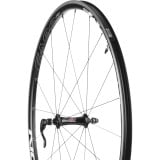 Retail Price:
$722.45
Our Price: $629.99
buy now
There is no better reason to switch to a tubeless tire than the frustration of having to change flats, and no better reason to get the Easton EA90 RT than its speed, cornering stability, confident flat protection, and exceptional durability. New for your 2012 season is the EA90 RT, with a...
Easton EA90 SL Road Wheel - Clincher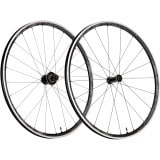 The EA90 is a long standing go-to wheelset for those that put a hurt on their wheels, and for this year, the Easton EA90 clincher wheel gets a facelift. It gets a wider, tubeless compatible rim, which will please anyone that's been paying attention to the recent development in rim shapes. But the...
Easton EA90 SLX Road Wheel - Clincher
We're in a renaissance of sorts for the modern road bike, where performance and comfort are reaching unheard of levels. What once was a slippery slope that quickly tossed rider well being out the window in favor of speed and efficiency is being challenged by components like Easton's tubeless EA90...
Easton EA90 XC Wheel - 29in
The Easton EA90 XC 29in Wheel is both lightweight and UST approved -- a hard combination to come by. However, UST is reigning favorite for trail-bike applications when durability outweighs crosscountry efficiency. In this case, however, Easton took the Haven's proven UST technology and dropped...
Easton EC70 SL Carbon Road Wheel - Clincher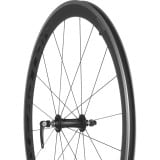 By now, the aerodynamic benefits of deep section rims are obvious and undeniable, but there are compromises associated with both aluminum and carbon fiber constructions. With the EC70 SL wheel, Easton has tackled those compromises head on to deliver a wheelset that truly offers the best of both...
Easton EC70 Trail 29in Wheel
Easton built its new EC70 Trail 29in Wheel in the same spirit as its top-end EC90 XC and Haven carbon wheels, albeit at a much more attainable price. With the 29in wheel serving as the go-to for confidence-inspiring stability and smooth ride-quality, Easton chose to apply its proven carbon wheel...
Easton EC90 Aero 55 Carbon Road Wheel - Tubular
You've seen all the fast, lightweight race wheels, but more often than not, those desirable attributes come at the expense of out-and-out strength. That's why we're so impressed with the Easton EC90 Aero 55 Carbon Tubular Wheel. As part of Easton's race-ready EC90 lineup, they'll slice through...
Easton EC90 SL Wheel - Clincher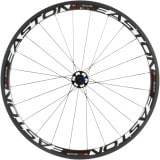 Retail Price:
$1199.95
Our Price: $959.96
buy now
The Easton EC90 SL 38mm Wheels don't need to brag when their performance does all the talking. After all, Easton outfits Cadel Evans' machine--and the 2010 World Champ doesn't settle for a set of sub-par hoops. The EC90 SL's feature a new and improved Thermatec braking surface that has been...
Easton EC90 SLX Wheel - Tubular -
Retail Price:
$1199.95
Our Price: $599.98
buy now
When you show up to your next race with a set of Easton EC90 SLX Wheels, the competition may begin severing their own limbs in an attempt to get their weight down to your level. With a shallow rim and carbon construction, Easton has achieved a wheelset that offers even less weight to push up...
<< Prev | Back | 1 | 2 | 3 | 4 | 5 | 6 | 7 | 8 | 9 | 10 | More | Next >>