Wheels - Road Bike Shop
Shop
>
Components
>
Wheels, Tires, Tubes
>
Wheels
ENVE M60 Forty Rim Decal
You love your ENVE M60 Forty wheels, but sometimes the same old aesthetics are just screaming for an update. Whether you're going for stealth mode or bright fluoro bling, the ENVE M60 Forty Rim Decal lets you customize your wheels to match that shiny new frame or add a standout pop of flair to an...
ENVE M70 Thirty 27.5in Wheelset
The ENVE M70 Thirty 27. 5in Wheelset is hand-built for riders who love to charge down the mountain and pedal back up for more. Learning from its World Cup DH program, ENVE built a rim that was stronger than its AM rim and capable of taking a bigger beating without batting an eye. These 27. 5in...
ENVE M70 Thirty HV 27.5in Boost Wheelset
While the internal width of the standard model is already impressively wide, the M70 Thirty HV 27. 5in Boost Wheelset bumps the rim walls out even further. The internal width goes from 25 to an almost comical 36mm to allow for maximum volume while running 2. 4 and 2. 5in tires. This added volume...
ENVE M70 Thirty HV 27.5in Wheelset
The HV in ENVE's M70 Thirty HV 27. 5in Wheelset designates "high volume," and with a 31mm internal width, the distinction is no exaggeration. Using ENVE's legendary carbon manufacturing process, the wheels are made to descend with finesse while making unavoidable ascents not just bearable, but...
ENVE M70 Thirty HV 29in Boost Wheelset
ENVE's original M70 Thirty wheelset ticked all the boxes for hard-riding, adrenaline-chasing trail shredders. The ENVE M70 Thirty HV 29in Boost Wheelset retains all the things we love about the standard version and puffs up the internal rim width from 25 to 31mm to pair perfectly with larger...
ENVE SES 2.2 Wheelset - Clincher
ENVE's SES 2. 2 Clincher Wheelset had quite a high profile debut at this year's Tour. Just ask MTN-Qhubeka's Teklehaimanot, who became the first black African to start the Tour and, in his debut at the race, spent a handful of stages resplendent in the polka-dot jersey. ENVE built these...
ENVE SES 2.2 Wheelset - Tubular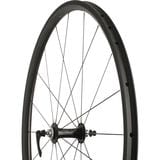 If you paid attention to the Tour this year, then you were undoubtedly struck by the underdog success and tenacity of the MTN-Qhubeka p/b Samsung Team, which made history once as the first African-registered team at the Grande Boucle and again with the first African rider to wear the polka dot...
ENVE SES 2.2 Wheelset with ENVE Hubs - Clincher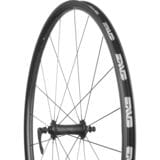 The rims on ENVE's SES 2. 2 Clincher Wheelset with ENVE Hubs had a grand debut this summer atop the dizzyingly high peaks of the Tour on the frames of the MTN-Qhubeka team. Cummings earned the team its first-ever stage win aboard these rims, and they're now available for the rest of us to use as...
ENVE SES 2.2 Wheelset with ENVE Hubs - Tubular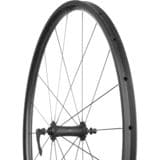 The ENVE SES 2. 2 wheelset, built feather-light to fly up the mountains of the Tour, was the biggest news of the climbing wheel world this year. Now laced with ENVE's new carbon hubs, the SES 2. 2 Tubular Wheelset with ENVE Hubs is available to us all whether we're conquering our favorite local...
ENVE SES 3.4 Carbon Clincher Road Wheelset - Chris King R45 Hub
Rolling up to the start of a ride on a silky set of ENVE wheels affords you a certain level of status and inclusion, no matter the group. Their graphics quietly roar with wind-tunnel tested aerodynamics and speed that all but guarantee you'll have an advantage when the cranks wind up and tucks...
<< Prev | Back | 1 | 2 | 3 | 4 | 5 | 6 | 7 | 8 | 9 | 10 | More | Next >>