Wheels - Road Bike Shop
Shop
>
Components
>
Wheels, Tires, Tubes
>
Wheels
Zipp 404 Firecrest Carbon Road Wheel - Clincher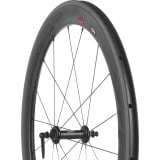 We realize the likelihood of you needing a replacement Zipp 404 Firecrest Carbon Clincher Wheel is nil, but we still want to look after you and provide it, anyhow. Even if replacement isn't your intent, everyone is able to benefit from the 404's new hybrid-toroidal rim shape and bearing position....
Zipp 404 Firecrest Carbon Road Wheel - Tubular
You might need a microscope to understand the intricacies of the 404 Firecrest Tubular, but you certainly don't need one to grasp the magnitude of its records. From L'Alp d'Huez to Kona, it's nearly impossible to find another wheel with such a storied career. However, the best just got better...
Zipp 404 Firestrike Carbon Road Wheels - Clincher
When Zipp first introduced the 404, they were quickly adopted by the most demanding cyclists due to their exceptional aerodynamics and stable, predictable ride quality in a variety of conditions. It was, after all, the new standard for the manufacturer, standing in as its most ambitious design to...
Zipp 60 Carbon Road Wheel - Clincher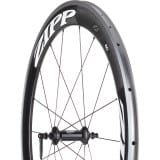 The new 60s were inspired by Zipp's proven 58mm hoops that have claimed countless victories around the world. Zipp took its tried-and-tested aerodynamic carbon technology developed with its 303 and 404 wheelsets, and it combined a new hub design and predictable aluminum braking surface. The...
Zipp 808 Firecrest Carbon Road Wheel - Clincher
When it comes to sheer speed, nothing overtakes the Zipp 808. It's been proven from Kona to Paris, and with addition of Firecrest technology, the Zipp 808 Firecrest Carbon Clincher has raised the bar even higher. New to this year, the 808 Firecrest receives Zipp's new 188/V9 rear hub, which...
Zipp 808 Firecrest Carbon Road Wheel - Tubular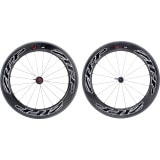 What happens when Zipp's fastest wheel gets faster? We're talking drastically faster, here. Well, it gets picked up by nearly every pro squad known to man, it stacks the starting line at Kona, and it slays the World's time trial by around five seconds. We're not kidding. For 2013, the Zipp 808...
Zipp 900 Carbon Track Wheel - Tubular
We love the steady sound of dual discs rolling on the track. Apparently, Zipp loves it even more than us. After all, Zipp's first products were disc wheels. And when you look at the technology and palmares of the Zipp 900 Track Tubular Wheel, it's easy to see that Zipp still holds its passion for...
Zipp Super 9 Disc Carbon Rear Wheel - Clincher
Zipp's first foray into the world of wheels was the wind-cheating disc -- produced in the late '80s. Although the technology and design of the disc has changed quite a bit in the past three decades, Zipp continues to dominate the peloton, and the Super 9 Disc Carbon Rear Wheel's Clincher version...
Zipp Super-9 Carbon Disc Wheel - Tubular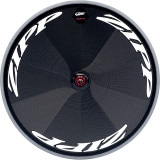 Zipp continues its mission of building the fastest disc wheels on the planet with its Super-9 Tubular Disc Wheel. With the introduction of this wheel, Zipp's Super line continues, marking this latest innovation in disc wheel design as the manufacturer's fastest wheel to date. It balances...
Zipp Super-9 Carbon Track Disc Wheel - Clincher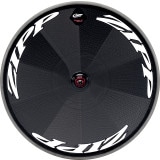 Zipp's first product in the late '80s was the disc wheel, jumping into the spotlight as a serious wheel that could cheat wind unlike anything the cycling world had seen before. Today, through professional rider feedback, the use of advanced composite technologies, and extensive wind tunnel...
<< Prev | Back | 21 | 22 | 23 | 24 | 25 | More | Next >>