Wheels - Road Bike Shop
Shop
>
Components
>
Wheels, Tires, Tubes
>
Wheels
Reynolds 29 Enduro Blacklabel Decal Set
Add some color to your bike adventures with the Reynolds 29 Enduro Blacklabel Decal Set. Whether you want your wheels and jersey to match or to just add some flash to your ride, this decal set helps your look really pop.
Reynolds 29 Trail Blacklabel Boost Wheelset - 2017
When they first launched, wagon wheels generated some negative press because of their tendency to wander on climbs and get noodly under hard pedaling. Forks with 51mm rake address the former concern, and the Reynolds 29 Trail Blacklabel Boost Wheelset addresses the latter. The combination of...
Reynolds 29 Trail Blacklabel Decal Set
Customize your style with the Reynolds 29 Trail Blacklabel Decal Set. Whatever color you go with, this decal set's sure to catch some appreciative glances on your ride.
Reynolds 29 XC 259 Blacklabel Boost Wheelset
Ever since their debut, 29-inch wheels seemed to resonate with XC riders around the world. Their fast rolling tendencies and ability to cover more miles with less effort left those who want to tackle as much singletrack as possible feeling quite satiated. There were, of course, some learning...
Reynolds 46 Aero Disc Carbon Wheelset - Clincher
Retail Price:
$2675.00
Our Price: $1799.95
buy now
The only way that Reynolds could have made the 46 Aero Carbon Wheelset any more versatile for everyday use in the years to come is making a clincher version and adding disc brake compatibility. Clinchers mean that a flat tire doesn't finish a ride prematurely, and since disc brakes seem to be the...
Reynolds 46 Aero Disc Carbon Wheelset - Tubeless
Disc brakes and dropbars are no longer mutually exclusive. More and more road bikes are coming equipped with them and let's face it, it makes sense. Reynolds brings us the 46 Aero Disc Carbon Wheelset so you won't lose any aerodynamic advantages or stiffness if you are transitioning over from a...
Reynolds 65 Aero Carbon Disc Brake Wheelset - Tubeless
If you're gonna go deep on deep-dish carbon hoops, you may as well not hold back. The tubeless, disc brake-equipped 65 Aero Carbon Wheelset isn't Reynolds' deepest option in the Aero family (hi there, Aero 80), but it does represent the ceiling that a lot of crit and circuit-race specialists balk...
Reynolds Aero 80 Carbon Wheelset - Tubeless
Though Reynolds reserves its warlike naming convention for the Performance line, its Aero 80 Carbon Tubeless Wheelset is far more aggressive than almost any other wheel in the company's arsenal. Its formidable depth recommends it for the solitary missions: triathlon, time trials, impossible moves...
Reynolds Assault SLG Carbon Wheelset - Tubeless
The days of relegating road bikes to strictly smooth pavement surfaces are over, with riders and manufacturers proving that all-road adventuring is the next frontier in enjoying a well-rounded cycling lifestyle. As such, we need a wheelset like Reynolds' Assault SLG Carbon Tubeless Wheelset that...
Reynolds Assault SLG Disc Brake Carbon Wheelset - Tubeless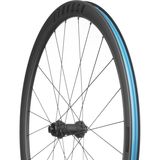 Listening in on post-ride coffee conversation could easily have you believing that the only way to be a proper cyclist is to have a myriad of wheelsets in the garage, each earmarked for a specific type of terrain or elevation change. We, however, don't have the space nor finances for that many...
<< Prev | Back | 21 | 22 | 23 | 24 | 25 | 26 | 27 | 28 | 29 | 30 | More | Next >>