Wheels - Road Bike Shop
Shop
>
Components
>
Wheels, Tires, Tubes
>
Wheels
Reynolds 46/58 Aero Carbon Road Wheelset - Tubular
Retail Price:
$2499.00
Our Price: $1149.95
buy now
46/58 Aero Carbon Road Wheelset - Tubular
Reynolds 65 Aero Carbon Disc Brake Wheelset - Tubeless
If you're gonna go deep on deep-dish carbon hoops, you may as well not hold back. The tubeless, disc brake-equipped 65 Aero Carbon Wheelset isn't Reynolds' deepest option in the Aero family (hi there, Aero 80), but it does represent the ceiling that a lot of crit and circuit-race specialists balk...
Reynolds Aero 80 Carbon Wheelset - Tubeless
Though Reynolds reserves its warlike naming convention for the Performance line, its Aero 80 Carbon Tubeless Wheelset is far more aggressive than almost any other wheel in the company's arsenal. Its formidable depth recommends it for the solitary missions: triathlon, time trials, impossible moves...
Reynolds Assault SLG Carbon Wheelset - Tubeless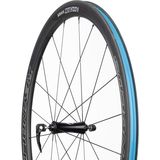 Retail Price:
$1599.00
Our Price: $1119.30
buy now
Tubeless tires are so common in mountain biking that folks start to look at you funny when you talk about tubes, but the tech hasn't gained a ton of traction on the road side, due to a multitude of variables. One variable was the lack of high-end, technologically-advanced, and aerodynamic wheels...
Reynolds Assault SLG Carbon Wheelset - Tubeless
The days of relegating road bikes to strictly smooth pavement surfaces are over, with riders and manufacturers proving that all-road adventuring is the next frontier in enjoying a well-rounded cycling lifestyle. As such, we need a wheelset like Reynolds' Assault SLG Carbon Tubeless Wheelset that...
Reynolds Assault SLG Disc Brake Carbon Wheelset - Tubeless
Listening in on post-ride coffee conversation could easily have you believing that the only way to be a proper cyclist is to have a myriad of wheelsets in the garage, each earmarked for a specific type of terrain or elevation change. We, however, don't have the space nor finances for that many...
Reynolds Assault SLG Tubular Wheelset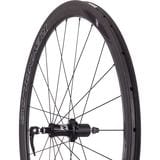 The Reynolds Assault SLG Tubular Wheelset is an update to the Assault, also known as one of the most versatile and well-loved wheelsets out there. The Assault SLGs can carve corners in a local criterium one day, and solidly carry you over big mountain passes the next. With the Assault SLG,...
Reynolds Assault/Strike SLG Carbon Wheelset - Tubeless
Although its price point pales in comparison to many others on the market, we'd be hard pressed to think of many wheelsets we'd rather trust to handle our spontaneous mix of ride and race choices than Reynolds' Assault/Strike SLG Carbon Tubeless Wheelset. Harnessing the lightweight snappiness of...
Reynolds Attack Disc Brake Carbon Wheelset - Tubeless
Reynolds' Attack wheelset has long been a favorite of climbing specialists with its low weight and a rim profile that's just deep enough to still garner a bit of aerodynamic advantage on the flats. With the addition of disc brakes last year and an all-new hubset this year, Reynolds pushes the...
Reynolds Freehub Body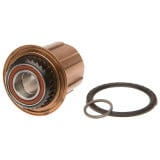 Convert your 2009 to 2014 Reynolds Attack, Assault, Strike, Storm, or DV3K wheels to 11-speed Campy or Shimano/SRAM drivetrain use with the Reynolds Freehub Body. This 9/10/11-speed freehub body comes with end caps to accommodate the 11-speed cassettes that are quickly becoming the new standard...
<< Prev | Back | 21 | 22 | 23 | 24 | 25 | 26 | 27 | 28 | 29 | 30 | More | Next >>