Wheels - Road Bike Shop
Shop
>
Components
>
Wheels, Tires, Tubes
>
Wheels
Shimano XTR WH-M9020-TL 27.5in Wheelset
Not too big, not too small, not too heavy, not too fragile, and not too expensive, the Shimano XTR WH-M9020-Tl 27. 5in Wheelset fills the need for a race-inspired MTB wheel that rides at a high level without getting banged up or costing you your firstborn (and it won't even eat your pre-ride...
Shimano XTR WH-M9020-TL 29in Wheelset
With the introduction of an all-new Shimano XTR drivetrain comes a swarm of new XTR wheels, too. The new Shimano XTR M9020-TL Trail 29-inch Clincher Wheelset is wider and tougher than the XC-focused Race 29ers, but they don't lose an ounce of XTR's race-bred engineering. The new XTR wheels are...
SRAM Rise XX 29in Carbon Tubular Wheel
Retail Price:
$1300.00
Our Price: $780.00
buy now
When you think about the performance advantages that tubular road and cyclocross tires provide -- smoother ride, less rolling resistance, the ability to run lower pressures safely, the lower weight than tire-and-tube combos, and more -- it makes sense that they're massively popular under the pros...
SRAM Roam 40 27.5in Boost Wheel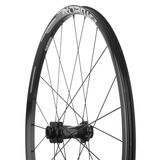 Retail Price:
$328.00
Our Price: $278.80
buy now
The SRAM Roam 40 27. 5in Boost Wheel delivers trail-crushing durability in a lightweight, tubeless-ready package that's up for almost any trail adventure. The Boost axles at the wheels' hearts make for a ride that's noticeably stiffer and more responsive than 100 or 142mm axles. Whether you're...
SRAM Roam 50 27.5in Alumimum UST Wheel
You're not alone if you feel like 27. 5-inch wheels have swept through the mountain bike industry almost overnight. And, as a result, we've found that many brands are now completely reevaluating their approach to building trail bikes. In this spirit of throwing out old assumptions, SRAM started...
SRAM Roam 50 29in Aluminum UST Wheel
When designing the new Roam 50 29-inch wheel, SRAM started with a completely blank slate. This from-the-ground up approach is evident once you take a close look at the Roam 50's design. The most obvious departure from conventional design is the Roam 50's asymmetrical spoke bed. This is to offset...
SRAM Roam 60 29in Carbon Clincher UST Wheel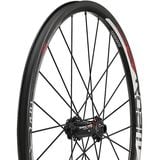 Retail Price:
$1229.00
Our Price: $725.11
buy now
Modern trail bikes maintain composure in situations once reserved for downhill race bikes, and as a result, wheels are now confronted with more abuse than ever. At the same time, riders are demanding bikes that are light enough to comfortably pedal all day. These seemingly incompatible goals are...
Stan's NoTubes Arch EX 27.5in Boost Wheelset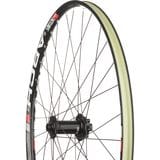 Stan's NoTubes' range consistently leads the tubeless industry with unique rim designs and unbeatable tubeless reliability. The Arch EX 27. 5in Boost Wheelset brings this bombproof functionality to the most aggressive, technical trails by combining the fast, light profile of Stan's XC-specific...
Stan's NoTubes Arch EX 27.5in Wheelset
Retail Price:
$649.00
Our Price: $467.28
buy now
Stan's NoTubes continues to sit atop the rapidly evolving world of tubeless wheels with its advanced rim design and unparalleled tubeless reliability. Not surprisingly, you'll find wheels such as the Arch EX 27. 5in Wheelset attached to almost any type of bike out on the trails. Stan's brings...
Stan's NoTubes Arch EX Predictive Steering Wheelset - 29in
Retail Price:
$450.00
Our Price: $337.50
buy now
While we typically focus on the tubeless rim design for Stan's wheels, the predictive steering hubs on the Arch EX 29in Predictive Steering Wheelset warrant some copy real estate up front. The predictive steering philosophy originates in the laboratories of SRAM, and Stan's adopts the technology...
<< Prev | Back | 21 | 22 | 23 | 24 | 25 | 26 | 27 | 28 | 29 | 30 | More | Next >>