Wheels - Road Bike Shop
Shop
>
Components
>
Wheels, Tires, Tubes
>
Wheels
Shimano Dura-Ace 9000 C24 Carbon Road Wheelset - Clincher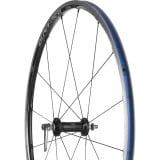 Retail Price:
$1088.99
Our Price: $749.95
buy now
Rather than use the "wider is better" design that seems to be all the rage, Shimano put the Dura-Ace 9000 C24 Carbon Road Wheelset to wind tunnel testing. The result: the 21mm front and 23mm rear rim depths, coupled with a rim width of a narrow 20. 8mm were found to not only create a smoother...
Shimano Dura-Ace 9100 C24 Carbon Laminate Road Wheelset - Clincher
Retail Price:
$1148.99
Our Price: $899.95
buy now
When Shimano first released its Dura-Ace carbon laminated clincher, we swore we could hear palpable sighs of relief from cycling forums, group rides, and tech geeks thumbing through the glossies. Some we're sure exercised healthy skepticism, as the first round of carbon clinchers had done a good...
Shimano Dura-Ace WH-9000-C24-TL Carbon Road Wheelset - Tubeless
Retail Price:
$1120.99
Our Price: $759.95
buy now
Logic prevailing, you'd assume that a lightweight wheelset would sacrifice its durability and ruggedness for weight savings. Well, the Shimano Dura-Ace WH-9000-C24-TL Carbon Tubeless Road Wheelset is here to throw that notion by the wayside. Shimano's proprietary Carbon Lamination technology...
Shimano RS21 Wheelset - Clincher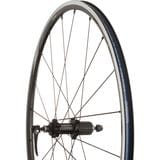 Retail Price:
$254.99
Our Price: $199.95
buy now
Your pricey carbon wheels have one job: to get you to the finish line faster during race season. With this knowledge, and since you probably spent a sizeable amount of money on them, we don't blame you for not wanting to take your carbon wheels outside when conditions are less than ideal. Shimano...
Shimano Ultegra WH-6800 Road Wheelset - Clincher
Retail Price:
$388.99
Our Price: $279.95
buy now
While it's nearly impossible to pin down just one thing that we love about Shimano, its trickle-down Dura-Ace technology is certainly near the top of our list. With every new iteration, the line between Ultegra and Dura-Ace becomes more and more blurred, which is perfectly displayed here with the...
Shimano XTR WH-M9020-TL 27.5in Wheelset
Not too big, not too small, not too heavy, not too fragile, and not too expensive, the Shimano XTR WH-M9020-Tl 27. 5in Wheelset fills the need for a race-inspired MTB wheel that rides at a high level without getting banged up or costing you your firstborn (and it won't even eat your pre-ride...
Shimano XTR WH-M9020-TL 29in Wheelset
With the introduction of an all-new Shimano XTR drivetrain comes a swarm of new XTR wheels, too. The new Shimano XTR M9020-TL Trail 29-inch Clincher Wheelset is wider and tougher than the XC-focused Race 29ers, but they don't lose an ounce of XTR's race-bred engineering. The new XTR wheels are...
SRAM Rise XX 29in Carbon Tubular Wheel
Retail Price:
$1300.00
Our Price: $845.00
buy now
When you think about the performance advantages that tubular road and cyclocross tires provide -- smoother ride, less rolling resistance, the ability to run lower pressures safely, the lower weight than tire-and-tube combos, and more -- it makes sense that they're massively popular under the pros...
SRAM Roam 40 27.5in Boost Wheel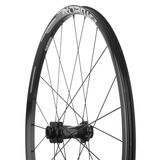 Retail Price:
$328.00
Our Price: $262.40
buy now
The SRAM Roam 40 27. 5in Boost Wheel delivers trail-crushing durability in a lightweight, tubeless-ready package that's up for almost any trail adventure. The Boost axles at the wheels' hearts make for a ride that's noticeably stiffer and more responsive than 100 or 142mm axles. Whether you're...
SRAM Roam 50 27.5in Alumimum UST Wheel
Retail Price:
$486.00
Our Price: $388.80
buy now
You're not alone if you feel like 27. 5-inch wheels have swept through the mountain bike industry almost overnight. And, as a result, we've found that many brands are now completely reevaluating their approach to building trail bikes. In this spirit of throwing out old assumptions, SRAM started...
<< Prev | Back | 21 | 22 | 23 | 24 | 25 | 26 | 27 | 28 | 29 | 30 | More | Next >>