Wheels - Road Bike Shop
Shop
>
Components
>
Wheels, Tires, Tubes
>
Wheels
Reynolds Strike SLG Carbon Wheelset - Tubeless
In Reynolds' martial-themed Performance line, the Strike SLG Carbon Wheelset is the cycling equivalent of a cruise missile. Its aerodynamic depth and profile recommend it for cruising efficiently in solo breakaways or triathlons, while its responsiveness makes it hit hard and fast in criteriums...
Reynolds The Dean Fat Bike Wheelset
At the 2016 edition of fat bike worlds, Reynold's new academic headman put on a masterclass of low-weight fatness. The Dean Fat Bike Wheelset brought the eventual winner's bike weight down to a claimed 27lbs, shedding around 3lbs at the wheels alone. The Dean achieves this outsized weight loss by...
Reynolds XD Driver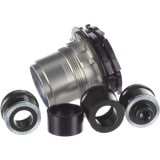 The XX1 group fulfilled a lot of weight-loss resolutions when it initially dropped, shaving up to half a pound off of some machines. But it did come with a cost: a new driver to grant more clearance for the eleventh cog. There was a corresponding rush by wheel manufacturers to get on board the...
Shimano C35 Carbon Road Wheelset - Clincher
Retail Price:
$1892.99
Our Price: $1439.99
buy now
If you want stable, aerodynamic ride quality from Shimano's Dura-Ace wheel lineup, the C35 Carbon Clincher Wheelset is for you. The C35's weight is centered at the hubs to reduce rim and rotational weight. Combined with the aerodynamic 35mm rim depth, this wheelset gets up to speed faster than...
Shimano Dura-Ace 9100 C24 Carbon Laminate Road Wheelset - Clincher
Retail Price:
$1148.99
Our Price: $899.95
buy now
When Shimano first released its Dura-Ace carbon laminated clincher, we swore we could hear palpable sighs of relief from cycling forums, group rides, and tech geeks thumbing through the glossies. Some we're sure exercised healthy skepticism, as the first round of carbon clinchers had done a good...
Shimano Dura-Ace WH-9000-C24-TL Carbon Road Wheelset - Tubeless
Retail Price:
$1120.99
Our Price: $759.95
buy now
Logic prevailing, you'd assume that a lightweight wheelset would sacrifice its durability and ruggedness for weight savings. Well, the Shimano Dura-Ace WH-9000-C24-TL Carbon Tubeless Road Wheelset is here to throw that notion by the wayside. Shimano's proprietary Carbon Lamination technology...
Shimano RS21 Wheelset - Clincher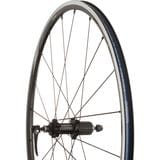 Retail Price:
$254.99
Our Price: $199.95
buy now
Your pricey carbon wheels have one job: to get you to the finish line faster during race season. With this knowledge, and since you probably spent a sizeable amount of money on them, we don't blame you for not wanting to take your carbon wheels outside when conditions are less than ideal. Shimano...
Shimano Ultegra WH-6800 Road Wheelset - Clincher
Retail Price:
$388.99
Our Price: $279.95
buy now
While it's nearly impossible to pin down just one thing that we love about Shimano, its trickle-down Dura-Ace technology is certainly near the top of our list. With every new iteration, the line between Ultegra and Dura-Ace becomes more and more blurred, which is perfectly displayed here with the...
Shimano XTR WH-M9020-TL 27.5in Wheelset
Not too big, not too small, not too heavy, not too fragile, and not too expensive, the Shimano XTR WH-M9020-Tl 27. 5in Wheelset fills the need for a race-inspired MTB wheel that rides at a high level without getting banged up or costing you your firstborn (and it won't even eat your pre-ride...
Shimano XTR WH-M9020-TL 29in Wheelset
With the introduction of an all-new Shimano XTR drivetrain comes a swarm of new XTR wheels, too. The new Shimano XTR M9020-TL Trail 29-inch Clincher Wheelset is wider and tougher than the XC-focused Race 29ers, but they don't lose an ounce of XTR's race-bred engineering. The new XTR wheels are...
<< Prev | Back | 21 | 22 | 23 | 24 | 25 | 26 | 27 | 28 | 29 | 30 | More | Next >>