Wheels - Road Bike Shop
Shop
>
Components
>
Wheels, Tires, Tubes
>
Wheels
Stan's NoTubes ZTR Arch EX 29in Wheelset
Suspension travel for 29er frames and forks has increased as riders demand 29ers for all-mountain and aggressive trail use. Manufacturers have listened and, along with Wheelsets like the Stan's No Tubes ZTR Arch EX 29in, riders are now taking big wheels to new heights. Stan's has been at the...
Stan's NoTubes ZTR Crest 27.5in Wheelset
We can't think of a more polarizing debate in the cycling world than the hot-faced arguments surrounding the pros and cons of 26in vs. 29in wheels. Well, we have advice for both sides of the fence -- the middle path is usually the wisest. Luckily, our statement isn't in vain, as the Stan's...
Stan's NoTubes ZTR Crest 29 Disc Rim
The Stan's No Tubes ZTR Crest 29 Disc Rim is made for cross-country riding and racing and the overall rim weight underscores its intended usage. However, the inside rim width is 21mm which makes the Crest 29 a great rim if you like to run a bigger tire on your XC bike. Maybe you have a hardtail,...
Stan's NoTubes ZTR Crest 29in Wheelset
While the ZTR Race Gold is Stan's lightest offering, at 230g more, the Crest 29in Wheelset offers the strength and reliability long-distance racers and XC riders demand. Using Stan's 3. 30 hubs, double-butted spokes, and Crest rims, this wheelset offers the low rotational weight, and...
Stan's NoTubes ZTR Grail Comp - Disc
Built along the same lines as the ZTR Grail Team, the Stan's NoTubes ZTR Grail Comp Disc wheels combine the plush efficiency of wide rim wheels with the functional benefits and flat resistance of tubeless technology. A few different specs like heavier spokes -- that there are more of -- and...
Stan's NoTubes ZTR Grail Team - Disc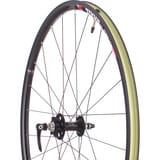 Some venerable, European manufacturers rely on tradition as a selling point for their wheels, but other manufacturers, like Stan's NoTubes, misunderstand the word "tradition" as meaning "restriction." The ZTR Grail Team wheels continue the NoTubes tradition of bucking tradition in favor of...
Storck Lightweight Meilenstein Obermayer Tubular Wheelset
It should really come as no surprise that two of Germany's incredibly talented carbon fiber engineering teams joined forces and designed a wheelset that sits in a class all its own. With both Markus Storck and Heinz Obermayer driving the collaboration, the resulting Meilenstein Obermayer Tubular...
Velox Fond De Jante Rimstrip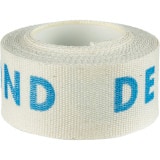 Retail Price:
$4.00
Our Price: $3.20
buy now
The French-to-English translation of Fond de Jante is "bottom of the rim". Which is exactly where the self adhesive Velox rim strips go. It's the only type of rim strip we sell because it's the only type you should put on your wheels. Sure, many wheels these days come complete with their own...
WTB TCS Tire Sealant
Retail Price:
$17.45
Our Price: $14.99
buy now
Add the WTB TCS Sealant to your WTB TCS rims and tires to enjoy miles of puncture resistance. WTB claims it employs "nano-capsulation," but all we know is that it seals punctures in a jiffy, to keep you rolling along. And unlike some other sealants, it won't alter the compounding of your tires'...
Zipp 182 Freehub Body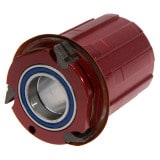 Retail Price:
$179.99
Our Price: $125.99
buy now
The Zipp 182 hub is their previous rear hub design. It's distinguished by the carbon-fiber end caps. As we've written before, we don't think your initial choice of freehub body design should lock you into a component group for the life of your wheels; think about how that can get compounded over...
<< Prev | Back | 21 | 22 | 23 | 24 | More | Next >>