Wheels - Road Bike Shop
Shop
>
Components
>
Wheels, Tires, Tubes
>
Wheels
Stan's NoTubes ZTR Grail Team - Disc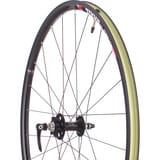 Some venerable, European manufacturers rely on tradition as a selling point for their wheels, but other manufacturers, like Stan's NoTubes, misunderstand the word "tradition" as meaning "restriction." The ZTR Grail Team wheels continue the NoTubes tradition of bucking tradition in favor of...
Velox Fond De Jante Rimstrip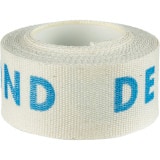 Retail Price:
$4.00
Our Price: $3.20
buy now
The French-to-English translation of Fond de Jante is "bottom of the rim". Which is exactly where the self adhesive Velox rim strips go. It's the only type of rim strip we sell because it's the only type you should put on your wheels. Sure, many wheels these days come complete with their own...
Xentis Mark2 TT Clincher Carbon Wheelset
Every triathlete can benefit from the aerodynamic pedigree of the Mark2 TT Carbon Wheelset, but not everyone has the time, desire, or devoted team car required to maintain a tubular setup. That's why Xentis is offering the Mark2 TT in a Clincher version. Compared to the tubular version, the...
Xentis Squad 2.5 Clincher Carbon Wheelset
The Xentis Squad 2. 5 Clincher Carbon Wheelset is the right choice when your job description, group-ride expectations, or personal preference indicate that you have one role: climbing mountains on a bike. All winter long, you live like an ascetic monk while your rouleur buddies get chubby. Sugar...
Xentis Squad 2.5 MTB 27,5" Clincher Carbon Wheelset
Some weight weenies are rejoicing that the 27. 5" wheel size has hit the mainstream, allowing them to shave precious grams off of 29er rigs. If they're willing to go to extremes, and if you happen to be one of them, then you're going to love the tubeless-ready Xentis Squad 2. 5 MTB 27. 5" Carbon...
Xentis Squad 2.5 MTB 29" Clincher Carbon
Xentis sees your super light carbon fiber tubular mountain wheelset and raises you ultra-smart Austrian engineering that yields something better: a wheelset to rival the weight of tubular sets, but with the convenience of a tubeless-ready clincher. Meet the Xentis Squad 2. 5 MTB 29" Clincher...
Xentis Squad 4.2 Clincher Carbon Wheelset
Hailing from surgically-clean Austrian manufacturing facilities and showcasing some seriously cutting-edge wheel tech, Xentis storms onto the scene with fantastic do-it-all wheels like the Xentis Squad 4. 2 Carbon Clinchers. The Squad line of wheels is Xentis's lighter, faster, more expensive...
Xentis XBL 2.5 Clincher Carbon Wheelset
The Xentis XBL 2. 5 Clincher Carbon Wheelset addresses an unfortunate tradeoff that typically comes with lightweight carbon climbing wheels. We don't mean the risk of poor breaking (though they also address that) -- we mean that a light wheel usually results in a light wallet. The XBL 2. 5 is 86...
Xentis XBL 4.2 Clincher Carbon Wheelset
The Xentis XBL 4. 2 Carbon Clincher Wheelset may be lower in the Austrian company's model hierarchy than the top-shelf Squad 4. 2 Carbon Clinchers, but that's like saying a Porsche 911 4S is lower in the sports car company's hierarchy than the 911 Turbo -- yes, one is technically the higher...
Zipp 188 Freehub Body
Retail Price:
$176.00
Our Price: $110.00
buy now
If you have a current set of Zipp wheels, they'll come with the new 188 rear hub. It's the one with the preload collar on the left side. Of course, they are available to fit Shimano/SRAM or Campagnolo, but we don't think your initial choice of freehub body design should lock you into a component...
<< Prev | Back | 21 | 22 | 23 | 24 | 25 | More | Next >>