Wheels - Road Bike Shop
Shop
>
Components
>
Wheels, Tires, Tubes
>
Wheels
Reynolds 72 Aero Carbon Wheelset - Tubular
Retail Price:
$2775.00
Our Price: $1109.99
buy now
The aerodynamic benefits of the Reynolds 72 Aero Carbon Wheelset are obvious, just by looking at it. When you consider that it was also designed by none other than Paul Lew, Mr. Aero himself, then you also start to make assumptions about the benefits derived from what you're not able to see, the...
Reynolds 90 Aero Carbon Road Wheelset - Clincher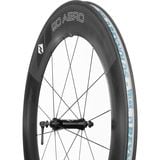 Retail Price:
$2975.00
Our Price: $1487.50
buy now
The iron-hard events of top-level tri competition are about as forgiving as their names suggest, so don't show up unprepared on the bike leg. Reynolds' 90 Aero Carbon Road Wheelset confers nine centimeters of aerodynamic advantage to your ride, taking some of the sting out of those 56 or 120...
Reynolds Assault SLG Carbon Wheelset - Tubeless
Tubeless tires are so common in mountain biking that folks start to look at you funny when you talk about tubes, but the tech hasn't gained a ton of traction on the road side, due to a multitude of variables. One variable was the lack of high-end, technologically-advanced, and aerodynamic wheels...
Reynolds ATR Carbon Disc Wheelset - Tubeless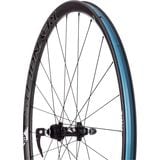 You've always had a hard time adhering to guidelines about where you should be doing things. You spent your school years running through the halls, college days riding when you were supposed to be in class, and now as an adult, you can't resist spending a road ride blasting through terrain your...
Reynolds Attack Carbon Wheelset - Tubeless
As the lightest, shallowest wheel in Reynolds' Performance line, the Reynolds Attack Carbon Tubeless Wheelset sheds some 400 grams off 30mm aluminum clinchers for maximum rolling efficiency. Suddenly, accelerating from a standstill and attacking the steepest climbs becomes less of a chore. Plus,...
Reynolds Freehub Body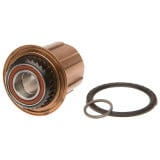 Convert your 2009 to 2014 Reynolds Attack, Assault, Strike, Storm, or DV3K wheels to 11-speed Campy or Shimano/SRAM drivetrain use with the Reynolds Freehub Body. This 9/10/11-speed freehub body comes with end caps to accommodate the 11-speed cassettes that are quickly becoming the new standard...
Reynolds RZR 92 Carbon Road Wheelset - Tubular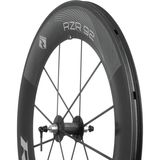 Retail Price:
$4500.00
Our Price: $3799.95
buy now
If you've been looking for the fastest wheel on the planet, you've found it. The Reynolds RZR 92 boasts the lowest drag values, the highest levels of stability and handling, and the lowest weight of any 80+mm wheel on the market. In fact, compared to its closest 80mm rival, paired with a rear...
Reynolds Strike SLG Carbon Wheelset - Tubeless
In Reynolds' martial-themed Performance line, the Strike SLG Carbon Wheelset is the cycling equivalent of a cruise missile. Its aerodynamic depth and profile recommend it for cruising efficiently in solo breakaways or triathlons, while its responsiveness makes it hit hard and fast in criteriums...
Reynolds The Dean Fat Bike Wheelset
At the 2016 edition of fat bike worlds, Reynold's new academic headman put on a masterclass of low-weight fatness. The Dean Fat Bike Wheelset brought the eventual winner's bike weight down to a claimed 27lbs, shedding around 3lbs at the wheels alone. The Dean achieves this outsized weight loss by...
Reynolds XD Driver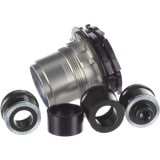 The XX1 group fulfilled a lot of weight-loss resolutions when it initially dropped, shaving up to half a pound off of some machines. But it did come with a cost: a new driver to grant more clearance for the eleventh cog. There was a corresponding rush by wheel manufacturers to get on board the...
<< Prev | Back | 21 | 22 | 23 | 24 | 25 | 26 | 27 | 28 | 29 | 30 | More | Next >>