Wheels - Road Bike Shop
Shop
>
Components
>
Wheels, Tires, Tubes
>
Wheels
Stan's NoTubes Arch EX 27.5in Wheelset
Retail Price:
$610.00
Our Price: $549.00
buy now
We're in a brave new world when it comes to trail bikes. Not only has the 27. 5-inch wheel size all but taken over, but riders are demanding lighter, more durable products than ever before. Which makes it unsurprising that one of our favorite mid-size wheels is being offered up by Stan's NoTubes,...
Stan's NoTubes Flow EX 27.5in Wheels
Quickly becoming the enduro standard, 27. 5-inch wheels like the Stan's NoTubes Flow EX Wheels provide the perfect balance of weight and traction for the conditions that those events warrant. But, being a Stan's NoTubes product, there's more to the picture then just being another mid-size option....
Stan's NoTubes Flow EX Wheelset - 26in
There are plenty of folks out there for whom the 26-inch wheel is still superior, despite the encroachment of 27. 5" and 29" offerings that have gained huge popularity in the sport in recent years. To those faithful to the "original" mountain bike wheel size, we say: rock on. 26-inchers are fun...
Stan's NoTubes Iron Cross Comp Wheelset
The people at Stan's NoTubes know that being a cyclist means being a chameleon. Depending on the time of year, you'll be sipping espresso as a roadie, drinking IPA as an enduro racer, or drinking a coffee-brewed porter when 'cross rolls in with the fall. When it's time to hang up the deep dish...
Stan's NoTubes Iron Cross Comp Wheelset
Cyclocross isn't cyclocross without a bit of pain and suffering. The Stans NoTubes Iron Cross Comp wheels will definitely make you faster, but we won't guarantee that it'll be any easier or less painful. With the arrival of disc brakes for virtually every pocketbook, Stans NoTubes constructed an...
Stan's NoTubes Iron Cross Pro Wheelset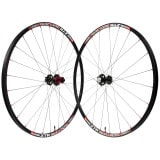 Retail Price:
$875.00
Our Price: $787.50
buy now
Take your cyclocross performance to the next level. Stans NoTubes Iron Cross Pro wheelset sets the standard for tubeless systems with strong and lightweight wheels -- you'll notice the free speed. The Iron Cross Pro wheels were built on 6061 Aluminum rims and given a 24-hole front and 28-hole...
Stan's NoTubes Iron Cross Team Wheelset
Retail Price:
$675.00
Our Price: $607.50
buy now
Tubeless tires have made their mark in cyclocross for obvious reasons -- they provide superior handling, lower running pressures, and flat-resistance. And along the lines of added advantage, disc brakes also work in conjunction with the wheels that make this technology possible. For this reason,...
Stan's NoTubes Stans XD Driver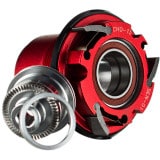 Retail Price:
$80.00
Our Price: $72.00
buy now
The good folks at Stan's NoTubes make it easy to convert your rear wheel to the new SRAM XX1 11-speed group with the Stans XD Driver for a fraction of the cost of a new wheelset. Just pop off your 10-speed freehub body and install the XD Driver. Stan's even included the drive side end cap for...
Stan's NoTubes ZTR Arch EX 26in Wheelset
Not everyone needs the lightest gear out there. We understand simple physics -- but also appreciate steering precision and durability. That's where Stan's ZTR Arch EX 26in Wheelset comes into play. XC light, but sturdy enough for long adventures in the backcountry and reliable enough 24hr...
Stan's NoTubes ZTR Arch EX 29in Wheelset
Retail Price:
$595.00
Our Price: $499.95
buy now
Suspension travel for 29er frames and forks has increased as riders demand 29ers for all-mountain and aggressive trail use. Manufacturers have listened and, along with Wheelsets like the Stan's No Tubes ZTR Arch EX 29in, riders are now taking big wheels to new heights. Stan's has been at the...
<< Prev | Back | 21 | 22 | 23 | 24 | 25 | 26 | More | Next >>