Wheels - Road Bike Shop
Shop
>
Components
>
Wheels, Tires, Tubes
>
Wheels
SRAM Rise XX 29in Carbon Tubular Wheelset
When you think about the performance advantages that tubular road and cyclocross tires provide -- smoother ride, less rolling resistance, the ability to run lower pressures safely, the lower weight than tire-and-tube combos, and more -- it makes sense that they're massively popular under the pros...
SRAM Roam 50 27.5in Alumimum UST Wheel
You're not alone if you feel like 27. 5-inch wheels have swept through the mountain bike industry almost overnight. And, as a result, we've found that many brands are now completely reevaluating their approach to building trail bikes. In this spirit of throwing out old assumptions, SRAM started...
SRAM Roam 50 29in Aluminum UST Wheel
When designing the new Roam 50 29-inch wheel, SRAM started with a completely blank slate. This from-the-ground up approach is evident once you take a close look at the Roam 50's design. The most obvious departure from conventional design is the Roam 50's asymmetrical spoke bed. This is to offset...
SRAM Roam 60 29in Carbon Clincher UST Wheel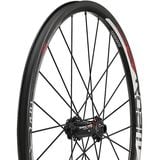 Modern trail bikes maintain composure in situations once reserved for downhill race bikes, and as a result, wheels are now confronted with more abuse than ever. At the same time, riders are demanding bikes that are light enough to comfortably pedal all day. These seemingly incompatible goals are...
Stan's NoTubes 12x142 Conversion for ZTR/3.30/3.30Ti Rear Hub
We always want our bikes to perform the best that they can. This means that the smallest details and facets of our bikes will inevitably receive upgrades, and naturally, axles fall under this category. And if you're an advocate of Stan's No Tubes, you'll be happy to know that it's introduced a...
Stan's NoTubes 15mm End Caps for ZTR HD/3.30 HD Front Hubs
Trying to throw your Stan's ZTR HD or 3. 30 HD hub-equipped front wheel on a bike with a 15mm thru-axle? You'll want these 15mm End Caps, designed for such a purpose. Pop out the stock 20mm caps and these will fit right in their place.
Stan's NoTubes Arch EX 27.5in Wheelset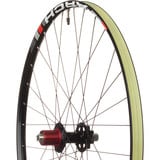 With innovations rolling through today's trail bike scene at a blinding speed, we're not surprised to find vetted wheel-makers like Stan's NoTubes leading the charge. However, we're still amazed that a wheelset as light and tough as the new Arch EX 27. 5in Wheelset could be offered at this price....
Stan's NoTubes Iron Cross Comp Wheelset
The Stan's NoTubes Iron Cross Comp Clincher Wheelset eagerly withstands hardcore use and abuse by cyclocross and gravel racers. Its tubeless-ready design features Stan's Bead Socket Technology (BST), which provides a shallower seating area to create a much tighter seal than conventional rims. BST...
Stan's NoTubes Stans XD Driver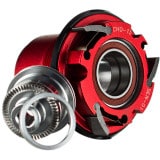 So you, like everyone else, would like to cash in on the new SRAM XX1 11-speed drivetrain, but you aren't an oil tycoon. Good news--the folks at Stan's have taken one major expense out of the conversion process. Instead of replacing your expensive wheelset to make your bike XX1 compatible, just...
Stan's NoTubes ZTR Arch EX 29in Wheelset
By opting for a tubeless setup like the Stan's NoTubes ZTR Arch EX 29in Wheelset for your wagon-wheel bike, you get all the speed of a 29-inch wheel's big contact patch but mitigate the extra weight of larger hoops by omitting the tubes. Stan's latest generation of Bead Seal Technology (BST) also...
<< Prev | Back | 21 | 22 | 23 | 24 | 25 | 26 | 27 | 28 | More | Next >>