Wheels - Road Bike Shop
Shop
>
Components
>
Wheels, Tires, Tubes
>
Wheels
DT Swiss XM 1501 Spline One 40 Boost Wheel - 27.5in+
Seeing that plus-sized bikes are rapidly gaining traction in the industry and on the trail, it only makes sense that wheel manufacturers would cater to this popular new size. DT Swiss set out to develop their very own line of all-mountain wheels tailored to these big-wheeled brawlers with their...
DT Swiss XR 1501 Spline 29in Wheel
Retail Price:
$489.00
Our Price: $475.95
buy now
Lighter than its XM counterpart, DT Swiss' XR 1501 Spline 29in Wheel is intended for traditional crosscountry riding and racing. It favors weight savings, but without sacrificing too much in the strength department. In fact, the XR 1501's rims share the same Strength Boost Welding Technology as...
Easton EA90 SLX Road Wheel - Tubeless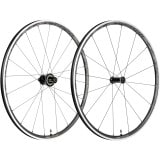 Retail Price:
$500.00
Our Price: $199.95
buy now
We're in a renaissance of sorts for the modern road bike, where performance and comfort are reaching unheard of levels. What once was a slippery slope that quickly tossed rider well being out the window in favor of speed and efficiency is being challenged by components like Easton's tubeless EA90...
Easton EC90 Aero 55 Carbon Road Wheel - Tubular
You've seen all the fast, lightweight race wheels, but more often than not, those desirable attributes come at the expense of out-and-out strength. That's why we're so impressed with the Easton EC90 Aero 55 Carbon Tubular Wheel. As part of Easton's race-ready EC90 lineup, they'll slice through...
Easton R4 Cassette Body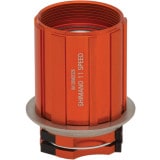 The Easton R4 Cassette Body allows you to use any Easton R4 or R4 SL-equipped rear wheel with Shimano and SRAM 11-speed road drivetrains. The Easton R4 Freehub Body runs on high quality 6902 steel bearings and has three spring-loaded pawls. The R4 Cassette Body is compatible with all R4 and R4 SL...
ENVE M50 Fifty 29in Boost Wheelset
The ENVE M50 Fifty 29in Boost Wheelset has redefined our expectations for what a cross country wheelset is able to do. Built with speedy hardtail and shorter suspension rides in mind, the M50 Fifty replaces ENVE's renowned XC rim with a significant drop in weight for even faster rolling on flats...
ENVE M50 Fifty 29in Wheelset
Carbon wheels make a lot of sense on 29ers --the larger-diameter rim is inherently less stiff than its 26 or 27'5in counterparts, and the extra stiffness of a carbon rim contributes massively to the overall stiffness of the wheel. ENVE's M50s, a more trail-friendly version of the long-running XC...
ENVE M50/Fifty 29in Chris King Wheelset
In chasing the growing market around 27. 5-inch wheels, bike companies have been singing us all sorts of songs lately, but the simple truth is that, where speed and traction are concerned, bigger is better. The lower approach and departure angles and increased contact patch of 29-inch wheels are...
ENVE M60 Forty 27.5in Wheelset
The ENVE's M60 Forty 27. 5in Wheelset is an ideal match for the latest generation of lightweight, shockingly capable trail bikes. This rim was designed to sit between the previous XC and AM rim, making it perfect for the way that most of us actually ride our mountain bikes. And with a completely...
ENVE M60 Forty 29in Boost Wheelset
Retail Price:
$2718.00
Our Price: $2174.40
buy now
We've been pretty outspoken on our stance that the standard version of ENVE's M60 Forty 29in Boost Wheelset is the ideal set of hoops for everything from epic climbs to screaming descents that'll show up to throw down with a vengeance on race day. The Boost version takes the versatility of the...
<< Prev | Back | 1 | 2 | 3 | 4 | 5 | 6 | 7 | 8 | 9 | 10 | More | Next >>