Wheels - Road Bike Shop
Shop
>
Components
>
Wheels, Tires, Tubes
>
Wheels
Mavic Ksyrium Pro Exalith SL Wheelset - Clincher
Just about everyone in our circle of pedal turners has ridden Mavic's Ksyrium wheels before, but few have ridden them like this. The Ksyrium Pro Exalith SL Clincher Wheelset represents the top of the French brand's do-it-all wheel family, elevating the Ksyrium almost to the R-Sys SLR's level. In...
Mavic Ksyrium Pro Exalith Wheelset - Clincher
While it isn't always present on race day, Mavic's Ksyrium Pro Exalith Clincher Wheelset certainly sees more than its fair share of the base miles of spring that lead up to the start lines of summer. In addition to the obvious benefits of training on clinchers, the wheelset's key selling point in...
Mavic Ksyrium Pro SL Wheelset - Clincher
Mavic's Ksyrium wheel series has been speaking for itself for years, consistently displaying unshakeable reliability across the range of terrain you encounter throughout seasons of training on the roads. The Mavic Ksyrium Pro SL Clincher Wheelset represents the Ksyrium family brilliantly. It's...
Mavic Ksyrium Pro Wheelset - Clincher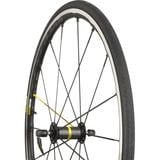 If you haven't been able to get past the nagging voice in your head telling you that Mavic wheels are falling behind the times with their narrow rim widths, you can end your tumultuous inner dialog now. Sure, the French brand is big on tradition, but not at the expense of rider safety and better...
Mavic Ksyrium Wheelset - Clincher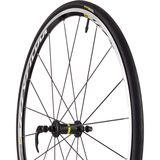 Change can be scary. If parting with a sweat-stained jersey or cracked helmet creates months of inner turmoil for you, invest in a few sets of the Mavic Ksyrium Clincher Wheelset to save yourself from the next few years of burgeoning trends and passing fads. As the defining alloy training wheel...
Mavic R-Sys SLR Wheelset - Clincher
The traditionalists at Mavic stayed the course with skinny, lighter rims for a few more years than most other manufacturers, but they're now embracing the advent of wider rims. The 2016 version of Mavic's beloved R-Sys SLR Clincher Wheelset carries the same wider rims of its 2015 predecessor, and...
Mavic Round UST Valve Kit (+ Wheels)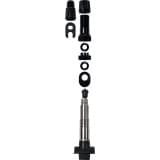 Since you're running Mavic 2013 UST wheels, you're going to need a Round UST Valve Kit for the next time you lose a UST valve. Whether you were fixing a flat at home or on the trail, accidents happen. That's why we always have one in our repair kit. The UST Valve Kit works with rounded SLR, ST,...
Mavic UST Valve Kit
Those of you that run UST systems, have no doubt lost a UST valve fixing a flat on the trail at some point. That's one reason we keep one of these in our repair kits at all times. The Mavic UST valve will replace any UST valve stem. It includes rubber O-rings and appropriate valve cap. Tubeless...
Mavic XD Driver
The Mavic XD Driver allows you to use Mavic's Crossroc, Crossride, Crossmax, and Deemax wheels (2012 and newer) with SRAM's 1x11 drivetrain by replacing either the TS-2 or ITS-4 freehub bodies with the new XD standard, as required by SRAM's 10-42t 11-speed cassette. The Mavic XD Driver includes...
Mercury Wheels M5 Clincher Wheelset
Retail Price:
$2399.95
Our Price: $1049.95
buy now
It's appropriate that Mercury Wheels' name and logo reference a Roman god who is the patron of, among other things, travelers and thieves. Atop Mercury's M5 Clincher Wheelset, Eric Marcotte journeyed from his day job in Arizona to Chattanooga, Tennessee to nab the 2014 US national championship...
<< Prev | Back | 11 | 12 | 13 | 14 | 15 | 16 | 17 | 18 | 19 | 20 | More | Next >>