Wheels - Road Bike Shop
Shop
>
Components
>
Wheels, Tires, Tubes
>
Wheels
Mavic ID360 Freehub Body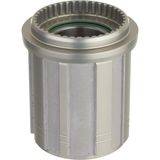 Whether you're replacing a damaged freehub or swapping from Shimano to Campy, you're going to need a new freehub body. If you're rolling on one of Mavic's new Instant Drive 360 hubs, the ID360 Freehub Body will have you back up and running in a snap. As with the one that came stock on your wheels...
Mavic Ksyrium Elite WTS Wheelset - Clincher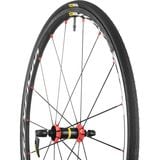 The Mavic Ksyrium line has one of the most stellar reputations in the wheel industry for producing bombproof and multi-faceted wheelsets that can tackle almost any road riding or racing situation. The Mavic Ksyrium Elite WTS Clincher Wheelset has improved on this legacy with a redesign to better...
Mavic Ksyrium Pro Allroad Disc Wheeelset - Clincher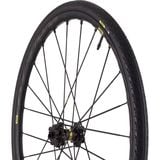 At last, you can take your Ksyrium loyalties onto the gravel with the reassurance of a wider 19mm internal rim width and compatibility with beefier 25mm and 28mm tires on Mavic's all-new Ksyrium Pro Allroad Disc Wheelset. Get excited about this new edition to Mavic's storied Ksyrium line, because...
Mavic Ksyrium Pro Carbon SL C Wheelset - Clincher
In the days of classic tubing and graceful shift cable arcs, Mavic's aluminum Ksyrium wheelset held court as the legendarily bombproof race wheel of choice. In the best of times, the Ksyrium wound up fast for a snappy, responsive ride, and in the worst, we've seen the mid-2000's era hoops emerge...
Mavic Ksyrium Pro Carbon SL Disc Wheelset - Clincher
While the rim brake version of Mavic's new Ksyrium Pro Carbon SL Disc Clincher Wheelset basks in the limelight garnered by its iTgMAX braking surface, this wheelset sits smugly by its side with a similar full-carbon rim construction and the incomparable stopping confidence of disc-brakes. With a...
Mavic Ksyrium Pro Carbon SL Disc Wheelset - Tubular
Mavic's renowned Ksyrium line has been synonymous with lightweight aluminum training wheels since its birth in 1999, and after several recent additions, it's safe to say that the Ksyrium family is going through some changes. Ksyrium now counts a carbon wheelset among one of its own, now even...
Mavic Ksyrium Pro Carbon SL T Wheelset - Tubular
Before carbon hoops became mainstream racing fare, start lines across the world were peppered with Mavic's fast-spinning and nearly bombproof Ksyrium aluminum hoops. With metal now more often relegated to training wheel status, generations of Ksyriums still find use grinding out epic base miles...
Mavic Ksyrium Pro Exalith Wheelset - Clincher
While it isn't always present on race day, Mavic's Ksyrium Pro Exalith Clincher Wheelset certainly sees more than its fair share of the base miles of spring that lead up to the start lines of summer. In addition to the obvious benefits of training on clinchers, the wheelset's key selling point in...
Mavic Ksyrium Pro Wheelset - Clincher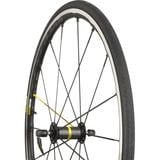 If you haven't been able to get past the nagging voice in your head telling you that Mavic wheels are falling behind the times with their narrow rim widths, you can end your tumultuous inner dialog now. Sure, the French brand is big on tradition, but not at the expense of rider safety and better...
Mavic Ksyrium Wheelset - Clincher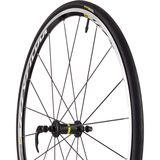 Change can be scary. If parting with a sweat-stained jersey or cracked helmet creates months of inner turmoil for you, invest in a few sets of the Mavic Ksyrium Clincher Wheelset to save yourself from the next few years of burgeoning trends and passing fads. As the defining alloy training wheel...
<< Prev | Back | 11 | 12 | 13 | 14 | 15 | 16 | 17 | 18 | 19 | 20 | More | Next >>