Wheels - Road Bike Shop
Shop
>
Components
>
Wheels, Tires, Tubes
>
Wheels
Mavic Crossmax Elite WTS 29in Wheel
Snap up to speed off the line and shred technical lines with the Mavic Crossmax Elite WTS 29in Wheel. Featuring Mavic's legendary durability and incorporating its Inter Spoke Milling 4 Dimensions process, this wheel's lightweight rim minimizes rotating weight without compromising strength. ISM 4D...
Mavic Crossmax Elite WTS Boost Wheel - 29in
When talking beefy axles widths, cross-country isn't usually the first discipline that comes to mind. However, with the recent trends in Boost axles bleeding out from their more gravity-aided arena into all aspects of off-road riding, XC rigs have seen an influx of Boost frame options. Mavic...
Mavic Crossmax Pro Carbon 29in Boost Wheeelset
Though we've come to associate it with traditionalism and a staid, stick-with-what-works design ethos over the past decade, the last year has proven Mavic to be quite iconoclastic. The Crossmax Pro Carbon 29in Wheelset embodies this new boldness well, and while it's tempting to characterize it as...
Mavic Crossmax Pro Carbon Wheeelset - 29in
Mavic took its time getting there, but the French brand feels that carbon technology is finally up to its demanding standards for reliability and safety. The Crossmax Pro Carbon Wheelset is the brand's first XC model to go full carbon with no alloy spine or reinforcement. When compared to the...
Mavic Crossmax Pro WTS 27.5in Boost Wheel
With the dust settling from the most recent flurry of new axle standards, Boost spacing seems to be the agreed upon option for increased stiffness and responsive handling. With its Crossmax Pro WTS 27. 5in Boost Wheel, Mavic ensures your new Boost-equipped CX frame benefits from the company's...
Mavic Crossmax Pro WTS 27.5in Wheel
With all the shiny new materials and blingy logos adorning our newsfeeds as of late, it's easy to forget that aluminum once was king and has steadfastly held its own as many other materials rose and fell by the wayside. Add in Mavic's legendary ability to work magic with aluminum to create...
Mavic Crossmax Pro WTS 29in Wheel
Retail Price:
$469.95
Our Price: $387.71
buy now
Mavic has proven again and again that you don't need expensive carbon hoops to leave your competition coughing on your dust on the cross-country course. The aluminum Crossmax Pro WTS 29in Wheel boasts classic Mavic reliability and nearly bombproof durability in a lightweight, race-ready package...
Mavic Crossmax SL Pro LTD WTS 27.5in Wheelset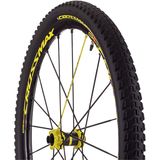 Retail Price:
$1099.90
Our Price: $859.95
buy now
Ultralight carbon rims roll fast, that's for sure, but all that speed is for naught if they taco halfway through a race and leave you carrying your bike. Mavic's XC race wheelset, the Crossmax SL Pro LTD WTS 27. 5, is made of aluminum instead of carbon for better durability, and it saves weight...
Mavic Crossride Light 29in WTS Wheelset
Retail Price:
$399.90
Our Price: $295.93
buy now
The Mavic Crossride Light 29in WTS Wheelset brings Mavic's renowned durability to any day on the trail with a wallet-friendly price that leaves some cash left over for all-important post-ride bevvies. Outfitted with Mavic's versatile Crossride Quest tires, these wheels spin up fast to weather the...
Mavic Freehub Body
Mavic makes swappable freehub bodies for most of their rear wheels so you're not permanently married to either SRAM/Shimano or Campy. You can start off with one body with its unique splines, and you can switch to the other fast. The bodies are known in Mavic-speak as FTS-L, or Force Transfer...
<< Prev | Back | 11 | 12 | 13 | 14 | 15 | 16 | 17 | 18 | 19 | 20 | More | Next >>