Wheels - Road Bike Shop
Shop
>
Components
>
Wheels, Tires, Tubes
>
Wheels
Mavic Ksyrium Equipe Wheel System
Unchanged for the 2015 model year, the excellent Mavic Ksyrium Equipe Wheel System represents superb value in the world of bicycle wheels, bringing together excellent all-around wheels for almost any rider with a set of included tires designed specifically to squeeze maximum performance out of...
Mavic Ksyrium Pro Disc Wheelset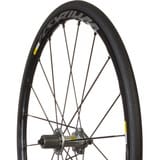 It's finally here: Mavic's premium disc-ready road wheelset. Based largely on the Ksyrium SLR wheels, the Mavic Ksyrium Pro Disc Wheelset brings the expected toughness, low weight, and sharp looks of the company's wheels, now ready for rotors -- and elite-level competition. The Mavic Pro Discs...
Mavic Ksyrium SLE Wheel System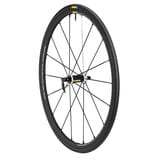 While the name is new, the Mavic Ksyrium SLE Wheel System will be largely familiar to any Mavic fans out there, being that it's simply the excellent Ksyrium SLS Wheel System now boasting the Exalith 2 brake track surface. That aside, the SLE set is the same Ksyrium goodness, and given how...
Mavic Ksyrium SLR Wheel System
The new 2015 Mavic Ksyrium SLR Wheel System walks the line between the standard alloy-spoked Ksyrium wheel family and the carbon-spoked R-Sys wheels by employing a blend of carbon and alloy spokes. Calling the Ksyrium wheels "standard," of course, is a bit misleading, because while they indeed...
Mavic Ksyrium SLS Road Wheelset - Tubular
The Ksyrium SLS Tubular Road Wheelset is the latest update to Mavic's signature Ksyrium wheelset collection. The Ksyrium line has developed a strong following for its supreme blend of light weight, fantastic ride quality, and value. Naturally, the Ksyrium SLS is strong and responsive. But Mavic...
Mavic Ksyrium SLS Wheel System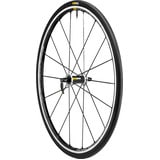 The 2015 Mavic Ksyrium SLS Wheel System rolls into this year with no mechanical or cosmetic changes, but with a fantastic new set of tires that'll take the set's performance to the next level. The Ksyrium SLS wheelset achieves its feathery-light 1395g weight thanks mostly to the highly refined...
Mavic R-Sys SLR Wheel System
Even in the peculiar, fickle, and sometimes controversial world of bicycle wheels, there are legends, and one of them goes by the name R-Sys. Its unique construction and aesthetic earned it attention in its debut years ago, but its performance is what has earned its status as one of the best...
Mavic UST Valve Kit
Those of you that run UST systems, have no doubt lost a UST valve fixing a flat on the trail at some point. That's one reason we keep one of these in our repair kits at all times. The Mavic UST valve will replace any UST valve stem. It includes rubber O-rings and appropriate valve cap. Tubeless...
Reynolds 46 Aero Carbon Road Wheelset - Clincher
Retail Price:
$2675.00
Our Price: $2407.50
buy now
While Reynolds has a quiver brimming with world-class race wheels, it's calling the 46mm its "signature rim depth." The reason for this is its exceptional versatility and optimal aerodynamics across every discipline of riding. From your ultra-fast weeknight crit series to the steepest of the...
Reynolds 46 Aero Carbon Wheelset - Tubular
Retail Price:
$2575.00
Our Price: $2317.50
buy now
Very few wheels are foolhardy enough to make the claim to be a do-it-all wheelset: climbing, flats, 'cross, whatever. Fewer still are able to actually make that claim without falling flat on their faces. With its strength, aerodynamics, and tubular setup, the Reyonlds 46 Aero Carbon Tubular...
<< Prev | Back | 11 | 12 | 13 | 14 | 15 | 16 | 17 | 18 | 19 | 20 | More | Next >>