Wheels - Road Bike Shop
Shop
>
Components
>
Wheels, Tires, Tubes
>
Wheels
Mavic Crossmax Elite WTS 29in Wheel
Snap up to speed off the line and shred technical lines with the Mavic Crossmax Elite WTS 29in Wheel. Featuring Mavic's legendary durability and incorporating its Inter Spoke Milling 4 Dimensions process, this wheel's lightweight rim minimizes rotating weight without compromising strength. ISM 4D...
Mavic Crossmax Elite WTS Boost Wheel - 29in
When talking beefy axles widths, cross-country isn't usually the first discipline that comes to mind. However, with the recent trends in Boost axles bleeding out from their more gravity-aided arena into all aspects of off-road riding, XC rigs have seen an influx of Boost frame options. Mavic...
Mavic Crossmax Pro WTS 27.5in Boost Wheel
With the dust settling from the most recent flurry of new axle standards, Boost spacing seems to be the agreed upon option for increased stiffness and responsive handling. With its Crossmax Pro WTS 27. 5in Boost Wheel, Mavic ensures your new Boost-equipped CX frame benefits from the company's...
Mavic Crossmax Pro WTS 27.5in Wheel
With all the shiny new materials and blingy logos adorning our newsfeeds as of late, it's easy to forget that aluminum once was king and has steadfastly held its own as many other materials rose and fell by the wayside. Add in Mavic's legendary ability to work magic with aluminum to create...
Mavic Crossmax Pro WTS 29in Wheel
Mavic has proven again and again that you don't need expensive carbon hoops to leave your competition coughing on your dust on the cross country course. The aluminum Crossmax Pro WTS 29in Wheel boasts classic Mavic reliability and nearly bombproof durability in a lightweight, race-ready package...
Mavic Crossmax SL Pro LTD 29 WTS Wheelset - 29in
There's only one way you're going to get to see all of Park City, UT's hundreds of miles of perfect XC trails in a single long weekend: go really, really, really fast. All the energy gels, protein powders, and recovery drinks in the world will only speed you up so much, so to really max out your...
Mavic Crossmax SL Pro LTD WTS 27.5in Wheelset
Mavic's Crossmax SL Pro LTD WTS 27. 5in Wheelset may self-identify as an XC race platform, but the adoption of the new 27. 5in wheel standard means that it can also nimbly navigate rock gardens and steep climbs without the wheel flop of its larger, 29er counterpart. Its number one job remains...
Mavic Crossmax SL Pro LTD WTS 29in Wheelset
Despite all the advanced technology and convoluted acronyms and initialisms on the Crossmax SL Pro LTD WTS 29in Wheelset's spec sheet, Mavic's top-end 29er XC wheel has one very specific job: to go really, really fast. Few entries on that spec sheet play as large a role in its ability to...
Mavic Crossmax XL Pro 27.5in WTS Wheelset
Retail Price:
$999.90
Our Price: $549.95
buy now
Mavic's Crossmax XL Pro 27. 5in WTS Wheelset is part of a line designed to provide reliable handling on everything from tight, technical switchbacks to sweeping descents along root-latticed singletrack. The wheelset is made for versatility, burlier and more capable than weight-conscious XC hoops...
Mavic Crossmax XL Pro LTD WTS 27.5in Wheelset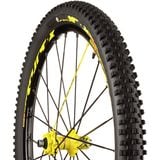 Mavic has long held a stellar reputation for producing bombproof wheelsets with top-end technology to tackle a huge range of riding and racing scenarios. The Mavic Crossmax XL Pro LTD WTS 27. 5in Wheelset continues this legacy as Mavic's answer to the call for a lightning fast, versatile wheelset...
<< Prev | Back | 11 | 12 | 13 | 14 | 15 | 16 | 17 | 18 | 19 | 20 | More | Next >>