Wheels - Road Bike Shop
Shop
>
Components
>
Wheels, Tires, Tubes
>
Wheels
Mavic Ksyrium SLE Wheel System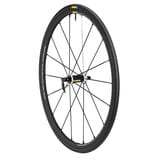 While the name is new, the Mavic Ksyrium SLE Wheel System will be largely familiar to any Mavic fans out there, being that it's simply the excellent Ksyrium SLS Wheel System now boasting the Exalith 2 brake track surface. That aside, the SLE set is the same Ksyrium goodness, and given how...
Mavic Ksyrium SLR Wheel System
The new 2015 Mavic Ksyrium SLR Wheel System walks the line between the standard alloy-spoked Ksyrium wheel family and the carbon-spoked R-Sys wheels by employing a blend of carbon and alloy spokes. Calling the Ksyrium wheels "standard," of course, is a bit misleading, because while they indeed...
Mavic Ksyrium SLS Road Wheelset - Clincher - 2014
Retail Price:
$1149.90
Our Price: $805.00
buy now
While we understand the obsession with carbon fiber rims, the Mavic Ksyrium SLS Clincher Wheelset begs the question, why bother? That's because they're feathery light and stunningly stiff, and considerably more affordable than the closest carbon competitor. That means precise tracking when you're...
Mavic Ksyrium SLS Road Wheelset - Tubular
The Ksyrium SLS Tubular Road Wheelset is the latest update to Mavic's signature Ksyrium wheelset collection. The Ksyrium line has developed a strong following for its supreme blend of light weight, fantastic ride quality, and value. Naturally, the Ksyrium SLS is strong and responsive. But Mavic...
Mavic Ksyrium SLS Wheel System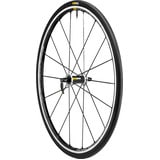 The 2015 Mavic Ksyrium SLS Wheel System rolls into this year with no mechanical or cosmetic changes, but with a fantastic new set of tires that'll take the set's performance to the next level. The Ksyrium SLS wheelset achieves its feathery-light 1395g weight thanks mostly to the highly refined...
Mavic R-Sys Road Wheelset - Clincher
Retail Price:
$1499.90
Our Price: $999.99
buy now
Mavic lived up to its iconic name by building quality, durable, high-performance wheels. The latest iteration of the R-Sys Clincher Wheelset is the lightest and stiffest yet. Built to climb effortlessly, descend confidently and handle the roughest tarmac fathomable, the R-Sys wheelset will...
Mavic R-Sys SLR Wheel System
Even in the peculiar, fickle, and sometimes controversial world of bicycle wheels, there are legends, and one of them goes by the name R-Sys. Its unique construction and aesthetic earned it attention in its debut years ago, but its performance is what has earned its status as one of the best...
Mavic Round UST Valve Kit (+ Wheels)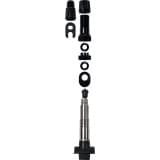 Since you're running Mavic 2013 UST wheels, you're going to need a Round UST Valve Kit for the next time you lose a UST valve. Whether you were fixing a flat at home or on the trail, accidents happen. That's why we always have one in our repair kit. The UST Valve Kit works with rounded SLR, ST,...
Mavic UST Valve Kit
Those of you that run UST systems, have no doubt lost a UST valve fixing a flat on the trail at some point. That's one reason we keep one of these in our repair kits at all times. The Mavic UST valve will replace any UST valve stem. It includes rubber O-rings and appropriate valve cap. Tubeless...
Mavic XD Driver
SRAM's refreshing update to the archaic mountain bike drivetrain is undeniable, but it does require one specific part in order to be compatible with traditional hubs -- the freehub body itself. This Mavic XD Driver will convert 2012 and newer Crossmax and Deemax wheels for use with SRAM XX1...
<< Prev | Back | 11 | 12 | 13 | 14 | 15 | 16 | 17 | 18 | 19 | 20 | More | Next >>