Wheels - Road Bike Shop
Shop
>
Components
>
Wheels, Tires, Tubes
>
Wheels
Mavic Crossroc 27.5 WTS Wheelset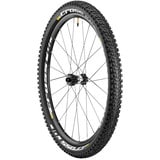 Plenty of bike stuff focuses on doing one thing super well--being light, maybe, or being burly, or being affordable. Not enough gear does all three, though, which just makes the Mavic Crossroc WTS 27. 5in Wheelset that much radder. It's not made of the fanciest space-agiest materials, but it...
Mavic Crossroc XL 27.5 Wheelset
Mavic's Crossroc XL 27. 5 Wheelset is designed for Enduro-focused riders around the world. With the new breed of super bikes on the market, all using 27. 5in wheels, the Crossrocs are a great option for hard riding, and big races like Andes Pacifico or Trans-Provence. The Crossrocs are...
Mavic Crossroc XL 29 Wheelset
The Mavic Crossroc XL 29 Wheelset takes the terrain-clearing and traction advantages of 29ers and adds a beefed-up rim, the option to run tubeless, and the incomparable compatibility of Mavic's tire and wheel system. The result is a no-nonsense monster that devours ups, downs, and all-arounds...
Mavic Deemax Ultimate Wheels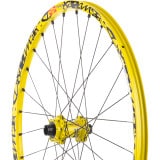 As part of Mavic's Special Service Corsa (SSC) mountain lineup, the Deemax Ultimate is the downhill wheel of choice for Mavic pros. Anytime we come across a downhill wheelset with the Mavic name on it, we expect it must be strong. But the Deemax Ultimates aren't just your trusty old Mavic...
Mavic Freehub Body
Mavic makes swappable freehub bodies for most of their rear wheels so you're not permanently married to either SRAM/Shimano or Campy. You can start off with one body with its unique splines, and you can switch to the other fast. The bodies are known in Mavic-speak as FTS-L, or Force Transfer...
Mavic Ksyrium Elite S Wheel System
Retail Price:
$799.90
Our Price: $639.90
buy now
The Mavic Ksyrium Elite S Wheel System is the go-to for those wanting wheels that will handle almost any condition without complaint. For 2015, the wheels feature the same features we've come to love, along with a new color choice and included tires. With so many rims being aluminum, Mavic looked...
Mavic Ksyrium Elite WTS Wheelset - Clincher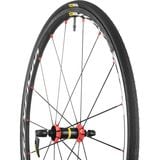 The Mavic Ksyrium line has one of the most stellar reputations in the wheel industry for producing bombproof and multi-faceted wheelsets that can tackle almost any road riding or racing situation. The Mavic Ksyrium Elite WTS Clincher Wheelset has improved on this legacy with a redesign to better...
Mavic Ksyrium Equipe Wheel System
The Ksyrium Equipe Wheel System is virtually unchanged for the new model year. They feature the same durability that riders have come to love, with a slight hint of aerodynamics in the 24mm-deep rim and the 20 spoke count for both wheels. And while they are very similar to the Elite wheels, they...
Mavic Ksyrium Pro Disc Wheelset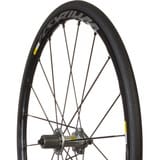 The Mavic Ksyrium Pro Disc Wheelset it, for all intents and purposes, is the same as the Kysrium SLR. Bring that it's disc brake-specific (finally!), there are a few key differences. First, the brake track -- there's no Exalith treatment because there's no brake track. Additionally, Mavic opted...
Mavic Ksyrium SLE Wheel System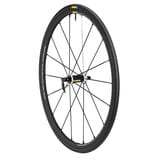 The Mavic Ksyrium SLE Wheelset is the same as the Ksyrium SLS wheelset, but with one very important upgrade: Mavic's Exalith 2 brake track surface. Exalith is a proprietary alloy texturing treatment that decreases stopping distance by up to 20% and extends the life of both the braking surfaces...
<< Prev | Back | 11 | 12 | 13 | 14 | 15 | 16 | 17 | 18 | 19 | 20 | More | Next >>