Wheels - Road Bike Shop
Shop
>
Components
>
Wheels, Tires, Tubes
>
Wheels
Mavic Aksium Wheelset - Clincher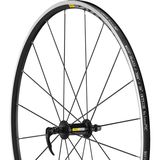 Mavic's latest Aksium Clincher Wheelset features a wider rim to accommodate the trend towards wider tires and combines Mavic's renowned value, reliability, and obsessively developed French engineering into a wallet friendly package for those of us on a budget. While it doesn't go toe-to-toe with...
Mavic Alloy Valve Extender
This Mavic 60mm Alloy Valve Extender is just the thing for pairing with their line of aero wheels, like the Cosmic Carbone Ultimate. It looks similar to any other alloy valve extender, but Mavic gave it a special purpose. The inflation end has been designed to function as a tool to open and close...
Mavic Cosmic Carbone 40 Elite Wheelset - Clincher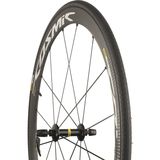 The Mavic Cosmic Carbone 40 Elite Clincher Wheelset strikes a balance between the aerodynamics of carbon rims and the cost-efficiency and durability of an alloy clincher. While this wheelset isn't as light as some of Mavic's highest-tier offerings, it makes up for any gram differences with a much...
Mavic Cosmic Carbone 40 Wheelset - Clincher
If we haven't already, investing in a set of carbon clincher hoops for training and racing is something we all plan on doing at some point. It's something of a no-brainer. The speed and aerodynamic benefits of carbon rims are well-proven and worthwhile, but the one area in which carbon clinchers...
Mavic Cosmic Carbone 40 Wheelset - Tubular
Just as not every pro rider is capable of a victory at Roubaix, not every high-end wheelset is created with the right mix of technology and construction to excel in the brutal conditions of the Hell of the North. Mavic's Cosmic Carbone 40 Tubular Wheelset is one of those that can, and has, with a...
Mavic Cosmic Pro Carbon Exalith Wheelset - Clincher
Carbon braking surfaces are continuously evolving, with new innovations every year promising to approach, meet, or even surpass the braking on alloy rims. But with the Mavic Cosmic Pro Carbon Exalith Clincher Wheelset, braking isn't an issue. Neither are weight or aerodynamics. Obviously, they...
Mavic Cosmic Pro Carbon SL Clincher Wheelset
If we were to choose one descriptor to apply universally to Mavic, it might be "stubborn." There are negative and positive implications of the brand's stubbornness, and the new Cosmic Pro Carbon SL Clincher Wheelset reinforces the positives while dispelling the negatives. The positive aspects of...
Mavic Cosmic Pro Carbon SL Disc Wheelset - Tubular
The stars of Mavic's all-new, full carbon rim design launch have undoubtedly been the Cosmic Pro Carbon SL and Ksyrium Pro Carbon SL clincher rim-brake editions as Mavic's well-researched and meticulously designed first foray into carbon braking tracks. Alongside that release, The Cosmic Pro...
Mavic Cosmic Pro Carbon Wheelset - Clincher
Every cyclist benefits from the aerodynamic advantages of deep carbon rims on race day, but the inherent drawbacks -- iffy braking, possible heat failure, not wanting to expose them to daily abuse -- mean that we also rely on training wheels for shoulder season base miles or days where we're not...
Mavic Cosmic Ultimate Wheelset - Tubular
As seen in press photos of Cannondale Pro Cycling's team issue bikes, the Mavic Cosmic Ultimate Tubular Wheelset delivers eye-catching aesthetics in a featherweight and aerodynamic package. At a claimed 1,185g per set, these wheels climb like a mountain goat while a 40mm deep profile slices...
<< Prev | Back | 11 | 12 | 13 | 14 | 15 | 16 | 17 | 18 | 19 | 20 | More | Next >>