Wheels - Road Bike Shop
Shop
>
Components
>
Wheels, Tires, Tubes
>
Wheels
Mavic Crossroc 29 WTS Wheelset
The way we see it, the brute speed of 29ers only come with one real drawback: a little bit of extra weight. The 29er enthusiasts at Mavic see it that way, too, or at least we assume they do based on the super fast, super light Mavic Crossroc 29 WTS Wheelset. By stripping two millimeters of rim...
Mavic Crossroc XL 26 Wheelset
Mavic's Crossroc XL Wheelset is the ideal choice for the cyclist whose rides often turn into adventures across all types of terrain. It runs the middle road between considerations of weight, durability, and price for a wheel that Mavic appropriately markets as being enduro-proof. The Wheelset...
Mavic Crossroc XL 27.5 Wheelset
For cyclists who enjoy the trip up as much as the trip down, Mavic's worry-free Crossroc XL 27. 5 Wheelset strikes a healthy balance between low weight for climbing and reliability for downhill speed. The included Crossroc Quest tires mean this a 27. 5 wheelset that'll take you up, over, and down...
Mavic Crossroc XL 29 Wheelset
The Mavic Crossroc XL 29 Wheelset takes the terrain-clearing and traction advantages of 29ers and adds a beefed-up rim, the option to run tubeless, and the incomparable compatibility of Mavic's tire and wheel system. The result is a no-nonsense monster that devours ups, downs, and all-arounds...
Mavic Freehub Body
Mavic makes swappable freehub bodies for most of their rear wheels so you're not permanently married to either SRAM/Shimano or Campy. You can start off with one body with its unique splines, and you can switch to the other fast. The bodies are known in Mavic-speak as FTS-L, or Force Transfer...
Mavic Ksyrium 125 LTD Wheelset
Retail Price:
$1849.90
Our Price: $1295.00
buy now
You'd be hard-pressed to find another wheelset that wears the "tried-and-proven" tagline as well as Mavic's Ksyrium. A staple training and racing clincher, loved the world over for its low weight, reliability, clean lines, and serviceability, the Ksyrium lives on in the form of the 125 LTD...
Mavic Ksyrium Elite S Wheel System
The Mavic Ksyrium Elite S Wheel System is like a good, trusty friend. Accessible to basically everyone, ready to do whatever for whomever, and never needing much in return. The light, stiff, and good-looking Elite S set can be described similarly, and this year, a new color choice and improved...
Mavic Ksyrium Equipe Wheel System
Unchanged for the 2015 model year, the excellent Mavic Ksyrium Equipe Wheel System represents superb value in the world of bicycle wheels, bringing together excellent all-around wheels for almost any rider with a set of included tires designed specifically to squeeze maximum performance out of...
Mavic Ksyrium Pro Disc Wheelset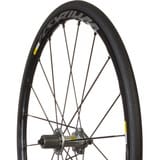 It's finally here: Mavic's premium disc-ready road wheelset. Based largely on the Ksyrium SLR wheels, the Mavic Ksyrium Pro Disc Wheelset brings the expected toughness, low weight, and sharp looks of the company's wheels, now ready for rotors -- and elite-level competition. The Mavic Pro Discs...
Mavic Ksyrium SLE Wheel System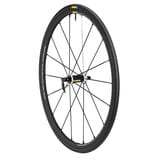 While the name is new, the Mavic Ksyrium SLE Wheel System will be largely familiar to any Mavic fans out there, being that it's simply the excellent Ksyrium SLS Wheel System now boasting the Exalith 2 brake track surface. That aside, the SLE set is the same Ksyrium goodness, and given how...
<< Prev | Back | 11 | 12 | 13 | 14 | 15 | 16 | 17 | 18 | 19 | 20 | More | Next >>