Wheels - Road Bike Shop
Shop
>
Components
>
Wheels, Tires, Tubes
>
Wheels
Mavic Crossmax Enduro 27.5in Wheelset
A successful 2013 season, concluding with the Enduro World Series title won aboard Crossmax Enduros, makes the appeal for this 27. 5in wheelset understandable. Reflecting the individual demands placed on front and rear wheels in a racing scenario, Mavic employed specific rims for each application...
Mavic Crossmax SLR 27.5in Wheelset - 2014
When midsized wheels hit the mainstream, we expected the flood of long travel trail bikes, but what's been somewhat of a surprise has been the rapidly expanding cross country options. You see, wagon wheels had all but taken over the endurance disciplines, but as some of the world's fastest XC...
Mavic Crossmax SLR 29in Wheelset - 2014
Retail Price:
$999.00
Our Price: $699.99
buy now
In a short amount of time, 29in wheels have grown from a disdained cult obsession to a World Cup winning phenomenon, and Mavic has been there every step of the way. Not satisfied with following the market trend of simply making a 26in wheel bigger, Mavic literally reinvented the wheel with the...
Mavic Crossmax ST 26in Wheelset - 2014
The Mavic Crossmax ST 26in Wheelset takes the best qualities in a cross-country wheel and adapts them for all-mountain riding. They're tough, responsive, and reliable --that's about all we could ever ask out of a wheelset. The Maxtal rims are part of why the Crossmax ST Wheels are tough. The...
Mavic Crossride 27.5 Wheelset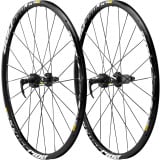 Since the mountain bike industry has fully embraced 27. 5-inch wheels, it only makes sense that there would be such a supply of top-tier mid-size wheelsets, but where does that leave you if you're not looking to drop thousands on a set of carbon wonder-wheels? Well, the fine folks at Mavic know...
Mavic Crossride Disc 29in Wheelset -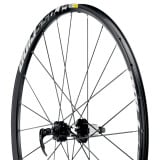 No matter how much money you're willing to drop on Mavic 29er wheels, you can sleep at night knowing that you invested in the highest quality that your money could buy. The Mavic Crossride Disc 29in Wheelset is no exception to this rule. Refusing to make a throwaway 'entry-level' 29er wheelset,...
Mavic Ksyrium 125 LTD Wheelset
You'd be hard-pressed to find another wheelset that wears the "tried-and-proven" tagline as well as Mavic's Ksyrium. A staple training and racing clincher, loved the world over for its low weight, reliability, clean lines, and serviceability, the Ksyrium lives on in the form of the 125 LTD...
Mavic Ksyrium Elite S Road Wheelset - Clincher - 2014
Collectively, we can't remember a wheelset that more of us have ridden and loved then the Mavic Ksyrium Elite S Clincher Wheelset. We've followed it from generation to generation for one reason -- Mavic always manages make it better. This year, we find that the Ksyrium Elite S has gone on a diet...
Mavic Ksyrium SLR Road Wheelset - Clincher - 2014
We've spent a few seasons training and racing on wheels that ride more like they belong in the stone age than in the peloton. We put the miles in regardless, but have definitely split the difference between enjoying and enduring the ride on them. Mavic has made it easier for you to enjoy the ride...
Mavic Ksyrium SLS Road Wheelset - Clincher - 2014
While we understand the obsession with carbon fiber rims, the Mavic Ksyrium SLS Clincher Wheelset begs the question, why bother? That's because they're feathery light and stunningly stiff, and considerably more affordable than the closest carbon competitor. That means precise tracking when you're...
<< Prev | Back | 11 | 12 | 13 | 14 | 15 | 16 | 17 | 18 | 19 | 20 | More | Next >>