Wheels - Road Bike Shop
Shop
>
Components
>
Wheels, Tires, Tubes
>
Wheels
Mavic Crossmax Enduro 26in Wheelset
The tech-savvy race fans among us spent the entirety of the 2013 season drooling over the yet-to-be-released prototypes of the Mavic Crossmax Enduro 26in Wheelset. With a string of wins that culminated in the Enduro World Series title being won aboard the French hoops, you'd be right to want to...
Mavic Crossmax SL 27.5 Wheelset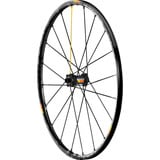 Retail Price:
$999.90
Our Price: $699.00
buy now
The Crossmax SL 27. 5 Wheelset features rims that are 23mm wide and incorporate Mavic's ISM 4D milling process. This removes any excess material from the already stripped clean Maxtal rims. Additionally, the FORE process threads the spokes' holes rather than just drilling them--making the rims...
Mavic Crossmax SL Pro LTD WTS 27.5in Wheelset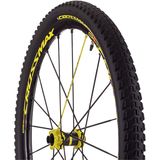 Mavic's Crossmax SL Pro LTD WTS 27. 5in Wheelset may self-identify as an XC race platform, but the adoption of the new 27. 5in wheel standard means that it can also nimbly navigate rock gardens and steep climbs without the wheel flop of its larger, 29er counterpart. Its number one job remains...
Mavic Crossmax XL 29 Wheelset
When you've got monstrous wheel clearance on your all-day adventuring machine, you'll be wanting some monstrous wheels. The Mavic Crossmax XL 29s are the way to go, combining the countless bits of tech that underwrite the legend of Mavic's wheels with the ultimate compatibility of a rim and a...
Mavic Crossroc 27.5 WTS Wheelset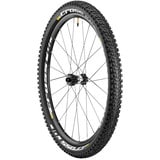 Retail Price:
$499.90
Our Price: $399.92
buy now
Plenty of bike stuff focuses on doing one thing super well--being light, maybe, or being burly, or being affordable. Not enough gear does all three, though, which just makes the Mavic Crossroc WTS 27. 5in Wheelset that much radder. It's not made of the fanciest space-agiest materials, but it...
Mavic Crossroc XL 27.5 Wheelset
Retail Price:
$599.90
Our Price: $419.00
buy now
Mavic's Crossroc XL 27. 5 Wheelset is designed for Enduro-focused riders around the world. With the new breed of super bikes on the market, all using 27. 5in wheels, the Crossrocs are a great option for hard riding, and big races like Andes Pacifico or Trans-Provence. The Crossrocs are...
Mavic Crossroc XL 29 Wheelset
Retail Price:
$599.90
Our Price: $479.92
buy now
The Mavic Crossroc XL 29 Wheelset takes the terrain-clearing and traction advantages of 29ers and adds a beefed-up rim, the option to run tubeless, and the incomparable compatibility of Mavic's tire and wheel system. The result is a no-nonsense monster that devours ups, downs, and all-arounds...
Mavic Deemax Ultimate Wheels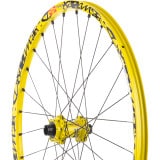 Retail Price:
$1200.00
Our Price: $960.00
buy now
As part of Mavic's Special Service Corsa (SSC) mountain lineup, the Deemax Ultimate is the downhill wheel of choice for Mavic pros. Anytime we come across a downhill wheelset with the Mavic name on it, we expect it must be strong. But the Deemax Ultimates aren't just your trusty old Mavic...
Mavic Freehub Body
Mavic makes swappable freehub bodies for most of their rear wheels so you're not permanently married to either SRAM/Shimano or Campy. You can start off with one body with its unique splines, and you can switch to the other fast. The bodies are known in Mavic-speak as FTS-L, or Force Transfer...
Mavic Ksyrium 125 LTD Wheelset
Retail Price:
$1849.90
Our Price: $1199.99
buy now
To say Mavic's Ksyrium line of road wheels has become legendary would be an understatement. Rather than rest on its laurels and just keep cranking out the same tried-and-true design, Mavic continues to raise the bar with the Ksyrium 125 LTD wheelset. The 125s are made with Mavic's stiff,...
<< Prev | Back | 11 | 12 | 13 | 14 | 15 | 16 | 17 | 18 | 19 | 20 | More | Next >>