Wheels - Road Bike Shop
Shop
>
Components
>
Wheels, Tires, Tubes
>
Wheels
Mavic Aksium Wheelset - Clincher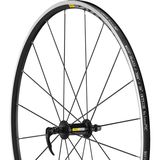 Mavic's latest Aksium Clincher Wheelset features a wider rim to accommodate the trend towards wider tires and combines Mavic's renowned value, reliability, and obsessively developed French engineering into a wallet friendly package for those of us on a budget. While it doesn't go toe-to-toe with...
Mavic Cosmic Carbone 40 Wheelset - Clincher
Retail Price:
$2499.90
Our Price: $1999.92
buy now
If we haven't already, investing in a set of carbon clincher hoops for training and racing is something we all plan on doing at some point. It's something of a no-brainer. The speed and aerodynamic benefits of carbon rims are well-proven and worthwhile, but the one area in which carbon clinchers...
Mavic Cosmic Carbone 40 Wheelset - Tubular
Retail Price:
$2699.00
Our Price: $1999.95
buy now
Just as not every pro rider is capable of a victory at Roubaix, not every high-end wheelset is created with the right mix of technology and construction to excel in the brutal conditions of the Hell of the North. Mavic's Cosmic Carbone 40 Tubular Wheelset is one of those that can, and has, with a...
Mavic Cosmic Pro Carbon SL Clincher Wheelset
If we were to choose one descriptor to apply universally to Mavic, it might be "stubborn." There are negative and positive implications of the brand's stubbornness, and the new Cosmic Pro Carbon SL Clincher Wheelset reinforces the positives while dispelling the negatives. The positive aspects of...
Mavic Cosmic Pro Carbon SL Disc Wheelset - Tubular
The stars of Mavic's all-new, full carbon rim design launch have undoubtedly been the Cosmic Pro Carbon SL and Ksyrium Pro Carbon SL clincher rim-brake editions as Mavic's well-researched and meticulously designed first foray into carbon braking tracks. Alongside that release, The Cosmic Pro...
Mavic Crossmax Elite WTS 27.5in Boost Wheel
With beefy axle widths moving past the domain of slacked-out gravity tanks and finding their way to even the lightest cross-country frames, Mavic is ready to outfit your new Boost-equipped XC rig with its Crossmax Elite WTS 27. 5in Boost Wheelset. Featuring Mavic's Interspoke Milling 4 Dimensions...
Mavic Crossmax Elite WTS 27.5in Wheel
While it may seem easy to get bogged down in the myriad acronyms peppering the Mavic Crossmax Elite WTS 27. 5in Wheel's spec sheet, the only thing that really matters is that the mishmash of letters and numbers results in a lightweight wheelset that's fast enough to rip any cross-country course...
Mavic Crossmax Elite WTS 29in Wheel
Snap up to speed off the line and shred technical lines with the Mavic Crossmax Elite WTS 29in Wheel. Featuring Mavic's legendary durability and incorporating its Inter Spoke Milling 4 Dimensions process, this wheel's lightweight rim minimizes rotating weight without compromising strength. ISM 4D...
Mavic Crossmax Elite WTS Boost Wheel - 29in
When talking beefy axles widths, cross-country isn't usually the first discipline that comes to mind. However, with the recent trends in Boost axles bleeding out from their more gravity-aided arena into all aspects of off-road riding, XC rigs have seen an influx of Boost frame options. Mavic...
Mavic Crossmax Pro Carbon 29in Boost Wheeelset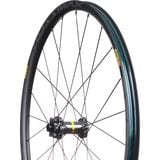 Though we've come to associate it with traditionalism and a staid, stick-with-what-works design ethos over the past decade, the last year has proven Mavic to be quite iconoclastic. The Crossmax Pro Carbon 29in Wheelset embodies this new boldness well, and while it's tempting to characterize it as...
<< Prev | Back | 11 | 12 | 13 | 14 | 15 | 16 | 17 | 18 | 19 | 20 | More | Next >>