Wheels - Road Bike Shop
Shop
>
Components
>
Wheels, Tires, Tubes
>
Wheels
Mavic Crossmax XL 27.5 Wheelset
If you're a one wheelset kinda mountain biker, then you're probably after something that can transfer power on climbs and absorb the abuse of big hits and enduro rides without sacrificing a low-weight designation. The Mavic Crossmax XL 27. 5 Wheelset fits this bill, giving you all of the...
Mavic Crossmax XL 29 Wheelset
When you've got monstrous wheel clearance on your all-day adventuring machine, you'll be wanting some monstrous wheels. The Mavic Crossmax XL 29s are the way to go, combining the countless bits of tech that underwrite the legend of Mavic's wheels with the ultimate compatibility of a rim and a...
Mavic Crossride Disc 29in Wheelset -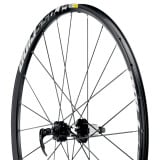 No matter how much money you're willing to drop on Mavic 29er wheels, you can sleep at night knowing that you invested in the highest quality that your money could buy. The Mavic Crossride Disc 29in Wheelset is no exception to this rule. Refusing to make a throwaway 'entry-level' 29er wheelset,...
Mavic Crossroc 26 WTS Wheelset
Mavic designed the Crossroc 26 WTS to be the cross-country race wheel of the Crossroc line. By sacrificing just one millimeter of rim width, the WTS drops 70 grams of weight. That equals less rotational inertia that you have to fight against during mass starts, climbs, or accelerating out of...
Mavic Crossroc 27.5 WTS Wheelset
With a middle-of-the-road size of 27. 5 inches and an ideal balance between considerations of strength, rim width, and weight, the Mavic Crossroc 27. 5 WTS Wheelset is all about finding consensus that all parties can appreciate. We'd definitely vote it into congress, but inanimate objects aren't...
Mavic Crossroc 29 WTS Wheelset
The way we see it, the brute speed of 29ers only come with one real drawback: a little bit of extra weight. The 29er enthusiasts at Mavic see it that way, too, or at least we assume they do based on the super fast, super light Mavic Crossroc 29 WTS Wheelset. By stripping two millimeters of rim...
Mavic Crossroc XL 26 Wheelset
Mavic's Crossroc XL Wheelset is the ideal choice for the cyclist whose rides often turn into adventures across all types of terrain. It runs the middle road between considerations of weight, durability, and price for a wheel that Mavic appropriately markets as being enduro-proof. The Wheelset...
Mavic Crossroc XL 27.5 Wheelset
For cyclists who enjoy the trip up as much as the trip down, Mavic's worry-free Crossroc XL 27. 5 Wheelset strikes a healthy balance between low weight for climbing and reliability for downhill speed. The included Crossroc Quest tires mean this a 27. 5 wheelset that'll take you up, over, and down...
Mavic Crossroc XL 29 Wheelset
The Mavic Crossroc XL 29 Wheelset takes the terrain-clearing and traction advantages of 29ers and adds a beefed-up rim, the option to run tubeless, and the incomparable compatibility of Mavic's tire and wheel system. The result is a no-nonsense monster that devours ups, downs, and all-arounds...
Mavic Freehub Body
Mavic makes swappable freehub bodies for most of their rear wheels so you're not permanently married to either SRAM/Shimano or Campy. You can start off with one body with its unique splines, and you can switch to the other fast. The bodies are known in Mavic-speak as FTS-L, or Force Transfer...
<< Prev | Back | 11 | 12 | 13 | 14 | 15 | 16 | 17 | 18 | 19 | 20 | More | Next >>