Wheels - Road Bike Shop
Shop
>
Components
>
Wheels, Tires, Tubes
>
Wheels
Mavic Cosmic CXR 80 Carbon Tubular Wheelset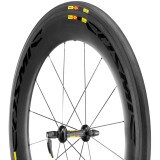 The Mavic Cosmic CXR 80 Carbon Tubular Wheelset is more than just another hoop in the Service Course. Garmin-Sharp won two team time trials with these wheels under them, which indicates to us that Mavic nailed the wheel-tire system in both concept and implementation. The Cosmic CXR 80 Carbon Rims...
Mavic Cosmic Elite Road Wheelset - Clincher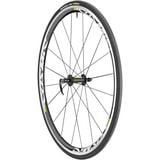 Mavic's Ksyrium wheels are our best sellers by a country mile, but from time to time, people express interest in an equally affordable wheelset more focused on aerodynamics -- a coach class Cosmic Carbone, so to speak. With the priority of aerodynamics in mind, Mavic makes the Cosmic Elite...
Mavic Crossmax Enduro 26in Wheelset
The tech-savvy race fans among us spent the entirety of the 2013 season drooling over the yet-to-be-released prototypes of the Mavic Crossmax Enduro 26in Wheelset. With a string of wins that culminated in the Enduro World Series title being won aboard the French hoops, you'd be right to want to...
Mavic Crossmax Enduro 27.5in Wheelset
A successful 2013 season, concluding with the Enduro World Series title won aboard Crossmax Enduros, makes the appeal for this 27. 5in wheelset understandable. Reflecting the individual demands placed on front and rear wheels in a racing scenario, Mavic employed specific rims for each application...
Mavic Crossmax SLR 27.5in Wheelset
When midsized wheels hit the mainstream, we expected the flood of long travel trail bikes, but what's been somewhat of a surprise has been the rapidly expanding cross country options. You see, wagon wheels had all but taken over the endurance disciplines, but as some of the world's fastest XC...
Mavic Crossmax SLR 29in Wheelset
Retail Price:
$999.00
Our Price: $799.95
buy now
In a short amount of time, 29in wheels have grown from a disdained cult obsession to a World Cup winning phenomenon, and Mavic has been there every step of the way. Not satisfied with following the market trend of simply making a 26in wheel bigger, Mavic literally reinvented the wheel with the...
Mavic Crossmax ST 26in Wheelset
The Mavic Crossmax ST 26in Wheelset takes the best qualities in a cross-country wheel and adapts them for all-mountain riding. They're tough, responsive, and reliable --that's about all we could ever ask out of a wheelset. The Maxtal rims are part of why the Crossmax ST Wheels are tough. The...
Mavic Crossride 27.5 Wheelset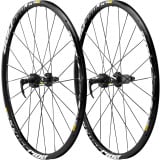 Since the mountain bike industry has fully embraced 27. 5-inch wheels, it only makes sense that there would be such a supply of top-tier mid-size wheelsets, but where does that leave you if you're not looking to drop thousands on a set of carbon wonder-wheels? Well, the fine folks at Mavic know...
Mavic Crossride Disc 29in Wheelset -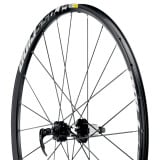 Retail Price:
$325.00
Our Price: $227.50
buy now
No matter how much money you're willing to drop on Mavic 29er wheels, you can sleep at night knowing that you invested in the highest quality that your money could buy. The Mavic Crossride Disc 29in Wheelset is no exception to this rule. Refusing to make a throwaway 'entry-level' 29er wheelset,...
Mavic Freehub Body
Mavic makes swappable freehub bodies for most of their rear wheels so you're not permanently married to either SRAM/Shimano or Campy. You can start off with one body with its unique splines, and you can switch to the other fast. The bodies are known in Mavic-speak as FTS-L, or Force Transfer...
<< Prev | Back | 11 | 12 | 13 | 14 | 15 | 16 | 17 | 18 | 19 | 20 | More | Next >>