Wheels - Road Bike Shop
Shop
>
Components
>
Wheels, Tires, Tubes
>
Wheels
Mavic Aksium Elite Wheel System
Taking on a new name this year, the Aksium Elite Wheel System is last year's Aksium S set wrapped in a greatly improved set of included tires. The Elite system represents incredible value, whether as a training set for a dedicated athlete or an inexpensive but notable upgrade over your bike's...
Mavic Aksium One Wheelset
Ready to be used and abused as a training wheelset, or as a solid upgrade to the cheaper wheels that came with your bike, the Mavic Aksium One Wheelset delivers robust strength, sleek, good-looking aesthetics, and smooth-rolling performance without the sticker shock of pricier wheelsets. Just...
Mavic Alloy Valve Extender
This Mavic 60mm Alloy Valve Extender is just the thing for pairing with their line of aero wheels, like the Cosmic Carbone Ultimate. It looks similar to any other alloy valve extender, but Mavic gave it a special purpose. The inflation end has been designed to function as a tool to open and close...
Mavic Cosmic Carbone 40 C Carbon Road Wheelset - Clincher
Mavic's no stranger to forging ahead with combinations of materials -- the long-running Cosmic Carbone series is dedicated to this. They're some of the best in the world at bending aluminum to their will, so why stray? The Cosmic Carbone 40C Carbon Road Wheelset is perhaps the most advanced...
Mavic Cosmic Carbone 40 Carbon Road Wheelset - Tubular
With the Cosmic Carbone 40 Tubular Wheelset, Mavic set out to make a lightweight and reliable carbon wheelset that could handle the heat, so to speak, that so often plagues carbon constructions. Mavic accomplished this with the Carbone 40 through its propriety resin and construction process...
Mavic Cosmic Carbone 40 Elite Wheelset - Clincher
Mavic knows that weight isn't everything. Its Cosmic Carbone 40 Elite Wheelset strikes a balance between giving you an aerodynamic carbon rim with the durability of an alloy clincher. These aerodynamic rims use Mavic's TgMax rim tempering and construction process. This means that an alloy rim is...
Mavic Cosmic Carbone SLE Carbon Road Wheelset - Clincher
The Mavic Cosmic Carbone SLE Carbon Clincher Road Wheelset takes a daily beating, and the carbon fairing gives you an aerodynamic race advantage without the weight penalty you'd incur if the entire wheel were alloy. You can easily ride cobbles or take hair-pin turns for your morning training...
Mavic Cosmic Carbone SLS Road Wheelset - Clincher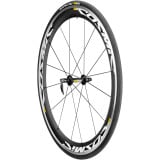 Mavic's Cosmic Carbone SLS Wheelset occupies a bit of an esoteric space in the wheel market these days. They're alloy rims paired with an aerodynamic, but non-structural, carbon fiber fairing. This nets you all of the benefits of an aluminum rim: powerful, consistent braking, impact resistance,...
Mavic Cosmic Carbone Ultimate Carbon Road Wheelset - Tubular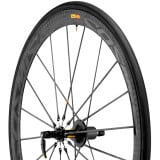 Retail Price:
$3599.90
Our Price: $2599.95
buy now
As part of Mavic's SSC series, the Cosmic Carbone Ultimate Tubular Wheelset has been engineered to excel in a variety of racing conditions. Whether you're pedaling through cobbled streets or over muddy mountain passes, the Cosmic Carbone is an aero, full-carbon wheelset built to carry you swiftly...
Mavic Cosmic CXR 60 Carbon Road Wheelset - Clincher
The Mavic Cosmic CXR 60 Clincher Wheelset is a straight up advantage in races where wind is a factor. Based off the ultra-aerodynamic Cosmic CXR 80, the CXR 60 is a shallower, clincher version that's just as comfortable in a sprint triathlon as it is in a hilly stage race. Mavic, being the...
<< Prev | Back | 11 | 12 | 13 | 14 | 15 | 16 | 17 | 18 | 19 | 20 | More | Next >>