Wheels - Road Bike Shop
Shop
>
Components
>
Wheels, Tires, Tubes
>
Wheels
Industry Nine XD Driver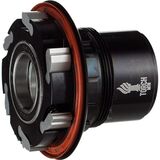 Industry Nine's wheels are much like SRAM's XX1 components -- they're both modern takes on traditional designs. Because XX1 thinks outside the box, it requires a specific freehub body. Industry Nine offers its XD Driver to convert any I-9 wheel to be compatible with XX1 cassettes. The XD Driver...
Mavic 20mm Adapter For Crossmax SX/ST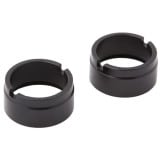 Whether you're upgrading your fork to thru axle and need your 2012 Mavic Crossmax SX or XT to work with the new front end, or you want to be able to swap your Crossmax SX or XT wheelset between bikes and need to convert from quick release to 20mm thru axles, you're going to need Mavic's 20mm...
Mavic Aksium Road Wheelset - Clincher
Money often dictates what level of wheel we choose for our machines, and often the list of 'affordably-priced' wheels is more difficult to sift through than the 'high-end' wheels. Fortunately, the Mavic Aksium Wheels not only keeps the budget conscious satisfied, but maintains the quality and...
Mavic Aksium S Wheelset
We all know that less is more, or more specifically, that in the world of cycling, you pay more for components that weigh less. So while you probably guessed that the Mavic Aksium S Wheelset won't win any weight contests, it would be foolish to sleep on these perennial favorites. You see, while...
Mavic Alloy Valve Extender
This Mavic 60mm Alloy Valve Extender is just the thing for pairing with their line of aero wheels, like the Cosmic Carbone Ultimate. It looks similar to any other alloy valve extender, but Mavic gave it a special purpose. The inflation end has been designed to function as a tool to open and close...
Mavic Cosmic Carbone 40 C Carbon Road Wheelset - Clincher
We are well aware of the benefits provided by a well-designed pair of carbon clinchers. The low weight, stiffness, solid aerodynamics, and reliability continue to be the reasons that we mount them up on our machines for both training and racing. But, there's always that one lingering cloud that's...
Mavic Cosmic Carbone 40 Carbon Road Wheelset - Tubular
If you sweat the details, you already know that tubular tires provide an unbelievably smooth ride. But you also know that tubular cement doesn't do too well when faced with high heats -- the kind you can expect when descending at high speed, and you're braking hard. And since carbon fiber rims...
Mavic Cosmic Carbone SLE Carbon Road Wheelset - Clincher
Mavic constructed the Cosmic Carbone SLE Carbon Clincher Road Wheelset with striking similarity to the Carbone SLR. The wheels start with a Maxtal aluminum rim brought together with a seamless SUP weld. The brake track is then milled for a smooth, finish. The use of a Maxtal rim is a natural...
Mavic Cosmic Carbone Ultimate Carbon Road Wheelset - Tubular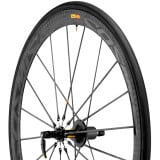 When Mavic engineered the Cosmic Carbone Ultimate Tubular Wheelset it was with the explicit purpose of creating a wheelset that would both dominate mountain stages and snatch victories in the Spring Classics. As part of the SSC series, these wheels have been tested by some of the world's best...
Mavic Cosmic CXR 60 Carbon Road Wheelset - Tubular
While an 80mm hoop cuts through the wind like a hot knife through butter, it may be a little tall and stiff for windy conditions or certain criterium courses. Mavic took all of the wind-splitting advantages of its CXR 80T Wheelset and developed a shallower profile. The Cosmix CXR 60 Carbon Road...
<< Prev | Back | 11 | 12 | 13 | 14 | 15 | 16 | 17 | 18 | 19 | 20 | More | Next >>