Wheels - Road Bike Shop
Shop
>
Components
>
Wheels, Tires, Tubes
>
Wheels
DT Swiss 240S Freehub Body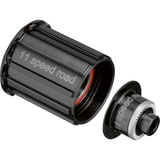 Change out your drivetrain and keep your favorite set of wheels with the DT Swiss 240S Freehub Body. Available in both Shimano/SRAM and Campagnolo-spline versions, swapping out your freehub to match your new component group is a breeze -- no need to buy a new set of wheels.
DT Swiss Aluminum Mountain Freehub Body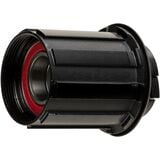 If you're running a DT Swiss 240, 350, or 440 rear hub, and you damage your 9/10-speed freehub body, or simply want to swap from a SRAM XD (1x11) drivetrain to a 2x or 3x 9/10-speed one, you'll want this, the DT Swiss Aluminum Mountain Freehub Body. Compatible with all non-XD Shimano and SRAM...
DT Swiss Torque Cap End Caps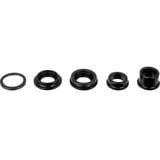 The DT Swiss Torque Cap End Cap is a simple little item that nets surprising gains when paired with compatible hubs and forks. The full system involves a more robust fork/hub interface that hinges on the Torque Caps' increased contact area with the fork. This makes for a stiffer front end that...
DT Swiss XR 1501 Spline 29in Wheel
Retail Price:
$489.00
Our Price: $475.95
buy now
Lighter than its XM counterpart, DT Swiss' XR 1501 Spline 29in Wheel is intended for traditional crosscountry riding and racing. It favors weight savings, but without sacrificing too much in the strength department. In fact, the XR 1501's rims share the same Strength Boost Welding Technology as...
Easton EC90 Aero 55 Carbon Road Wheel - Tubular
You've seen all the fast, lightweight race wheels, but more often than not, those desirable attributes come at the expense of out-and-out strength. That's why we're so impressed with the Easton EC90 Aero 55 Carbon Tubular Wheel. As part of Easton's race-ready EC90 lineup, they'll slice through...
Easton R4 Cassette Body
The Easton R4 Cassette Body allows you to use any Easton R4 or R4 SL-equipped rear wheel with Shimano and SRAM 11-speed road drivetrains. The Easton R4 Freehub Body runs on high quality 6902 steel bearings and has three spring-loaded pawls. The R4 Cassette Body is compatible with all R4 and R4 SL...
ENVE 1.45 Carbon Road Wheelset - Tubular
Every gram that you don't have to push along the road is time added and energy saved (that's why you shaved your legs and didn't drink any beer for 24 hours, right?), but lightening up your wheelset is probably the most efficient way to get a big performance boost by shaving a few grams....
ENVE 1.65 Carbon Road Wheelset - Tubular
Some use it for cyclocross, others for time trials, but regardless, one thing can be said for certain -- the ENVE 1. 65 Wheelset is insanely fast. In fact, the 1. 65 is the ultralight iteration of what was already referred to as 'the founder's favorite.' So, at an even lighter, feathery 1258...
ENVE M50 Fifty 29in Boost Wheelset
The ENVE M50 Fifty 29in Boost Wheelset has redefined our expectations for what a cross country wheelset is able to do. Built with speedy hardtail and shorter suspension rides in mind, the M50 Fifty replaces ENVE's renowned XC rim with a significant drop in weight for even faster rolling on flats...
ENVE M50 Fifty 29in Wheelset
Carbon wheels make a lot of sense on 29ers --the larger-diameter rim is inherently less stiff than its 26 or 27'5in counterparts, and the extra stiffness of a carbon rim contributes massively to the overall stiffness of the wheel. ENVE's M50s, a more trail-friendly version of the long-running XC...
<< Prev | Back | 1 | 2 | 3 | 4 | 5 | 6 | 7 | 8 | 9 | 10 | More | Next >>