Tubes Accessories - Road Bike Shop
Shop
>
Components
>
Wheels, Tires, Tubes
>
Tubes & Accessories
Challenge S.C. Latex Tube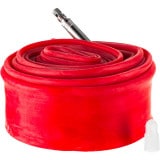 The Challenge S. C. Latex Tubes are significantly lighter than standard butyl tubes for the less rotational mass and lower rolling resistance when you're competing and racing against the clock. They're also more elastic and resistant to punctures than regular butyl tubes. However, because of...
Continental Race Tube
Retail Price:
$10.50
Our Price: $8.40
buy now
Continental's Race Tube offers you a tough and lightweight solution when you're trying to shave a few grams on race day. Compared to throwaway bulk tubes, the Race Tube offers substantial weight savings without sacrificing protection. Pair your carbon clinchers with Continental's Race Tubes and...
Continental Revo Sealant - 1000 ml
Retail Price:
$24.95
Our Price: $19.96
buy now
Continental's Revo Sealant will help you patch small punctures in tires and tubes, but it will also seal up your tubeless setup to prevent leaks, making it the only sealant you'll need in your repair kit.
Continental Rim Cement - Tubular Glue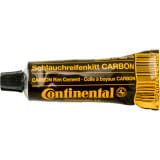 Retail Price:
$4.95
Our Price: $3.96
buy now
In the tubular tire-rim interface, the difficult surface to work with is the rim. Base tape, which is just about always a woven strip of cotton cloth, is easy. Glue seeps between the threads, stays there, and dries. The rim is another story. The glue has to bond to the rim in some way, but not...
Continental Tubes - 27.5in
Continental's 27. 5-inch tubes are constructed from Butyl rubber, which holds air better than other compounds. They are lightweight and strong. The Presta valve is 48mm long.
Continental Tubes - 29in
You never know for sure when you'll have to put in a fresh tube, but odds are it will be as soon as you go for a ride without one. Save yourself the trouble of walking home by picking up a spare Continental MTB 29in Tube, which'll fit easily into a pack or pocket so you'll be able to save...
Effetto Mariposa Caffelatex Tubeless Valve - Pair
Retail Price:
$15.00
Our Price: $14.99
buy now
Caffelatex Tubeless Valves bear more than a passing resemblance to our favorite tubeless valve ever, the Mavic UST valve. What makes the Caffelatex valves so great is the shape of the rubber base that sits inside the rim. First, it will sit all the way down into the center well inside a UST rim,...
ENVE Valve Extender
The ENVE Valve Extenders allow you to use that bulk of tubes you have at home with your new deep wheels. Just pull the valve core, screw on the Enve Valve Extender, and thread your valve core into the open end of the valve extender. Like magic, you have a really long valve stemEnve Valve...
Lezyne Valve Extender
Lezyne's Presta Valve Extenders function in two ways. First, they are long enough, 70mm, that you'll have a valve head sticking out of just about every deep-section wheel around. Second, they have a threaded top that makes it possible to screw on the Presta-side pump heads found on both Lezyne's...
Maxxis Ultralight Road Tube
Retail Price:
$10.95
Our Price: $6.05
buy now
As the saying goes, 'a tube in the hand is better than two in your buddy's saddlebag.' Stay prepared on your training rides with the versatile Maxxis Welter Weight Road Tube, and never have to mooch a tube off another more-prepared-than-thou Cat 4 rider again.
<< Prev | 1 | 2 | 3 | Next >>