Tubes Accessories - Road Bike Shop
Shop
>
Components
>
Wheels, Tires, Tubes
>
Tubes & Accessories
Challenge S.C. Latex Tube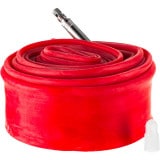 The Challenge S. C. Latex Tubes are significantly lighter than standard butyl tubes for the less rotational mass and lower rolling resistance when you're competing and racing against the clock. They're also more elastic and resistant to punctures than regular butyl tubes. However, because of...
Continental Cross Tube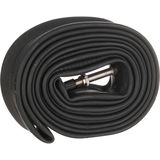 When you're riding your next 'cross race, the last thing you want to do is hop back on your bike after charging up a flight of slick stairs to discover you have a flat. We can't promise that Continental's Cross Tube is indestructible, but we can promise its seamless butyl construction is better...
Continental Race Light Tube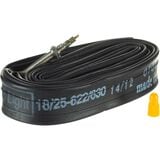 Retail Price:
$10.95
Our Price: $7.48
buy now
The Continental Race Light Tube is the company's lightest non-latex offering, making it ideal for those of us who compete in longer races, or who would rather not pump up our tires every few days. If you're running high-end race tires on lightweight wheels, the Continental Race Light Tube...
Continental Revo Sealant - 1000 ml
Retail Price:
$24.95
Our Price: $19.99
buy now
Continental's Revo Sealant will help you patch small punctures in tires and tubes, but it will also seal up your tubeless setup to prevent leaks, making it the only sealant you'll need in your repair kit.
Continental Revo Sealant - 240 ml
Retail Price:
$9.95
Our Price: $7.99
buy now
Have a small puncture? Did your tubeless setup come off the rim? Add some Continental Revo Sealant to bring your tube or tire back to life. This ammonium- and protein-free sealant won't degrade or corrode rubber, and it can be used as a preventative sealant if you're running tubeless, too.
Continental Rim Cement - Tubular Glue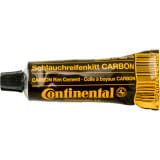 Retail Price:
$3.95
Our Price: $3.19
buy now
In the tubular tire-rim interface, the difficult surface to work with is the rim. Base tape, which is just about always a woven strip of cotton cloth, is easy. Glue seeps between the threads, stays there, and dries. The rim is another story. The glue has to bond to the rim in some way, but not...
Continental Tubes - 29in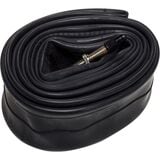 Retail Price:
$7.50
Our Price: $5.99
buy now
You never know for sure when you'll have to put in a fresh tube, but odds are it will be as soon as you go for a ride without one. Save yourself the trouble of walking home by picking up a spare Continental MTB 29in Tube, which'll fit easily into a pack or pocket so you'll be able to save...
Easton Tubeless Kit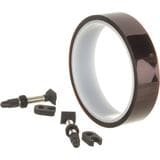 Convert your Easton tubeless-ready Arc or Heist rims to tubeless -- and gain the benefits of lower tire pressure and fewer pinch flats -- with the Easton Tubeless Kit. Each kit comes complete with two removable-core Easton valves with valve removal tools and enough tubeless rim tape to outfit two...
Effetto Mariposa Caffelatex Tire Sealant
Retail Price:
$13.66
Our Price: $9.69
buy now
Caffelatex Tire Sealant is different than other liquid latex sealants on the market -- it has a foaming agent that effectively creates a tire filling foam as your tire rolls down the road or trail. The advantage is that the Caffelatex foaming sealant can seal the rim/tire junction and sidewall...
ENVE Silca Valve Extender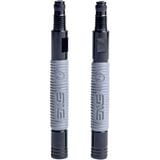 ENVE partnered with the renowned inflation artisans at Silca to create the dependable Silca Valve Extender. While a valve extender isn't the most glamorous accessory you'll buy for your bike, your ENVE rims will take much less time to inflate without you having to search for a lost valve rattling...
<< Prev | 1 | 2 | 3 | 4 | 5 | Next >>