Tubes Accessories - Road Bike Shop
Shop
>
Components
>
Wheels, Tires, Tubes
>
Tubes & Accessories
Challenge S.C. Latex Tube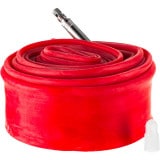 You may not consider the lowly inner tube when it comes time to lighten up your ride. Sure, it isn't the difference between a steel frame and a carbon frame, but if you're counting grams, a pair of Challenge S. C. Latex Tubes are one of the least expensive ways to improve your riding experience....
Continental Race Light Tube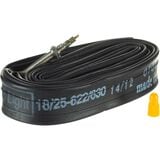 Retail Price:
$10.95
Our Price: $9.86
buy now
If you're like us, you find comfort on the middle path; far away from the polarities of the cycling world. To us, lightweight clinchers epitomize this ideology, and we applaud your choice of race wheels that can double as a training set. Your tubes should reflect this duality by providing both...
Continental Race Tube
We could go on and on about the benefits of low rotational weight, but at the end of the day, you just need a tube that's lightweight and tough -- a tube like the Continental Race Tube. Offering substantial weight savings over throw-away bulk tubes, the Race Tube lives up its name while still...
Continental Rim Cement - Tubular Glue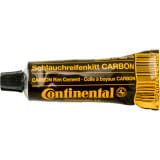 Retail Price:
$4.95
Our Price: $4.46
buy now
In the tubular tire-rim interface, the difficult surface to work with is the rim. Base tape, which is just about always a woven strip of cotton cloth, is easy. Glue seeps between the threads, stays there, and dries. The rim is another story. The glue has to bond to the rim in some way, but not...
Continental Tubes - 27.5in
Continental's 27. 5-inch tubes are constructed from Butyl rubber, which holds air better than other compounds. They are lightweight and strong. The Presta valve is 48mm long.
Continental Tubes - 29in
Make sure you keep your 29er happy with Continental 29in MTB Tubes. Made from butyl rubber, Continental tubes are lightweight and strong?just like your 29er. 48mm Presta valve stem
Effetto Mariposa ZOT!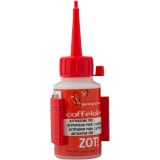 Retail Price:
$14.95
Our Price: $12.99
buy now
With a bolt of trailside sorcery, Caffelatex ZOT! breathes life back into your catastrophically cut or punctured tubeless tires. Working as a polymerization catalyzer, you only need to squeeze a small amount of ZOT! into the damaged area in the tire, which will quickly solidify the Caffelatex and...
ENVE Valve Extender
The ENVE Valve Extenders allow you to use that bulk of tubes you have at home with your new deep wheels. Just pull the valve core, screw on the Enve Valve Extender, and thread your valve core into the open end of the valve extender. Like magic, you have a really long valve stemEnve Valve...
Hutchinson Fast'Air Latex Aerosol Inflator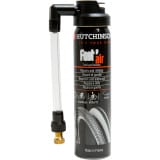 The Hutchinson Fast Air is the only sealant Hutchinson recommends with their tubeless tires. It is a latex-based sealant that comes in a 75ml CO2 canister. It both inflates tires from 0 psi and seals from punctures. It can be applied before initial inflation or on a ride after a tire has gone...
Lezyne Valve Extender
Lezyne's Presta Valve Extenders function in two ways. First, they are long enough, 70mm, that you'll have a valve head sticking out of just about every deep-section wheel around. Second, they have a threaded top that makes it possible to screw on the Presta-side pump heads found on both Lezyne's...
<< Prev | 1 | 2 | 3 | 4 | Next >>