Tubes Accessories - Road Bike Shop
Shop
>
Components
>
Wheels, Tires, Tubes
>
Tubes & Accessories
Continental Race Tube
Continental's Race Tube offers you a tough and lightweight solution when you're trying to shave a few grams on race day. Compared to throwaway bulk tubes, the Race Tube offers substantial weight savings without sacrificing protection. Pair your carbon clinchers with Continental's Race Tubes and...
Continental Rim Cement - Tubular Glue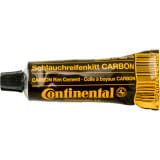 Retail Price:
$4.95
Our Price: $3.96
buy now
In the tubular tire-rim interface, the difficult surface to work with is the rim. Base tape, which is just about always a woven strip of cotton cloth, is easy. Glue seeps between the threads, stays there, and dries. The rim is another story. The glue has to bond to the rim in some way, but not...
Continental Tubes - 27.5in
Contiental makes its tubes with tough Butyl rubber, which is known to hold air better than other compounds. These strong, lightweight tubes feature a 48mm Presta valve stem.
Continental Tubes - 29in
You never know for sure when you'll have to put in a fresh tube, but odds are it will be as soon as you go for a ride without one. Save yourself the trouble of walking home by picking up a spare Continental MTB 29in Tube, which'll fit easily into a pack or pocket so you'll be able to save...
ENVE Valve Extender
The ENVE Valve Extender ensures that your valve stems aren't buried inside the rims of your new deep wheelset. ENVE's attaches quickly and offers you a longer valve stem with easy accessibility.
Hutchinson Fast'Air Latex Aerosol Inflator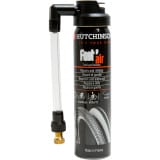 The Hutchinson Fast Air is the only sealant Hutchinson recommends with their tubeless tires. It is a latex-based sealant that comes in a 75ml CO2 canister. It both inflates tires from 0 psi and seals from punctures. It can be applied before initial inflation or on a ride after a tire has gone...
Lezyne Valve Extender
Lezyne's Presta Valve Extenders function in two ways. First, they are long enough, 70mm, that you'll have a valve head sticking out of just about every deep-section wheel around. Second, they have a threaded top that makes it possible to screw on the Presta-side pump heads found on both Lezyne's...
Maxxis Ultralight Road Tube
Retail Price:
$10.95
Our Price: $6.05
buy now
As the saying goes, 'a tube in the hand is better than two in your buddy's saddlebag.' Stay prepared on your training rides with the versatile Maxxis Welter Weight Road Tube, and never have to mooch a tube off another more-prepared-than-thou Cat 4 rider again.
Maxxis Welter Weight Road Tube
Retail Price:
$9.95
Our Price: $6.28
buy now
Whether you're training in the off-season, or just need some reliable rubber for a worry-free commute, ride with the Maxxis Welter Weight Road Tube.
Michelin Aircomp Butyl Ultralight Tube - Road
Far more airtight than latex inner tubes, Butyl tubes won't require you to reach for your pump before every ride. Michelin Aircomp Butyl Ultralight tubes weigh just 80 grams and offer confidence-inspiring durability on the open highway. These also come in three valve stem lengths--40mm, 52mm, or...
<< Prev | 1 | 2 | 3 | Next >>