Tubes Accessories - Road Bike Shop
Shop
>
Components
>
Wheels, Tires, Tubes
>
Tubes & Accessories
Q-Tubes 29in Presta Mountain Tube
Q-tubes is the house brand of one of our favorite distributors, Quality Bicycle Parts. The tubes are high quality, produced by Kenda. They are black rubber with a 32mm Presta Valve. At ~220g/per, they're respectably light. These are for bikes with big wheels -- 29in x 1. 9-2. 3in.
Q-Tubes Cyclocross Tube
The "Q" in Q-Tubes is Quality Bicycle Products -- the 10,000lb wholesale behemoth of the bike biz. They're produced by Kenda for QBP so you know they're high quality and will work just fine in your bike. The presta valve stem is 48mm long and should allow easy inflation with most low profile...
Q-Tubes Road Bike Tube
If you aren't running tubulars or tubeless, chances are you need new tubes on hand during a training ride. Stock up on the 700c x 18-23 Q-Tubes to keep in your seatpost pack or your commuting panniers so you can play 'Good Samaritan' on the bike path. They're produced by Kenda for QBP so you know...
Stan's NoTubes Injector
While tire sealant has changed the way we ride, it can be a hassle to install. The Stan's NoTubes Injector aims to change that. The graduated, two-ounce injector makes application of sealant simple, with no mess or waste. You can use it to transfer sealant from one tire to another, or use it to...
Stan's NoTubes Standard Tubeless System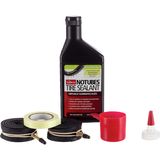 This is the quick 'n easy way to convert clincher rims to tubeless. The Stan's NoTubes Standard Tubeless Kit looks like one of those things invented in the garage by a guy with too much time on his hands. So what? Tinkerers have made the bike world so damned interesting, and there is a beauty...
Surly Fat Bike Rim Strip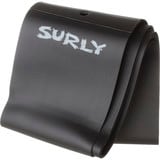 The Surly Fat Bike Rim Strip is just like a normal rim strip, but with a bit of extra girth to accommodate Surly's different fat bike rims. Please note that the Surly Fat Bike Rim Strip comes in different sizes for different rims, so measure twice and buy once.
Tufo Tire Sealant - 50ml
Retail Price:
$12.00
Our Price: $8.99
buy now
If you love to ride tubulars, Tufo Tire Sealant is as close as it gets to an insurance policy. You can use it preventively by unthreading your tire valve and squeezing sealant directly into the tire. If/when you get a flat the sealant plugs the flat, often times with almost no pressure loss....
Vittoria Latex Road Tube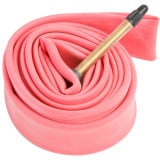 You probably don't think about the tubes you put inside your tires, but with Vittoria's Latex Road Tubes, you'll have a slight advantage when it comes to speed. In testing, latex tubes are smooth enough to reduce rolling resistance by a few watts. And while a few watts may not seem like much,...
Vittoria Mastik'One Professional Tubular Glue
More races are won on tubulars than clinchers. More races are won on Vittoria tubulars than any other brand. So more races are won on tires affixed with Mastik One than any other glue (or tape) out there. It's what the pros use when it matters, i. e. as they skid at suicidal speeds through Alpine...
Vittoria Ultralite Tube
Retail Price:
$7.95
Our Price: $4.99
buy now
What's the first thing you think of when someone mentions weight-saving components? Wrong. You think of inner tubes. The Vittoria lightweight tube is made with high-quality butyl rubber instead of latex because of its superior air retention. And, it's a really inexpensive way to drop weight.
<< Prev | 1 | 2 | 3 | 4 | Next >>