Tubes Accessories - Road Bike Shop
Shop
>
Components
>
Wheels, Tires, Tubes
>
Tubes & Accessories
Stan's NoTubes Standard Tubeless System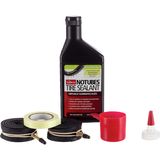 This is the quick 'n easy way to convert clincher rims to tubeless. The Stan's NoTubes Standard Tubeless Kit looks like one of those things invented in the garage by a guy with too much time on his hands. So what? Tinkerers have made the bike world so damned interesting, and there is a beauty...
Surly Fat Bike Rim Strip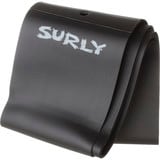 The Surly Fat Bike Rim Strip is just like a normal rim strip, but with a bit of extra girth to accommodate Surly's different fat bike rims. Please note that the Surly Fat Bike Rim Strip comes in different sizes for different rims, so measure twice and buy once.
Vittoria Latex Road Tube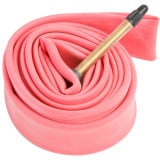 You probably don't think about the tubes you put inside your tires, but with Vittoria's Latex Road Tubes, you'll have a slight advantage when it comes to speed. In testing, latex tubes are smooth enough to reduce rolling resistance by a few watts. And while a few watts may not seem like much,...
Vittoria Mastik'One Professional Tubular Glue
More races are won on tubulars than clinchers. More races are won on Vittoria tubulars than any other brand. So more races are won on tires affixed with Mastik One than any other glue (or tape) out there. It's what the pros use when it matters, i. e. as they skid at suicidal speeds through Alpine...
Vittoria Pit-Stop Road Racing Tube and Tire Repair Kit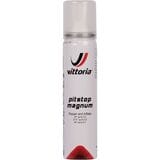 Tubular tires are awesome, until you get a flat and feel like leaving your wheels on the side of the road and carrying your bike home on your back. Vittoria's Pit-Stop Road Racing and Tire Repair Kit will save your punctured bacon, though, by plugging any holes with fast-acting latex foam that...
Vittoria Removable Tubular Valve - Pair
Vittoria's Removable Valves are something special. They're not valve extenders like you'd expect, but actually valve stems that function with Vittoria's 320 TPI tubulars and Rubino Pro tubulars. These tires and tubes have unique removable stems. Simply un-thread the valve stem that is not the...
Vittoria Ultralite Tube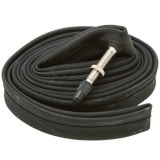 Retail Price:
$7.95
Our Price: $5.99
buy now
What's the first thing you think of when someone mentions weight-saving components? Wrong. You think of inner tubes. The Vittoria lightweight tube is made with high-quality butyl rubber instead of latex because of its superior air retention. And, it's a really inexpensive way to drop weight.
Zipp Valve Extender
Do you have deep cross-section rims? When you air up your tires, is it a headache to get your pump to "bite" on the end of the presta valve? The Zipp Valve Extender is the answer. The extender threads onto the end of your valve to give your pump more surface area to grab. These are black anodized...
<< Prev | 1 | 2 | 3 | Next >>