Tubes Accessories - Road Bike Shop
Shop
>
Components
>
Wheels, Tires, Tubes
>
Tubes & Accessories
Michelin Aircomp Butyl Ultralight Tube - Road
Far more airtight than latex inner tubes, Butyl tubes won't require you to reach for your pump before every ride. Michelin Aircomp Butyl Ultralight tubes weigh just 80 grams and offer confidence-inspiring durability on the open highway. These also come in three valve stem lengths--40mm, 52mm, or...
Michelin Airstop Butyl Tube - Road
Retail Price:
$8.99
Our Price: $7.19
buy now
Ward off flats with the Michelin Airstop Butyl Road Tube. The thicker rubber adds a bit of weight, but makes up for it with increased flat protection over super thin and lightweight racing tubes. These tubes are great for long training rides and daily commutes where a flat tire could seriously...
Michelin Airstop Cyclocross Tube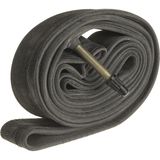 With your tubulars tucked safely away for race day, the last thing you want to get in the way of a training ride is an ill-timed flat from lightweight tubes better suited for road hill climbs. With thicker rubber, the Michelin Airstop Cyclocross Tube weighs a little bit more than super...
Orange Seal MTB Tubeless Kit
Everything you need to ditch unnecessary rubber with tubeless-ready rims is supplied in Orange Seal's 24mm-wide MTB Tubeless Kit. This includes two 48mm removable-core Presta valves and the tool, a twist-lock injector, rim tape, and eight ounces of sealant. Orange Seal's sealant uses nanites to...
Orange Seal Road Tube Kit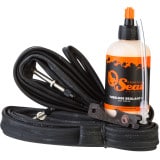 When it comes to ride quality and speed, it's hard to best tubulars. However, they leave little to be desired in the reliability department. In fact, flats are something that are all too common on low-profile road tires -- which is why Orange Seal provides the Road Tube Kit. Orange Seal's Road...
Orange Seal Valve Stem
Mountain bike rims are diverse, to say the least. From materials, to cross-sections, to widths, there are many options. Orange Seal's Valve Stem is designed to accommodate this wide range with its tapered base and oversized oval flap, which ensures an airtight seal and prevents pull-through....
Q-Tubes 26in Presta Mountain Tube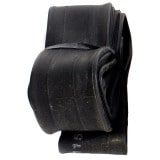 The name Q-tubes is Quality Bicycle Parts' house brand. The tubes are manufactured by Kenda and weigh 182g each. While they specify 26x1. 9-2. 125, they can safely be used in 2. 35 or even wider tires.
Q-Tubes 27.5in Presta Low-Volume Mountain Tube
27. 5 is such a popular wheel size that your LBS might well be out of the tubes you need, so stocking up on the 27. 5in Presta Low-Volume Mountain Tube is probably a good idea. You never know when you'll flat, so carrying one of these beauties around is well worth the trouble.
Q-Tubes 27.5in Presta Mountain Tube
Given the rapid arrival of 27. 5-inch wheels to the marketplace, the likelihood of your LBS or trail-side guardian angel not having the corresponding tube is pretty high at the moment. For this reason, we recommend grabbing fate by the horns and stocking up on the Q-Tubes 27. 5in Presta Mountain...
Q-Tubes 29in Presta Mountain Tube
You can't ride without tubes--well, you can, but that's neither here nor there--so having a replacement ready to go is always a good idea. Q-Tubes' 29in Presta Mountain Tube is exactly what it sounds like--a 29in rubber tube with a Presta valve that's made for your mountain bike. Respectably...
<< Prev | 1 | 2 | 3 | 4 | 5 | Next >>