Tires - Road Bike Shop
Shop
>
Components
>
Wheels, Tires, Tubes
>
Tires
45NRTH Flowbeist Tubeless Fat Bike Tire
Let loose on snowy fields and flowy, winter singletrack with the 45NRTH Flowbeist Tubeless Fat Bike Tire. Billed as a front-specific tire, the Flowbeist boasts tall side lugs made from a softer compound to grab the snow and guide you through the turns. Its aggressive knobs are set wide to float...
Challenge Gravel Grinder Tire - Clincher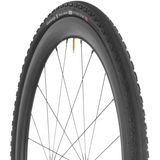 Challenge has already shown its dedication to providing cyclocross riders with gravel-specific options, and when the Italian company saw room for another offering, it expanded its gravel line to include the Gravel Grinder Clincher Tire. Developed with longer hard-pack and loose gravel races in...
Challenge Grifo 33 Cross Tire - Clincher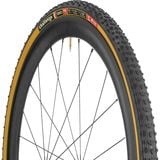 Retail Price:
$81.99
Our Price: $74.99
buy now
Because cyclocross tires have to accommodate a particularly wide array of conditions -- from pavement to pure mud -- in a single race, their tread pattern has to be especially capable. Having been refined over many years, and on its way to countless podiums and numerous world championships, the...
Challenge Grifo 33 Cross Tire - Tubular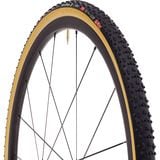 If its multiple-world-championship-winning tread pattern doesn't grab your attention, then the incredibly smooth and tough 300tpi casing should do the trick, right? Or the classic tan sidewall? Or the legendary durability? If none of these things convinces you that the Challenge Grifo 33 Tubular...
Challenge Strada Bianca Tire - Clincher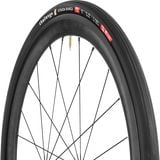 The Challenge Strada Bianca Clincher tire is designed for bumpy, rough roads. Not only is it one of the toughest tires in Challenge's lineup, it's also one of the smoothest-riding, which, for a manufacturer that's known for its smooth-riding tires, is saying a lot. The Strada Bianca's casing is...
Challenge Strada Tubular Tire
Retail Price:
$104.99
Our Price: $94.99
buy now
There's no denying that experiencing a great tubular tire is a wonderful experience. You won't believe that your bike could be so smooth and fast. So if you're going to make the switch to tubulars, do yourself a favor and wrap some Challenge Strada Tubular Tires around your hoops, because...
Clement BOS Tire - Tubeless
BOS Tire - Tubeless
Clement LAS Tire - Clincher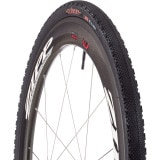 Like CrossVegas, the Clement LAS Tire is all about flat-out speed. The diamond-file tread at the tire's center offers extremely low rolling resistance. As you move toward the side of the tire, you'll notice that the lugs grow larger to give the tire grip in corners. The tread is molded from 60...
Clement LAS Tire - Tubular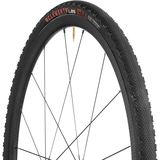 Retail Price:
$129.00
Our Price: $105.78
buy now
The fact that the folks at Clement named the LAS Tire - Tubular after the airport code for the location of their favorite stateside 'cross race (Las Vegas) should tell you two things about its development. First, it's made by people with a real passion for the sport. Second, its design is...
Clement MXP Tire - Tubeless
Clement may be a relatively unfamiliar name for younger American riders unaware of the boutique French firm's mid-century glory days. After a few disappointing years of dormancy, new ownership and a strong lineup of 'cross tires have brought Clement some long overdue attention stateside. The...
<< Prev | Back | 1 | 2 | 3 | 4 | 5 | 6 | 7 | 8 | 9 | 10 | More | Next >>