Tires - Road Bike Shop
Shop
>
Components
>
Wheels, Tires, Tubes
>
Tires
45NRTH Dunderbeist Tubeless Fat Bike Tire
Attack snowy fields and mountains filled with beautifully groomed corduroy on the 45NRTH Dunderbeist Tubeless Fat Bike Tire. Billed as a rear-specific tire, the Dunderbeist boasts beefy knobs with wide spacing to dig in on the climbs and hook up in the corners for confident control. Dual compound...
45NRTH Flowbeist Tubeless Fat Bike Tire
Let loose on snowy fields and flowy, winter singletrack with the 45NRTH Flowbeist Tubeless Fat Bike Tire. Billed as a front-specific tire, the Flowbeist boasts tall side lugs made from a softer compound to grab the snow and guide you through the turns. Its aggressive knobs are set wide to float...
Challenge Gravel Grinder Plus Tire - Clincher
Enjoy the pleasure of pedaling along scenic back roads and less-traveled paths when your bike is rolling on the Challenge Gravel Grinder Plus Clincher Tire. This 38mm tire stays true to Challenge's handcrafted heritage, delivering a smooth, supple ride across rough pavement, bumpy back roads, and...
Challenge Grifo 33 Cross Tire - Clincher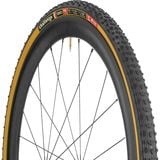 Retail Price:
$81.99
Our Price: $74.99
buy now
Because cyclocross tires have to accommodate a particularly wide array of conditions -- from pavement to pure mud -- in a single race, their tread pattern has to be especially capable. Having been refined over many years, and on its way to countless podiums and numerous world championships, the...
Challenge Grifo 33 Cross Tire - Tubular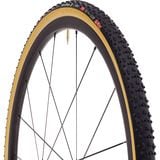 If its multiple-world-championship-winning tread pattern doesn't grab your attention, then the incredibly smooth and tough 300tpi casing should do the trick, right? Or the classic tan sidewall? Or the legendary durability? If none of these things convinces you that the Challenge Grifo 33 Tubular...
Challenge Paris Roubaix Tire - Clincher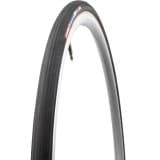 Retail Price:
$46.99
Our Price: $25.84
buy now
Although the sturdy aluminum box-sectioned wheels that were once synonymous with the Spring Classics have become nearly extinct in the age of composites, we still see riders opting for reliable, wide tires when the roads get rough. It's no secret why these bigger tires are the preferred choice...
Challenge Strada Bianca Tire - Clincher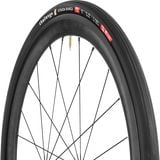 The Challenge Strada Bianca Clincher tire is designed for bumpy, rough roads. Not only is it one of the toughest tires in Challenge's lineup, it's also one of the smoothest-riding, which, for a manufacturer that's known for its smooth-riding tires, is saying a lot. The Strada Bianca's casing is...
Challenge Strada Tubular Tire
Retail Price:
$104.99
Our Price: $94.99
buy now
There's no denying that experiencing a great tubular tire is a wonderful experience. You won't believe that your bike could be so smooth and fast. So if you're going to make the switch to tubulars, do yourself a favor and wrap some Challenge Strada Tubular Tires around your hoops, because...
Clement BOS Tire - Tubeless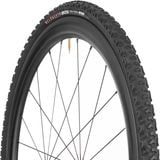 BOS Tire - Tubeless
Clement FRJ 120TPI Tire - 29in
Retail Price:
$80.00
Our Price: $16.00
buy now
Designed for cross country racing on technical courses, the Clements FRJ 120TPI 29in Tire offers a smooth, supple feel with low rolling resistance and plenty of traction for cornering and climbing. This particular version features a 120 TPI casing, making it lighter and more supple than Clement's...
<< Prev | Back | 1 | 2 | 3 | 4 | 5 | 6 | 7 | 8 | 9 | 10 | More | Next >>