Tires - Road Bike Shop
Shop
>
Components
>
Wheels, Tires, Tubes
>
Tires
45NRTH Dunderbeist Tubeless Fat Bike Tire
Attack snowy fields and mountains filled with beautifully groomed corduroy on the 45NRTH Dunderbeist Tubeless Fat Bike Tire. Billed as a rear-specific tire, the Dunderbeist boasts beefy knobs with wide spacing to dig in on the climbs and hook up in the corners for confident control. Dual compound...
45NRTH Flowbeist Tubeless Fat Bike Tire
Let loose on snowy fields and flowy, winter singletrack with the 45NRTH Flowbeist Tubeless Fat Bike Tire. Billed as a front-specific tire, the Flowbeist boasts tall side lugs made from a softer compound to grab the snow and guide you through the turns. Its aggressive knobs are set wide to float...
45NRTH Nicotine Tire - 29in
Winter forces some of us off our bikes until more favorable conditions return, but for others, the addition just won't let go of our biker brains. For year-round mountain bikers, the 45NRTH Nicotine 29" tire may just become your new best friend. Designed specifically for cold weather, the...
Challenge Criterium 320 Tire - Clincher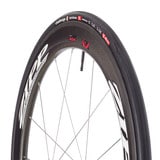 Though Challenge officially categorizes the Criterium 320 Tire as an "open tubular," it is, essentially, a clincher. At least in form. In function, these tires feel more akin to tubular tires. They're supple, grippy, smart in the corners, and they ravenously devour road noise. The Criteriums aren...
Challenge Fango 33 Tire - Tubular
It may be the legendary Challenge ride quality that initially brings you knocking at the Fango 33 Tire's Tubular door, but the mud-voiding, confidence-inspiring tread pattern is what'll convince you to stay for coffee. The Fango's handmade 300 TPI Super Poly casing is what you'd expect from...
Challenge Gravel Grinder Plus Tire - Clincher
Enjoy the pleasure of pedaling along scenic back roads and less-traveled paths when your bike is rolling on the Challenge Gravel Grinder Plus Clincher Tire. This 38mm tire stays true to Challenge's handcrafted heritage, delivering a smooth, supple ride across rough pavement, bumpy back roads, and...
Challenge Grifo 33 Cross Tire - Clincher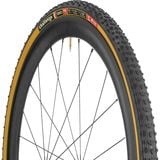 Retail Price:
$81.99
Our Price: $74.99
buy now
Because cyclocross tires have to accommodate a particularly wide array of conditions -- from pavement to pure mud -- in a single race, their tread pattern has to be especially capable. Having been refined over many years, and on its way to countless podiums and numerous world championships, the...
Challenge Strada Bianca Tire - Clincher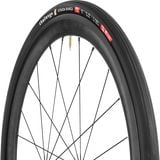 The Challenge Strada Bianca Clincher tire is designed for bumpy, rough roads. Not only is it one of the toughest tires in Challenge's lineup, it's also one of the smoothest-riding, which, for a manufacturer that's known for its smooth-riding tires, is saying a lot. The Strada Bianca's casing is...
Challenge Strada Tubular Tire
Retail Price:
$104.99
Our Price: $94.99
buy now
There's no denying that experiencing a great tubular tire is a wonderful experience. You won't believe that your bike could be so smooth and fast. So if you're going to make the switch to tubulars, do yourself a favor and wrap some Challenge Strada Tubular Tires around your hoops, because...
Clement BOS Tire - Tubeless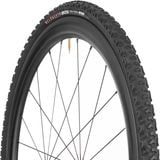 BOS Tire - Tubeless
<< Prev | Back | 1 | 2 | 3 | 4 | 5 | 6 | 7 | 8 | 9 | 10 | More | Next >>