Tires - Road Bike Shop
Shop
>
Components
>
Wheels, Tires, Tubes
>
Tires
Schwalbe Ultremo ZLX Tire - Clincher
Congratulations. You've just found your ideal racing clincher with the Schwalbe Ultremo ZLX Clincher Tire. It provides an exceptionally supple ride, and at only 160 grams per tire, it's among the lightest on the market. Schwalbe's Ultremo ZLX clincher is a pure competition race tire. That means...
Veloflex Corsa Clincher Tire
Sure, tubular tires are preferred for racing, but they aren't practical for everyday training or long century tours. Who wants to replace a glued tired by the side of the road and then hope it doesn't roll on the ride home? The Veloflex Corsa Clincher is an ideal clincher for those who want a...
Veloflex Criterium Tubular Tire
Criterium racing is adrenaline on two wheels. You have to let go of fear and get out front, corner hard and sprint with everything that have, and that's just in the first five minutes of the race. Basically, this style of racing solidifies why you need Veloflex's Criterium Tubular. This is a tire...
Veloflex Master Clincher Tire
Sure, we'd all prefer to ride tubular tires. But, who wants to change one by the side of the road and hope that it doesn't roll off? With Veloflex's Master Tires, you get the same construction used in its high end tubular tires in an easy to install clincher style. The casing of the Master's is...
Veloflex Roubaix Tubular Tire
Even though you might not ever race on the cobbles of Europe, you're probably going to end up on a gravel path or a choppy, chip-and-sealed road at some point. Be prepared for a smooth ride with Veloflex's Roubaix Tubular Tire. The Roubaix's namesake is the French city known as the finish to the...
Veloflex Sprinter Tubular Tire
Whether you're competing against the clock or taking hard chicanes on the crit course, Veloflex's Sprinter Tubular Tire is there to help you hold your line like a train rides rails. Veloflex's Sprinter is modeled after its predecessor the Servizio Corse. With continual development and refinement,...
Vittoria Corsa Elite - Tubular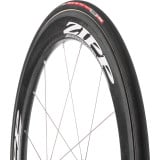 If you enjoy training and racing on tubular tires, or just want a bang for your buck, the Vittoria Corsa Elite tires are the perfect choice. These mid-range tubular tires were constructed with a 290 TPI casing which is just shy of the 320 TPI that is featured in Vittoria's pro-level cotton tires....
Vittoria Corsa EVO CX III - Tubular Tire
Retail Price:
$109.95
Our Price: $104.95
buy now
Vittoria overhauled its best-selling Pro Series tire in the form of the new Corsa EVO CX III Tubular Tire. And while our personal experiences on the road -- combined with our customers' feedback -- proved that the original EVO CX was at the top of its class, Vittoria knew it could improve on this...
Vittoria Corsa Evo SC Tire - Tubular
For the Corsa Evo SC, Vittoria builds the tire with its 320 tpi corespun cotton/poly casing. It's the highest thread count available on the market. This higher thread count makes for a more responsive tire since there is more structure and less matrix, not unlike optimizing the fabric/resin ratio...
Vittoria Cross Evo XG II Tire - Tubular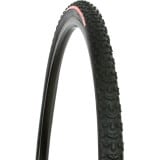 Retail Price:
$119.95
Our Price: $109.95
buy now
Muddy cross races and the Vittoria Cross Evo XG Tire go together like Lance and the Maillot Jaune. Wide-spaced knobs provide mud-shedding properties, and the ability to run a low PSI (35) allows for optimal grip in sloppy conditions. Corespun 320 TPI Casing (poly-cotton and KEVLAR) offers...
<< Prev | Back | 1 | 2 | 3 | 4 | 5 | 6 | 7 | 8 | 9 | 10 | More | Next >>