Tires - Road Bike Shop
Shop
>
Components
>
Wheels, Tires, Tubes
>
Tires
Surly Larry Fat Bike Tire
Fat biking should take you through some varied terrain, ranging from the usual trail riding to snow, mud, or other soft surfaces that make you feel like you're wading, not cycling. Surly built the front-specific Larry Fat Bike Tire to move freely between these situations. Larry employs...
Surly Nate Fat Bike Tire
The Surly Nate Fat Bike Tire is large, aggressive, and only afraid of not moving. The knobs are tall and spacious, so they clear all manner of trail muck and bully the trail into submission. The knobs also continue onto the shoulders, so traction doesn't suffer when you're riding off-camber and...
Surly Ultra Light Fat Tube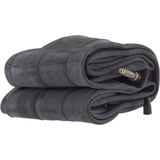 The Surly Ultra Light Fat Tube's name is cryptic, obfuscating the true use and nature of a very complicated artifact. You may not guess it at first, but the Ultra Light Fat Tube is a butyl tube with a presta valve for use with fat bike tires. And it's light compared to other tubes designed for...
Veloflex Carbon Tubular Tire
When you race, you want the best of low-rolling resistance and grip from your tires. The Veloflex Carbon Tubular features excellent grip for cornering as well as racing in wet conditions in a 320TPI corespun tubular. Veloflex's tubulars are hand-sewn in Italy, where everyone knows cycling. The...
Veloflex Corsa Clincher Tire
Sure, tubular tires are preferred for racing, but they aren't practical for everyday training or long century tours. Who wants to replace a glued tired by the side of the road and then hope it doesn't roll on the ride home? The Veloflex Corsa Clincher is an ideal clincher for those who want a...
Veloflex Criterium Tubular Tire
Criterium racing is adrenaline on two wheels. You have to let go of fear and get out front, corner hard and sprint with everything that have, and that's just in the first five minutes of the race. Basically, this style of racing solidifies why you need Veloflex's Criterium Tubular. This is a tire...
Veloflex Master Clincher Tire
Sure, we'd all prefer to ride tubular tires. But, who wants to change one by the side of the road and hope that it doesn't roll off? With Veloflex's Master Tires, you get the same construction used in its high end tubular tires in an easy to install clincher style. The casing of the Master's is...
Veloflex Sprinter Tubular Tire
Whether you're competing against the clock or taking hard chicanes on the crit course, Veloflex's Sprinter Tubular Tire is there to help you hold your line like a train rides rails. Veloflex's Sprinter is modeled after its predecessor the Servizio Corse. With continual development and refinement,...
Vittoria Corsa Elite - Tubular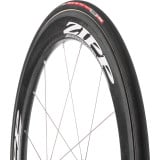 Retail Price:
$69.99
Our Price: $60.00
buy now
If you enjoy training and racing on tubular tires, or just want a bang for your buck, the Vittoria Corsa Elite tires are the perfect choice. These mid-range tubular tires were constructed with a 290 TPI casing which is just shy of the 320 TPI that is featured in Vittoria's pro-level cotton tires....
Vittoria Corsa SL Tubular Tire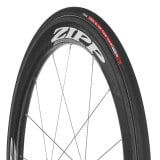 Vittoria's Corsa CX is easily one of the most popular tubulars for pro racers, so how was the Italian brand supposed to make it better? It was no small challenge, but Vittoria stepped up to the plate, adding an even faster rolling rubber compound, and calling it the Corsa SL Tubular Tire. And...
<< Prev | Back | 1 | 2 | 3 | 4 | 5 | 6 | 7 | 8 | 9 | 10 | More | Next >>