Tires - Road Bike Shop
Shop
>
Components
>
Wheels, Tires, Tubes
>
Tires
Schwalbe Thunder Burt TL Ready-29in
The main objective when Schwalbe began designing its Thunder Burt was to combine the best of its Racing Ralph and Furious Fred. So, in true Schwalbe fashion, the goal was met. The resulting tubeless-ready tire is "close on the heels of Racing Ralph regarding grip" and even better than Furious...
Schwalbe Ultremo DD Tire - Clincher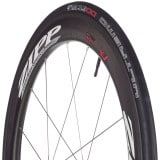 Retail Price:
$59.98
Our Price: $42.00
buy now
Designed with race wheels in mind, The Schwalbe Ultremo DD Clincher Tire is optimized for performance, with a dash of puncture resistance for peace of mind. DD stands for Double Defense which indicates that Schwalbe employs both their Snakeskin fabric protection from bead to bead and their HD...
Schwalbe Ultremo HT Tire - Tubular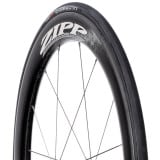 The Schwalbe Ultremo HT Tubular Tire is handmade and designed to help yield every last ounce of speed out of your pedal stroke. To that end, it's been built around an ultra-light latex tube -- good for a few extra watts when you're giving it all you've got. As you would expect from Schwalbe, this...
Schwalbe Ultremo ZLX Tire - Clincher
Congratulations. You've just found your ideal racing clincher with the Schwalbe Ultremo ZLX Clincher Tire. It provides an exceptionally supple ride, and at only 160 grams per tire, it's among the lightest on the market. Schwalbe's Ultremo ZLX clincher is a pure competition race tire. That means...
Schwalbe Ultremo ZX Tire with V-Guard - Clincher
Retail Price:
$74.00
Our Price: $59.20
buy now
Nothing's worse than a flat ... well, getting dropped is not that pleasant either. This brings to light one of the greatest battles tire engineers struggle with -- the balance of puncture resistance and rolling resistance. Schwalbe's Ultremo ZX Clincher Tire with V-Guard does the impossible, and...
Serfas Survivor Folding Tire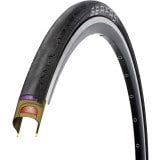 Retail Price:
$50.00
Our Price: $25.00
buy now
Serfas' Survivor received an overhaul this year, and with it comes the same exceptional puncture protection that made the original a favorite, along with a new folding design. The Survivor gets its name from its ability take on road conditions that would make other tires quiver in their rims....
Veloflex Criterium Tubular Tire
Criterium racing is adrenaline on two wheels. You have to let go of fear and get out front, corner hard and sprint with everything that have, and that's just in the first five minutes of the race. Basically, this style of racing solidifies why you need Veloflex's Criterium Tubular. This is a tire...
Veloflex Master Clincher Tire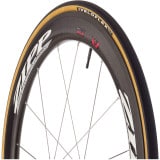 Sure, we'd all prefer to ride tubular tires. But, who wants to change one by the side of the road and hope that it doesn't roll off? With Veloflex's Master Tires, you get the same construction used in its high end tubular tires in an easy to install clincher style. The casing of the Master's is...
Veloflex Sprinter Tubular Tire
Whether you're competing against the clock or taking hard chicanes on the crit course, Veloflex's Sprinter Tubular Tire is there to help you hold your line like a train rides rails. Veloflex's Sprinter is modeled after its predecessor the Servizio Corse. With continual development and refinement,...
Vittoria Corsa Elite - Tubular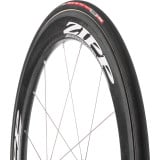 If you enjoy training and racing on tubular tires, or just want a bang for your buck, the Vittoria Corsa Elite tires are the perfect choice. These mid-range tubular tires were constructed with a 290 TPI casing which is just shy of the 320 TPI that is featured in Vittoria's pro-level cotton tires....
<< Prev | Back | 1 | 2 | 3 | 4 | 5 | 6 | 7 | 8 | 9 | 10 | More | Next >>