Tires - Road Bike Shop
Shop
>
Components
>
Wheels, Tires, Tubes
>
Tires
Maxxis Mammoth EXO Fat Bike Tire - 26in
Maxxis' Mammoth EXO was the brand's first foray into the world of fat bike tires, and like the ancient beast it's named for, it's prepared to roam over any amount of mud, snow, or sand you put in front of it without a second thought. Unlike its namesake, though, we think this tire is around for...
Maxxis Minion DHF - 27.5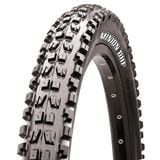 Retail Price:
$78.00
Our Price: $64.99
buy now
The Maxxis Minion DHF is much more than a downhill tire, giving you the speed and precision that'll handle the most aggressive enduro and all-mountain riding. The DHF pattern uses ramped knobs to reduce rolling resistance, which will save you energy on the climb. Channel-cut knobs are...
Maxxis Minion DHR II - 29
Retail Price:
$62.00
Our Price: $48.99
buy now
Over the years, the Maxxis Minion DH tire has eared a reputation as one of the best DH/freeride tires on the market. This is mostly due to its extremely aggressive tread pattern. The new Minion DHR II retains the original's aggressive tread pattern, but with a few tweaks. The new DHR borrows...
Maxxis Minion DHR II- 27.5
The Maxxis Minion DHR II 27. 5-inch Tire improves upon the solid design of its predecessor to give you reliable performance on the toughest, most technical trails. The DHR II's redesigned shoulder knobs offer a wider stance and better cornering than the original DHR, and the paddle-like knobs on...
Maxxis Minion FBF EXO/TR Tire - 26in
Maxxis' cult favorite tire, the Minion, is working its way into every cycling tire category the company offers. And we think the reasons are obvious to anyone who's ridden it. The front-specific Minion FBF EXO/TR 26in fat bike Tire retains all of the go-anywhere burliness and reliability that...
Maxxis Minion FBR EXO/TR Tire - 26in
Not content with letting trail and enduro riders have all of the fun on its beloved Minion, Maxxis has updated the crowd-pleasing tire to let fat bikes in on the game. Like a solid pair of mountaineering boots, the Minion FBR EXO/TR Tire will ready your burly fat bike for just about any...
Maxxis Minion SS Tire - 27.5in
New to the lineup for 2016, the Maxxis 27. 5in Minion SS Tire bridges the gap between fast, low-profile XC tires and beefy downhill tires with a mixed knob profile that brings you the best of both worlds for maximum enduro fun. Featuring clumps of short, ramped knobs down the middle for rolling...
Maxxis Re-Fuse TR Tire - Clincher
As gravel riding becomes a more appreciated niche in cycling, we're seeing a host of brand new off-road tire options being introduced. Maxxis' Re-Fuse TR Clincher Tire isn't one of them -- it's been around long enough to become the brand's most popular training tire for its versatility and...
Maxxis Shorty EXO TR Tire - 27.5in
Retail Price:
$78.00
Our Price: $53.99
buy now
Since it was originally designed to tackle the muckiest downhill courses with ease, the Maxxis Shorty didn't surprise anyone when it earned its place as a favorite on the downhill circuit. Now available in a trail option, the 27. 5in Maxxis Shorty EXO TR Tire provides mid-depth spikes to dig in...
Maxxis Snyper Tire - 24in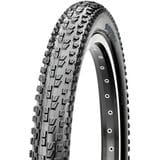 Retail Price:
$40.00
Our Price: $29.99
buy now
The 24in Snyper Tire is Maxxis' nod to the BMX cyclist whose tastes skew away from the urban alley cat scene and toward the dirtier side of things. Manicured skatepark sessions are fine, but trying to snipe lines between birthday party crews on two-wheeled scooters does eventually get old. When...
<< Prev | Back | 1 | 2 | 3 | 4 | 5 | 6 | 7 | 8 | 9 | 10 | More | Next >>