Tires - Road Bike Shop
Shop
>
Components
>
Wheels, Tires, Tubes
>
Tires
Schwalbe Nobby Nic TL Ready Tire - 26in
Mud? Sand? Hard-pack? Loamy? Nic's got plenty of knobs to make it perform on a variety of terrain. The Nobby Nic TL Ready Tire is what Schwalbe calls an 'all-grounder,' and it's also both tubeless-ready and around 20% lighter than the older UST versions. And while the Nobby Nic is indeed knobby,...
Schwalbe One Tire-Clincher
Retail Price:
$79.99
Our Price: $55.95
buy now
Schwalbe built the One Clincher Tire to be its ultimate race tire--a claim that was taken anything but lightly. And while it's undoubtedly a tall order, thanks to a brand-new production facility that exclusively churns out tires using the OneStar rubber compound, this lofty goal has been reached....
Schwalbe One Tire-Tubular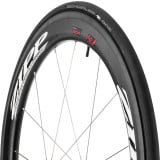 More and more riders and tire manufacturers are moving away from ultra-narrow tires in favor of wider tires with better grip and low rolling resistance. Schwalbe claims its One Road Tubular Tire is the fastest and most reliable tire it's designed to date. To put an exclamation to this point, it...
Schwalbe One Tubeless Tire
Retail Price:
$82.00
Our Price: $75.00
buy now
Road tubeless may not have full saturation yet, but the technology is making steady gains as the seasons go by, with the One Tubeless Tire from Schwalbe being the latest example. Not content to simply manufacture a tubeless-ready tire, Schwalbe applied tubeless tech to a top-line tire. The...
Schwalbe Racing Ralph Cyclocross Tire - Tubular
Retail Price:
$144.95
Our Price: $86.99
buy now
Just like its mountain bike counterpart, the Schwalbe Racing Ralph Cyclocross Tubular Tire is the best tire out there for racing. However these are tubulars where the others are clinchers. But once you get these babies in the mud and up hill and down dale, you'll be wondering why it took you so...
Schwalbe Racing Ralph HT Cyclocross Tire - Tubular
When summer draws to a close and cold weather becomes the norm, we, like many of you, get giddy with anticipation for 'cross season. And while thick, sticky mud is part of the game, many of us, especially out West, are typically graced with drier conditions. For those days when full-on mud tires...
Schwalbe Racing Ralph Tire -27.5in
The Schwalbe Racing Ralph Tire is turning three. This marks the third generation of the Racing Ralph, a tire that we've all become familiar with on race day because of its ability to move us forward quickly. Ralph's speed comes from Schwalbe's PaceStar compound. It has an easy-rolling base layer...
Schwalbe Racing Ralph Tire -29in
Retail Price:
$92.00
Our Price: $79.00
buy now
The Schwalbe Racing Ralph Tire is exactly what it sounds like: a racing tire. This thing is built for pure speed, and -- when Schwalbe blew it up to 29er size -- it may be the fastest cross country tire on the market. This isn't a jumbo passenger jet, though, it's a fighter jet, and its...
Schwalbe Racing Ralph TL Ready Tire - 26in
As its most successful race tire, the Racing Ralph TL Ready 26-inch Tire, uses Schwalbe's lauded tread pattern, PaceStar compound, and TL casing to satisfy the weight weenies. That the tread pattern is designed for flat-out speed means that it loses a little ground to the Rocket Ron when it comes...
Schwalbe Rock Razor Tire - 27.5in
The Schwalbe Rock Razor 27. 5-inch Tire is named appropriately. Why? It slices through the nasty stuff with the ease of a sharpened blade, simultaneously lending the rider a feeling of effortlessly pushing through or over whatever lies ahead. The Rock Razor is a semi-slick gravity and enduro tire...
<< Prev | Back | 1 | 2 | 3 | 4 | 5 | 6 | 7 | 8 | 9 | 10 | More | Next >>