Tires - Road Bike Shop
Shop
>
Components
>
Wheels, Tires, Tubes
>
Tires
Maxxis Detonator Tire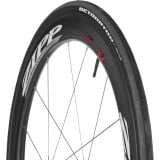 When a training tire varies drastically from a race-day tire, it will have negative effects. Ideally you need a durable tire, like the dual compound Maxxis Detonator, that closely resembles the profile and rubber compound found on your race-day tires. By running a tire with race pedigree, and a...
Maxxis Ignitor Mountain Bike Tire - 29in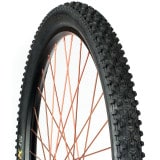 Retail Price:
$55.00
Our Price: $49.99
buy now
Tracing roots to a time when rim manufacturers' finally provided wheel builders with something other than 700c road rims, the 29in Maxxis Ignitor Mountain Bike Tire was essential to the big-wheeled movement. That was nearly ten years ago, and the 29 x 2. 1in Ignitor continues to roll fast with...
Maxxis Ignitor Mountain Bike Tire - 29in
The Maxxis Ignitor 29-inch Tire first rolled onto the scene about 10 years ago, making it one of the first 29er tires available. It's stuck around this long for a number of reasons, including its ready-for-anything tread pattern, and the fact that the Ignitor continues to roll fast with two...
Maxxis Ikon eXC/3C/EXO Tire - 29in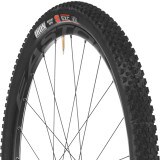 Just about every tire manufacturer has some sort of low profile tire for 'hard packed conditions.' And while those tires might roll fast in the right circumstances, the one constant in mountain biking is that conditions are constantly changing. That's where this race-ready, 2. 2in-wide Maxxis...
Maxxis Minion DHF 3C 26x2.50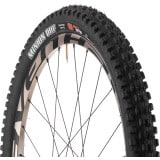 If you know downhill, you know the Maxxis Minion DHF 3C 26x2. 5 Tire, simple as that. The longstanding benchmark has seen countless other tires try to take it off its pedestal, but it remains the mixed-to-dry conditions go-to for riders and racers in the know. And if you're just getting...
Maxxis Minion DHF 3C EXO Tire - 26in
Retail Price:
$78.95
Our Price: $63.16
buy now
Don't be fooled by the "DH" in the 26in Minion DHF 3C EXO Tire title -- it's designed with aggressive all-mountain riding in mind. To accomplish this, Maxxis uses its lauded Minion front tread pattern, pairing it with a 2. 5in-wide, 60TPI casing, EXO protection, and 3C Maxx Terra rubber compound....
Maxxis Minion DHR II - 29
Don't be fooled by the name. OK, be a little fooled. The 29-inch Maxxis Minion DHR II Tire does take some basic design features from the first-generation Minion, but this is largely an all-new tire. The original Minion DHR made a name for itself on muddy, technical DH courses around the world by...
Michelin Pro4 Service Course Tire - Clincher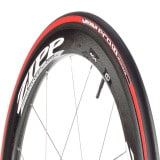 Retail Price:
$75.00
Our Price: $29.99
buy now
As the first to develop easily removable bicycle tires (what we know as clinchers), Michelin stamped their authority on bike racing in 1891 at the Paris-Brest-Paris road race. Their win in Paris began a long string of victories that nearly spans the history of the bicycle. The PRO4 Service Course...
Michelin Wild Race'r Tire - 29in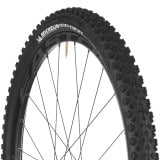 When speed is on the menu, low-profile knobs are essential to prevent energy loss. This often comes as a sacrifice in the traction department. But, with the Michelin Wild Race'r 29in Tire, intelligent knob construction reduces that negative impact. To start with, this tubeless twenty-niner tire's...
Schwalbe Durano Plus Tire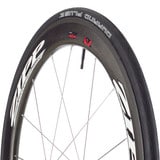 Remember the first time you noticed a weird, light colored blur flashing by on your front tire during a ride? Remember pulling over, seeing it was a goat head, and instinctively pulling it out only to hear a PFFFFFFFFT? Remember how you still do that, even though you should know better, and you...
<< Prev | Back | 1 | 2 | 3 | 4 | 5 | 6 | 7 | 8 | 9 | 10 | More | Next >>