Tires - Road Bike Shop
Shop
>
Components
>
Wheels, Tires, Tubes
>
Tires
Schwalbe Nobby Nic Tire -29in
Retail Price:
$92.00
Our Price: $79.95
buy now
Schwalbe added some minor improvements to the Nobby Nic 29-inch tires for 2015, beefing up one of its most popular tires without ruining a good thing. The all-condition tread patterns have new slits in the blocks around the center and the shoulders--a minor improvement. This tread pattern is...
Schwalbe One Tire-Clincher
Retail Price:
$79.99
Our Price: $55.95
buy now
Built as its ultimate race tires, the One Clincher Tires deliver the best performance Schwalbe has to offer. With a production facility exclusively churning out tires using the OneStar rubber compound that makes these tires so fantastic, these clinchers are feathery light without the drawbacks...
Schwalbe One Tire-Tubular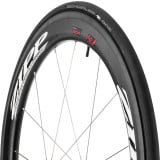 More and more riders and tire manufacturers are moving away from ultra-narrow tires in favor of wider tires with better grip and low rolling resistance. Schwalbe claims its One Road Tubular Tire is the fastest and most reliable tire it's designed to date. To put an exclamation to this point, it...
Schwalbe One Tubeless Tire
Retail Price:
$82.00
Our Price: $75.00
buy now
Road tubeless may not have full saturation yet, but the technology is making steady gains as the seasons go by, with the One Tubeless Tire from Schwalbe being the latest example. Not content to simply manufacture a tubeless-ready tire, Schwalbe applied tubeless tech to a top-line tire. The...
Schwalbe Racing Ralph HT Cyclocross Tire - Tubular
When summer draws to a close and cold weather becomes the norm, we, like many of you, get giddy with anticipation for 'cross season. And while thick, sticky mud is part of the game, many of us, especially out West, are typically graced with drier conditions. For those days when full-on mud tires...
Schwalbe Racing Ralph Tire -29in
The Schwalbe Racing Ralph Tire is built for cross-country speed on race day. There's even talk around the office that it might be the fastest cross-country 29er tire out there. Schwalbe's PaceStar triple compound uses an easy-rolling layer as the base, with a harder compound on the tire's center...
Schwalbe Racing Ralph TL Ready Tire - 26in
As its most successful race tire, the Racing Ralph TL Ready 26-inch Tire, uses Schwalbe's lauded tread pattern, PaceStar compound, and TL casing to satisfy the weight weenies. That the tread pattern is designed for flat-out speed means that it loses a little ground to the Rocket Ron when it comes...
Schwalbe Rock Razor Tire - 27.5in
With the Rock Razor 27. 5in Tire, Schwalbe offers its first true semi-slick gravity and enduro tire that performs superbly on hardpack trails. The Rock Razor features low-profile, medium-spaced center knobs for speed on hardpack (or semi-hardpack), and the tires aggressive side lugs deliver...
Schwalbe Rocket Ron Tire - 27.5in
Whether you prefer more speed or more puncture resistance, both the LiteSkin and SnakeSkin versions of Schwalbe's Rocket Ron Tire are designed to take advantage of a 27. 5-inch wheel's hybrid pedigree. The Rocket Ron's PaceStar Triple Compound maximizes rolling resistance for straight-on,...
Schwalbe Rocket Ron Tire - 29in
The PaceStar Triple Compound that Schwalbe puts on the 29in Rocket Ron Tire is actually three compounds combined. Schwalbe recognizes that one compound isn't sufficient for all applications, so it gave the Rocket Ron different properties at different parts of the tire for a fast-rolling center...
<< Prev | Back | 1 | 2 | 3 | 4 | 5 | 6 | 7 | 8 | 9 | 10 | More | Next >>