Tires - Road Bike Shop
Shop
>
Components
>
Wheels, Tires, Tubes
>
Tires
Schwalbe Racing Ralph Cyclocross Tire - Tubular
Just like its mountain bike counterpart, the Schwalbe Racing Ralph Cyclocross Tubular Tire is the best tire out there for racing. However these are tubulars where the others are clinchers. But once you get these babies in the mud and up hill and down dale, you'll be wondering why it took you so...
Schwalbe Racing Ralph Double Defense TL Ready Tire - 26in
Nearly a decade ago, riders of that era's spindly XC bikes experienced the lightweight, low-profile, and high-volume ride of Schwalbe's Racing Ralphs. Chainstays lost paint, opinions swayed, and those twitchy XC bikes evolved into the trail-taming monsters that they are today. And during that...
Schwalbe Racing Ralph EVO 27.5in Tire - Snakeskin TL Ready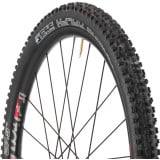 Over the course of Schwable's tiered race series, you'll find options for virtually any conditions. But something was lacking. Schwable knew it too and revisited its designs. The result is a cross country tire than corners like it's on rails. The Racing Ralph uses Schwable's Triple Compound, a...
Schwalbe Racing Ralph EVO LiteSkin
Schwalbe's shop-favorite Racing Ralph tire gets some new nomenclature for 2015, but otherwise, we're happy to report that not much has changed. The LiteSkin name of the tire signifies that this is a non-reinforced tire, saving you a bit of weight over the reinforced SnakeSkin version, while EVO...
Schwalbe Racing Ralph HT Cyclocross Tire - Tubular
When summer draws to a close and cold weather becomes the norm, we, like many of you, get giddy with anticipation for 'cross season. And while thick, sticky mud is part of the game, many of us, especially out West, are typically graced with drier conditions. For those days when full-on mud tires...
Schwalbe Racing Ralph Snakeskin Tubeless Easy - 2015
You don't have to ponder for too long to figure out what Racing Ralph is all about. He wants to go, and go fast. For 2015, the Schwalbe Racing Ralph Snakeskin Tubeless Easy is the new name of the former Racing Ralph TL Snakeskin, the "Tubeless Easy" nomenclature designating the new name for the...
Schwalbe Racing Ralph TL Ready Tire - 26in
As its most successful race tire, the Racing Ralph TL Ready 26-inch Tire, uses Schwalbe's lauded tread pattern, PaceStar compound, and TL casing to satisfy the weight weenies. That the tread pattern is designed for flat-out speed means that it loses a little ground to the Rocket Ron when it comes...
Schwalbe Racing Ralph TL Ready Tire - 29in
Although Schwalbe's Racing Ralph TL Ready 29in Tire places a focus on durability, it's fast enough to fool you into thinking that you're on Furious Freds. Yet, in comparison to the Rocket Ron, the Racing Ralph's tread pattern is better suited for flat-out speed. So, you gain a longer shelf life...
Schwalbe Rocket Ron 29in
It's OK if your name's not Ron; you can still rock the Rocket. And believe us, you'll want to. The Schwalbe Rocket Ron 29-inch tire is devastatingly fast and efficient, yet it's no slouch over the rough stuff. Indeed, the company makes tires more for pure XC speed (Racing Ralph) and others for...
Schwalbe Rocket Ron SnakeSkin TL - 26in
The Schwalbe Rocket Ron has it all-good looks, charm, and a rapier wit. In tire terms, that translates to light weight, low rolling resistance, and plenty of grip in the corners. One thing that it was never known for, however, was durability. In the world of race tires, durability is something...
<< Prev | Back | 1 | 2 | 3 | 4 | 5 | 6 | 7 | 8 | 9 | 10 | More | Next >>