Tires - Road Bike Shop
Shop
>
Components
>
Wheels, Tires, Tubes
>
Tires
Maxxis Minion DHR II - 29
Retail Price:
$62.00
Our Price: $49.00
buy now
Don't be fooled by the name. OK, be a little fooled. The 29-inch Maxxis Minion DHR II Tire does take some basic design features from the first-generation Minion, but this is largely an all-new tire. The original Minion DHR made a name for itself on muddy, technical DH courses around the world by...
Michelin Pro4 Service Course Tire - Clincher
Retail Price:
$69.99
Our Price: $34.99
buy now
As the first to develop easily removable bicycle tires (what we know as clinchers), Michelin stamped their authority on bike racing in 1891 at the Paris-Brest-Paris road race. Their win in Paris began a long string of victories that nearly spans the history of the bicycle. The PRO4 Service Course...
Michelin Wild Grip'r Tire - 29in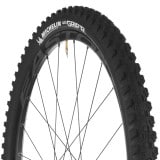 Retail Price:
$59.00
Our Price: $45.59
buy now
Modern mountain bike tires have to be versatile, as it's increasingly difficult and expensive to switch tires for different conditions. To bridge the elusive gap between buff singletrack, greasy trails, and rocky terrain, the 29-in Wild Grip'r Tire relies on a new tread design and Michelin's...
Michelin Wild Race'r Tire - 29in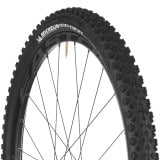 Retail Price:
$59.99
Our Price: $47.99
buy now
When speed is on the menu, low-profile knobs are essential to prevent energy loss. This often comes as a sacrifice in the traction department. But, with the Michelin Wild Race'r 29in Tire, intelligent knob construction reduces that negative impact. To start with, this tubeless twenty-niner tire's...
Schwalbe Durano Plus Tire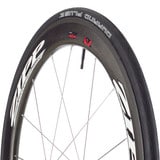 Remember the first time you noticed a weird, light colored blur flashing by on your front tire during a ride? Remember pulling over, seeing it was a goat head, and instinctively pulling it out only to hear a PFFFFFFFFT? Remember how you still do that, even though you should know better, and you...
Schwalbe Durano S Tire - Clincher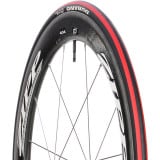 Retail Price:
$59.00
Our Price: $37.99
buy now
The Schwalbe Durano S Clincher Tire is another preiswert race day tire. Preiswert is one of those rare occasions where the German language has found a beautifully succinct way to express a difficult idea. Basically we're talking good value for money. And who knows that concept better than the...
Schwalbe Lugano Tire - Clincher
Sometimes rides demand that durability trump lightness, such as in training or commuting. For those applications, Schwalbe's Lugano Clincher Tire checks all the toughness and price conscious boxes, while losing very little of the racing tire feel. This means the transition from civilian to racer...
Schwalbe Lugano Tire -Tubular
The Lugano, long known as the most affordable tire in Schwalbe's stable, is now available in an affordable tubular version. Now you're able to go "old school" and train on tubulars without worrying about emptying your wallet. Constructed from silica, the Lugano features the same classic diamond...
Schwalbe Magic Mary Tire -27.5in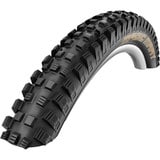 Retail Price:
$92.00
Our Price: $82.80
buy now
A favorite of downhill and enduro riders everywhere, the Schwalbe Magic Mary 27. 5-inch Tire steps up into the mid-size wheel realm just in time to embrace a rising class of 27. 5-inch-wheeled AM and DH bikes in 2015. Mary's huge, widely-spaced tread blocks do to technical trails what Batman's...
Schwalbe Nobby Nic Double Defense TL Ready - 26in
Retail Price:
$69.95
Our Price: $64.99
buy now
A real mountain tire that's prepared for variability, the Schwalbe Nobby Nic Double Defense TL Ready 26in tire provides traction in wet or dry conditions, hard pack or loose, and even in perfect loam. This is due to Schwalbe's Pacestar Triple Compound rubber, Double Defense casing, and tread...
<< Prev | Back | 1 | 2 | 3 | 4 | 5 | 6 | 7 | 8 | 9 | 10 | More | Next >>