Tires - Road Bike Shop
Shop
>
Components
>
Wheels, Tires, Tubes
>
Tires
Maxxis Minion DHR II- 27.5
Retail Price:
$78.00
Our Price: $62.99
buy now
The Maxxis Minion DHR II 27. 5-inch Tire improves upon the solid design of its predecessor to give you reliable performance on the toughest, most technical trails. The DHR II's redesigned shoulder knobs offer a wider stance and better cornering than the original DHR, and the paddle-like knobs on...
Maxxis Shorty EXO TR Tire - 27.5in
Retail Price:
$78.00
Our Price: $64.95
buy now
Originally designed to tackle the muckiest downhill courses with ease, the Maxxis Shorty earned its place as a favorite on the downhill circuit. Now available in a trail option, the Maxxis Shorty EXO TR Tire - 27. 5in provides mid-depth spikes to dig in on loose, muddy, or just downright soaked...
Maxxis Snyper Tire - 24in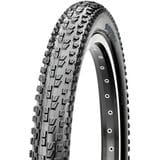 The 24in Snyper Tire is Maxxis' nod to the BMX cyclist whose tastes skew away from the urban alley cat scene and toward the dirtier side of things. Manicured skatepark sessions are fine, but trying to snipe lines between birthday party crews on two-wheeled scooters does eventually get old. When...
Michelin Pro4 Service Course Tire - Clincher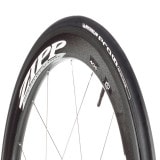 The Michelin Pro3 was a pretty popular tire, but it seemed most only ran them on race day. They gripped like you wouldn't believe, but they were a bit prone to flats under normal use. Well, we're happy to report that Michelin fixed the bad, and improved the already good in the Pro4 Service Course...
Michelin Wild Race'r Tire - 29in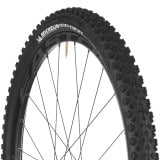 Retail Price:
$59.99
Our Price: $47.99
buy now
When speed is on the menu, low-profile knobs are essential to prevent energy loss. This often comes as a sacrifice in the traction department. But, with the Michelin Wild Race'r 29in Tire, intelligent knob construction reduces that negative impact. To start with, this tubeless twenty-niner tire's...
Schwalbe Durano Plus Tire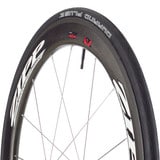 Although you probably don't need to worry about your hometown race course being strewn with tacks by a disgruntled neighbor, your roads are most likely still full of nails, goatheads, thorns, and generally sharp objects. With the Schwalbe Durano Plus Tire, you'll be equipped for these...
Schwalbe Hans Dampf Tire -27.5in
The 27. 5in Hans Dampf Tire is Schwalbe's median all-mountain model, riding with a penchant for the kind of terrain and aggressive lines that favor five or six inches of travel while still insisting on the occasional bursts of speed. The TrailStar compound supports these tendencies, privileging a...
Schwalbe Lugano Tire - Clincher
Sometimes rides demand that durability trump lightness, such as in training or commuting. For those applications, Schwalbe's Lugano Clincher Tire checks all the toughness and price conscious boxes, while losing very little of the racing tire feel. This means the transition from civilian to racer...
Schwalbe Magic Mary Tire -27.5in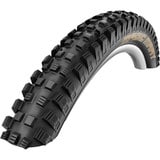 Retail Price:
$97.00
Our Price: $87.30
buy now
Downhill, enduro, all-mountain, it doesn't matter--if you need grip, durability, and the confidence to push it, shoe up with Schwalbe's Magic Mary 27. 5in Tire. Just look at it: giant blocky tread eats technical trails and loose corners for lunch, and the tough bead locks onto your rim like a...
Schwalbe Nobby Nic Tire -26in
Schwalbe's Nobby Nic Tire is a perennial favorite, and for good reason. Its versatile tread makes it keen to tackle a wide variety of terrain types, and now the newest Nic is making it even better, even for the 26-inch mountain bike wheel. For the third generation, Nic's proven, all-condition...
<< Prev | Back | 1 | 2 | 3 | 4 | 5 | 6 | 7 | 8 | 9 | 10 | More | Next >>