Tires - Road Bike Shop
Shop
>
Components
>
Wheels, Tires, Tubes
>
Tires
Maxxis Crossmark Tire - 27.5in
When Maxxis mated a nearly continuous center ridge with low-profile knobs, it knowingly created a tire with an advantage on high-speed trails. This tire is the Crossmark 27. 5-inch. The 60tpi casing is wrapped in a tread pattern that favors hardpack, yet this tire still holds its own on wet and...
Maxxis Crossmark UST Dual Compound Tire - 29in
The Crossmark 29in Tire was one of the first 29er tires specific for hardpack. Its nearly continuous center ridge and low-profile knobs gave big wheeled riders an edge on buff trails. Now there's plenty of options out there for raceday, but Maxxis' casing, rubber compounds, and tread patterns...
Maxxis Detonator Tire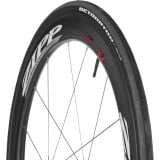 When a training tire varies drastically from a race-day tire, it will have negative effects. Ideally you need a durable tire, like the dual compound Maxxis Detonator, that closely resembles the profile and rubber compound found on your race-day tires. By running a tire with race pedigree, and a...
Maxxis High Roller II EXO Tire - Tubeless Ready - 27.5in
Slightly lighter than the more expensive 3C MaxxTerra 27. 5 x 2. 3in tire, the High Roller II EXO Tubeless Ready builds on the, highly decorated original. Maxxis' polymer experts enhanced the all-mountain capabilities in the form of revised tread, an EXO TR casing, and a dual-rubber compound. It...
Maxxis Ignitor Mountain Bike Tire - 29in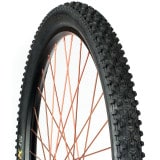 Light the fuse. The Maxxis Ignitor is a great 29er tire when you're riding in medium to loose conditions. The tread design was made for top-ranked World Cup Cross Country racers and has already graced the top step of the podium. The tread is well-spaced in the middle to let dirt flow in and out...
Maxxis Ikon EXO Tubeless Ready Tire - 29in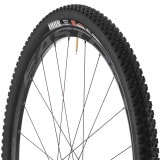 Low profile tires might roll fast in the right circumstances, but the one constant in mountain biking is that conditions constantly change. That's where this race-ready, 2. 2in-wide Maxxis Ikon EXO Tubeless Ready Tire comes into play. It's a lightweight, tubeless-ready tire that mixes biting...
Maxxis Minion DHF 3C EXO Tire - 26in
Retail Price:
$78.95
Our Price: $63.16
buy now
Don't be fooled by the "DH" in the 26in Minion DHF 3C EXO Tire title -- it's designed with aggressive all-mountain riding in mind. To accomplish this, Maxxis uses its lauded Minion front tread pattern, pairing it with a 2. 5in-wide, 60TPI casing, EXO protection, and 3C Maxx Terra rubber compound....
Michelin Cyclocross Mud 2 Tire - Clincher
Just watching any cross race taking place in rain and cold churns in us the urge to join in on the mess. The Michelin Cyclocross Mud 2 Tire provides us proper traction to do just that. The tire is offered in 700x30, and has a beefier tread pattern than the other tires. More aggressive tread...
Michelin Pro4 Service Course Tire - Clincher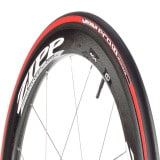 Retail Price:
$75.00
Our Price: $59.99
buy now
As the first to develop easily removable bicycle tires (what we know as clinchers), Michelin stamped their authority on bike racing in 1891 at the Paris-Brest-Paris road race. Their win in Paris began a long string of victories that nearly spans the history of the bicycle. The PRO4 Service Course...
Michelin Wild Race'r Tire - 29in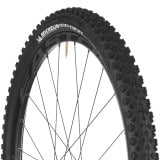 When speed is on the menu, low-profile knobs are essential to prevent energy loss. This often comes as a sacrifice in the traction department. But, with the Michelin Wild Race'r 29in Tire, intelligent knob construction reduces that negative impact. To start with, this tubeless twenty-niner tire's...
<< Prev | Back | 1 | 2 | 3 | 4 | 5 | 6 | 7 | 8 | 9 | 10 | More | Next >>