Tires - Road Bike Shop
Shop
>
Components
>
Wheels, Tires, Tubes
>
Tires
Maxxis Crossmark Tire - 29in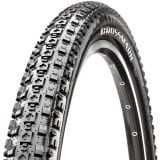 A quick peek at the Maxxis Crossmark 29-inch tire makes it abundantly clear that it's built for minimal rolling resistance and gobs of cornering grip. It was developed specifically for World Cup cross country, where efficiency is prized, and control is the difference between popping the champagne...
Maxxis Crossmark UST Dual Compound Tire - 29in
The Crossmark 29in Tire was one of the first 29er tires specific for hardpack. Its nearly continuous center ridge and low-profile knobs gave big wheeled riders an edge on buff trails. Now there's plenty of options out there for raceday, but Maxxis' casing, rubber compounds, and tread patterns...
Maxxis Detonator Tire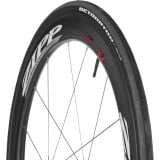 When a training tire varies drastically from a race-day tire, it will have negative effects. Ideally you need a durable tire, like the dual compound Maxxis Detonator, that closely resembles the profile and rubber compound found on your race-day tires. By running a tire with race pedigree, and a...
Maxxis High Roller II EXO Tire - Tubeless Ready - 29
There's a small handful of tires that have reputations for being all-out, all-mountain crushers; spot them on a sweet rig, and it's an "of course" acknowledgement. The Maxxis High Roller II EXO 29-inch tire certainly falls into this category, building from the original High Roller that earned...
Maxxis Ikon EXO Tubeless Ready Tire - 29in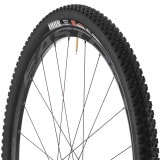 Low profile tires might roll fast in the right circumstances, but the one constant in mountain biking is that conditions constantly change. That's where this race-ready, 2. 2in-wide Maxxis Ikon EXO Tubeless Ready Tire comes into play. It's a lightweight, tubeless-ready tire that mixes biting...
Maxxis Minion DHF 3C 26x2.50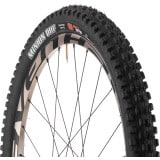 If you know downhill, you know the Maxxis Minion DHF 3C 26x2. 5 Tire, simple as that. The longstanding benchmark has seen countless other tires try to take it off its pedestal, but it remains the mixed-to-dry conditions go-to for riders and racers in the know. And if you're just getting...
Michelin Cyclocross Mud 2 Tire - Clincher
Just watching any cross race taking place in rain and cold churns in us the urge to join in on the mess. The Michelin Cyclocross Mud 2 Tire provides us proper traction to do just that. The tire is offered in 700x30, and has a beefier tread pattern than the other tires. More aggressive tread...
Michelin Pro4 Service Course Tire - Clincher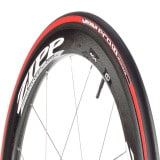 Retail Price:
$75.00
Our Price: $59.99
buy now
As the first to develop easily removable bicycle tires (what we know as clinchers), Michelin stamped their authority on bike racing in 1891 at the Paris-Brest-Paris road race. Their win in Paris began a long string of victories that nearly spans the history of the bicycle. The PRO4 Service Course...
Michelin Wild Grip'r Tire - 29in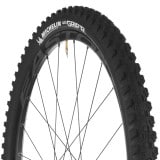 Modern mountain bike tires have to be versatile, as it's increasingly difficult and expensive to switch tires for different conditions. To bridge the elusive gap between buff singletrack, greasy trails, and rocky terrain, the 29-in Wild Grip'r Tire relies on a new tread design and Michelin's...
Schwalbe Durano S Tire - Clincher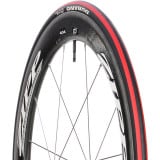 The Schwalbe Durano S Clincher Tire is another preiswert race day tire. Preiswert is one of those rare occasions where the German language has found a beautifully succinct way to express a difficult idea. Basically we're talking good value for money. And who knows that concept better than the...
<< Prev | Back | 1 | 2 | 3 | 4 | 5 | 6 | 7 | 8 | 9 | 10 | More | Next >>