Tires - Road Bike Shop
Shop
>
Components
>
Wheels, Tires, Tubes
>
Tires
Mavic Yksion Pro Griplink Tubular Tire
We've always used the same tires on the front and the rear, which is kind of ridiculous when you consider the fact that the two are doing completely different jobs. Mavic agrees. With front- and rear-specific compounds and tread patterns, the Ykision series tires make a lot of sense. Made...
Mavic Yksion Pro Powerlink Clincher Tire
Retail Price:
$59.95
Our Price: $35.00
buy now
If you're rolling with a Mavic Yksion Pro Griplink on your front wheel, you're going to need the Yksion Pro Powerlink Clincher Tire for your rear. Though you may wonder why you would need a rear specific tire, Mavic has engineered the Pro Powerlink to speed up your bike through smooth rollers,...
Maxxis Ardent EXO Tire - 27.5in
With large blocks, an aggressive tread pattern, and a 2. 25-inch width, the Maxxis Ardent EXO 27. 5in Tire ranks high on the list of perfect trail tires. However, Maxxis knows that traction is only part of the trail equation. So, to prevent energy loss, the center tread features ramped knobs. And...
Maxxis Ardent EXO Tire - 29in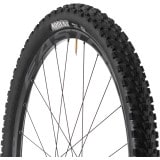 The extra-large Maxxis Ardent EXO 29in Tire gives the large-wheeled crowd trail-smoothing volume and confidence-inspiring traction. It's no surprise either, since Maxxis combined its rubber expertise with the Ardent's aggressive tread design. With years of developing tires for world-class racers,...
Maxxis Ardent Tire - 29in
The Maxxis Ardent tire was given a rounded profile and 2. 25in width for a smoother ride. It also has an aggressive tread pattern that not only allows you to float over the rough stuff, but to have plenty of traction on tap, too. To prevent energy loss, the Ardent's center tread features ramped...
Maxxis Aspen Tire - 29in
The XC bikes of today are capable of much more than the spindly offerings of just a decade ago, but that's left some tire manufacturers behind the evolutionary curve. That, however, is not the case for Maxxis and its Aspen 29in Tire. With a 2. 1-inch width, the Aspen's casing is large enough to...
Maxxis Beaver Tire - 29in M321P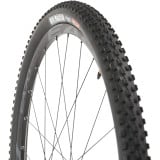 Make wet race conditions ideal by giving yourself a fair advantage over the rest of the field. Maxxis didn't mess around when it designed the Beaver 29 inch tire. Wet-specific tread pattern sheds mudWet-specific soft compound rubber for added grip on wet rocks and rootseXCeption race...
Maxxis Crossmark Tire - 27.5in
When Maxxis mated a nearly continuous center ridge with low-profile knobs, it knowingly created a tire with an advantage on high-speed trails. This tire is the Crossmark 27. 5-inch. The 60tpi casing is wrapped in a tread pattern that favors hardpack, yet this tire still holds its own on wet and...
Maxxis Crossmark Tire - 29in
As one of the first 29er tires that was specific for hardpack, the Crossmark's nearly continuous center ridge and low-profile knobs gave big wheeled riders an edge on buff trails. Sure, there are plenty of options now, but Maxxis' casing, rubber compounds, and tread patterns continue to keep...
Maxxis Crossmark Tire - 29in
A quick peek at the Maxxis Crossmark 29-inch tire makes it abundantly clear that it's built for minimal rolling resistance and gobs of cornering grip. It was developed specifically for World Cup cross country, where efficiency is prized, and control is the difference between popping the champagne...
<< Prev | Back | 1 | 2 | 3 | 4 | 5 | 6 | 7 | 8 | 9 | 10 | More | Next >>