Tires - Road Bike Shop
Shop
>
Components
>
Wheels, Tires, Tubes
>
Tires
Geax Goma 29in
Retail Price:
$50.99
Our Price: $29.95
buy now
When it was the new kid on the block, the 29-inch wheel was, for a while, limited to lightweight riders and light-duty conditions, because the wheel manufacturers hadn't yet dialed in the formula for making these new wheels as tough as their more stout 26-inch cousins without making them...
Geax Goma 29in TNT
Retail Price:
$56.99
Our Price: $28.50
buy now
When 29-inch mountain bike wheels started to move into the mainstream, wheel manufacturers struggled to make the new, larger wheels as durable as the more stout 26-inch platforms they'd been perfecting for decades without creating enormously heavy hoops. The 29-inch wheel was, for a while,...
Geax Mezcal Tire - 29in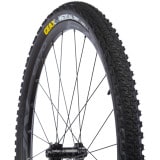 Retail Price:
$49.95
Our Price: $25.00
buy now
The Geax Mezcal 29 Inch Tire is fast becoming an XC race legend due to its light weight, low rolling resistance, and cornering performance. Geax uses proprietary polyamide threads and material positioning to achieve substantial anti-pinch-flat protection and cut prevention, which makes the Mezcal...
Geax Saguaro Tire - 27.5in
Retail Price:
$55.00
Our Price: $27.50
buy now
The Geax Saguaro is able to handle a wide range of conditions. And as 27. 5-inch tire, it's both an all-mountain and enduro gem -- a folding tire that handles all conditions, but excels in the dry hardpack. This is due to the knobs attached to an uninterrupted ridge down the center of the tire....
Hutchinson Fusion 3 Road Tire - Tubeless
While the Hutchinson Fusion 3 Road Tubeless Tire may look like a regular clincher, its secret is hidden inside the outer layers of the its special casing. What makes it different is a design that's intended to be used without a traditional inner tube. Like other folding clincher tires, the Fusion...
Kenda 24 Seven SCT K Tire
Retail Price:
$42.50
Our Price: $33.99
buy now
24 Seven SCT K Tire
Kenda Nevegal DTC Tire - 26in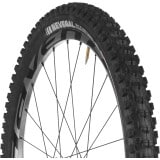 When you find yourself sitting trailside, and ground conditions are those that retain tread marks, you're bound to spot a Nevegal that left its signature. That popularity is because Kenda's Nevegal, like this lightweight 26in DTC model, are favored for its acute balance of traction and speed....
Kenda Slant Six Pro K Tire - Tubeless
Retail Price:
$40.80
Our Price: $32.99
buy now
Slant Six Pro K Tire - Tubeless
Mavic Crossmax Charge Tire - 27.5
There's something to be said for style in mountain biking. Unlike our road-bound cousins, we get to enjoy radically divergent designs, jerseys that don't take themselves too seriously, and high contrast color options that aren't just yellow fluo on matte black. That doesn't mean we don't like...
Mavic Crossmax Quest Tire - 29
The Mavic Crossmax Quest Tires are great, jolly beasts of long-running, flat-resisting, surface-gripping, off-road tires. The handling benefits of the Crossmax's healthy volume are further complemented by the Contact Compound, which maintains grip in all weather conditions without sacrificing...
<< Prev | Back | 1 | 2 | 3 | 4 | 5 | 6 | 7 | 8 | 9 | 10 | More | Next >>