Tires - Road Bike Shop
Shop
>
Components
>
Wheels, Tires, Tubes
>
Tires
Hutchinson Fusion 5 Galactik Tire - Tubeless
When updating its Fusion 3 tire lineup for 2016, the French rubber masters over at Hutchinson chose to skip straight past four and instead christen their new line Fusion 5. Rather than a bold statement in post-modernist self-reflexivity, the move is actually in reference to the five...
Hutchinson Sector 28 Tire - Tubeless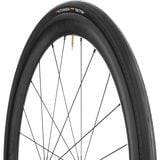 Retail Price:
$109.00
Our Price: $79.99
buy now
While your weekend may not consist of riding the storied cobblestones of France for a chance to win the Queen of the Classics, you can still take on the bumpiest chipseal roads you encounter with the confidence of a pro racing Roubaix with Hutchinson's Sector 28 Tubeless tire. The French...
Mavic Crossmax Charge XL Tire - 29in
All-mountain riding should be exactly that: all of the terrain on a given mountain. Mavic's front-specific Crossmax Charge XL 29in Tire is built towards that end, combining a soft compound with a durometer of 40 with a low-weight, high-strength, two-ply casing for a tire that holds onto slick...
Mavic Crossmax Quest Tire - 27.5in
Whether your frame doesn't have the clearance or you're not a fan of how they dilute trail feel, we understand if you're not jazzed on the new plus tire radness. The 27. 5in Crossmax Quest Tire fits that bill, mating Mavic's new hard-wearing, all-weather X-mix Quest compound with a tubeless...
Mavic Crossmax Quest Tire - 29in
While plus-size tires are making waves on the enduro circuit, the speed enthusiast in us still appreciates the value of a tire in the smaller (but still plush) 2. 3in range. The 29in Crossmax Quest Tire fits that bill, mating Mavic's new hard-wearing, all-weather X-mix Quest compound with a...
Mavic Crossmax Quest XL Tire - 29in
The key differences between Mavic's all-mountain Crossmax Quest XL 29in Tire and its XC-specific, non-XL counterpart are the former's improved puncture resistance and grippier rubber compounds. Though it's built for rides leaning more toward trail, the Crossmax Quest XL does feature an additional...
Mavic Crossmax Roam XL Tire - 29
The Crossmax Roam XL 29-inch Tire is what happens when one of the foremost wheel makers in the world decides to get into the tire game. Mavic recognized an opportunity to improve upon what's out there in the all-mountain tire game, and they've offered up a fine entry of their own. When compared...
Mavic Yksion Elite Guard Tire - Clincher
Mavic's Yksion Elite Guard Tires use the standard Elites as a foundation and adds an additional layer to the casing under the rolling patch in order to increase puncture resistance. The extra protection comes with a claimed 15g penalty, but that added rotational mass a small price to pay for...
Mavic Yksion Pro Powerlink Tire - Tubular
Mavic's Yksion Pro Powerlink Tubular Tire was designed to be used with your Cosmic Carbone hoops, and if you've used them before, you know that the two play very well together. Working as part of an integrated wheel-tire system, the Yksion Pro Powerlink is the rear-specific tire of the GripLink...
Maxxis Aggressor Double Down/TR Tire - 27.5in
While its EXO sibling may be a little bit lighter, the Maxxis Aggressor Double Down/TR 27. 5in Tire is in it for the rough and gnarly with a reinforced casing that'll increase your chances of getting through the day flat-free. Maxxis' Double Down dual-ply casing construction provides slightly...
<< Prev | Back | 1 | 2 | 3 | 4 | 5 | 6 | 7 | 8 | 9 | 10 | More | Next >>