Tires - Road Bike Shop
Shop
>
Components
>
Wheels, Tires, Tubes
>
Tires
Kenda Nevegal DTC Tire - 26in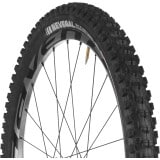 When you find yourself sitting trailside, and ground conditions are those that retain tread marks, you're bound to spot a Nevegal that left its signature. That popularity is because Kenda's Nevegal, like this lightweight 26in DTC model, are favored for its acute balance of traction and speed....
Kenda Slant Six Pro K Tire - Tubeless
Retail Price:
$40.80
Our Price: $32.99
buy now
The Kenda Slant Six Pro K Tire is what Kenda calls a mash-up of two best-selling models from its John Tomac collection: the ultra-fast, cross-country-focused Small Block Eight, and the chunky, aggressive Nevegal. It walks the line between the two, affording all-terrain grip that has made it one...
Mavic Crossmax Charge Tire - 27.5
There's something to be said for style in mountain biking. Unlike our road-bound cousins, we get to enjoy radically divergent designs, jerseys that don't take themselves too seriously, and high contrast color options that aren't just yellow fluo on matte black. That doesn't mean we don't like...
Mavic Crossmax Quest Tire - 29
The Mavic Crossmax Quest Tires are great, jolly beasts of long-running, flat-resisting, surface-gripping, off-road tires. The handling benefits of the Crossmax's healthy volume are further complemented by the Contact Compound, which maintains grip in all weather conditions without sacrificing...
Mavic Crossmax Roam XL Tire - 27.5
Leave it to the tech-crazed engineers at Mavic to come up with not only rear- and front-specific tires, but tires that are also designed to work optimally in conjunction with a wheelset. The Crossmax Roam XL Tire lives behind the Crossmax Charge, and both are designed to call the Crossmax Enduro...
Mavic Yksion Pro Griplink Clincher Tire - 2014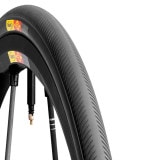 Retail Price:
$59.95
Our Price: $44.99
buy now
We trust Mavic's wheels, which is also why we trust Mavic's tires. It's pretty simple logic, really. Made exclusively for your front wheel, the Yksion Pro Griplink Clincher Tire relies on a dual compound and front wheel specific tread pattern to improve cornering on hair-pin turns in dry or wet...
Maxxis Ardent EXO Tire - 27.5in
Retail Price:
$50.00
Our Price: $45.99
buy now
With large blocks, an aggressive tread pattern, and a 2. 25-inch width, the Maxxis Ardent EXO 27. 5in Tire ranks high on the list of perfect trail tires. However, Maxxis knows that traction is only part of the trail equation. So, to prevent energy loss, the center tread features ramped knobs. And...
Maxxis Ardent Race Tire - 27.5
The Ardent tire from Maxxis is one of the company's best-selling slabs of rubber, in no small part because of its incredible versatility on virtually any type of terrain. Recognizing the potential in the tread pattern for even greater speed, however, engineers got to tweaking it and ended up...
Maxxis Ardent Race Tire - 29
It's true that Maxxis makes its beloved Ardent tire in a 29-inch diameter. However, a common bit of feedback that the company fielded about the tire was that it just wasn't quite fast enough to race on harder courses, as per so many 29-inch mountain bike riders. Not one to leave holes in its...
Maxxis Ardent Tire - 27.5
The Maxxis 27. 5-Inch Ardent Tire is arguably the company's most versatile tire overall, with a balanced tread pattern for both speed and technical traction. Boosting the width up to 2. 4 inches provides even more stability and traction, making for the ultimate all-around trail tire. However,...
<< Prev | Back | 1 | 2 | 3 | 4 | 5 | 6 | 7 | 8 | 9 | 10 | More | Next >>