Tires - Road Bike Shop
Shop
>
Components
>
Wheels, Tires, Tubes
>
Tires
Geax Saguaro Tire - 26in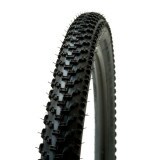 Three laps on the Slickrock trail. All-day rides on local singletrack. The dream trip to South America--just make sure you have the versatile Geax Saguaro Mountain Bike Tire. This all-mountain tire rules when you just want to ride instead of stressing over your rubber. Not too heavy, not too...
Geax Saguaro Tire - 29in
Retail Price:
$54.95
Our Price: $49.95
buy now
Despite the desert name, the Geax Saguaro can handle a wide range of conditions. As a 29er, it's an all-mountain and enduro gem, one that can handle all conditions but excels in the dry hardpacked stuff. Notice how the knobs are attached to an uninterrupted ridge down the center of the tire. That...
Hutchinson Fusion 3 Road Tire - Tubeless
While the Hutchinson Fusion 3 Road Tubeless Tire may look like a regular clincher, its secret is hidden inside the outer layers of the its special casing. What makes it different is a design that's intended to be used without a traditional inner tube. Like other folding clincher tires, the Fusion...
Mavic Yksion Pro Griplink SSC Tubular Tire
Retail Price:
$99.95
Our Price: $79.96
buy now
If you've been fortunate enough to get your hands on a set of 2013 Mavic SSC-designated wheels, then you might be surprised to learn that Mavic developed your wheels to work in conjunction with its new line of tires. That's right, this year brings the advent of Mavic's front- and rear-specific...
Mavic Yksion Pro Griplink Tubular Tire
We've always used the same tires on the front and the rear, which is kind of ridiculous when you consider the fact that the two are doing completely different jobs. Mavic agrees. With front- and rear-specific compounds and tread patterns, the Ykision series tires make a lot of sense. Made...
Mavic Yksion Pro Powerlink Tubular Tire
Retail Price:
$59.95
Our Price: $53.95
buy now
You probably already knew this, but your rear wheel serves a different role on your bike than your front wheel. With the majority of your weight over the rear wheel, you need less rolling resistance. So, with this in mind Mavic engineers designed the Yksion Pro Powerlink Tubular Tire to be highly...
Maxxis Ardent EXO Tire - 27.5in
With large blocks, an aggressive tread pattern, and a 2. 25-inch width, the Maxxis Ardent EXO 27. 5in Tire ranks high on the list of perfect trail tires. However, Maxxis knows that traction is only part of the trail equation. So, to prevent energy loss, the center tread features ramped knobs. And...
Maxxis Ardent EXO Tire - 29in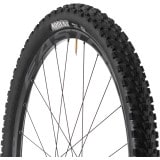 The extra-large Maxxis Ardent EXO 29in Tire gives the large-wheeled crowd trail-smoothing volume and confidence-inspiring traction. It's no surprise either, since Maxxis combined its rubber expertise with the Ardent's aggressive tread design. With years of developing tires for world-class racers,...
Maxxis Ardent EXO Tire - Tubeless Ready - 29in
A combination of Maxxis' rubber expertise and the 29in Ardent Tubeless Ready EXO's balloon-ish volume brings the large-wheeled crowd a trail-smoothing ride with confidence-inspiring traction. Accelerating and braking grip is found in a center tread that features low-profile, ramped knobs. While...
Maxxis Ardent Tire - 29in
A large volume tire creates less required air pressure, which results in a smoother ride. So, Maxxis gave the Ardent 29in Tire a round profile and 2. 25in width for just that reason. It also has an aggressive tread pattern that not only allows you to float over the rough stuff, but to have plenty...
<< Prev | Back | 1 | 2 | 3 | 4 | 5 | 6 | 7 | 8 | 9 | 10 | More | Next >>