Tires - Road Bike Shop
Shop
>
Components
>
Wheels, Tires, Tubes
>
Tires
Kenda Nevegal DTC Tire - 26in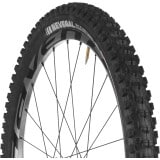 When you find yourself sitting trailside, and ground conditions are those that retain tread marks, you're bound to spot a Nevegal that left its signature. That popularity is because Kenda's Nevegal, like this lightweight 26in DTC model, are favored for its acute balance of traction and speed....
Mavic Crossmax Charge XL Tire - 29in
All-mountain riding should be exactly that: all of the terrain on a given mountain. Mavic's front-specific Crossmax Charge XL 29in Tire is built towards that end, combining a soft compound with a durometer of 40 with a low-weight, high-strength, two-ply casing for a tire that holds onto slick...
Mavic Crossmax Quest Tire - 27.5in
Whether your frame doesn't have the clearance or you're not a fan of how they dilute trail feel, we understand if you're not jazzed on the new plus tire radness. The 27. 5in Crossmax Quest Tire fits that bill, mating Mavic's new hard-wearing, all-weather X-mix Quest compound with a tubeless...
Mavic Crossmax Quest XL Tire - 29in
The key differences between Mavic's all-mountain Crossmax Quest XL 29in Tire and its XC-specific, non-XL counterpart are the former's improved puncture resistance and grippier rubber compounds. Though it's built for rides leaning more toward trail, the Crossmax Quest XL does feature an additional...
Mavic Crossmax Roam XL Tire - 29
The Crossmax Roam XL 29-inch Tire is what happens when one of the foremost wheel makers in the world decides to get into the tire game. Mavic recognized an opportunity to improve upon what's out there in the all-mountain tire game, and they've offered up a fine entry of their own. When compared...
Mavic Ksyrium Elite Allroad Disc Wheelset - Clincher
Retail Price:
$799.90
Our Price: $584.94
buy now
Mavic embraces the all-road trend with its Ksyrium Elite Allroad Disc Clincher Wheelset, building on the Ksyrium's legendary ride with a beefier 19mm internal rim width that better pairs with the wider tires needed to venture beyond the pavement. Trading out the more expensive Ksyrium Pro Allroad...
Maxxis Aggressor EXO/TR Tire - 27.5in
Take Maxxis' Aggressor EXO/TR Tire with you on the days you show up ready to blast through technical singletrack and take on big descents. We can't promise it'll make your lines more aggressive, but its rugged, versatile construction will make sure you don't have to hold back when you point your...
Maxxis Aggressor EXO/TR Tire - 29in
Retail Price:
$62.00
Our Price: $47.99
buy now
Get ready to shred singletrack and bomb gnarly descents with the Maxxis Aggressor EXO/TR Tire - 29in. We can't promise it'll make you a better rider, but its rugged, versatile construction grips hard so you can focus on the line instead of scrubbing so much speed. The tubeless-ready Aggressor...
Maxxis All Terrane EXO/TR Tire - Clincher
Retail Price:
$54.00
Our Price: $43.20
buy now
When you take your first look at the 'cross course you'll be racing on this weekend, you know that mixed weather conditions necessitate a tire capable of taking on a bit of everything. Rather than a skittish fast roller or mud-flinging bruiser, the best tire for the job is one that won't be...
Maxxis Ardent L.U.S.T./UST Tires - 29in
Retail Price:
$74.00
Our Price: $54.95
buy now
Big, tough, and smooth all at once, the Maxxis Ardent L. U. S. T./UST 29in Tires give the large-wheeled crowd trail-smoothing volume and confidence-inspiring traction. With aggressive blocky side tread and ramped center knobs, the Ardent TR corners like a boss and stops on a dime while...
<< Prev | Back | 1 | 2 | 3 | 4 | 5 | 6 | 7 | 8 | 9 | 10 | More | Next >>