Tires - Road Bike Shop
Shop
>
Components
>
Wheels, Tires, Tubes
>
Tires
Continental X-King Tire - 29in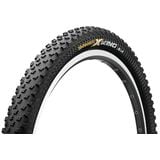 Retail Price:
$64.95
Our Price: $47.98
buy now
The Continental X-King was developed in conjunction with the Topeak Ergon Team. The tire's low rolling resistance makes it extremely fast, but its promounced lugs give it excellent trail-holding capabilities, as well. Low, ramped center knobs roll quickly but also provide good brake and...
Hutchinson Fusion 5 All Season Tire - Tubeless
We all dream of race-day conditions involving sun, a subtle breeze, and smooth, unblemished ribbons of road stretching out in front of us. In reality, sun and a light breeze might happen, but road conditions are rarely, if ever, ideal. Rather than pining for the tarmac of your dreams, wrapping...
Hutchinson Fusion 5 Galactik Tire - Tubeless
When updating its Fusion 3 tire lineup for 2016, the French rubber masters over at Hutchinson chose to skip straight past four and instead christen their new line Fusion 5. Rather than a bold statement in post-modernist self-reflexivity, the move is actually in reference to the five...
Kenda Nevegal DTC Tire - 26in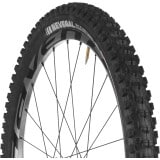 When you find yourself sitting trailside, and ground conditions are those that retain tread marks, you're bound to spot a Nevegal that left its signature. That popularity is because Kenda's Nevegal, like this lightweight 26in DTC model, are favored for its acute balance of traction and speed....
Mavic Crossmax Charge XL Tire - 29in
All-mountain riding should be exactly that: all of the terrain on a given mountain. Mavic's front-specific Crossmax Charge XL 29in Tire is built towards that end, combining a soft compound with a durometer of 40 with a low-weight, high-strength, two-ply casing for a tire that holds onto slick...
Mavic Crossmax Pulse Tire - 29in
Many of Mavic's tires mix compounds and casing types to aim for grip, puncture protection, or other properties that recommend them for use as front- or rear-specific tires. With the Crossmax Pulse 29in Tire, though, the French company went for low weight and low rolling resistance, qualities that...
Mavic Crossmax Quest Tire - 27.5in
Whether your frame doesn't have the clearance or you're not a fan of how they dilute trail feel, we understand if you're not jazzed on the new plus tire radness. The 27. 5in Crossmax Quest Tire fits that bill, mating Mavic's new hard-wearing, all-weather X-mix Quest compound with a tubeless...
Mavic Crossmax Quest Tire - 29in
While plus-size tires are making waves on the enduro circuit, the speed enthusiast in us still appreciates the value of a tire in the smaller (but still plush) 2. 3in range. The 29in Crossmax Quest Tire fits that bill, mating Mavic's new hard-wearing, all-weather X-mix Quest compound with a...
Mavic Crossmax Quest XL Tire - 29in
The key differences between Mavic's all-mountain Crossmax Quest XL 29in Tire and its XC-specific, non-XL counterpart are the former's improved puncture resistance and grippier rubber compounds. Though it's built for rides leaning more toward trail, the Crossmax Quest XL does feature an additional...
Mavic Crossmax Roam XL Tire - 29
The Crossmax Roam XL 29-inch Tire is what happens when one of the foremost wheel makers in the world decides to get into the tire game. Mavic recognized an opportunity to improve upon what's out there in the all-mountain tire game, and they've offered up a fine entry of their own. When compared...
<< Prev | Back | 1 | 2 | 3 | 4 | 5 | 6 | 7 | 8 | 9 | 10 | More | Next >>