Tires - Road Bike Shop
Shop
>
Components
>
Wheels, Tires, Tubes
>
Tires
Continental Grand Prix Attack Front Tire - Clincher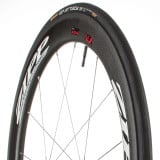 Retail Price:
$75.00
Our Price: $67.50
buy now
When you buy tires for your bike, do you ever think about differences in the front and rear? If you look at the wear patterns and rates, you'll realize that each tire should be designed for specific use. With that in mind, the Continental Grand Prix Attack Clincher Tire is a front-specific tire...
Continental Grand Sport Race Tires - Clincher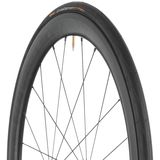 Retail Price:
$39.95
Our Price: $35.96
buy now
Continental's Grand Sport Race Tires are a study in balance. Their NyTech breaker mimics Kevlar's resistance to punctures but with a weight and rolling resistance that stay closer to the low levels we expect from racing tires. The Pure Grip Compound in their tread strikes a similar compromise,...
Continental Mountain King 29in Tire - Clincher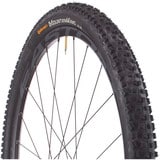 Retail Price:
$44.95
Our Price: $19.99
buy now
29ers are made for speed, but they can't do it alone. Without the right tire, 29-inch wheels are just metal hoops. Not ideal for anything but trundling. The Continental Mountain King 29er Tire is designed to take full advantage of a wheel's speedy properties, because riding on a big rim is a lot...
Continental Mountain King II - 29in
From mud-slickened trails to stump-riddled runs, Continental's 29in Mountain King II UST tire with ProTection motors through muck, yet rolls fast on hardpack. Beefed-up shoulder lugs improve cornering while well-spaced, and siped, center lugs ensure braking and traction grip. The center lugs are...
Continental Mountain King Tire - 26in
Retail Price:
$60.00
Our Price: $54.00
buy now
This is not the 2010 Mountain King ProTection. Nor is it the rockin' Mountain King UST, or Mountain King Race Sport. Head spinning yet? Don't sweat it. The reason for the similar naming convention is that Mountain King indicates a tread pattern, and each additional feature that comes with that...
Continental Mountain King TIre - 27.5in
Particularly shrewd at shedding mud, the open-spaced 2. 4in-wide Continental Mountain King is a perfect tire for 27. 5in bikes bound for wet and loose terrain. It's equipped with Black Chili rubber and a ProTection casing too, so scree fields full of sharp rocks won't slow this tire down....
Continental Podium TT Tire - Tubular
Retail Price:
$89.95
Our Price: $80.96
buy now
Let's talk about friction. Not the kind in your hub and bottom bracket bearings, which is relatively minimal. Rather, especially in the realm of time trialing, your tire choice could be as important as whether or not to wear a teardrop shaped helmet. And Continental builds their Podium TT Tubular...
Continental Race King Tire - 26in
The Continental Race King 26-inch Tire just may be the most-perfectly speed-optimized tire in Continental's lineup. Perhaps that's why its captivated the hearts and minds of everyone from cross country racers to endurance specialists. Part of the secret of the Race King's success lies in its...
Continental Trail King Tire - 27.5in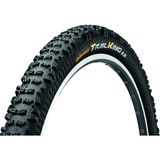 Retail Price:
$60.00
Our Price: $47.99
buy now
The 27. 5in Trail King is a large volume tire that uses Continental's ProTection casing with Apex sidewalls to make it ideal for long-travel mountain bikes with mid-size wheels. Available in both 2. 2- and 2. 4-inch widths, the Apex sidewall design uses a strip of additional material above the...
Continental X-King ProTection Tire - Tubeless
Retail Price:
$64.95
Our Price: $44.99
buy now
There are plenty of fast-rolling mountain bike tires around, but most of them are XC-oriented semi-slicks that are quickly overwhelmed when you start pushing the pace. If you detest unnecessary drag, but your riding style requires the use of more substantial rubber, you'd be wise to consider the...
<< Prev | Back | 1 | 2 | 3 | 4 | 5 | 6 | 7 | 8 | 9 | 10 | More | Next >>