Tires - Road Bike Shop
Shop
>
Components
>
Wheels, Tires, Tubes
>
Tires
Continental Der Baron Tire
Retail Price:
$84.95
Our Price: $67.99
buy now
Big, aggressive knobs and a soft Black Chili compound team up to give the Der Baron Tire excellent downhill traction and control. Continental also ensured that this tire's ready for the sidewall-destroying rocks and ledges that litter DH runs. The dual ply carcass is reinforced with Apex -- a...
Continental Gator Hardshell Tire
Whether you're riding through rubble-littered roads on the way to work or rolling over spiny goat heads on your daily training ride, the Continental Gator Hardshell Tire delivers extra reinforcement from pesky flats and tire blowouts. Hardshell protection wraps the tire with three layers of 60...
Continental Gatorskin Tire - Clincher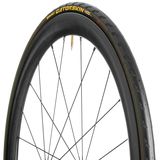 Retail Price:
$54.95
Our Price: $39.99
buy now
If you're logging big miles year-round, the Continental Gatorskin Tires just might be your new piece of must-have gear. They're similar to the GP4000-4 season tires, but a little heavier and a little slower -- geared more toward training than all-weather racing. The Gatorskins feature two...
Continental Grand Prix 4 Season Tire - Clincher
Retail Price:
$74.95
Our Price: $49.99
buy now
The Grand Prix 4 Season Clincher Tire is a step above the tried and true 4000 when it comes to durability and flat resistance. It is ideal for racing in unpredictable conditions, and it's even better for training when the winter muck starts to thaw. The Grand Prix 4 tire features a 330TPI...
Continental Grand Prix 4000 S II Tire - Clincher
Continental's Black Chili Compound is famous for its unusual combination of grip and durability, and the Grand Prix 4000 S II Tires are the company's flagship road product. The GP4000s, as they're commonly called, can be found under riders and racers from seasoned pros to weekend warriors....
Continental Grand Prix 4000 S II Tire - Tubular
Retail Price:
$129.95
Our Price: $103.99
buy now
Despite recent advances in carbon clincher wheels, tubular tires are still the benchmark for race day road feel. Tubs do, of course, come with some drawbacks -- not least of all being the risk of a flat during your target event -- so Continental builds its 4000 S II Tubular Tires with a...
Continental Grand Prix Attack Front Tire - Clincher
When you buy tires for your bike, do you ever think about differences in the front and rear? If you look at the wear patterns and rates, you'll realize that each tire should be designed for specific use. With that in mind, the Continental Grand Prix Attack Clincher Tire is a front-specific tire...
Continental Grand Sport Race Tires - Clincher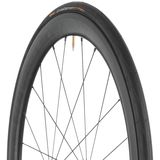 Retail Price:
$39.95
Our Price: $24.95
buy now
Continental's Grand Sport Race Tires are a study in balance. Their NyTech breaker mimics Kevlar's resistance to punctures but with a weight and rolling resistance that stay closer to the low levels we expect from racing tires. The Pure Grip Compound in their tread strikes a similar compromise,...
Continental Mountain King II - 29in
Continental's 29in Mountain King II mountain bike tires are equally happy rolling through muck and cruising hardpack. Beefy shoulder lugs improve your cornering abilities, and siped center lugs are placed with the optimal spacing pattern for excellent braking and traction. The tread pattern also...
Continental Mountain King TIre - 27.5in
Riders whose home terrain is often loose and muddy have reason to rejoice--the Continental Mountain King 27. 5 was designed with you in mind. Large, widely spaced lugs bite into soft dirt and shed mud quickly. The Mountain King also comes with Continental's Protection casing, so you'll get fewer...
<< Prev | Back | 1 | 2 | 3 | 4 | 5 | 6 | 7 | 8 | 9 | 10 | More | Next >>