Tires - Road Bike Shop
Shop
>
Components
>
Wheels, Tires, Tubes
>
Tires
Vittoria Peyote Tire - 29in
Your tires may be the most underrated component on your bike. Tires, more than anything else, dictate how your bike interacts with Mother Earth. The goal is to achieve the highest amount of grip while maintaining the lowest amount of rolling resistance. The Peyote 29-inch tire is Vittoria's...
Vittoria Rubino Pro 3 Slick Tire - Clincher
Retail Price:
$52.95
Our Price: $28.99
buy now
Mount up a set of Vittoria Rubino Pro 3 Slick Clincher Tires and ride with corner-gripping traction, speed-enhancing low rolling resistance, and comfort-boosting suppleness.
Vittoria Rubino Pro 3 Tire - Clincher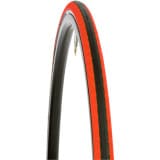 The Vittoria Rubino Pro III continues the success of the versatile Rubino series. Billed as a reliable, high-mileage solution to extended training, gran fondos, or even coast-to-coast, ultra-endurance rides. The Rubino Pro features a technical tread pattern for stability across a wide variety of...
Vittoria Rubino Pro Tech 3 Tire - Clincher
Retail Price:
$52.99
Our Price: $39.95
buy now
If you're like us, then you don't swap tires out for every ride -- even if you're going from a final training ride to a race or event. We want speed, but we're also greedy enough to expect a tire to handle inclement conditions and unforgiving surfaces without sliding out or flatting. Fortunately,...
Vittoria Zaffiro Pro III Tire - Clincher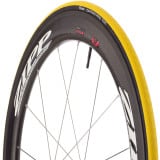 Changing tires due to varying conditions can be a pain, and quite frankly, a waste of time. Vittoria constructed its Zaffiro Pro II Clincher in such a manner that it takes on anything from rough roads to wet slick corners with zest and control. Constructed with Vittoria's durable Aramid Endura...
Vredestein Black Panther CX Tire
Three distinct rubber compounds allow the Black Panther CX Tire to balance grip and efficiency in a variety of off-road conditions. It's the same TriComp X concept found on Vredestein's high-end road tires, just adapted to give cyclocross racers a competitive edge. Vredestein is known for...
Vredestein Black Panther Xtreme - TLR - 27.5in Tire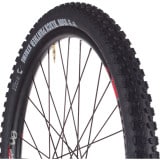 Retail Price:
$75.00
Our Price: $57.00
buy now
Unless you ride road or 'cross, Vredestein might not be an instantly recognizable name, as this company's mountain tires rarely make the swim across the pond. However, this is quickly changing as more and more of us Yanks are experiencing the quality that this century-old Dutch company is capable...
Vredestein Bobcat - TLR - 29in
The Vredestein Bobcat TLR 29in Tire is one of the more aggressive you can buy for wagon wheels these days, and it will empower your big-wheeler to trek where few have been able to before. The tire's chunky, widely spaced, high-profile knobs don't try to hide their intentions -- to dig into...
Vredestein Fortezza Senso All Weather
Vredestein created their Fortezza Senso All Weather Road Tire with top end, race day performance in mind. With exceptional grip under wet conditions, it is a go-to for early season criterium racing. Just as with previous versions of their top of the line tires, Vredestein constructed the Senso...
Vredestein Fortezza Senso T All Weather
The Vredestein Fortezza Senso T is designed for superb grip in both dry and, more importantly, wet conditions. It is the tubular version of its ever popular Senso clincher. Vredestein constructed the Senso T All Weather with its proven TriComp rubber compound. This proprietary compound uses three...
<< Prev | Back | 11 | 12 | 13 | 14 | 15 | More | Next >>