Tires - Road Bike Shop
Shop
>
Components
>
Wheels, Tires, Tubes
>
Tires
Maxxis Tomahawk Double Down/TR Tire - 27.5in
Retail Price:
$81.00
Our Price: $63.95
buy now
Maxxis' Tomahawk Double Down is designed for all-mountain and enduro riding just like its sibling, the Tomahawk EXO. The key difference between the two is in the casing and overall weight: Maxxis' Double Down casing compound provides slightly heavier, downhill-inspired protection for the Tomahawk...
Maxxis Tomahawk EXO/TR Tire - 27.5in
Retail Price:
$78.00
Our Price: $62.40
buy now
If you're riding a 27. 5, you might as well have a tire in your lineup that is as much of a delight on trail rides as the bike itself. Maxxis' Tomahawk EXO TR Tire is made out of Maxxis' 3C Maxx Terra rubber compound, which falls in the middle of the brand's offerings in terms of grip and rolling...
Michelin Cyclocross Jet S Tire - Clincher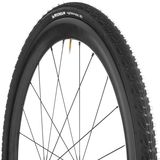 With the flood of cyclocross tires bursting onto the market over the past few years, it's easy to get overwhelmed with options in the search for that perfect race model. When the going gets dusty and hard packed, look no further than the Michelin Cyclocross Jet S Clincher Tire. Long known as a...
Michelin Cyclocross Mud 2 Tire - Clincher
Retail Price:
$54.95
Our Price: $43.99
buy now
Just watching any cross race taking place in rain and cold churns in us the urge to join in on the mess. The Michelin Cyclocross Mud 2 Tire provides us proper traction to do just that. The tire is offered in 700x30, and has a beefier tread pattern than the other tires. More aggressive tread...
Michelin Power All-Season Tire - Clincher
Michelin's long-awaited update to the aging monarch of its road tire line justifies its slow arrival with a host of gains over its Pro4 predecessor. The Power line consists of four tires: Competition, Endurance, All-Season, and Protection Plus, each constructed using a slightly different...
Michelin Power Competition Tire - Clincher
A few years after the introduction of its Pro4 tire line, Michelin is attracting attention for the arrival of Pro4's successor, the Power Competition Tire. Power took its time getting here, evolving from Michelin's moto GP tires of the same name, but it looks to have been worth the wait. The...
Michelin Power Endurance Tire - Clincher
New not only in name but in function, Michelin's Power Endurance Clincher Tire line replaces its Pro4 tire line for 2016 and boldly promises quantifiable improvements in rolling resistance, puncture protection, grip, and overall longevity. The line comprises four tires, including the Competition,...
Michelin Power Protection + Tire - Clincher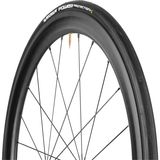 You treat your road bike like it can ride over just about any road surface, and for the most part, it can. Though you've been tempted towards the gravel path, you've stuck with your tried-and-true road geometry, and weathered the consequences of choosing to ride on torn-up, rutted, chip-sealed...
Michelin Pro4 Endurance Tire - Clincher
Retail Price:
$59.95
Our Price: $34.95
buy now
Long miles and winter training rides call for a tire that won't give up the ghost at the first sight of road debris. The Michelin Pro4 Endurance Clincher Tire steps in to provide exceptional flat protection and durability to power long endurance road races or tackle all those off-season base...
Michelin Pro4 Service Course Tire - Clincher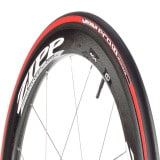 Retail Price:
$69.95
Our Price: $34.95
buy now
The Michelin Pro3 was a pretty popular tire, but it seemed most only ran them on race day. They gripped like you wouldn't believe, but they were a bit prone to flats under normal use. Well, we're happy to report that Michelin fixed the bad, and improved the already good in the Pro4 Service Course...
<< Prev | Back | 11 | 12 | 13 | 14 | 15 | 16 | 17 | 18 | 19 | 20 | More | Next >>