Tires - Road Bike Shop
Shop
>
Components
>
Wheels, Tires, Tubes
>
Tires
Schwalbe Racing Ralph Tire -29in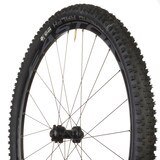 Retail Price:
$92.00
Our Price: $78.99
buy now
The Schwalbe Racing Ralph Tire is built for cross-country speed on race day. There's even talk around the office that it might be the fastest cross-country 29er tire out there. Schwalbe's PaceStar triple compound uses an easy-rolling layer as the base, with a harder compound on the tire's center...
Schwalbe Rock Razor Tire - 27.5in
Retail Price:
$92.00
Our Price: $70.99
buy now
With the Rock Razor 27. 5in Tire, Schwalbe offers its first true semi-slick gravity and enduro tire that performs superbly on hardpack trails. The Rock Razor features low-profile, medium-spaced center knobs for speed on hardpack (or semi-hardpack), and the tires aggressive side lugs deliver...
Schwalbe Rocket Ron Tire - 27.5in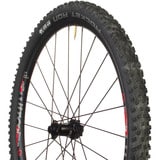 Retail Price:
$90.32
Our Price: $59.99
buy now
Whether you prefer more speed or more puncture resistance, both the LiteSkin and SnakeSkin versions of Schwalbe's Rocket Ron Tire are designed to take advantage of a 27. 5-inch wheel's hybrid pedigree. The Rocket Ron's PaceStar Triple Compound maximizes rolling resistance for straight-on,...
Schwalbe Rocket Ron Tire - 29in
Retail Price:
$92.00
Our Price: $79.99
buy now
The PaceStar Triple Compound that Schwalbe puts on the 29in Rocket Ron Tire is actually three compounds combined. Schwalbe recognizes that one compound isn't sufficient for all applications, so it gave the Rocket Ron different properties at different parts of the tire for a fast-rolling center...
Schwalbe Rocket Ron TL Ready 27.5in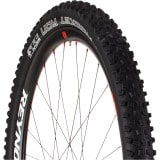 Retail Price:
$85.00
Our Price: $42.50
buy now
Make no bones about it, the Schawalbe Racing Ron 27. 5 is a serious, no-compromises race tire. PaceStar Triple compound, low-profile center lugs, and prominent side lugs come together to make a lightweight, fast-rolling tire that grips like crazy, especially in the corners. Designed to go...
Schwalbe Thunder Burt Tire - 29in
Schwalbe's tire lineup is relatively clear and linear, with models that make it fairly obvious what their intended place or purpose is upon first sight, with little need for more research. We like this about Schwalbe's approach, and a great example of this is the Schwalbe Thunder Burt Tire....
Surly Big Fat Larry Fat Bike Tire
After an unproductive freshman year at State U, Larry has gained some weight. For us, that means there's just more of him to love, as all the qualities of float and traction that floated our boats with the more svelte Larry are back and multiplied in the Big Fat Larry Fat Bike Tire. Big Fat Larry...
Surly Knard Fat Bike Tire
As a fat bike tire, Surly's Knard adapts the same premise that keeps snow shoes at or near the top of powder, but for a cycling application. Surly crowds a large host of small knobs onto the Knard to increase grip in all terrain conditions and provide lower rolling resistance on hardpack and...
Surly Larry Fat Bike Tire
Fat biking should take you through some varied terrain, ranging from the usual trail riding to snow, mud, or other soft surfaces that make you feel like you're wading, not cycling. Surly built the front-specific Larry Fat Bike Tire to move freely between these situations. Larry employs...
Surly Lou Fat Bike Tire
The rear-specific Surly Lou Fat Bike Tire is a good friend to his neighbor Bud. When they go out, Lou lets Bud lead, giving him the spotlight while Lou humbly works to keep their operation moving forward and occasionally bailing his impulsive friend out of trouble. His spacious, 7 millimeter...
<< Prev | Back | 11 | 12 | 13 | 14 | 15 | 16 | 17 | 18 | 19 | More | Next >>