Tires - Road Bike Shop
Shop
>
Components
>
Wheels, Tires, Tubes
>
Tires
Vittoria Open Corsa EVO CX
Retail Price:
$74.95
Our Price: $65.00
buy now
Unfortunately for those of us who revel in such esoteric things, tubular tires are rapidly going the way of the dodo, at least as far as non-professional use is concerned. Essentially, if you don't have someone gluing your tires for you, and swapping wheels whenever you flat, it's probably not...
Vittoria Open Corsa EVO SR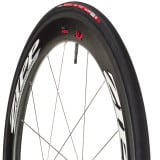 In case you haven't noticed, selecting the perfect tire is becoming a fairly complicated affair. In fact, you're faced with so many variables, that it almost seems necessary to rotate through dozens of tires in order to equally match durability, flexibility, tread, and speed. And to further...
Vittoria Open Corsa SC II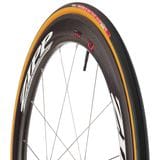 Featuring the highest TPI (threads per inch) casing of any tire on the market, the Vittoria Open Corsa SC II provides a smooth, ultra-supple feel on the road. Its 320 TPI Corespun cotton casing is exclusive to Vittoria, delivering extra puncture resistance without sacrificing the tire's superb...
Vittoria Open Pave EVO CG III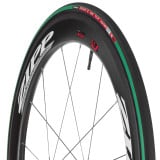 Look at photos of most races, and you'll see a sea of all-black tires. Look at Roubaix, Flanders, or any of the other cobbled classics, and you'll see a lot more earth tones popping up. There are a few tire manufacturers capable of producing tires for one of the most difficult sporting events on...
Vittoria Pave EVO CG III Tire - Tubular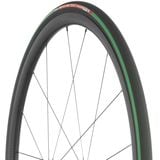 Retail Price:
$129.95
Our Price: $106.99
buy now
The word "Pave" translates to "cobblestone," as in, this is a tire that's designated for rough roads. Add in the evolution designation of "EVO," and you have a next-generation tire that's designed for speed. And while we understand that a name is simply a name, the Corsa line's results speak for...
Vittoria Peyote Tire - 27.5in
Rolling speed, especially on hardpack dirt, is a big deal. Even if you aren't a speed freak, rolling resistance makes you work harder to get where you're going. The Vittoria Peyote 27. 5-inch Tire is a very, very fast tire. This is because of its low-profile center lugs. Don't think that this...
Vittoria Peyote Tire - 29in
Your tires may be the most underrated component on your bike. Tires, more than anything else, dictate how your bike interacts with Mother Earth. The goal is to achieve the highest amount of grip while maintaining the lowest amount of rolling resistance. The Peyote 29-inch tire is Vittoria's...
Vittoria Rubino Pro 3 Tire - Clincher
The Vittoria Rubino Pro III continues the success of the versatile Rubino series. Billed as a reliable, high-mileage solution to extended training, gran fondos, or even coast-to-coast, ultra-endurance rides. The Rubino Pro features a technical tread pattern for stability across a wide variety of...
Vittoria Rubino Pro Tech 3 Tire - Clincher
Retail Price:
$52.99
Our Price: $39.95
buy now
If you're like us, then you don't swap tires out for every ride -- even if you're going from a final training ride to a race or event. We want speed, but we're also greedy enough to expect a tire to handle inclement conditions and unforgiving surfaces without sliding out or flatting. Fortunately,...
Vittoria Saguaro Tire - 29
The Vittoria Saguaro 29-inch Tire is one of the all-around favorite tires among those in our offices. You'll find it on most of the bikes we call our own, because it can handle everything we encounter out here in Utah, whether we're carving smooth singletrack in Park City or surfing gnarly lines...
<< Prev | Back | 11 | 12 | 13 | 14 | 15 | More | Next >>