Tires - Road Bike Shop
Shop
>
Components
>
Wheels, Tires, Tubes
>
Tires
Vittoria Open Corsa SC II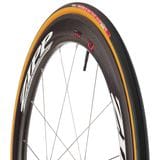 If you love the feel of a tubular tire, but hate to ride or race on them due to expense and ease of replacement, Vittoria's Open Corsa SC II is the clincher version of its famed Corsa SC. To begin with, the casing of the Open Corsa is sewn with 320 TPI cotton(threads per inch). This is the...
Vittoria Open Pave EVO CG III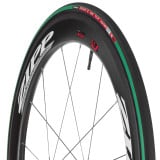 Whether it be Roubaix or Flanders, you've surely seen the Open Pave CG's characteristic green stripe pass over the finish line in top position. And while we've yet to see clinchers break the tubular's stranglehold on the cobbled classics, we have seen race-day carbon clinchers make an...
Vittoria Pave EVO CG III Tire - Tubular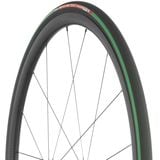 Retail Price:
$129.95
Our Price: $106.99
buy now
The word "Pave" translates to "cobblestone," as in, this is a tire that's designated for rough roads. Add in the evolution designation of "EVO," and you have a next-generation tire that's designed for speed. And while we understand that a name is simply a name, the Corsa line's results speak for...
Vittoria Rubino Pro 3 Slick Tire - Clincher
Retail Price:
$52.95
Our Price: $28.99
buy now
Mount up a set of Vittoria Rubino Pro 3 Slick Clincher Tires and ride with corner-gripping traction, speed-enhancing low rolling resistance, and comfort-boosting suppleness.
Vittoria Rubino Pro 3 Tire - Clincher
The Vittoria Rubino Pro III continues the success of the versatile Rubino series. Billed as a reliable, high-mileage solution to extended training, gran fondos, or even coast-to-coast, ultra-endurance rides. The Rubino Pro features a technical tread pattern for stability across a wide variety of...
Vittoria Rubino Pro Tech 3 Tire - Clincher
If you're like us, then you don't swap tires out for every ride -- even if you're going from a final training ride to a race or event. We want speed, but we're also greedy enough to expect a tire to handle inclement conditions and unforgiving surfaces without sliding out or flatting. Fortunately,...
Vittoria Saguaro Tire - 29
The Vittoria Saguaro 29-inch Tire is one of the all-around favorite tires among those in our offices. You'll find it on most of the bikes we call our own, because it can handle everything we encounter out here in Utah, whether we're carving smooth singletrack in Park City or surfing gnarly lines...
Vittoria Zaffiro Pro III Tire - Clincher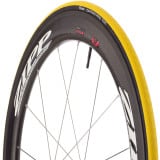 Changing tires due to varying conditions can be a pain, and quite frankly, a waste of time. Vittoria constructed its Zaffiro Pro II Clincher in such a manner that it takes on anything from rough roads to wet slick corners with zest and control. Constructed with Vittoria's durable Aramid Endura...
Vredestein Black Panther CX Tire
Three distinct rubber compounds allow the Black Panther CX Tire to balance grip and efficiency in a variety of off-road conditions. It's the same TriComp X concept found on Vredestein's high-end road tires, just adapted to give cyclocross racers a competitive edge. Vredestein is known for...
Vredestein Black Panther Xtreme - TLR - 27.5in Tire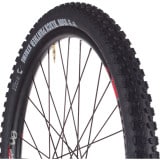 Retail Price:
$75.00
Our Price: $57.00
buy now
Unless you ride road or 'cross, Vredestein might not be an instantly recognizable name, as this company's mountain tires rarely make the swim across the pond. However, this is quickly changing as more and more of us Yanks are experiencing the quality that this century-old Dutch company is capable...
<< Prev | Back | 11 | 12 | 13 | 14 | More | Next >>