Tires - Road Bike Shop
Shop
>
Components
>
Wheels, Tires, Tubes
>
Tires
Maxxis Re-Fuse TR Tire - Clincher
Retail Price:
$64.00
Our Price: $51.20
buy now
As gravel riding becomes a more appreciated niche in cycling, we're seeing a host of brand new off-road tire options being introduced. Maxxis' Re-Fuse TR Clincher Tire isn't one of them -- it's been around long enough to become the brand's most popular training tire for its versatility and...
Maxxis Shorty EXO TR Tire - 27.5in
Retail Price:
$78.00
Our Price: $53.99
buy now
Since it was originally designed to tackle the muckiest downhill courses with ease, the Maxxis Shorty didn't surprise anyone when it earned its place as a favorite on the downhill circuit. Now available in a trail option, the 27. 5in Maxxis Shorty EXO TR Tire provides mid-depth spikes to dig in...
Maxxis Snyper Tire - 24in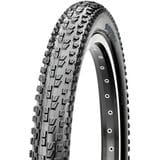 Retail Price:
$40.00
Our Price: $29.99
buy now
The 24in Snyper Tire is Maxxis' nod to the BMX cyclist whose tastes skew away from the urban alley cat scene and toward the dirtier side of things. Manicured skatepark sessions are fine, but trying to snipe lines between birthday party crews on two-wheeled scooters does eventually get old. When...
Maxxis Tomahawk 3C/EXO/TR Tire - 29in
It's hard to ignore the fact that the bike industry has been churning out a new class of discipline-bending, do-it-all trail and enduro machines with fewer limitations than ever. Fast climbs, cushy descents, and everything in between are par for the course for these new unshakeable monsters. If...
Maxxis Tomahawk Double Down/TR Tire - 27.5in
Retail Price:
$81.00
Our Price: $63.95
buy now
Maxxis' Tomahawk Double Down is designed for all-mountain and enduro riding just like its sibling, the Tomahawk EXO. The key difference between the two is in the casing and overall weight: Maxxis' Double Down casing compound provides slightly heavier, downhill-inspired protection for the Tomahawk...
Maxxis Tomahawk EXO/TR Tire - 27.5in
Retail Price:
$78.00
Our Price: $62.40
buy now
If you're riding a 27. 5, you might as well have a tire in your lineup that is as much of a delight on trail rides as the bike itself. Maxxis' Tomahawk EXO TR Tire is made out of Maxxis' 3C Maxx Terra rubber compound, which falls in the middle of the brand's offerings in terms of grip and rolling...
Michelin Cyclocross Jet S Tire - Clincher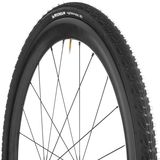 With the flood of cyclocross tires bursting onto the market over the past few years, it's easy to get overwhelmed with options in the search for that perfect race model. When the going gets dusty and hard packed, look no further than the Michelin Cyclocross Jet S Clincher Tire. Long known as a...
Michelin Power All-Season Tire - Clincher
Michelin's long-awaited update to the aging monarch of its road tire line justifies its slow arrival with a host of gains over its Pro4 predecessor. The Power line consists of four tires: Competition, Endurance, All-Season, and Protection Plus, each constructed using a slightly different...
Michelin Power Competition Tire - Clincher
A few years after the introduction of its Pro4 tire line, Michelin is attracting attention for the arrival of Pro4's successor, the Power Competition Tire. Power took its time getting here, evolving from Michelin's moto GP tires of the same name, but it looks to have been worth the wait. The...
Michelin Power Endurance Tire - Clincher
New not only in name but in function, Michelin's Power Endurance Clincher Tire line replaces its Pro4 tire line for 2016 and boldly promises quantifiable improvements in rolling resistance, puncture protection, grip, and overall longevity. The line comprises four tires, including the Competition,...
<< Prev | Back | 11 | 12 | 13 | 14 | 15 | 16 | 17 | 18 | 19 | 20 | More | Next >>