Tires - Road Bike Shop
Shop
>
Components
>
Wheels, Tires, Tubes
>
Tires
Vittoria Zaffiro Pro III Tire - Clincher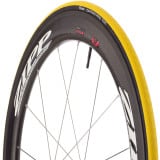 Retail Price:
$32.99
Our Price: $29.69
buy now
If you live in an area where the weatherman is never on the ball, you???ll need the Vittoria Zaffiro Pro III Tire, which is designed to tackle anything from potholed roads to slick corners. The Zaffiro Pro III is engineered with Vittoria's Aramid Endura compound. This rubber is designed to roll...
Vredestein Black Panther CX Tire
Three distinct rubber compounds allow the Black Panther CX Tire to balance grip and efficiency in a variety of off-road conditions. It's the same TriComp X concept found on Vredestein's high-end road tires, just adapted to give cyclocross racers a competitive edge. Vredestein is known for...
Vredestein Black Panther Xtreme - TLR - 27.5in Tire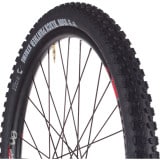 Retail Price:
$75.00
Our Price: $57.00
buy now
Unless you ride road or 'cross, Vredestein might not be an instantly recognizable name, as this company's mountain tires rarely make the swim across the pond. However, this is quickly changing as more and more of us Yanks are experiencing the quality that this century-old Dutch company is capable...
Vredestein Bobcat - TLR - 29in
The Vredestein Bobcat TLR 29in Tire is one of the more aggressive you can buy for wagon wheels these days, and it will empower your big-wheeler to trek where few have been able to before. The tire's chunky, widely spaced, high-profile knobs don't try to hide their intentions ??? to dig into...
Vredestein Fortezza Senso All Weather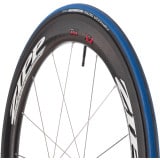 Retail Price:
$74.95
Our Price: $35.00
buy now
When spring weather turns dark and wet and you still want to race, the Vredestein Fortezza Sensor All Weather clincher tires should be the only tires on your wheels. The Sensor uses three different densities of rubber to minimize rolling resistance and maximize grip. This compound is called...
Vredestein Fortezza Senso T All Weather
The Vredestein Fortezza Senso T is designed for superb grip in both dry and, more importantly, wet conditions. It is the tubular version of its ever popular Senso clincher. Vredestein constructed the Senso T All Weather with its proven TriComp rubber compound. This proprietary compound uses three...
Vredestein Freccia Pro Tubular Tricomp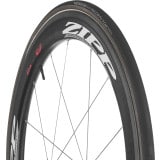 Retail Price:
$89.95
Our Price: $68.00
buy now
Everybody knows that tubular tires are the business when it comes to ride quality, but since they're decidedly more work than clinchers, you need a reliable set if you're logging training miles on them. So for everyone who rides tubulars well beyond race day, the Vredestein Freccia Pro Tubular...
WTB Breakout TCS Light FR Tire - 27.5in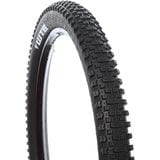 You're riding a big-boy bike these days, so bail on your slow, cautious, smooth-as-a-baby's-bottom tires for the fast, nobbly burliness of the WTB Breakout TCS 27. 5in Tire. The Breakout's large but speedy 2. 3in width and oversized edge knobs keep you gripping like a maniac when you lean into...
WTB Bronson TCS Light FR Tire - 29
The WTB Bronson TCS Light FR 29-inch tire is designed to be more versatile than any tire you???ve ridden before. Light enough for XC racing and aggressive enough for trail duty, the Bronson excels in nearly every type of off-road terrain.Big, open knobs provide grip on wet and loose or hard and...
WTB Nine Line TCS Light Tire - 29in
Some tires are built to handle the gnarliest terrain and some are built to grip like crazy, but the WTB Nine Line TCS Light 29in Tire is built to roll like the dickens. Where burlier tires employ sticky but slow knobs, the Nine Line has slimmed-down micro blocks that provide quality side-to-side...
<< Prev | Back | 11 | 12 | More | Next >>