Tires - Road Bike Shop
Shop
>
Components
>
Wheels, Tires, Tubes
>
Tires
Challenge Strada Bianca Tire - Clincher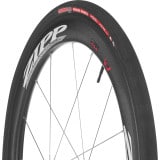 Challenge is known for producing some of the best handmade gravel and dirt racing tires out there, and its new Strada Bianca Clincher Tire is right there at the top of the line. What was previously called the 'Eroica,' the Strada Bianca was renamed when it received its updated, double protection...
Challenge Strada Tire - Tubular
Retail Price:
$99.99
Our Price: $74.99
buy now
We've noticed that the 25mm-wide tubular is becoming increasingly popular on professional riders' race-day setups. Compared to the standard 23mm-wide tubulars, these wider tires not only provide solid traction and low rolling-resistance, but they're also more comfortable. Challenge is well aware...
Continental Baron Tire
The Der Baron tire is a DH favorite when the course is sloppy and wet for its aggressive, widely spaced lugs and Chili Pepper rubber compound. It's a combination that sheds mud and digs deep for encouraging traction, but the tire is too portly if you're not planning on an assisted ride back to...
Continental Cyclocross Race Tire - Clincher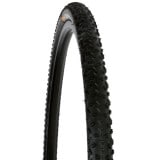 Retail Price:
$34.95
Our Price: $27.96
buy now
It's a shame that cyclocross bikes are sometimes conglomerations of various castaway parts from last year's racing bike. If yours is the exception -- if you take your cyclocross and your cyclocross bike seriously -- then the Continental Cyclocross Race Clincher is the tire for you. With 180tpi,...
Continental Der Kaiser 26in Tire
Retail Price:
$84.95
Our Price: $67.96
buy now
We do not sell a bejeweled crown and fur-trimmed robe with Continental Der Kaiser tires, though you might feel like awarding yourself the royal ensemble after a single ride on these gravity-oriented tires. These are tires that ride right for the AM, DH, and FR applications. Looking at the image...
Continental Gator Hardshell Tire
If you log more miles commuting to work and around town than some pros do in training, the Continental Gator Hardshell Road Tire is the answer to the spare tubes, patch kits, and pumps you've been hauling around. Modeled on the legendary Gatorskin, the Hardshell ups the ante with full...
Continental Gatorskin Tire - Clincher
Retail Price:
$54.95
Our Price: $40.99
buy now
The Continental Gatorskin Tires are a bit less costly than the ever-popular G. P. 4-Season. However, like the 4-Season, the Gatorskins are made for the insults of gritty winter riding. Comparatively, they're a bit slower, a bit heavier, but it's because they are unmatched for puncture-proofness....
Continental Grand Prix 4 Season Tire - Clincher
Retail Price:
$74.95
Our Price: $54.40
buy now
The Continental GP 4-Season Tire takes the overall grippiness and performance inherent to the G. P. 4000 and adds extra sidewall durability to increase the punture protection. DuraSkin is Continental's patented nylon mesh layer that significantly beefs up the sidewall for flat resistance without...
Continental Grand Prix 4000 Tire
Retail Price:
$62.95
Our Price: $34.99
buy now
Flash your team colors with the vibrant Continental Grand Prix 4000 Clincher Road Tires, without sacrificing any performance in the peloton. Activated silica in the Grand Prix 4000's rubber compound increases grip under stress while retaining a light rolling resistance on long straightaways....
Continental Grand Prix Attack Front Tire - Clincher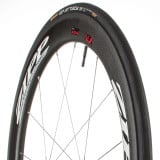 Retail Price:
$75.00
Our Price: $60.00
buy now
When you buy tires for your bike, do you ever think about differences in the front and rear? If you look at the wear patterns and rates, you'll realize that each tire should be designed for specific use. With that in mind, the Continental Grand Prix Attack Clincher Tire is a front-specific tire...
<< Prev | Back | 1 | 2 | 3 | 4 | 5 | 6 | 7 | 8 | 9 | 10 | More | Next >>