Tires - Road Bike Shop
Shop
>
Components
>
Wheels, Tires, Tubes
>
Tires
Clement MXP Tire - Clincher
Retail Price:
$42.99
Our Price: $31.95
buy now
The MXP is Clement's new do-everything cross tire. The tire's center lugs are designed to roll fast but still offer brake and acceleration grip. The larger, more aggressive side lugs, which were inspired by soccer cleats, dig in for hard cornering. It isn't the absolute best tire you can buy for...
Clement MXP Tire - Tubeless
Clement may be a relatively unfamiliar name for younger American riders unaware of the boutique French firm's mid-century glory days. After a few disappointing years of dormancy, new ownership and a strong lineup of 'cross tires have brought Clement some long overdue attention stateside. The...
Clement MXP Tire - Tubular
In the market for some new tubulars for your 'cross rig? Sure, the Clement name isn't as widely circulated as some of the bigger rubber brands, but in Europe, its reputation was long-ago solidified as a procurer of some of the finest tires available. Makes sense, then, that the very Euro sport of...
Clement PDX Tire - Clincher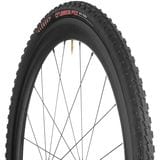 Clement's PDX Clincher Tire has one of the most demanding job descriptions in cyclocrossery: Must love mud without sacrificing speed while maintaining a gap on hardpack. Fortunately, it's also got the perfect resume for meeting those requirements. Since it's a clincher, this PDX loses the ride...
Clement PDX Tire - Tubeless
The recent news that Clement's clinchers are now all tubeless-ready sparked a bevy of positive feedback for the French brand, which had formerly only offered tubular and clincher versions of its popular tires. Now, you can run the Clement PDX Tubeless Tire as a regular clincher or tubeless; as...
Clement PDX Tire - Tubular
If mud is on the menu for your next cyclocross race, look no further than the proven Clement PDX Tubular tire. Clement has been perfecting the PDX's tread for years, and when smartly wrapped around a durable casing, it becomes the weapon of choice for seasoned 'crossers who don't want to get...
Clement Strada LGG 120 TPI Tire - Clincher
When we first heard the claim that the Strada LGG 120 TPI Tire was designed with inspiration from the Criterium Seta, we were skeptical. But this claim comes straight from Clement itself, who continues to be the sexiest name in industrially produced tires, so we were willing to give it some...
Clement Strada LGG 60tpi Tire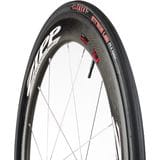 Retail Price:
$35.00
Our Price: $29.99
buy now
Though the cycling industry is prone to radical self-reinvention every few years, one thing remains a welcome constant: the supple ride quality of Clement tires. The Strada LGG 60 TPI Clincher Tire lives up to that reputation, albeit with a lower TPI than its more expensive LGG 120 counterpart....
Clement X'Plor USH 120 TPI Tire - Clincher
The 60 TPI version of Clement's X'Plor USH 120 TPI Clincher Tire is more than capable of slugging it out with gravel, washboard, fire roads, and poorly maintained tarmac; however, the added suppleness of the 120 TPI option makes those all-surface adventures feel less like a body-bruising title...
Clement X'Plor USH 60 TPI Tire - Clincher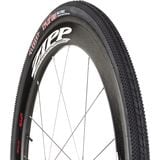 The wordsmiths at Clement didn't include an apostrophe in the X'Plor USH 60 TPI Clincher Tire just to add a little zing to the title. Instead, the apostrophe's role as indicating an omission is a perfect grammatical metaphor for what we mean when use the phrase "gravel grinding." Instead of just...
<< Prev | Back | 1 | 2 | 3 | 4 | 5 | 6 | 7 | 8 | 9 | 10 | More | Next >>