Hubs Skewers - Road Bike Shop
Shop
>
Components
>
Wheels, Tires, Tubes
>
Hubs & Skewers
Chris King 20mm ISO Disc Front Hub
When Chris King decided to design a thru-axle front hub, they had a simple goal -- make the best hub money can buy. With the Chris King ISO Disc 20mm Thru-Axle Front Hub, they just might have done it. The 20mm Thru-Axle Hub utilizes a special bearing, almost the size of a headset bearing that...
Chris King Hub Service Tool Kit
If you're the type who isn't satisfied with just performing routine maintenance, the Chris King Hub Service Tool Kit will give you all the widgets you need to completely disassemble (and hopefully reassemble) your King hubs. This tool kit will work with all King hubs, with the exception of the...
Chris King Hub Service Tool Kit - R45 Road
Tear apart your Chris King R45 hubs for some deep maintenance with the King Hub Service Tool Kit, designed specifically for the R45 hubs. While not required for routine maintenance, the Tool Kit will allow you to completely disassemble and reassemble your hubs. Kit includes the driveshell bushing...
Chris King ISO Disc Front Hub - 9mm QR
Build a strong-as-hell front wheel without feeling like you're following a boat anchor down the trail. The Chris King ISO Disc Front Hub makes a great center to your new lightweight and bombproof front wheel. Precision-machined, stainless steel cartridge bearings spin fast and smoothly, so you do...
Chris King ISO Disc Rear Hub
Art. Chris King parts in general, and their hubs in particular, are functional art. With a sexy shape and mirror smooth anodized finish, they're certainly ogle-worthy. And they're just as beautiful on the inside. They have a well deserved reputation for being as strong as they are light weight....
Chris King ISO Disc Rear Hub - 12x157mm Thru-Axle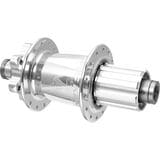 Ready for 157x12mm-spaced downhill frames, the ISO Disc Rear 157x12mm Thru-Axle Hub brings Chris King precision, history, and quality to the slopes. The alloy shell uses the same RingDrive freehub system that's become synonymous with a buzzing-swarm-of-bees. However, King simply made it wider for...
Chris King ISO Disc Rear Hub - Single-Speed Bolt-On
Some of us say the Chris King Single Speed ISO Disc Hub is too pretty to do anything else but propel a cafe cruiser, while others say this hub works too well to be used on anything but a race/adventure rig. We don't know what you'll decide, but we think everyone will agree that this is one...
Chris King ISO Front Hub - 15mm - SD Hubshell
Ever vigilant, Chris King Precision Components may not jump on every passing bandwagon, but they know a good thing when they see one. The Chris King ISO 15mm Front Hub with SD hubshell now brings legendary King performance to the 15mm thru-axle. The folks at Chris King spent most of the past year...
Chris King ISO XD -12x142mm Disc Hub
We could use this intro paragraph to rave on about the all-around amazingness of basically anything and everything Chris King makes, but since you're already doing yourself the favor of looking up his hubs, we can probably spare you the rant. What you can't spare, however, is the Chris King ISO...
Chris King ISO XD -12x150mm Disc Hub
Back in the '70s, a certain German auto manufacturer claimed to be able to build a sports car that would perform up to its standards and need no service whatsoever, except for gasoline and the occasional set of tires, for up to 1,000,000 miles. Why didn't they? Two reasons: The first was cost and...
<< Prev | 1 | 2 | 3 | 4 | 5 | 6 | Next >>