Hubs Skewers - Road Bike Shop
Shop
>
Components
>
Wheels, Tires, Tubes
>
Hubs & Skewers
Mavic 135 to 142 Rear Axle Adapter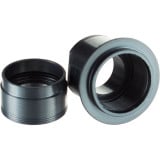 Trying to put your old components on a new frame is always a daunting task. Not because of the mechanics-the build is easy. It's the amazing number of variations in compatibility. There really aren't any standards. One issue is wheels. Just a few years ago, everything was simple-100mm hub up...
Mavic Crossride/CrossRoc Adapter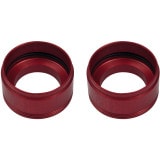 Convert any Mavic Crossride or CrossRoc from spindly 135mm QRs to the modern 142x12 thru-axle standard with this Adapter. It works with all Crossrides and CrossRocs from 26ers to the 29ers. Simply remove the old end caps and install these to hit the trail with improved stiffness and strength with...
Niner XD Alloy Freehub
If you're joining the world of one-by drivetrains by way of SRAM's X-series, make sure you can pair the cassette with your Niner wheelset by switching to a Niner XD Alloy Freehub. Its threaded design matches the XD driver body, allowing you to keep your old wheels and easily retrofit them to your...
PowerTap 15mm Alloy Freehub Body Kit
Sad but true face: hubs, like every other part of your bike, wear out. You could replace the entire hub, or you could mail to Malaysia (or somewhere equally distant) for service, or you could fix it up with the PowerTap 15mm Allow Freehub Body Kit and be ready to ride again in minutes. Grease it...
PowerTap Front Hub
Match your PowerTap G3 with the PowerTap Front Hub to give your bike a more finished look. Your bike will look better. You will feel happier. The world will be a better place. For years, PowerTap had a problem. Not only was its powermeter hiding underneath a rather bulky rear hub, but the hub...
PowerTap G3 Hub
Shedding weight and size from previous generations, the PowerTap G3 Wireless Hub is lighter than ever, tipping the scales at a paltry 325 grams. Plus, its flange diameter has shrunk to 57 millimeters, making it feel just like a regular hub on the road. It also sports a low-key matte black finish...
PowerTap G3 MTB Disc Hub
The Power Tap G3 MTB Disc hub finally allows mountain bikers to utilize power analysis during their singletrack rides. This beefier version of the road hub is specifically designed for the abuse that mountain bikers dish out, and built to be paired with a standard 160mm mountain bike disc brake...
PowerTap G3C Hub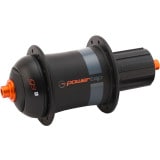 Ceramic Speed bearings are said to be the lightest, smoothest, and most durable bearings on the market. When you read about pro teams replacing stock bearings with ceramics, Ceramic Speed is the company they rely on. These bearings are hybrid ceramic, with steel races and rounder-than-round...
PowerTap GS 24 Hole Straight Pull Hub w/ DT Swiss Internals
The PowerTap GS 24 Hole Straight Pull Hub W/DT Swiss Internals is more robust than ever, thanks to its completely redesigned DT Swiss hub body, with DT Swiss 240 straight-pull shells and DT Swiss bearings for ultra-reliable, smooth-rolling performance. It delivers +/- 1. 5% accuracy for precise...
Shimano AX76 12x142mm Thru-Axle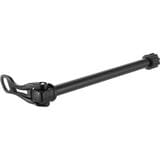 The AX76 12x142mm Thru-Axle is Shimano's skewer for the E-Thru Axle system built into kit like the superlative XTR hubs. If you're looking for a new 12mm skewer for your Shimano rig, we recommend not taking the risk of discovering previously unknown compatibility issues between brand X and the...
<< Prev | 1 | 2 | 3 | 4 | 5 | Next >>