Hubs Skewers - Road Bike Shop
Shop
>
Components
>
Wheels, Tires, Tubes
>
Hubs & Skewers
DT Swiss 240s Thru-Axle Rear 11-Speed Road CenterLock Disc Rear Hub - White
Retail Price:
$369.00
Our Price: $332.10
buy now
While newbies scratch their heads at that long title, those initiated to the sport of cycling will know that this DT Swiss 240s Rear Disc Hub is the hub they want if they're building up a new road bike with Shimano CenterLock rotors, a 142mm thru-axle, and a Shimano or SRAM 11-speed drivetrain....
DT Swiss RWS Aluminum Lever Thru Bolt
This RWS Thru Bolt w/Aluminum Lever is the latest version of DT's RWS technology. Where the standard RWS Thru Bolt uses a carbon reinforced plastic lever arm, you'll get a lever made from machined aluminum here. The weight is exactly the same, and you'll perhaps get more durability in the event...
DT Swiss RWS Ti Road Skewer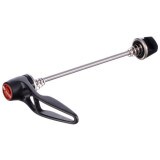 True, the DT Swiss RWS Ti Road Skewer looks like a standard quick release skewer, but it offers a bit more. Their system takes the quick release in a whole new direction. Laufradbefestigungssystem, or in English, a Ratcheting Wheelmounting System (RWS). It has the springs, adjustable nut, and...
DT Swiss XD Driver
Retail Price:
$98.95
Our Price: $93.95
buy now
Direct mount rear derailleurs, MatchMaker lever mounts, and SRAM's new XX1 drivetrain are all examples of mountain biking's current simplification trend. And if you're going to take advantage of the reduced weight and complexity of SRAM's new 1x11 drivetrain, you'll need a wheelset that's...
Easton XD Driver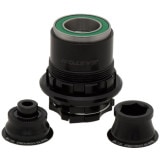 Retail Price:
$100.00
Our Price: $79.99
buy now
All-Mountain and trail riders rejoiced when SRAM released its XX1 component group. Why? Because it provides an extended gear range, while also shedding the weight and complexity of a front derailleur. However, fitting XX1 requires SRAM's XD spec freehub. That's why Easton offers the XX1 Driver....
Industry Nine TORCH Rear Axle Conversion Kit
The Industry Nine TORCH Rear Axle Conversion Kit converts your rear hub to a 12x142mm, 12x157mm, or Quick Release/135mm. This axle kit will work for Classic Hubs, Enduro hubs, and XC hubs. It includes the axle, adjustable dustcap, set-screw, and a slip-on endcap. It comes in one color and three...
Mavic 12 to 9mm Quick Release Axle Adapters
Retail Price:
$35.00
Our Price: $20.00
buy now
Mavic's Crossmax and other mountain bike wheels are easily convertible to whatever hub configuration suits your fancy. The 12 to 9mm Axle Adapters take the 12mm shell and convert it to a standard 9mm quick release-compatible shell. With just a few tools, the adapters are easy to insert. They are...
Mavic 135 to 142 Rear Axle Adapter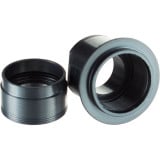 Trying to put your old components on a new frame is always a daunting task. Not because of the mechanics???the build is easy. It's the amazing number of variations in compatibility. There really aren't any standards. One issue is wheels. Just a few years ago, everything was simple???100mm hub up...
Mavic 15mm Front Hub Adapter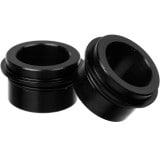 Retail Price:
$7.90
Our Price: $7.00
buy now
If you upgraded a fork, and ended up with a 15QR, you can swap out the standard Mavic spacers for the 15mm Front Hub Adapter and hit the trail. The Mavic 15mm Front Hub Adapter is available in one size and in the color Black.
Mavic 9mm Fork Support Nuts
20mm, 15mm, 9mm -- we live in a world of magnum to minimum axles, and it can be tough to find a compatible mate for your front wheel. However, Mavic makes the connection elementary. Just pop out the 20 or 15mm spacers and replace them with the 9mm Fork Support Nuts. Now, you're ready to ride. The...
<< Prev | 1 | 2 | 3 | 4 | 5 | 6 | Next >>