Hubs Skewers - Road Bike Shop
Shop
>
Components
>
Wheels, Tires, Tubes
>
Hubs & Skewers
PowerTap G3C Hub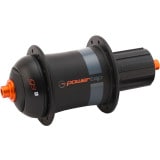 Ceramic Speed bearings are said to be the lightest, smoothest, and most durable bearings on the market. When you read about pro teams replacing stock bearings with ceramics, Ceramic Speed is the company they rely on. These bearings are hybrid ceramic, with steel races and rounder-than-round...
PowerTap GS 20 Hole Straight Pull Front Hub w/ DT Swiss Internals
If you're going to train on a PowerTap rear hub, you should be sure that your front wheel matches. After all, your bike deserves a little love. The GS 20 Hole Straight Pull Front Hub w/DT Swiss Internals, is a perfect match to your GS PowerTap rear hub. PowerTap partnered with DT Swiss to create...
PowerTap GS 24 Hole Straight Pull Hub w/ DT Swiss Internals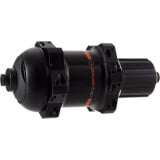 PowerTap has been designing power hubs for over 15 years -- adapting to changing technology, going from bulky wired units to streamlined wireless models, it keeps ahead of the curve in terms of power metrics. And compared to many crank-based systems PowerTap hubs are not only less expensive, they...
Salsa Stainless Flip-Offs Skewer - Pair
It's hard not to smile when you see Salsa skewers. With their bright bursts of color, they're simply a pleasant sight on any bike. After all, the original incarnation of Salsa was run by a guy who always found a way to make bike parts fun. The Salsa Stainless Flip-Offs Skewers first came about...
Salsa Stainless Flip-Offs Skewer - Rear
We're suckers for extra pops of color on our bikes. And when you throw in a well executed design that we'll use every day, our hearts just melt. The Salsa Flip-offs Rear Skewer is exactly the kind of component that we're talking about. It's one of those beautifully designed components that add...
Salsa Titanium Flip-Offs Skewer - Rear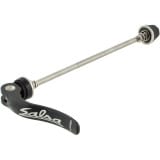 Almost 20 years ago Salsa introduced the Titanium Flip-Off Skewer. As a testament to phenomenal design, the Flip-Off remains unchanged to this day. The ultralight Ti Flip-Off has been a staple on high-end road and mountain bikes since the early '90s, and it doesn't look like that will be changing...
Salsa Titanium Flip-Offs Skewer - Set
Undoubtedly, you've seen the Salsa Flip-Offs Skewers on a bike. The bright bursts of anodized colors pop off of wheels like Chris King hubs, but with a more conservative price. The Titanium Flip-Offs Skewer Set comes with the same lever and anodized colors as with the stainless-steel rod...
SRAM Predictive Steering RS-1 Front Hub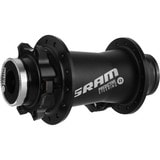 RockShox's new RS-1 fork has literally turned bicycle suspension upside down, introducing an inverted, motorcycle-style fork chassis to the mountain biking world. In doing so, engineers achieved greatness, but along the way created a problem that needed a solution -- how to keep two...
Zipp Titanium Aero Quick Release Skewer - Pair
Zipp Aero Titanium Skewers are surprisingly light. In fact, you could install them on your bike and carry three energy gels in your back pocket and still come out nearly equal to a set of Campagnolo skewers. But this lightness doesn't transcend other considerations, like aerodynamics, strength,...
<< Prev | 1 | 2 | 3 | 4 | Next >>