Hubs Skewers - Road Bike Shop
Shop
>
Components
>
Wheels, Tires, Tubes
>
Hubs & Skewers
ENVE Carbon Fiber Road Hub Set
Few looming product releases have had the effect of inspiring as many drool-on-the-keyboard moments at the Competitive office as ENVE's Carbon Fiber Road Hub Set. Now the wait is over. According to ENVE, MTN-Qhubeka's underrated diesel Mr. Cummings was riding these hubs when he won stage 14 at...
Industry Nine TORCH Rear Axle Conversion Kit
The Industry Nine TORCH Rear Axle Conversion Kit converts your rear hub to a 12x142mm, 12x157mm, or Quick Release/135mm. This axle kit will work for Classic Hubs, Enduro hubs, and XC hubs. It includes the axle, adjustable dustcap, set-screw, and a slip-on endcap. It comes in one color and three...
Mavic 12 to 9mm Quick Release Axle Adapters
Mavic's Crossmax and other mountain bike wheels are easily convertible to whatever hub configuration suits your fancy. The 12 to 9mm Axle Adapters take the 12mm shell and convert it to a standard 9mm quick release-compatible shell. With just a few tools, the adapters are easy to insert. They are...
Niner XD Alloy Freehub
If you're joining the world of one-by drivetrains by way of SRAM's X-series, make sure you can pair the cassette with your Niner wheelset by switching to a Niner XD Alloy Freehub. Its threaded design matches the XD driver body, allowing you to keep your old wheels and easily retrofit them to your...
PowerTap 15mm Alloy Freehub Body Kit
Sad but true face: hubs, like every other part of your bike, wear out. You could replace the entire hub, or you could mail to Malaysia (or somewhere equally distant) for service, or you could fix it up with the PowerTap 15mm Allow Freehub Body Kit and be ready to ride again in minutes. Grease it...
PowerTap Front Hub
Match your PowerTap G3 with the PowerTap Front Hub to give your bike a more finished look. Your bike will look better. You will feel happier. The world will be a better place. For years, PowerTap had a problem. Not only was its powermeter hiding underneath a rather bulky rear hub, but the hub...
PowerTap G3 Hub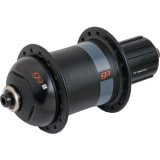 Shedding weight and size from previous generations, the PowerTap G3 Wireless Hub is lighter than ever, tipping the scales at a paltry 325 grams. Plus, its flange diameter has shrunk to 57 millimeters, making it feel just like a regular hub on the road. It also sports a low-key matte black finish...
PowerTap G3 MTB Disc Hub
The Power Tap G3 MTB Disc hub finally allows mountain bikers to utilize power analysis during their singletrack rides. This beefier version of the road hub is specifically designed for the abuse that mountain bikers dish out, and built to be paired with a standard 160mm mountain bike disc brake...
PowerTap G3C Hub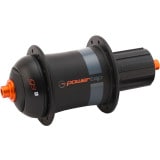 Ceramic Speed bearings are said to be the lightest, smoothest, and most durable bearings on the market. When you read about pro teams replacing stock bearings with ceramics, Ceramic Speed is the company they rely on. These bearings are hybrid ceramic, with steel races and rounder-than-round...
Salsa Stainless Flip-Offs Skewer - Front
Salsa hasn't seen any reason to change its beloved Flip-Off skewer design in the last 20+ years, and we couldn't be happier about it. The lightweight and easy-to-use Stainless Flip-Offs Front Skewer makes a poppy, functional addition to your full squish trail machine, especially if you grab it in...
<< Prev | 1 | 2 | 3 | 4 | 5 | Next >>