Stems - Road Bike Shop
Shop
>
Components
>
Forks, Cockpit, Pedals
>
Stems
3T ARX Alloy Stem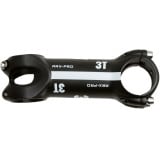 Retail Price:
$80.00
Our Price: $39.99
buy now
The 3T ARX Pro stem is identical in almost every way to the ARX Team stem. In fact there are only 2 differences of note: (1) The ARX Pro uses a steel bolt package instead of the Team's titanium bolts. This results in a net weight difference of 30g, with the ARX Pro weighing in at 150g. (2) The...
3T ARX II Pro Stem
Retail Price:
$79.99
Our Price: $54.39
buy now
The engineers at 3T aren't (quite) rocket scientists, but they do seem to recognize a solid design when they've produced one. We're pleased to report that the ARX II Pro Stem's popularity throughout the self-sponsored peloton hasn't escaped their notice, and it returns for another model year with...
3T ARX II Team Stealth Stem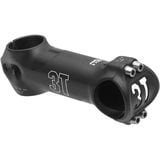 Retail Price:
$119.99
Our Price: $81.99
buy now
There's a time and a place for loud and flashy. Sometimes that place isn't the cockpit of your bike. The 3T ARX Team II Stealth Stem adds a touch of elegance to your cockpit with a subtle, matte black finish that downplays the Team stem's stiff, lightweight performance. The Arx II Team continues...
3T ARX II Team Stem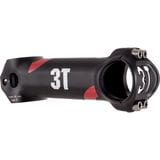 Retail Price:
$109.99
Our Price: $74.79
buy now
The 3T Arx Stem originally appeared in 2007. Since then this model has enjoyed continuous subtle refinement. The Arx II Team continues the original's tradition of simple, classic construction -- but with a design that drops grams from its already low weight. The 3T Arx Team II Stem takes the...
3T Arx LTD Stealth Stem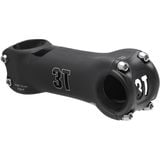 Retail Price:
$334.95
Our Price: $279.99
buy now
Satin black is cool. Many of today's top-shelf bikes are designed with a menacing mix of gloss and satin black. To upgrade one of these race-bred rigs with bright, shouty components would defeat the purpose. To hang your handlebar on anything less than the 3T ARX LTD Stealth Stem would be nothing...
3T ARX LTD Stem
The ARX LTD Stem is the only stem in 3T's road line made from carbon fiber. While we're not sure why the Team stem didn't get the same treatment, the end result is that the ARX LTD drops an additional 7g of claimed weight compared to the closest alloy competitor in the Italian manufacturer's...
3T Mountain Team Stem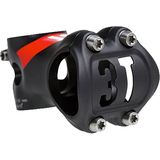 Retail Price:
$100.00
Our Price: $95.00
buy now
With its 7075 T6 body and titanium bolts, the Mountain Team Stem is the lightest offering in 3T's off-road line, comparing quite favorably with many road-specific stems. Low weight isn't synonymous with low reliability, though, and the already durable 7075 T6 alloy is made even more resistant to...
Deity Components Cavity Stem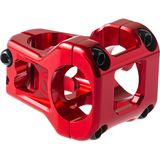 On its own, the Deity Components Cavity Stem resembles a large, metal, anodized tooth, which hints at its strength to confidently connect your steerer tube and handlebars. Precisely machined out of 6061 T6 aluminum, the stem features a wide stance and a beefy 55mm faceplate that distributes force...
Deity Components Copperhead Stem
Attack everything from uphill slogs to daring downhill runs with the Deity Copperhead Stem. It's machined from a solid block of 6061 T6 aluminum for exceptional strength with a lightweight feel, and Deity's renowned attention to detail can be clearly seen when you're admiring this work of art.
Easton EA90 Stem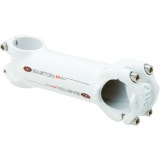 Retail Price:
$99.95
Our Price: $24.99
buy now
The Easton EA90 Stem sheds grams for race-minded riders, without sacrificing structural integrity or performance. Its EA90 aluminum tubing is the result of a 3D forging process, yielding Easton's lightest aluminum stem to date. Looking closely at the stem's faceplate, you'll immediately notice...
<< Prev | 1 | 2 | 3 | 4 | 5 | 6 | Next >>