Stems - Road Bike Shop
Shop
>
Components
>
Forks, Cockpit, Pedals
>
Stems
3T ARX Alloy Stem
Retail Price:
$80.00
Our Price: $40.00
buy now
The 3T ARX Pro stem is identical in almost every way to the ARX Team stem. In fact there are only 2 differences of note: (1) The ARX Pro uses a steel bolt package instead of the Team's titanium bolts. This results in a net weight difference of 30g, with the ARX Pro weighing in at 150g. (2) The...
3T ARX II Pro Alloy Stem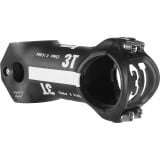 Retail Price:
$79.99
Our Price: $72.00
buy now
3T garnered a strong following with its original ARX alloy stem lineup, which is why it decided to use the same design platform for its new ARX II. We feel it was a smart move on the Italian component manufacturer's part, as the new stem brings everything we loved from the previous model and...
3T ARX II Team Stem
Retail Price:
$109.99
Our Price: $88.00
buy now
Launched in 2007, the original 3T ARX stem appears on virtually every genre of bike from road to mountain. A strong, versatile stem, the ARX doesn't fall prey to gimmicks. Now, the evolution of the popular ARX stem takes form in the ARX II Team. It takes the classic, tubular design of the ARX and...
3T ARX LTD Stem
The 3T ARX LTD stem is a perfect match for any 3T handlebars, but they've also made a nod to the practical by making it perfectly compatible with other manufacturers' bars. This is possible because particular attention has been paid to the design of the clamp. Recognizing that modern steerer...
3T ARX Team Alloy Stem
Retail Price:
$110.00
Our Price: $55.00
buy now
The 3T ARX Team stem is built to balance competing factors: It needs to be light, it needs to be stiff, and it needs to be immensely durable. Perhaps it's no surprise, then, that Arx is Latin for stronghold. Durability is its greatest quality. The ARX Team is forged to give its aluminum grain...
3T Integra LTD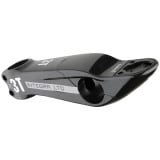 As frame engineers continue to refine and rework their road frames and forks in order to build more aerodynamic machines, so too are component manufacturers going back to the drawing board in search of more efficient, wind-cheating designs. While we all know that the more accessories we bolt on...
AX-Lightness Rigid Stem
AX-Lightness makes a point of using less and less common carbon woven fabric for wheelsets because, as the German manufacturer puts it, the woven stuff is better suited for handling dynamic load than unidirectional fiber. But with components like the Rigid Stem, which experience static load,...
Deda Elementi Trentacinque Stem
Retail Price:
$200.00
Our Price: $119.99
buy now
With its #35 gumball logo on the side, Deda's Trentacinque Stem reminds us of Le Mans and the cars that wrote history there. The thing about Le Mans is that to win is to grind down your competition. The Trentacinque Stem, with its 35mm handlebar clamp diameter, is born out of the same ruggedness...
Deda Elementi Zero1 Stem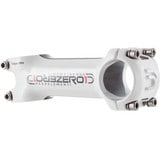 Retail Price:
$45.00
Our Price: $34.00
buy now
The big difference between Deda Elementi's Zero1 Stem and the more expensive Zero100 models are the materials used in the screws. The Zero1 specs steel hardware, where its higher end models use titanium fasteners. This comes with a nominal weigh gain (fewer than 25 grams, to be precise), but...
Deda Elementi Zero100 Performance Stem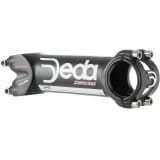 Retail Price:
$100.00
Our Price: $89.99
buy now
The Deda Zero100 Performance Stem, new for 2014, is constructed of 3D forged Alloy 2014, a strong, lightweight alloy ideal for any bikes in your quiver. It features an angled design which, when placed upright, give the stem a zero degree rise. If you flip the stem, however, you add 12 degrees to...
<< Prev | 1 | 2 | 3 | 4 | 5 | Next >>