Stems - Road Bike Shop
Shop
>
Components
>
Forks, Cockpit, Pedals
>
Stems
Race Face Atlas 35 Stem
The list of potential issues you may run into if you're rigging up your bike to adopt 35mm handlebars is short, but on that list is which stem to choose. Particularly if you're looking to ride hard and go big, there aren't a lot of options for reliable, gravity-ready parts. The Race Face Atlas 35...
Race Face Atlas Stem
When the iconic pewter Race Face stems first arrived on the market, they were instrumental in opening up possibilities for mountain biking. Without the leap in strength of those early stems, mountain biking wouldn't have evolved into the capable machines they are. The Race Face Atlas Stem keeps...
Race Face Turbine 35mm Stem
The rise of the 35mm handlebar is a great thing for nearly all mountain bike riders. The fatter bars are stronger, stiffer, and in some cases, even lighter at the same time. There aren't a huge number of 35mm-ready stems on the market yet, but thankfully, the Race Face Turbine 35mm Stem is up for...
Race Face Turbine Stem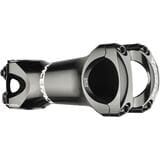 The Turbine Stem appeases the need of cross country racers, but true to Race Face's reputation of overbuilding, this stem can be safely run on an all-mountain bike. To maximize stiffness and minimize weight, Race Face constructs the Turbine from aerospace 7075 aluminum. This provides the high...
Renthal Apex Stem
We'd like to say that the Renthal Apex Stem is the perfect match for your excellent new Renthal handlebar -- and it is -- but really, that statement is too small, because the Renthal Apex Stem is perfect for any handlebar. It's a fantastic piece of engineering and manufacturing from the geniuses...
Renthal Duo Stem
Appropriately, given the UK-based company's motocross background, the Renthal Duo Stem demonstrates Renthal's different approach to the sport of mountain biking and its associated parts. The Duo's incredibly low weight is the result of its unique construction. The stem is split in two halves,...
Renthal Integra Stem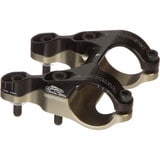 For big bikes, big lines, and the big dreamers who ride them, the Renthal Integra Stem compromises in zero ways to deliver the stiffest and most reliable piece of hardware you may buy for your big rig. The Integra is CNC-machined from solid 6082-series aluminum, a material chosen specifically for...
Ritchey Pro 4-Axis 44 Matrix Carbon-Alloy Stem
Retail Price:
$109.95
Our Price: $76.99
buy now
All-carbon stems tend to be not only extraordinarily expensive, but also rarely much lighter than their alloy counterparts. The reason lies in the nature of carbon fiber's structure and the fact that it takes enormous compaction of the material to achieve the stiffness necessary to make a good...
Ritchey WCS 4 Axis Stem - Road
Retail Price:
$99.95
Our Price: $44.99
buy now
A simple, lightweight stem, the Ritchey WCS 4 Axis Stem is ideal for oversized aluminum and carbon bars. It is forged of 2014 alloy with a six degree rise. The 4-bolt faceplate is secured with stainless steel taper hex-head bolts. To minimize the possibility of crimping lightweight aluminum or...
Ritchey WCS 4-Axis 44 Stem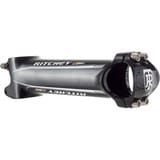 Retail Price:
$91.95
Our Price: $63.99
buy now
Many stems do the same job, but the reliability of a great one is something you will never want to sacrifice -- especially if you've ever had the misfortune of breaking one mid-ride. To alleviate such concerns on your cross-country or trail rig, secure your carbon bars with the uniquely shaped...
<< Prev | 1 | 2 | 3 | 4 | 5 | Next >>