Stems - Road Bike Shop
Shop
>
Components
>
Forks, Cockpit, Pedals
>
Stems
Race Face Aeffect 35 Stem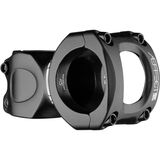 If you're keen on importing the new gravity standard of 35mm bars to your XC or all-mountain rig, then Race Face's Aeffect 35 Stem has you covered. Its 6061 aluminum body is lightweight and designed for single-crown forks, but it lets you replace your oversized 31. 8mm bar with an over-oversized...
Race Face Aeffect R 35 Stem
When redesigning the Aeffect stem, Race Face set out to capture the reliability and light weight characteristics that we found in the original model, with added strength for an all mountain and enduro riding, and shorter lengths that cater towards modern bike geometry. The Race Face Aeffect R...
Race Face Atlas Stem
The Atlas Stem keeps the Race Face legacy alive by giving this stem enough strength for DH while remaining versatile and light enough for XC. It is constructed from 6061-T6 aluminum, which is durable enough for any mountain discipline. The clamp features four bolts and an interlocking, U-shaped...
Race Face Ride XC Stem
Retail Price:
$29.95
Our Price: $22.16
buy now
Whether you're building up a new frame or updating your favorite ride, the Race Face Ride XC Stem adds a dose of strength and confidence to your cockpit. Made from forged and shot peened aluminum, this stem boasts exceptional resistance to fatigue while balancing weight and cost so you'll have...
Race Face Turbine 35mm Stem
35mm handlebars are blowing up, but the necessary stems are a little behind, so Race Face made the Turbine 35mm Stem to give fat-barred rippers a little bit of dap. It's largely the same as the standard Turbine, with a bombproof 7075 aluminum body, a four-bolt clamp, and opposing steerer bolts to...
Race Face Turbine Stem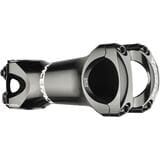 Retail Price:
$93.99
Our Price: $79.99
buy now
The Race Face Turbine stem is built light enough to put a smile on any weight weenie's face, but it's built tough enough to handle all-mountain duties. The stem is made from 7075 aluminum, and weighs less than 140 grams (990mm). The tough, four-bolt clamp holds the bar securely in place without...
Race Face Turbine-R 35 Stem
It's been said in the world of mountain bike components pick two of the following characteristics: lightweight, strong, and cheap. Though we're sure there's a few components that buck this characterization, they're about as common as Sasquatch sightings along the trail. Hitting both the...
Renthal Apex 35 Stem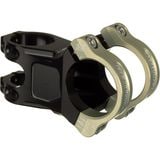 Representing the yin to the Renthal Fatbar's yang, the Renthal Apex 35 Stem comes CNC-machined with precision in a wide range of lengths. Each one accommodates the new 35mm handlebar diameter standard that has slowly made its way into stock and custom cockpits alike recently, and comes built to...
Renthal Apex Stem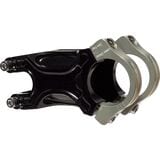 Retail Price:
$99.95
Our Price: $89.98
buy now
Renthal machines the Apex Stem from a solid piece of aluminum, so you know that it's equal to whatever abuse you throw at it on XC drag races or enduro bombing runs. The oversized clamping hardware secures the bar in place with a sort of 240-degree hug, virtually eliminating the targeted stress...
Renthal Duo Stem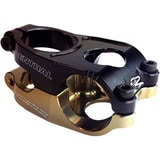 Splitting parts down the middle isn't usually a great way to make them stronger, but Renthal's Duo Stem isn't your usual bike part. Renthal's motocross background gives it a different perspective than most MTB part manufacturers, so maybe the uniqueness of the Duo shouldn't be surprising. By...
<< Prev | 1 | 2 | 3 | 4 | 5 | 6 | Next >>