Stems - Road Bike Shop
Shop
>
Components
>
Forks, Cockpit, Pedals
>
Stems
FSA OS-99 CSI Stem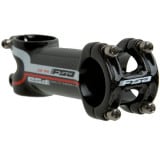 Retail Price:
$180.00
Our Price: $153.00
buy now
The 20-words-or-less summary is easy to do: The FSA OS-99 CSI stem is an FSA OS-99 stem wrapped in carbon fiber. But there are nuances to it that require elaboration: For starters, this is different than most other wrapped carbon fiber stems we've seen. It's much lighter than those stems. For the...
FSA OS-99 Stem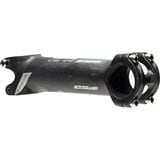 FSA manufacturers carbon fiber stems, but arguably its very best stem (though not the most exotic or the most expensive) is the OS-99. The OS-99 is the lightest stem in the FSA family and -- believe it or not -- it's made from 7050 aluminum alloy. Don't let the extreme lightness of the OS-99 give...
FSA OS-99 Stem
Retail Price:
$100.00
Our Price: $49.99
buy now
For all of the amazing benefit carbon fiber brings to bicycles and componentry -- we're thinking here of frames, forks, rims, handlebars, seatposts, bottle cages, cranksets, etc, etc -- one area where carbon hasn't been widely adopted has been stems. It's not that there aren't a boatload of...
FSA SL-K Carbon Stem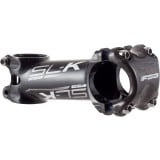 We keep seeing more and more of the peloton reverting back to the tried and true reliability of aluminum stems, and the FSA SL-K Carbon Stem makes a good argument for why. Pairing the latest in alloy forging technology with lightweight carbon fiber, the SL-K Carbon improves on the past without...
Niner Alloy Stem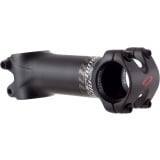 With carbon fiber getting all the buzz these days (actually, for about the last 15 years), it's easy to forget just how good aluminum is. It's stiff, lightweight, inexpensive, and best of all, reliable. Especially when you're talking about components like handlebars and stems. The Niner Alloy...
Niner RDO Stem
It's pretty amazing what manufacturers are able to do with aluminum these days. 180 grams used to be lightweight for a stem. Now that would be a pig. And don't think that strength has been sacrificed-these new stems are strong enough to handle anything that modern freeriders can throw at them....
Niner Trail Stem
Constructed from custom forged alloy with a solid four-bolt face plate, the sub-190g (50mm) Niner Trail Stem comes in two lengths: 50mm or 70mm. It's intended for longer travel bikes like the WFO 9, with durability as top priority. The stem has zero degrees of rise to place your center of gravity...
Niner YAWYD Top Cap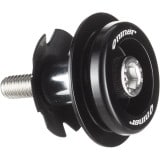 Do you ever get about halfway up a climb and feel like your legs are about to give out? Would it help to have a little extra motivation? That picture of your girlfriend won't do it. The recording of your father explaining what a disappointment you are won't help, either. What you need is a...
Race Face Turbine Stem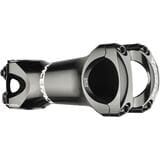 The Turbine Stem appeases the need of cross country racers, but true to Race Face's reputation of overbuilding, this stem can be safely run on an all-mountain bike. To maximize stiffness and minimize weight, Race Face constructs the Turbine from aerospace 7075 aluminum. This provides the high...
Ritchey Superlogic Carbon C260
Single bolts were replaced by two, and then those two moved to the four that brought us up to speed in the world of cycling stems. Well, these clamping interfaces between handlebar and stem have once again been revised, with Ritchey leading the way with its patented new Superlogic Carbon C260...
<< Prev | 1 | 2 | 3 | 4 | 5 | Next >>