Seatposts - Road Bike Shop
Shop
>
Components
>
Forks, Cockpit, Pedals
>
Seatposts
3T DiffLock LTD Seatpost - 0 Offset
By replacing the heavier alloy head found on the lower-tier models in its family, 3T slims the DiffLock LTD Seatpost with 0 Offset down by a claimed 5 to 35g, depending on which model you're comparing it to. While calling aluminum heavy and celebrating such apparently trivial weight losses may...
3T DiffLock Pro Seatpost - 0 Offset
A seatpost is a pretty utilitarian component, but it still has to do its job well without creating issues. 3T's DiffLock Pro 0 Offset Seatpost gets it done with a tough aluminum alloy construction, zero-offset design, and 3T's unique DiffLock clamping mechanism. DiffLock's interlocking splines...
3T DiffLock Team Seatpost - 0 Offset
With 3T's precise DiffLock system and the carbon shaft's natural damping abilities, the Team Seatpost with 0 Offset helps reduce saddle discomfort and smooth trail chatter to a consistency as buttery soft as the gravy in your family's classic casserole recipe. This gravy train doesn't come with a...
3T Ionic 0 LTD Seatpost
The 3T Ionic 0 LTD seatpost keeps rider weight forward for quick, precise handling and a more aggressive pedaling position. This high-modulus carbon fiber seatpost also absorbs road vibration to reduce fatigue and increase comfort on long rides. 3T used a blend of lightweight and durable carbon...
3T Ionic 0 Pro Seatpost
Retail Price:
$119.99
Our Price: $61.19
buy now
Purists and old-schoolers alike often fall back on aluminum's proven performance in areas of the bike where strength is absolutely critical. 3T's Ionic 0 Pro seatpost is identical to the Team version in every way, except that it features an alloy shaft. Instead of the carbon used in the Team, Ltd...
3T Ionic 0 Team Stealth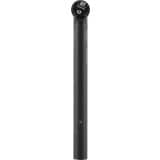 Retail Price:
$174.99
Our Price: $61.25
buy now
For a more aggressive riding position, or to simply counter-balance a slacker seat tube, 3T's Ionic 0 seat post features the appropriate zero-degree setback. It is lighter than a setback post and the saddle clamp has been reduced to a single bolt design for ease of use. 3T's Ionic 0 was...
3T Ionic 25 Ltd
Retail Price:
$269.99
Our Price: $180.89
buy now
We find it a bit ironic that 3T's Ionic 25 Ltd seat post is made out of lightweight carbon. After all, the original Ionic columns were cut from nearly immoveable slabs of stone and marble. This new seat post embeds classic 3T design with its Difflock technology to create a new standard in, what...
3T Ionic 25 LTD Seatpost
The 3T Ionic 25 LTD seatpost combines 3T's top-notch high modulus carbon fiber with a 25mm offset for light weight, vibration absorption, and a neutral seat position. Constructed from alloy and carbon, this Ionic 25 LTD features 3T's high modulus carbon for the seatpost itself. It is designed...
3T Ionic 25 Pro
Retail Price:
$119.99
Our Price: $38.40
buy now
The Ionic seatposts by 3T are a new series that feature its proprietary Difflock seat clamp. The Ionic 25 Pro features a robust and sophisticated design that is ideal for the rider who needs a more rearward position on a shorter frameset. The entry level Ionic 25 is called the Pro. It was...
3T Ionic 25 Pro Seatpost
The 3T Ionic 25 Pro seatpost is ideal for the self-sponsored cyclist who appreciates a little extra room in the cockpit. The entry level Ionic 25 is called the Pro. It was constructed with aluminum alloy for the entire seatpost and clamp assembly. While this adds a few grams (35 to be exact) to...
<< Prev | 1 | 2 | 3 | 4 | 5 | 6 | 7 | Next >>