Seatposts - Road Bike Shop
Shop
>
Components
>
Forks, Cockpit, Pedals
>
Seatposts
Race Face Turbine Dropper Seatpost 1x Remote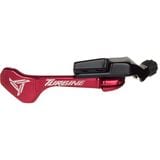 If you've already upgraded to a Race Face Turbine dropper post, your rides will be even smoother with the addition of the 1x Remote. By taking the place of the obsolete front shifter, the remote occupies a convenient spot in the cockpit, saving time and energy on the trails. It's also available...
Race Face Turbine Seatpost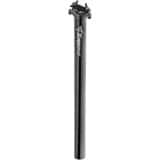 Retail Price:
$79.99
Our Price: $55.99
buy now
Every monarch needs a throne, and what better platform to rule your trail kingdom from than the Race Face Turbine Seatpost? While the name comes back unchanged from last year, the Turbine has actually been totally reimagined, from the materials to the clamp design, so it's basically an entirely...
RockShox Reverb (B1) Dropper Seatpost
On the outside, the RockShox Reverb (B1) Dropper Seatpost looks remarkably like its revered predecessor. On the inside, however, it hides a host of updates for improved functionality with modern mountain bikes. The big news is that it's available with travel-specific post lengths and in a wider...
RockShox Reverb Stealth (B1) Dropper Seatpost
Retail Price:
$471.00
Our Price: $349.00
buy now
Don't make the mistake of thinking the Rock Shox Reverb Stealth (B1) Dropper Seatpost has been sitting comfortably for all of these years, content to rely on its name and impressive legacy rather than change with the times. While you've been barreling through rock gardens and earning a few new...
Syncros FL1.0 Carbon Offset Seatpost
The FL1. 0 Carbon Offset Seatpost sits atop the Syncros line of offset seatposts to bring us vibration-dampening comfort for virtually any ride adventure. Made from carbon fiber with an aluminum clamp, this seatpost powers through long training miles on the road or loops on your favorite XC...
Syntace P6 Carbon HiFlex
Retail Price:
$269.00
Our Price: $236.55
buy now
The Syntace P6 Carbon HiFlex is designed to gently dampen road vibrations so you can be more efficient while pedaling. To increase comfort while still limiting sideways movement, Syntace designed the seatpost with the ability to flex backward under load. Syntace did this by meticulously arranging...
Thomson Covert Elite Dropper Seatpost
From the company that prides itself on rigid seatposts comes something with a little more flexibility. The Thomson Covert Elite Dropper Seatpost is the next generation of the Elite Dropper post designed for internally routed cables. Not content to just follow the herd, Thomson uses custom-made...
Thomson Dropper Seatpost
While a foray into hydraulic systems may seem a stretch for Thomson, which has always made static parts, keep in mind the manufacturer is first and foremost an aerospace contractor. That means that, while it would seem that Thomson is starting behind companies like Fox and RockShox, who have been...
Thomson Elite Seatpost
Thomson's legendary Elite Seatpost is known across the industry for its strength, light weight, and ease of adjustment. The post and cradle are machined from a single piece of 7000-series aluminum. The head is not pressed or bonded in, which allows for higher strength at a low weight. The Elite...
Thomson Elite Setback Seatpost
For riders who prefer a bit more of a stretched-out riding position, the Thomson Elite Setback Seatpost supports your saddle so you can give the pedals your all. The Elite provides 16mm of setback in a bent shaft design. The post is engineered from once piece of machined 7000-seriess aluminum to...
<< Prev | 1 | 2 | 3 | 4 | 5 | 6 | 7 | Next >>