Seatposts - Road Bike Shop
Shop
>
Components
>
Forks, Cockpit, Pedals
>
Seatposts
RockShox Reverb Stealth (B1) Dropper Seatpost
The old saw about not judging books by their covers has never been truer than for the RockShox Reverb Stealth (B1) Dropper Seatpost. On its face, it looks reassuringly similar to the Reverb we've all been abusing for years; however, peel back the cover and you'll find a very different beast. The...
Storck Monolink Seatpost MLP135 Platinum Edition Seatpost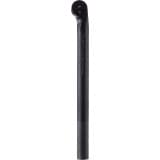 We've been aware of Storck's carbon frame manufacturing prowess for some time now, but the release of its new carbon fiber componentry takes it all to new heights. Take the German brand's Monolink MLP135 Platinum Edition Seatpost, for example. Not to be confused with the already ridiculously...
Storck SP250 Seatpost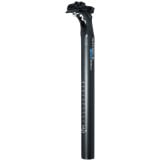 Even with the infiltration of the carbon masterpiece bike builds surrounding us today, many professional mechanics and team riders still opt for aluminum cockpits. The main reason is the security and peace of mind this strong, lightweight alloy provides time and again. This is why we continue to...
Syncros FL1.0 Carbon Zero Seatpost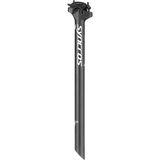 Upgrade your saddle support and smooth out the ride with the Syncros' FL1. 0 Carbon Zero Seatpost. Featuring a carbon fiber post paired with an aluminum clamping mechanism, this saddle is a lightweight addition that works hard to minimize vibrations and bumps on the road or trail for increased...
Syntace P6 7075 Alloy Seatpost
Retail Price:
$120.00
Our Price: $83.99
buy now
Syntace's P6 Alloy Seatpost is not just another post. With its highly adjustable head and a variety of sizes, you'll be able to dial in your fit to perfection. The head of the Syntace P6 features its Extended Seat Adjustment that allows for a wide range of fore and aft adjustability. Additionally...
Syntace P6 Carbon HiFlex
Retail Price:
$269.00
Our Price: $236.55
buy now
The Syntace P6 Carbon HiFlex is designed to gently dampen road vibrations so you can be more efficient while pedaling. To increase comfort while still limiting sideways movement, Syntace designed the seatpost with the ability to flex backward under load. Syntace did this by meticulously arranging...
Thomson Covert Elite Dropper Seatpost
From the company that prides itself on rigid seatposts comes something with a little more flexibility. The Thomson Covert Elite Dropper Seatpost is the next generation of the Elite Dropper post designed for internally routed cables. Not content to just follow the herd, Thomson uses custom-made...
Thomson Dropper Seatpost
While a foray into hydraulic systems may seem a stretch for Thomson, which has always made static parts, keep in mind the manufacturer is first and foremost an aerospace contractor. That means that, while it would seem that Thomson is starting behind companies like Fox and RockShox, who have been...
Thomson Elite Seatpost
Thomson's legendary Elite Seatpost is known across the industry for its strength, light weight, and ease of adjustment. The post and cradle are machined from a single piece of 7000-series aluminum. The head is not pressed or bonded in, which allows for higher strength at a low weight. The Elite...
Thomson Elite Setback Seatpost
For riders who prefer a bit more of a stretched-out riding position, the Thomson Elite Setback Seatpost supports your saddle so you can give the pedals your all. The Elite provides 16mm of setback in a bent shaft design. The post is engineered from once piece of machined 7000-seriess aluminum to...
<< Prev | 1 | 2 | 3 | 4 | 5 | 6 | 7 | Next >>