Seatposts - Road Bike Shop
Shop
>
Components
>
Forks, Cockpit, Pedals
>
Seatposts
KS 2014 LEV Dropper Seatpost
The KS LEV Dropper Seatpost is widely regarded as one of the most desirable dropper posts on the market. Aside from the legendary reliability, the comfortable actuator lever and 150mm stroke option have made this post a favorite of aggressive riders everywhere. The LEV is prized for, among other...
KS LEV DX Dropper Seatpost
Retail Price:
$379.00
Our Price: $289.00
buy now
The KS LEV DX Dropper Seatpost is a more cost effective version of the LEV that sacrifices none of the legendary performance. While it gives up the flashier actuator lever, the remainder is essentially the same, making it a perfect option for those who can deal with a few added grams when it...
KS LEV Ti Dropper Seatpost
Retail Price:
$439.00
Our Price: $389.99
buy now
Nothing adds to a great XC ride like having to stop every 200 yards and adjust your seatpost, which is why adding the KS LEV Ti Dropper Seatpost to your whip is probably not that great of an idea. If, however, you prefer to milk the flowy goodness of a long ride replete with climbs, descents, and...
KS LEV-272 Integra Dropper Seatpost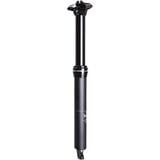 If a dropper post isn't already a key feature of your XC setup, you're already behind the times. Invest in all the hyperlight cassettes, carbon frames, and lighter-than-air wheels you want, but you'll still get left in the dust when you hop off in the middle of a ride to raise or lower your seat....
Niner RDO Carbon Seatpost
Retail Price:
$199.00
Our Price: $160.00
buy now
It will only take one ride on a Niner RDO Carbon Seatpost for you to feel the difference. Whether your ride a hardtail or a full-suspension bike, you'll notice less fatigue at the end of that ride thanks to what Niner calls the 'unstiff' carbon layup. Niner states that its monocoque design...
Pinarello Dogma 2 Seatpost Zero Offset
Here's the scenario -- you have a Pinarello Dogma 2, and you've tried and tried to dial-in the perfect fit to no avail. You've gone through stem after stem, and spacer after spacer. Well, the last piece of the puzzle has been hiding under the rug this whole time, and it's time to bring the whole...
Pinarello Dogma F8 Setback Seatpost
If you're here looking at the Pinarello Dogma F8 Setback Seatpost, then you've possibly fallen victim to the same issue many of us have had since carbon took over the market. Advancing 1/4 turn past the recommended force while tightening a seat collar has sent many a home mechanic -- some of us...
Pinarello Dogma F8 Zero Setback Seatpost
Early photos of Froome's matte-black prototype F8 frame revealed just about everything that's available on the "stock" version, minus a few choice components reserved for the likes of Team Sky riders. Such is the case, or should we say was the case, with his neutral Air8 seatpost. Well that's not...
Race Face Turbine Seatpost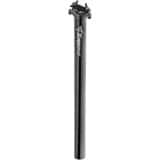 Retail Price:
$79.99
Our Price: $65.00
buy now
The new Race Face Turbine Seatpost isn't just a new graphic on last year's Turbine -- it's an all-new post with new materials, more strength, and a new clamp interface for even easier saddle installation and adjustment. The new Turbine ditches the 7050-series alloy used in last year's model in...
Ritchey DI2 Seatpost Battery Mounts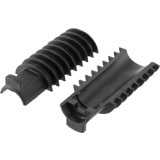 If you run Di2 on your bike, you can keep it looking pro and hide the battery inside. The Ritchey Di2 Seatpost Battery Mount places the battery discreetly inside of your post so that your rig will look as sleek as it is fast.
<< Prev | 1 | 2 | 3 | 4 | 5 | 6 | Next >>