Seatposts - Road Bike Shop
Shop
>
Components
>
Forks, Cockpit, Pedals
>
Seatposts
FOX Racing Shox Doss Dropper Seatpost with Remote Lever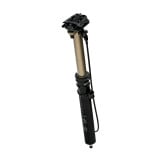 Fox designed a dual internal cam mechanism that not only controls the height of its new Doss Dropper Seatpost, but it also works to control the anti-rotation so that your seat remains right where you want it. The dual cam system is self-adjusting, which means less fiddling with it. That also...
FSA SL-K Carbon ITC Seatpost SB20/-10
Retail Price:
$124.99
Our Price: $105.99
buy now
FSA's lightweight SL-K Carbon ITC Seatpost SB20/-10 sophisticated features allows you to find the perfect saddle position at a reasonable price. The SL-K post is made with unidirectional carbon fiber, which saves weight and absorbs vibration. FSA uses its new Independent Top Clamp that allows for...
KS LEV Carbon Integra Dropper Seatpost
Retail Price:
$559.00
Our Price: $502.99
buy now
When you're on rolling trails amid the fall colors, the last thing you want to do is stop after every climb and descent to set a new saddle height. Put an end to ride-interrupting seatpost adjustments and focus on flow with a KS LEV Carbon Integra Dropper Seatpost. Boasting a carbon mast and...
KS LEV Dropper Seatpost
Retail Price:
$439.00
Our Price: $409.99
buy now
Not only does the KS LEV Dropper Seatpost offer the reliably smooth travel that makes KS dropper posts some of the most popular on the market, but it also shaves precious grams with its titanium clamp bolts, carbon lower clamp, and carbon remote lever. Reducing weight even more, its PowerCordz...
KS LEV DX Dropper Seatpost
Retail Price:
$379.00
Our Price: $318.99
buy now
Whereas a true XC Mountain bike puts you in a more aggressive position, a lower, slacker stance keeps you from going head over tail on rocky downhills. The KS Lev DX Dropper Seatpost not only transforms your XC into an all-mountain goat, it also takes your full-suspension to another level of...
KS Lev Integra Dropper Seatpost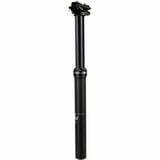 Retail Price:
$379.00
Our Price: $324.99
buy now
The KS LEV Integra Dropper Seatpost lets you focus on the trail without worrying about finding a spot to pull over and adjust your saddle height. With an air-sprung, hydraulically locking sealed cartridge, this post will drop to a gravity-worthy depth or rise to the occasion on fast singletrack...
KS LEV-272 Dropper Seatpost
Stopping on the trail to adjust your seatpost shouldn't be part of your ride -- just think of the time you lose pulling over before a long, slow climb to raise your saddle only to breathlessly lower it again at the top before enjoying the descent you've earned. If you're ready to upgrade, we'd...
KS LEV-272 Integra Dropper Seatpost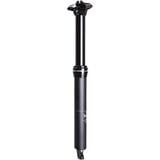 Retail Price:
$425.00
Our Price: $359.99
buy now
If a dropper post isn't already a key feature of your XC setup, you're already behind the times. Invest in all the hyperlight cassettes, carbon frames, and lighter-than-air wheels you want, but you'll still get left in the dust when you hop off in the middle of a ride to raise or lower your seat....
Niner Carbon Seatpost
Perfectly complement your Niner frame with a Niner Carbon Seatpost. Not only will the color scheme match perfectly, but you'll probably lose a little weight, and reduce some of the chatter that you put your nether regions through every time you ride. The unidirectional weave is a great vibration...
Niner RDO Carbon Seatpost
The Niner RDO Carbon Seatpost reduces harsh vibration when you're cruising over rough terrain, thanks to what Niner dubs an "Unstiff" carbon layup. Whether you're riding a hardtail or full-suspension rig, it's designed to deflect up to twice as much shock and vibration feedback compared to...
<< Prev | 1 | 2 | 3 | 4 | 5 | 6 | 7 | Next >>