Seatposts - Road Bike Shop
Shop
>
Components
>
Forks, Cockpit, Pedals
>
Seatposts
Niner RDO Carbon Seatpost
It will only take one ride on a Niner RDO Carbon Seatpost for you to feel the difference. Whether your ride a hardtail or a full-suspension bike, you'll notice less fatigue at the end of that ride thanks to what Niner calls the 'unstiff' carbon layup. Niner states that its monocoque design...
Pinarello Dogma F8 Zero Setback Seatpost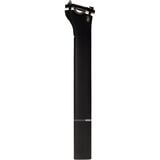 Early photos of Froome's matte-black prototype F8 frame revealed just about everything that's available on the "stock" version, minus a few choice components reserved for the likes of Team Sky riders. Such is the case, or should we say was the case, with his neutral Air8 seatpost. Well that's not...
Profile Design Fast Forward Aluminum Seatpost
Consider the cat out of the bag -- a forward body position is ideal for both triathlon and time trial. However, we don't all have bikes with 78 degree seat tube angles, do we? Well, lucky for us all, Profile Design created the Fast Forward Aluminum Seatpost to alleviate this problem. The Fast...
Race Face Next Seatpost
Retail Price:
$139.99
Our Price: $111.99
buy now
When Race Face introduced the patented head design found on the Next Seatpost, it not only simplified saddle installation and adjustment, but it also dropped serious weight from the competition's bulky alternatives. The design is also ideal for its carbon shaft, as it distributes loads more...
Race Face SIXC Seatpost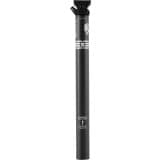 It's not every day that engineers crank out a 190 gram carbon fiber seatpost that meets their company's rigorous downhill-level durability standards -- that is, unless we're talking about Race Face. The gravity-obsessed Canadian brand has a heart for its cross-country-riding brothers and sisters,...
Race Face Turbine Seatpost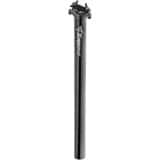 The new Race Face Turbine Seatpost isn't just a new graphic on last year's Turbine -- it's an all-new post with new materials, more strength, and a new clamp interface for even easier saddle installation and adjustment. The new Turbine ditches the 7050-series alloy used in last year's model in...
Ritchey Classic Seatpost
Retail Price:
$79.95
Our Price: $43.97
buy now
The Ritchey Classic Seatpost uses a 2-bolt design to make a stiff, strong, lightweight post with time-tested performance and classic styling. Vintage hi-polish silver finishTwo-bolt design for easy adjustability and a vise-like gripLow profile clamp reduces stress on lightweight rails and won't...
Ritchey DI2 Seatpost Battery Mounts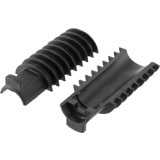 If you run Di2 on your bike, you can keep it looking pro and hide the battery inside. The Ritchey Di2 Seatpost Battery Mount places the battery discreetly inside of your post so that your rig will look as sleek as it is fast.
Ritchey Superlogic Carbon One Bolt Seatpost - 25mm Offset
Retail Price:
$225.00
Our Price: $180.00
buy now
With 25mm of setback, a lightweight and durable carbon monocoque construction, and a patented single bolt for all your saddle adjustments, Ritchey's Superlogic Carbon One Bolt Seatpost is ready to securely support you atop your perch. The seatpost uses Ritchey's proprietary, forged-alloy,...
Ritchey WCS 1-Bolt Seatpost with 20mm Setback
Retail Price:
$89.95
Our Price: $62.99
buy now
Ritchey has been influencing the functional design and aesthetics of components for decades with dependability, strength, and adjustability at the core of every design. The WCS 1-Bolt Seatpost with 20mm Setback embodies these values with its strong and sleek construction. Designed for world class...
<< Prev | 1 | 2 | 3 | 4 | 5 | 6 | 7 | Next >>