Seatposts - Road Bike Shop
Shop
>
Components
>
Forks, Cockpit, Pedals
>
Seatposts
ENVE Zero Offset Seatpost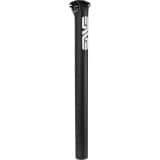 Imagine if Robert Mangold and Eames teamed up to design a seatpost -- the result would look a great deal like the Enve Zero Setback Seatpost. Its sleek, minimal design hides a subtle sophistication that begs to be admired and needs to be mounted. Renowned for its accelerated advancements in...
Fi'zi:k Cyrano Seatpost
Retail Price:
$125.00
Our Price: $17.99
buy now
The Italians just about own the saddle business. What is largely unspoken is that many Italian teams quietly run Italian seat posts on their team bikes as well. Selcof. Ever heard of them? Take a hard look at the photos you see of the Giro d'Italia and you'll find them (often stickered otherwise)...
FOX Racing Shox Doss Dropper Seatpost with Remote Lever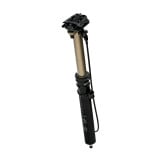 Fox wasn't quick to jump into the mountain bike suspension market. But, because of its motor-sport suspension knowhow, when they did it made a huge impact to the market -- for the better. The same holds true for its introduction of the Doss Dropper Seatpost with Remote Lever. One aspect that's...
FSA SL-K Carbon ITC Seatpost SB0/15
Recognizing a frustration many riders and mechanics have with making saddle adjustments, FSA steps up with the new FSA SL-K Carbon ITC SB0/15 Seatpost. What does all that mean? Let us explain. The SL-K family of components from FSA is premium gear that somewhat undercuts the prices of the company...
FSA SL-K Carbon ITC Seatpost SB20/-10
Bikes have evolved rapidly over the last few decades, but one area of engineering that's been slow to change much is that which can cause the biggest headaches: seatpost clamps. Thankfully, some of the sharpest minds in cycling components have dreamt up, and realized, a mighty fine solution: the...
FSA SL-K Carbon Seatpost
Stiffness, light weight, and smooth ride are all tangible benefits of carbon fiber seatposts;, however, value often suffers in the pursuit of improvement. Thankfully, the FSA SL-K Carbon Seatpost combines race-ready weight and stiffness with a working man's budget, and doesn't sacrifice the...
FSA SL-K Di2 Carbon Seatpost
Since the advent of Shimano's electric Di2 groupsets, we've been waiting for an easy way to hide the battery, and with the FSA SL-K Di2 seatpost, that's taken care of. By including a bonded in adaptor for Shimano's internal Di2 battery, FSA has saved you the hassle of having to run modified...
KS 2014 LEV Dropper Seatpost
Retail Price:
$439.00
Our Price: $386.32
buy now
The KS LEV Dropper Seatpost is widely regarded as one of the most desirable dropper posts on the market. Aside from the legendary reliability, the comfortable actuator lever and 150mm stroke option have made this post a favorite of aggressive riders everywhere. The LEV is prized for, among other...
KS LEV DX Dropper Seatpost
Retail Price:
$379.00
Our Price: $300.00
buy now
The KS LEV DX Dropper Seatpost is a more cost effective version of the LEV that sacrifices none of the legendary performance. While it gives up the flashier actuator lever, the remainder is essentially the same, making it a perfect option for those who can deal with a few added grams when it...
Niner RDO Carbon Seatpost
It will only take one ride on a Niner RDO Carbon Seatpost for you to feel the difference. Whether your ride a hardtail or a full-suspension bike, you'll notice less fatigue at the end of that ride thanks to what Niner calls the 'unstiff' carbon layup. Niner states that its monocoque design...
<< Prev | 1 | 2 | 3 | 4 | 5 | 6 | Next >>