Seatposts - Road Bike Shop
Shop
>
Components
>
Forks, Cockpit, Pedals
>
Seatposts
Easton EC70 Zero Offset Seatpost
Easton delivered on all fronts with its new EC70 Zero Offset Seatpost. It's a lightweight and compliant carbon post that's been designed for riders seeking the versatility provided through a neutral two-bolt post design. The seatpost was constructed with the same overall monocoque carbon...
Easton EC90 Setback Seatpost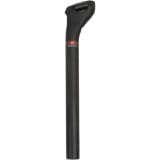 Light isn't good enough anymore. While the Easton EC90 Setback Seatpost is certainly one of the lightest posts on the market, it's also designed to last. To be direct, it's designed to be both tough and light. Increasing the toughness doesn't begin with overbuilding it but instead, recognizing...
Easton EC90 Zero Offset Seatpost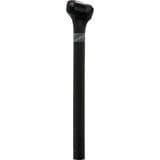 With composite technology continually being pushed to the limits, we're always on the verge of the next component boasting a 'lighter and more aerodynamic' design than was previously thought possible. And while we're all for these attributes that seemingly dominate our current world of cycling,...
Easton Haven Carbon Seatpost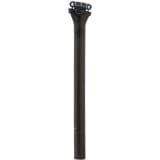 Easton's Haven Zero Setback Carbon Seatpost is only 50 grams heavier than the brand's ultra-XC-focused EC90 Carbon Seatpost, even though the Haven is built be to mounted on long-travel, all-mountain rigs that will see far more shuttle runs than leg-searing uphill churns. If it's a head scratcher...
Easton Haven Zero Offset Seatpost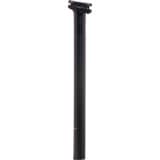 Before carbon, Easton wrote the book on aluminum components and those roots are what give the Haven Zero Offset Seatpost its respectable weight and incredible strength. Constructed from 7000 series aluminum using Easton's Taperwall technology, this post places material where it's needed most, and...
Enve Seatpost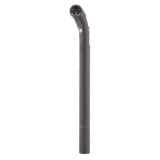 For some, a seatpost is just a post that holds a seat. But for those who spend every minute of their free time in the saddle, a seatpost is both a last line of defense from vibration and a direct extension of power. The Enve Seatpost gives you both in a sleek, minimalistic presentation. The...
Enve Zero Offset Seatpost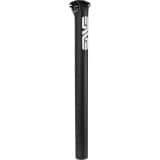 Imagine if Robert Mangold and Eames teamed up to design a seatpost -- the result would look a great deal like the Enve Zero Setback Seatpost. Its sleek, minimal design hides a subtle sophistication that begs to be admired and needs to be mounted. Renowned for its accelerated advancements in...
Fi'zi:k Cyrano Seatpost
Retail Price:
$125.00
Our Price: $38.75
buy now
The Italians just about own the saddle business. What is largely unspoken is that many Italian teams quietly run Italian seat posts on their team bikes as well. Selcof. Ever heard of them? Take a hard look at the photos you see of the Giro d'Italia and you'll find them (often stickered otherwise)...
Fox Racing Shox Doss Dropper Seatpost with Remote Lever
Fox wasn't quick to jump into the mountain bike suspension market. But, because of its motor-sport suspension knowhow, when they did it made a huge impact to the market -- for the better. The same holds true for its introduction of the Doss Dropper Seatpost with Remote Lever. One aspect that's...
FSA SL-K Carbon Seatpost
Stiffness, light weight, and smooth ride are all tangible benefits of carbon fiber seatposts;, however, value often suffers in the pursuit of improvement. Thankfully, the FSA SL-K Carbon Seatpost combines race-ready weight and stiffness with a working man's budget, and doesn't sacrifice the...
<< Prev | 1 | 2 | 3 | 4 | Next >>