Seatposts - Road Bike Shop
Shop
>
Components
>
Forks, Cockpit, Pedals
>
Seatposts
3T Ionic 0 Team Stealth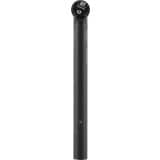 For a more aggressive riding position, or to simply counter-balance a slacker seat tube, 3T's Ionic 0 seat post features the appropriate zero-degree setback. It is lighter than a setback post and the saddle clamp has been reduced to a single bolt design for ease of use. 3T's Ionic 0 was...
3T Ionic 0 Team Stealth Seatpost
A more aggressive riding position will affect your acceleration and your handling. With your weight farther out on the front wheel, you'll climb more powerfully and the bike will handle more nimbly. There is, however, a sacrifice in the bike's high-speed stability. If this geometry adjustment is...
3T Ionic 25 Ltd
We find it a bit ironic that 3T's Ionic 25 Ltd seat post is made out of lightweight carbon. After all, the original Ionic columns were cut from nearly immoveable slabs of stone and marble. This new seat post embeds classic 3T design with its Difflock technology to create a new standard in, what...
3T Ionic 25 LTD Seatpost
The 3T Ionic 25 LTD seatpost combines 3T's top-notch high modulus carbon fiber with a 25mm offset for light weight, vibration absorption, and a neutral seat position. Constructed from alloy and carbon, this Ionic 25 LTD features 3T's high modulus carbon for the seatpost itself. It is designed...
3T Ionic 25 Pro
The Ionic seatposts by 3T are a new series that feature its proprietary Difflock seat clamp. The Ionic 25 Pro features a robust and sophisticated design that is ideal for the rider who needs a more rearward position on a shorter frameset. The entry level Ionic 25 is called the Pro. It was...
3T Ionic 25 Pro Seatpost
The 3T Ionic 25 Pro seatpost is ideal for the self-sponsored cyclist who appreciates a little extra room in the cockpit. The entry level Ionic 25 is called the Pro. It was constructed with aluminum alloy for the entire seatpost and clamp assembly. While this adds a few grams (35 to be exact) to...
3T Ionic 25 Team
Stiff, light, and reliable, the 3T Ionic 25 Team Seatpost scoots you back 25mm in the cockpit to give you a liiitle extra reach if things are feeling a little bit cramped. It uses a Difflock single-bolt clamp, made of rugged aluminum alloy, to lock your saddle in place while allowing for easy...
3T Ionic 25 Team Stealth Seatpost
Retail Price:
$174.95
Our Price: $139.95
buy now
The 3T Ionic 25 Team Stealth seatpost packs the performance you need with muted graphics that keep you off the baddies' pre-race radar. This carbon post is lightweight, stiff, and features 3T's easily adjustable Difflock seat clamp. The Ionic 25 Team was constructed from a combination of carbon...
3T Stylus 0 LTD Seatpost
The zero setback of 3T's Stylus 0 LTD Seatpost may lack the compliant comfort of the 25mm setback version, but its uncompromising position moves your hips up -- much closer to centered on the bottom bracket. This means you can harness your engine's power more efficiently while sitting in the...
3T Stylus 0 Ltd Seatpost
Forward and aft positioning on the bike plays a large role in how much power a rider generates. Although a more relaxed (slacker) position is more comfortable, if you want to generate maximum speed without the discomfort of sitting on the nose of the saddle, try a forward position using the 3T...
<< Prev | 1 | 2 | 3 | 4 | 5 | 6 | 7 | Next >>