Saddles - Road Bike Shop
Shop
>
Components
>
Forks, Cockpit, Pedals
>
Saddles
Blackburn Ciento Saddle
Retail Price:
$59.95
Our Price: $19.99
buy now
If you have wide sit bones, you probably find that many bike saddles are too narrow. But, at the same time, wider saddle are often awkward and ill-fitting. The Blackburn Ciento Saddle is the perfect solution, as it features a wider paddle with narrow nose for long-ride comfort. The Ciento, which...
Blackburn Ligera Saddle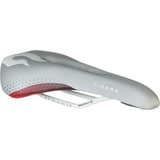 Retail Price:
$99.95
Our Price: $29.99
buy now
Whether you ride or race, you probably strive to build your rigs with the lightest components available. But light doesn't always mean comfortable. The Blackburn Ligera Saddle gives you a narrow, race-ready profile with a shape and padding that will make all those long rides super comfortable....
Blackburn Orogen Saddle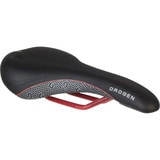 Retail Price:
$53.95
Our Price: $19.99
buy now
Riding in the trails requires moving around on the saddle. For this reason, the Blackburn Orogen Saddle is slightly longer than most saddles, with a profile that makes it easy to feel supportive no matter what position you're in. The Orogen features the same construction as the Ciento saddle. The...
Blackburn Sport Trail Saddle - Men's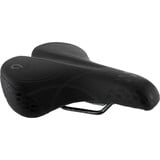 Retail Price:
$44.95
Our Price: $14.99
buy now
Ideal for mountain biking, the Sport Trail Saddle by Blackburn is simple, affordable, and comfortable. It's a well-designed, supportive saddle with features borrowed from the upper end of its saddle range. The Sport Trail is built upon simple, yet durable steel rails. The base features a Flexure3...
Blackburn Sport Trail Saddle - Women's
Retail Price:
$44.95
Our Price: $22.50
buy now
A comfortable saddle doesn't need to break the bank. The Blackburn Women's Sport Trail Saddle ensures comfort while you ride the trails with its durable, long-lasting construction. The Sport Trail borrows inspiration from top-tier Blackburn saddles. It is constructed with a Flexure3 base that...
Brooks England B15 Swallow Saddle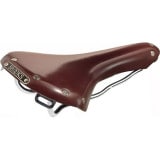 The classic leather Brooks B15 Swallow Saddle spiffs up any bicycle on the road. This narrow saddle is part of the Brooks Unique range, which features models with specific frame construction and different workmanship needs--meaning you'll be the only cyclist on the street with this saddle. This...
Brooks England B15 Swallow Titanium Saddle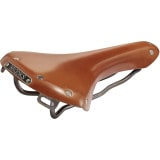 Top your two-wheeled masterpiece off with a worthy saddle: the Brooks B15 Swallow Ti Saddle. A malleable leather cover quickly molds itself into a perfect reproduction of posterior curves--much better than an office copy machine, and much more supple. Touched by expert English craftsmen, the B15...
Brooks England B17 Imperial Saddle - Men's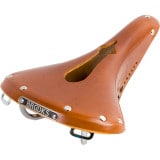 Top-shelf craftsmanship, vintage design, modern functionality, and complete cycling performance--the Brooks Heritage B17 Imperial Saddle. You get the aesthetics and quality you love from Brooks with the weight-saving, pressure-relieving cutout design. Brooks Heritage made this saddle with quality...
Brooks England B17 Narrow Saddle
If practice makes perfect, then the 101 years of design experience that have gone into the Brooks Heritage B17 Narrow Saddle should make it pretty darn near perfect. A variation of the classic B17, this saddle fits well with thoroughbred racing cycles thanks to a narrow profile that offers...
Brooks England B17 Special Saddle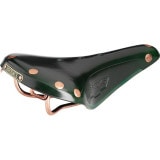 Treat your badonkadonk to the posterior-pleasing handcrafted Brooks B17 Special Saddle. With more history than the Smithsonian has packed into every hand-hammered copper rivet, the B17 Special Saddle's not only easy on the eyes, it quickly molds itself into the ultimate bum-supporting saddle for...
<< Prev | Back | 1 | 2 | 3 | 4 | 5 | 6 | 7 | 8 | 9 | 10 | More | Next >>