Saddles - Road Bike Shop
Shop
>
Components
>
Forks, Cockpit, Pedals
>
Saddles
Brooks England B15 Swallow Saddle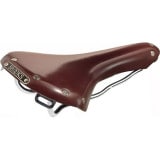 The classic leather Brooks B15 Swallow Saddle spiffs up any bicycle on the road. This narrow saddle is part of the Brooks Unique range, which features models with specific frame construction and different workmanship needs--meaning you'll be the only cyclist on the street with this saddle. This...
Brooks England B15 Swallow Titanium Saddle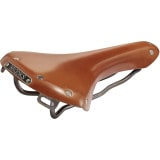 Top your two-wheeled masterpiece off with a worthy saddle: the Brooks B15 Swallow Ti Saddle. A malleable leather cover quickly molds itself into a perfect reproduction of posterior curves--much better than an office copy machine, and much more supple. Touched by expert English craftsmen, the B15...
Brooks England B17 Imperial Saddle - Men's
Top-shelf craftsmanship, vintage design, modern functionality, and complete cycling performance--the Brooks Heritage B17 Imperial Saddle. You get the aesthetics and quality you love from Brooks with the weight-saving, pressure-relieving cutout design. Brooks Heritage made this saddle with quality...
Brooks England B17 Narrow Saddle
If practice makes perfect, then the 101 years of design experience that have gone into the Brooks Heritage B17 Narrow Saddle should make it pretty darn near perfect. A variation of the classic B17, this saddle fits well with thoroughbred racing cycles thanks to a narrow profile that offers...
Brooks England B17 Special Saddle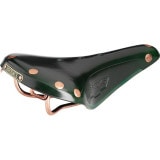 Treat your badonkadonk to the posterior-pleasing handcrafted Brooks B17 Special Saddle. With more history than the Smithsonian has packed into every hand-hammered copper rivet, the B17 Special Saddle's not only easy on the eyes, it quickly molds itself into the ultimate bum-supporting saddle for...
Brooks England B17 Standard Aged Saddle - Men's
Get used to idiots making lame comments about grundle-suffering when you bolt a Brooks B17 Aged Standard Saddle to your two-wheeled partner. To those not in the know, cracking jokes about a hard-looking torture device of a saddle is hee-larious. Just grin and bear it, and make a comment about...
Brooks England B17 Standard S Imperial Saddle - Women's
Ride like royalty on the Brooks Heritage B17 Women's Standard S Imperial Saddle. Featuring a central cutout to relieve pressure and add comfort, the Imperial's leather-and-steel design makes a great combination of comfort and strength. Over 100 years of design experience backs this newest...
Brooks England B17 Standard Saddle - Men's
The folks at Brookes Heritage Saddles have been producing the Men's B17 Standard Bike Saddle for over 100 years. Needless to say, they have a pretty good idea of what they're doing. The durable full-grain leather cover keeps the B17 Saddle cool on especially warm days, and it will mold to your...
Brooks England B33 Saddle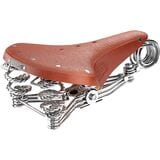 Spring into your morning commute by riding astride the Brooks Heritage B33 Saddle. Loaded with rear coil springs and a front loop, this leather-covered saddle brings comfort and utility to your city cycle. Brooks built it burly, so larger commuters can rest easy as they pedal their way through...
Brooks England B67 S Aged Saddle - Women's
The Brooks B67S Aged Saddle offers out-of-the-box comfort for your city riding needs. Due to its leather construction, it still has the long-wearing durability you'd expect from Brooks. And thanks to its steel springs, it offers considerably more comfort than other saddles designed for upright...
<< Prev | Back | 1 | 2 | 3 | 4 | 5 | 6 | 7 | 8 | 9 | 10 | More | Next >>