Saddles - Road Bike Shop
Shop
>
Components
>
Forks, Cockpit, Pedals
>
Saddles
Selle Italia SLR Tri Gel Saddle - TI Rails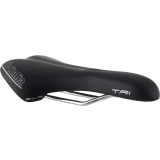 The bike portion of a triathlon is essentially a time trial, which to most doesn't sound all that terrible. But then you add in the swim beforehand. and the run, sometimes an entire marathon, afterwards, and things start to look a bit different. To set it apart even further, in the interest of...
Selle Italia SLR XC Flow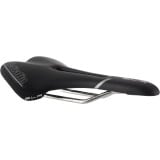 Designing a comfortable mountain bike saddle for riding long distances is a tricky affair. If a saddle has too much flex, you bob around while pedaling; too little, and you're riding a brick. Too much padding, and your weight can shift around too much, which can lead to hotspots and blisters on...
Selle Italia SLR XC Saddle
Retail Price:
$209.99
Our Price: $168.00
buy now
The SLR is one of the true classic saddles in cycling, but it's a bit thin on padding for the average mountain biker. That's why Selle Italia built the SLR XC Saddle from the same shell, and added enough extra padding for singletrack use. It also gets Vanox rails for durability and a reinforced...
Selle Italia SLR XC Saddle - TI Rails
Less is often more when it comes to saddle design. Sure, those big, cushy gel covers look like a lounge chair for your bike, but when it comes down to it, a saddle with less padding gives sit bones better support. The Selle Italia SLR XC Saddle features self molding padding and slip proof inserts...
Selle Italia SLS Kit Carbonio Flow Saddle
Retail Price:
$144.99
Our Price: $74.99
buy now
If your quest for a competition saddle has turned to one of seeking comfort and race design, then the Selle Italia SLS Kit Carbonio Flow Saddle is for you. With a flexible shell, an anatomic cutout, and a moderate amount of padding, the SLS Kit Carbonio Flow saddle provides gains without any...
Selle Italia SLS Monolink Kit Carbonio Flow Saddle
The Selle Italia SLR saddle has become one of the most beloved and popular saddles in the cycling world. And now, Selle Italia has taken the same shape and anatomical profile and created the SLS -- a more affordable version that features the same comfort and similar low weight. To begin with, the...
Selle SMP Drakon
As one the newest saddles to join the Selle SMP lineup, the Drakon carries the brand's commitment to addressing the all-too-common issue of pressure at the perineum region. It relies on Selle SMP's innovative design to keep you supported and pressure-free, which means more overall comfort while...
Selle SMP Evolution
Knowing that pressure at the perineum region is no way to roll, Selle SMP set out to address this issue with its SMP4BIKE saddles. The Evolution is a minimal design that falls right into this category, as it relies on the Italian brand's innovative shape to keep you comfortable, supported, and...
Selle SMP Glider Saddle
Upon initial inspection, the Selle SMP saddles may not look like they would be your first choice in comfort. But, looks are deceiving, and once you try it, the Glider saddle may just end up being your favorite saddle. They aren't the lightest saddle on the market, but they have been developed and...
Selle SMP Hell Saddle
Probably the last word you want creeping into your mind while searching for a new saddle, "hell" in Selle SMP speak is actually the exact opposite of what you might think. In fact, its new Hell saddle was made with an ample dose of padding, along with the brand's proven pressure-relief design to...
<< Prev | Back | 1 | 2 | 3 | 4 | 5 | 6 | 7 | 8 | 9 | 10 | More | Next >>