Saddles - Road Bike Shop
Shop
>
Components
>
Forks, Cockpit, Pedals
>
Saddles
Fi'zi:k Luce Manganese Saddle - Women's
You can tell, after a few spins around the driveway, that the saddle that came with your new road bike leaves something to be desired. Sure, you could put up with it for a season or so, narrowing down exactly where it puts the most uncomfortable pressure on your sit bones, or you could skip the...
Fi'zi:k Monte Manganese Saddle
Enduro racers looking for a saddle that'll provide flexible comfort without breaking the bank will be happy to find the Fizik Monte Manganese Saddle. Its manganese rails won't soak up quite as much vibration as more expensive materials, but they provide excellent durability and resistance to wear...
Fi'zi:k Thar Saddle - K:ium Rails
Retail Price:
$150.00
Our Price: $52.99
buy now
Ever had to stand up in the saddle because your butt hurt and then lost traction on slick ground? Us too, which is why we've seriously thought about mounting up the Fi'zi:k Thar Saddle with K:ium Rails on our favorite 29er. That's right, the Thar is designed especially for big-wheelers, with a...
Fi'zi:k Tritone 6.5 Saddle - 7x9 Carbon Braided Rails
Retail Price:
$300.00
Our Price: $165.00
buy now
The Fizik Tritone 6. 5 Carbon Saddle takes the celebrated design of the Tritone 5. 5, widens it by a crucial 10mm for wider riders, and slaps on carbon-braided rails to save weight and improve ride quality. It maintains the Tritone's design advantages of vastly improved comfort and enhanced...
Fi'zi:k Tritone 6.5 Saddle - K:ium Rails
Retail Price:
$225.00
Our Price: $135.00
buy now
The Fizik Tritone 6. 5 Kium Saddle is a slightly wider version of the Tritone 5. 5, designed to better support men and women with wider sit bones in a triathlon/time trial position, while also helping to reduce aerodynamic resistance. How's that possible? Read on. First, we'll point out the...
Fi'zi:k Volta R1 Snake Saddle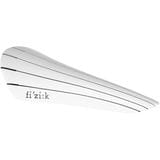 It's a simple fact, snakes slither. Their spines are highly flexible and uninhibited movement is natural. Fi'zi:k uses the Snake, in its Spine Concept Fit System, to describe the cyclist who is not defined by one movement. A rider who is categorized as a snake not only moves continuously on the...
ISM Adamo Road Saddle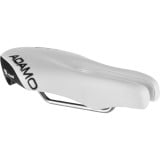 In 1999, the UCI delivered new bicycle restrictions that reduced the allowable amount of saddle setback. In the process, it forced racers into a nether world of sitting on the tips of their saddles. The change was under the guise of keeping the bikes and riders safe, but the reality is that a...
ISM PN 1.1 Saddle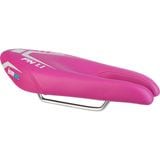 The restrictions set by governing bodies on saddle placement has led to a cohort of time trialists and triathletes spending countless miles perched precariously and uncomfortably on the narrow tip of traditional road saddles, trying to eek the most power out of a flat time trial course. This...
Juliana Primiero Saddle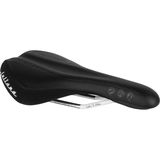 Lady posteriors are different than dude posteriors, so a saddle that's made for guys won't work as well for gals. Obvious? Maybe, but the Juliana Primiero Women's Saddle is somehow still one of the women's-specific MTB saddles on the market. Made with a wider shape than men's saddles, the...
PRO Falcon Carbon Saddle
Retail Price:
$189.95
Our Price: $75.98
buy now
The PRO Falcon Carbon Saddle is a racer's saddle. No cut-outs, no dramatically scooped silhouette. It's got a neutral profile with an aggressive angle that lets you move your hips forward or back while still keeping them rotated into an efficient position, and its carbon fiber rails keep weight...
<< Prev | Back | 1 | 2 | 3 | 4 | 5 | 6 | 7 | 8 | 9 | 10 | More | Next >>