Saddles - Road Bike Shop
Shop
>
Components
>
Forks, Cockpit, Pedals
>
Saddles
Fi'zi:k Vesta Saddle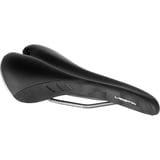 Retail Price:
$99.99
Our Price: $79.99
buy now
Vesta was a virgin goddess worshipped in Ancient Rome. And, much like its namesake you'll worship the Fi'zi:k Vesta saddle -- designed with input from female riders, it provides support for your sit bones and relief for your soft tissue. Its shape allows multiple riders, from the enthusiast to...
Fi'zi:k Volta R1 Snake Saddle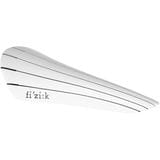 Retail Price:
$300.00
Our Price: $270.00
buy now
It's a simple fact, snakes slither. Their spines are highly flexible and uninhibited movement is natural. Fi'zi:k uses the Snake, in its Spine Concept Fit System, to describe the cyclist who is not defined by one movement. A rider who is categorized as a snake not only moves continuously on the...
ISM Adamo Road Saddle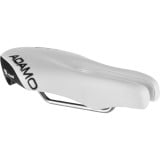 In 1999, the UCI delivered new bicycle restrictions that reduced the allowable amount of saddle setback. In the process, it forced racers into a nether world of sitting on the tips of their saddles. The change was under the guise of keeping the bikes and riders safe, but the reality is that a...
ISM PN 1.1 Saddle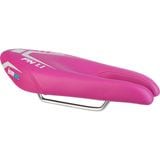 The restrictions set by governing bodies on saddle placement has led to a cohort of time trialists and triathletes spending countless miles perched precariously and uncomfortably on the narrow tip of traditional road saddles, trying to eek the most power out of a flat time trial course. This...
ISM PR 2.0 Saddle
When you're riding a century through beautiful vineyards and scenic valleys, the last thing you want to worry about is an uncomfortable saddle. The ISM PR 2. 0 Saddle lets you focus on the scenery with a split cutout design that reduces pressure on sensitive nerves and tissues while fighting off...
Profile Design Vertex Saddle - Ti Rail
Make sure you aren't losing valuable seconds in a triathlon or time trial with a saddle that isn't designed for being used with your aerobar position. Profile Design's Vertex Saddle with Titanium Rails is part of a line created specifically for racing on a bike with TT or triathlon geometry. This...
Profile Design Vertex Solid Saddle - Cromoly Rail
If you're going to go to the trouble of racing in a time trial or triathlon, the last thing you want is a saddle better suited for your road bike. The Vertex line by Profile Design offers a Solid Chromoly Rail option that keeps it affordable, with a shape that's designed specifically for riding...
Profile Design Vertex Solid Saddle - Ti Rail
Profile Design created its Vertex line to give riders racing with aerobars the option to use a saddle specifically created for a bike with time trial or triathlon geometry. The Vertex Solid Saddle uses titanium rails to dampen road vibration, while not adding much additional weight to your frame...
Race Face Aeffect Saddle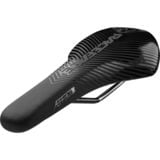 Retail Price:
$99.95
Our Price: $84.95
buy now
Race Face manufactures a dizzying array of cockpits and cranks designed with specialized features that recommend each one for a different discipline. The Aeffect Saddle transcends all trail boundaries, though, with a shape, supportive padding, and lightweight ti-alloy rails that alloy for...
SDG Components Allure Dakine Steffi Marth Co-op Ti-Alloy Saddle
It's no wonder why the SDG Components Allure Dakine Steffi Marth Co-op Ti-Alloy Saddle is so mesmerizing to the serious rider. What, with its ti-alloy rails and flat-forward platform, this saddle delivers strength, responsiveness, and lightweight performance, all without inhibiting your movement...
<< Prev | Back | 1 | 2 | 3 | 4 | 5 | 6 | 7 | 8 | 9 | 10 | More | Next >>