Saddles - Road Bike Shop
Shop
>
Components
>
Forks, Cockpit, Pedals
>
Saddles
Fi'zi:k Luce Manganese Saddle - Women's
You can tell, after a few spins around the driveway, that the saddle that came with your new road bike leaves something to be desired. Sure, you could put up with it for a season or so, narrowing down exactly where it puts the most uncomfortable pressure on your sit bones, or you could skip the...
Fi'zi:k Mistica Carbon Saddle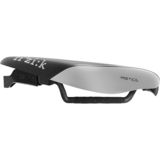 You aren't cutting any corners for tri season this year. After a few seasons spent gradually piecing together enough pricey upgrades on your road frame to keep up with the local competition, a tri bike is the next logical step. Once you decide on your race steed, outfit it with the Fizik Mistica...
Fi'zi:k Mistica K:ium Saddle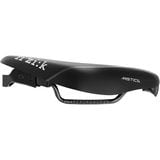 After being coerced into signing up for a sprint tri with a few ride buddies last summer, you'd never have guessed that you'd catch triathlon fever. Sure enough, somewhere during your swim, bike, run, and the finish line, you were sold. Now that you've got a racing steed for this summer's race...
Fi'zi:k Monte Manganese Saddle
Enduro racers looking for a saddle that'll provide flexible comfort without breaking the bank will be happy to find the Fizik Monte Manganese Saddle. Its manganese rails won't soak up quite as much vibration as more expensive materials, but they provide excellent durability and resistance to wear...
Fi'zi:k Thar Saddle - K:ium Rails
Retail Price:
$150.00
Our Price: $52.99
buy now
Ever had to stand up in the saddle because your butt hurt and then lost traction on slick ground? Us too, which is why we've seriously thought about mounting up the Fi'zi:k Thar Saddle with K:ium Rails on our favorite 29er. That's right, the Thar is designed especially for big-wheelers, with a...
Fi'zi:k Tritone 6.5 Saddle - K:ium Rails
Retail Price:
$225.00
Our Price: $135.00
buy now
The Fizik Tritone 6. 5 Kium Saddle is a slightly wider version of the Tritone 5. 5, designed to better support men and women with wider sit bones in a triathlon/time trial position, while also helping to reduce aerodynamic resistance. How's that possible? Read on. First, we'll point out the...
Fi'zi:k Tundra M3 K:ium Saddle
When you ride XC, it's usually in team kit and often includes a bib, start line, and finish line. If after years of this routine, your body is flexible enough to race on an aggressive, narrow saddle, take a look at the Fizik Tundra M3 K:ium Saddle. Whether you're an old pro or just dipping your...
Fi'zi:k Tundra M5 VS Manganese Saddle
Rounding out Fizik's cross-country family as a cost-effective yet lightweight saddle, the Fizik Tundra M5 VS Manganese Saddle delivers pressure relief and trail-ready comfort. The Tundra M5's race-ready silhouette is slim and tapered, so it accommodates riders with narrower sit bones who need...
Fi'zi:k Vesta Saddle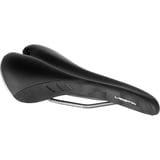 Retail Price:
$99.99
Our Price: $79.99
buy now
Vesta was a virgin goddess worshipped in Ancient Rome. And, much like its namesake you'll worship the Fi'zi:k Vesta saddle -- designed with input from female riders, it provides support for your sit bones and relief for your soft tissue. Its shape allows multiple riders, from the enthusiast to...
Fi'zi:k Volta R1 Snake Saddle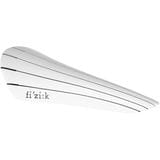 Retail Price:
$300.00
Our Price: $189.00
buy now
It's a simple fact, snakes slither. Their spines are highly flexible and uninhibited movement is natural. Fi'zi:k uses the Snake, in its Spine Concept Fit System, to describe the cyclist who is not defined by one movement. A rider who is categorized as a snake not only moves continuously on the...
<< Prev | Back | 1 | 2 | 3 | 4 | 5 | 6 | 7 | 8 | 9 | 10 | More | Next >>