Saddles - Road Bike Shop
Shop
>
Components
>
Forks, Cockpit, Pedals
>
Saddles
Fi'zi:k Luce Manganese Saddle - Women's
Retail Price:
$99.99
Our Price: $89.99
buy now
You can tell, after a few spins around the driveway, that the saddle that came with your new road bike leaves something to be desired. Sure, you could put up with it for a season or so, narrowing down exactly where it puts the most uncomfortable pressure on your sit bones, or you could skip the...
Fi'zi:k Mistica K:ium Saddle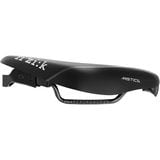 Retail Price:
$175.00
Our Price: $157.50
buy now
After being coerced into signing up for a sprint tri with a few ride buddies last summer, you'd never have guessed that you'd catch triathlon fever. Sure enough, somewhere during your swim, bike, run, and the finish line, you were sold. Now that you've got a racing steed for this summer's race...
Fi'zi:k Tundra M1 Saddle
Retail Price:
$225.00
Our Price: $202.50
buy now
Designed for cross-country riders and racers who are spinally flexible, what Fi'zi:k dubs Snakes, the Fi'zi:k Tundra M1 Saddle features a flat shape that's ideal for maximizing power output by adjusting your position in the saddle. According to Fi'zi:k's Spine Concept Fit system, Snakes are able...
Fi'zi:k Vesta Saddle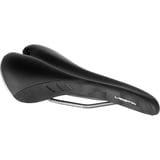 Retail Price:
$99.99
Our Price: $79.99
buy now
Vesta was a virgin goddess worshipped in Ancient Rome. And, much like its namesake you'll worship the Fi'zi:k Vesta saddle -- designed with input from female riders, it provides support for your sit bones and relief for your soft tissue. Its shape allows multiple riders, from the enthusiast to...
Fi'zi:k Volta R1 Snake Saddle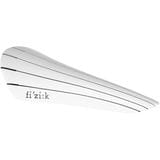 Retail Price:
$300.00
Our Price: $270.00
buy now
It's a simple fact, snakes slither. Their spines are highly flexible and uninhibited movement is natural. Fi'zi:k uses the Snake, in its Spine Concept Fit System, to describe the cyclist who is not defined by one movement. A rider who is categorized as a snake not only moves continuously on the...
ISM Adamo Road Saddle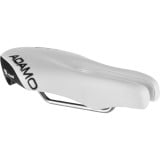 In 1999, the UCI delivered new bicycle restrictions that reduced the allowable amount of saddle setback. In the process, it forced racers into a nether world of sitting on the tips of their saddles. The change was under the guise of keeping the bikes and riders safe, but the reality is that a...
ISM PN 1.1 Saddle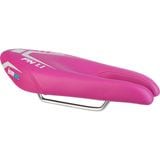 The restrictions set by governing bodies on saddle placement has led to a cohort of time trialists and triathletes spending countless miles perched precariously and uncomfortably on the narrow tip of traditional road saddles, trying to eek the most power out of a flat time trial course. This...
ISM PR 2.0 Saddle
When you're riding a century through beautiful vineyards and scenic valleys, the last thing you want to worry about is an uncomfortable saddle. The ISM PR 2. 0 Saddle lets you focus on the scenery with a split cutout design that reduces pressure on sensitive nerves and tissues while fighting off...
Juliana Primiero Saddle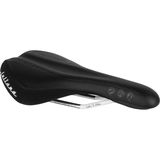 Lady posteriors are different than dude posteriors, so a saddle that's made for guys won't work as well for gals. Obvious? Maybe, but the Juliana Primiero Women's Saddle is somehow still one of the women's-specific MTB saddles on the market. Made with a wider shape than men's saddles, the...
Profile Design Vertex Saddle - Chromoly Rail
When you're racing a time trial or a triathlon, you know body position is crucial to not fatiguing too early. Body position can be heavily impacted by your saddle, which is why Profile Design engineered its Vertex Saddle line specifically for riding these disciplines. The Chromoly Rail version...
<< Prev | Back | 1 | 2 | 3 | 4 | 5 | 6 | 7 | 8 | 9 | 10 | More | Next >>