Saddles - Road Bike Shop
Shop
>
Components
>
Forks, Cockpit, Pedals
>
Saddles
ISM PR 2.0 Saddle
When you're riding a century through beautiful vineyards and scenic valleys, the last thing you want to worry about is an uncomfortable saddle. The ISM PR 2. 0 Saddle lets you focus on the scenery with a split cutout design that reduces pressure on sensitive nerves and tissues while fighting off...
Juliana Primiero Saddle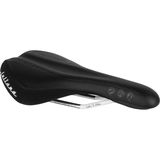 Lady posteriors are different than dude posteriors, so a saddle that's made for guys won't work as well for gals. Obvious? Maybe, but the Juliana Primiero Women's Saddle is somehow still one of the women's-specific MTB saddles on the market. Made with a wider shape than men's saddles, the...
PRO Griffon Carbon Saddle
When you're targeting KOMs like a well-trained hunting dog tracking its prey, you need a lightweight saddle that doesn't sacrifice comfort. With its carbon fiber rails, pressure relieving center channel, and just enough lightweight padding to protect your sit bones, the PRO Griffon Carbon Saddle...
PRO Griffon Hollow Anatomic Fit Saddle
PRO's Griffon Hollow Anatomic Fit Saddle is, to the best of our knowledge, named after the griffon vulture. Typically, we'd expect a product named after an animal to embody every aspect of that animal's physiology; however, the Griffon saddle is about 50/50 on that front. The griffon vulture is...
PRO Griffon Hollow Saddle
Given its avian-themed saddle naming convention, we're assuming that PRO named its Griffon Hollow Saddle after the griffon vulture, a large Eurasian bird of prey. We don't typically think glamour when we think vulture, and the Griffon saddle bears that out: it's not for style; it's for use. That...
PRO Turnix Carbon Saddle
Like a buttonquail resolutely tapping out a rhythm as it scampers from field to field, PRO's Turnix Carbon Saddle lets you focus on a comfortable cadence and churn out the miles without any saddle related distractions. Its carbon fiber rails provide light and stiff support, while lightweight EVA...
Profile Design Vertex Saddle - Chromoly Rail
When you're racing a time trial or a triathlon, you know body position is crucial to not fatiguing too early. Body position can be heavily impacted by your saddle, which is why Profile Design engineered its Vertex Saddle line specifically for riding these disciplines. The Chromoly Rail version...
Profile Design Vertex Solid Saddle - Cromoly Rail
If you're going to go to the trouble of racing in a time trial or triathlon, the last thing you want is a saddle better suited for your road bike. The Vertex line by Profile Design offers a Solid Chromoly Rail option that keeps it affordable, with a shape that's designed specifically for riding...
Profile Design Vertex Solid Saddle - Ti Rail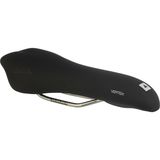 Profile Design created its Vertex line to give riders racing with aerobars the option to use a saddle specifically created for a bike with time trial or triathlon geometry. The Vertex Solid Saddle uses titanium rails to dampen road vibration, while not adding much additional weight to your frame...
Race Face Aeffect Saddle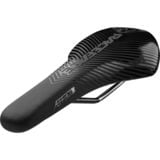 Retail Price:
$99.95
Our Price: $76.49
buy now
Race Face manufactures a dizzying array of cockpits and cranks designed with specialized features that recommend each one for a different discipline. The Aeffect Saddle transcends all trail boundaries, though, with a shape, supportive padding, and lightweight ti-alloy rails that alloy for...
<< Prev | Back | 1 | 2 | 3 | 4 | 5 | 6 | 7 | 8 | 9 | 10 | More | Next >>