Saddles - Road Bike Shop
Shop
>
Components
>
Forks, Cockpit, Pedals
>
Saddles
Fi'zi:k Tundra M5 Saddle
Retail Price:
$99.00
Our Price: $79.20
buy now
Designed primarily for cross-country riders, the Tundra M5 features a long (290mm) and narrow (125mm) shape that allows you to position yourself to take on whatever the terrain throws at you. According to Fi'zi:k's Spine Concept Fit system, as a snake, you are able to minimize pressure to soft...
Fi'zi:k Vesta Saddle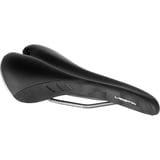 Retail Price:
$130.00
Our Price: $104.00
buy now
Vesta was a virgin goddess worshipped in Ancient Rome. And, much like its namesake you'll worship the Fi'zi:k Vesta saddle -- designed with input from female riders, it provides support for your sit bones and relief for your soft tissue. Its shape allows multiple riders, from the enthusiast to...
Fi'zi:k Volta R1 Snake Saddle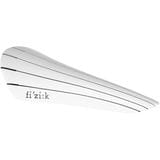 Retail Price:
$300.00
Our Price: $240.00
buy now
It's a simple fact, snakes slither. Their spines are highly flexible and uninhibited movement is natural. Fi'zi:k uses the Snake, in its Spine Concept Fit System, to describe the cyclist who is not defined by one movement. A rider who is categorized as a snake not only moves continuously on the...
ISM Adamo Prologue Saddle
The ISM Adamo Prologue saddle doesn't look like most saddles. It doesn't feel like most saddles, either. The Prologue is shorter and a bit wider. This design alleviates numbness and discomfort by reducing pressure on the soft tissue areas. The Prologue, inspired by ISM's Podium and Breakaway...
ISM Adamo Road Saddle
In 1999, the UCI delivered new bicycle restrictions that reduced the allowable amount of saddle setback. In the process, it forced racers into a nether world of sitting on the tips of their saddles. The change was under the guise of keeping the bikes and riders safe, but the reality is that a...
Juliana Primiero Saddle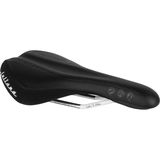 Lady posteriors are different than dude posteriors, so a saddle that's made for guys won't work as well for gals. Obvious? Maybe, but the Juliana Primiero Women's Saddle is somehow still one of the women's-specific MTB saddles on the market. Made with a wider shape than men's saddles, the...
Selle Italia Diva Gel Flow Saddle
Retail Price:
$174.99
Our Price: $140.00
buy now
When a racing saddle is too firm, but you need a saddle that's still ready to pedal, the Selle Italia Diva Gel Flow Saddle deserves a look. Designed specifically for a woman's anatomy, it employs built-in shock absorbers and comfort enhancing gel inserts in order to take the discomfort out of...
Selle Italia Flite Flow Saddle
Retail Price:
$214.99
Our Price: $172.00
buy now
The original Selle Italia Flite saddle goes back nearly 25 years, and it's been so popular very little has changed. Enter the Flite Flow Saddle, with its pressure-relieving cutout, and you have a recipe for a saddle that'll be a favorite in another 25 years. The base of the Flite Flow is a 10%...
Selle Italia Flite Saddle
We've had an ongoing love affair with the original Selle Italia Flite Saddle for over two decades, now. So, it should come as no surprise that the newest iteration of the Selle Italia Flite appeals so strongly to our senses. It's similar to the mid-width shape of the original, only it's been...
Selle Italia Lady Gel Flow Saddle
Retail Price:
$164.99
Our Price: $132.00
buy now
Finding the perfect saddle is an overwhelming experience, especially when a rock-hard racing saddle is too little, and most 'women's saddles' are little more than over-padded bar stools. For this very reason, Selle Italia created the Lady Gel Flow Saddle. Essentially, it strikes an ideal balance...
<< Prev | Back | 1 | 2 | 3 | 4 | 5 | 6 | 7 | 8 | 9 | 10 | More | Next >>