Saddles - Road Bike Shop
Shop
>
Components
>
Forks, Cockpit, Pedals
>
Saddles
Fi'zi:k Gobi M1 Saddle - 7x9 Carbon Braided Rails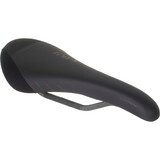 We consider the Gobi to be a mountain-friendly cross between the Arione and Aliante saddles with regards to shape. It features a somewhat flat profile with WingFlex technology like the Arione. The shell has tines, like a comb, which are suspended in place by an injected elastomer, creating...
Fi'zi:k Kurve Bull Saddle
Most of us roll our eyes when we hear the phrase 'comfort saddle'. After all, the term calls to mind images of boardwalk bikes and saddles with cutouts so large they look like medieval torture devices. Designed for riders seeking a saddle with a deep pocket and a slightly wider profile, the Fizik...
Fi'zi:k Kurve Bull Saddle - 7x9 Aluminum Mobius Rails
How does a bull hide from ranchers? By painting its nails red and climbing a cherry tree. How does a bull ride a bike? On the Fizik Kurve Bull Saddle. In Fizik's Linnaean estimation of cyclists-as-animals, Bulls are less flexible and rotate their pelvises forward when they ride, an adjustment...
Fi'zi:k Kurve Bull Saddle - 7x9 Carbon Mobius Rails
In Fizik's estimation, a bull cyclist rides with his or her pelvis tilted forward more and doesn't move around much in the saddle. These riders benefit from a larger, deeper saddle pocket underneath their relatively stationery sit bones during long grinds on the open road. With a carbon fiber...
Fi'zi:k Kurve Chameleon Saddle
In its continuing effort to create the world's most comfortable high-performance saddles, the design team at Fizik went back to the drawing board. The result is the KURVE, a new line of saddles featuring innovations that bring increased comfort and customization to the Fizik saddle family....
Fi'zi:k Kurve Chameleon Saddle - 7x9 Aluminum Mobius Rails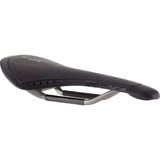 Retail Price:
$274.95
Our Price: $219.96
buy now
Falling into the middle of Fi'zi:k's flexibility Spectrum, the Chameleon is designed for the average among us in this regard (Fi'zi:k's Snake models are for the very flexible, while the Bull models are for those who are on the stiffer side). The company's revolutionary KURVE saddle platform is...
Fi'zi:k Kurve Chameleon Saddle - 7x9 Carbon Mobius Rails
Designed for riders who fall in the middle of the flexibility spectrum, the Fizik Kurve Chameleon Carbon Mobius Railed Saddle gets its shell infused with Kevlar for increased durability and greater reflexivity, and of course, the new 7x9mm carbon rail upgrade doesn't hurt. Highly flexible riders...
Fi'zi:k Kurve Snake Saddle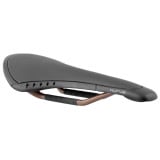 Retail Price:
$280.00
Our Price: $144.99
buy now
As cyclists, all of us have been forced at one time or another to choose between performance and comfort. If you were one of the early adopters of aluminum framesets, you especially know what we mean. Thanks to an innovative design that combines comfort and tuneability, the Fizik KURVE Snake...
Fi'zi:k Kurve Snake Saddle - 7x9 Aluminum Mobius Rails
Like all of Fizik's latest Kurves, the 2015 versions, including the Fizik Kurve Snake Aluminum Mobius Rails Saddle, get new, lighter rails in more neutral colors, and Kevlar reinforcement of the Re:Flex shell. The Snake version of the Kurve is aimed at the most flexible riders, with ample...
Fi'zi:k Kurve Snake Saddle - 7x9 Carbon Mobius Rails
Are you a relatively flexible guy? Do you get down low in those drops, but often feel you need to scoot back on the saddle so you don't rock forward onto the narrower, harder front of most saddles? Your solution is here: the Fizik Kurve Snake Mobius Carbon Railed Saddle is designed specifically...
<< Prev | Back | 1 | 2 | 3 | 4 | 5 | 6 | 7 | 8 | 9 | 10 | More | Next >>