Saddles - Road Bike Shop
Shop
>
Components
>
Forks, Cockpit, Pedals
>
Saddles
Fi'zi:k Kurve Snake Saddle - 7x9 Aluminum Mobius Rails
Like all of Fizik's latest Kurves, the 2015 versions, including the Fizik Kurve Snake Aluminum Mobius Rails Saddle, get new, lighter rails in more neutral colors, and Kevlar reinforcement of the Re:Flex shell. The Snake version of the Kurve is aimed at the most flexible riders, with ample...
Fi'zi:k Kurve Snake Saddle - 7x9 Carbon Mobius Rails
Are you a relatively flexible guy? Do you get down low in those drops, but often feel you need to scoot back on the saddle so you don't rock forward onto the narrower, harder front of most saddles? Your solution is here: the Fizik Kurve Snake Mobius Carbon Railed Saddle is designed specifically...
Fi'zi:k Thar Saddle - K:ium Rails
Fizik's research into its next generation of mountain bike saddles revealed something interesting: riders of 29ers sat differently on their saddles, farther back, often in such a way that they weren't supported the way they needed to be for optimal comfort and power transfer. The solution they...
Fi'zi:k Thar Saddle - Manganese Rails
Engineered specifically for riders of 29-inch mountain bikes, the Fizik Thar Saddle with Manganese Rails is designed with greater support toward the tail of the saddle. Fizik's research found that 29er riders often scoot back, as per the greater front-end height of their bikes, and most saddles...
Fi'zi:k Tritone 5.5 Saddle - 7x9 Carbon Braided Rails
When your events typically last between nine and 12 hours, and you spend 50% of that time in the saddle, comfort can be just as important as efficiency. Fi'zi:k's Tritone 5. 5 Carbon Braided Rails Saddle is made to offer both in spades, and also adds a nice subtraction to the mix: The Tritone...
Fi'zi:k Tritone 5.5 Saddle - K:ium Rails
At first blush, it's easy to write saddles off as having nothing to do with aerodynamics, but the saddle is one of two contact points that ultimately determine your posture on the bike. Fi'zi:k designed the Tritone 5. 5 K:ium Saddle to get you lower and present less surface to the wind by letting...
Fi'zi:k Tritone 6.5 Saddle - 7x9 Carbon Braided Rails
The Fizik Tritone 6. 5 Carbon Saddle takes the celebrated design of the Tritone 5. 5, widens it by a crucial 10mm for wider riders, and slaps on carbon-braided rails to save weight and improve ride quality. It maintains the Tritone's design advantages of vastly improved comfort and enhanced...
Fi'zi:k Tritone 6.5 Saddle - K:ium Rails
The Fizik Tritone 6. 5 Kium Saddle is a slightly wider version of the Tritone 5. 5, designed to better support men and women with wider sit bones in a triathlon/time trial position, while also helping to reduce aerodynamic resistance. How's that possible? Read on. First, we'll point out the...
Fi'zi:k Tundra M1 Saddle
Retail Price:
$300.00
Our Price: $240.00
buy now
Slimy and slithering are usually the first adjectives that come to mind when we think about snakes. But when we think a little harder, we realize that they are actually very versatile creatures, at least in the movement department. Fi'zi:k thinks in a similar fashion and designed a series of...
Fi'zi:k Tundra M3 K:ium Saddle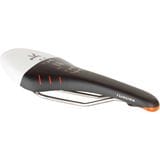 Retail Price:
$150.00
Our Price: $120.00
buy now
Like a snake, you slither by competition on the trails. You flex easily to accommodate the ever changing positions necessary to move your bike any which way you desire. Fi'zi:k developed the Tundra M3 Saddle to work with your body so that you'll have optimal support whenever you need it. Designed...
<< Prev | Back | 1 | 2 | 3 | 4 | 5 | 6 | 7 | 8 | 9 | 10 | More | Next >>