Saddles - Road Bike Shop
Shop
>
Components
>
Forks, Cockpit, Pedals
>
Saddles
Fi'zi:k Volta R1 Snake Saddle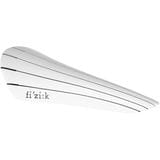 Retail Price:
$300.00
Our Price: $240.00
buy now
It's a simple fact, snakes slither. Their spines are highly flexible and uninhibited movement is natural. Fi'zi:k uses the Snake, in its Spine Concept Fit System, to describe the cyclist who is not defined by one movement. A rider who is categorized as a snake not only moves continuously on the...
ISM Adamo Breakaway Saddle
The ISM Adamo Breakaway Saddle uses a design that breaks away from the norm in order to offer more comfort for you, especially when you find yourself bent over in the drops, trying to steal away from the group. ISM has been known to the multi-sport crowd for a few years now. And their saddle...
ISM Adamo Road Saddle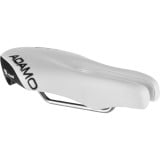 In 1999, the UCI delivered new bicycle restrictions that reduced the allowable amount of saddle setback. In the process, it forced racers into a nether world of sitting on the tips of their saddles. The change was under the guise of keeping the bikes and riders safe, but the reality is that a...
Juliana Primiero Saddle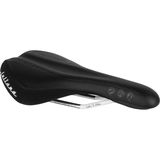 Dedicated to the fairer side of the mountain bro-deo, Juliana's products, like this Primiero Saddle, provide the features and details to make the most of your singletrack endeavors. Like the bikes and other Juliana accessories, Futrado's input, alonside a wealth of other professional riders, have...
Prologo Nago EVO CPC Saddle
Retail Price:
$245.00
Our Price: $119.95
buy now
Just like with most cyclists, most saddles aren't simply one-trick ponies. The Prologo Nago EVO CPC Saddle illustrates this fact more readily than most, combining a semi-round body with variable shaping, padding, and Prologo's CPC texture in order to create a stable platform that accommodates the...
Prologo Nago Evo Nack Saddle
Prologo designed the Nago Evo Nack Saddle to be a race saddle with the durability to withstand long seasons of use. True, Prologo designs lighter race-level saddles, but the Nack utilizes Nano Aluminum Carbon Kevlar, rather than carbon fiber, for the rails. This means that you retain the...
Prologo Nago Evo Plus Ti 1.4 Saddle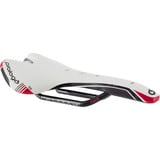 Retail Price:
$139.00
Our Price: $79.95
buy now
If you're seeking out a do-it-all saddle for either road or cross-country mountain biking that looks great but has a bit more cushioning than the average bum-buster, Prologo makes the excellent Nago Evo Plus Ti 1. 4 Saddle for you. Prologo's family of saddles is carefully divided into three...
Prologo Nago Evo Tirox Saddle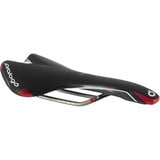 Retail Price:
$138.00
Our Price: $89.99
buy now
Prologo's Nago saddle shape splits the different between the company's more rounded Scratch saddle and the flat Zero saddle. If you don't want to pick between the two, and if you don't want to pay a bundle for titanium or carbon fiber rails just to save a few grams, then the Prologo Nago Evo...
Prologo Nago EVO Tri40 CPC Nack Saddle
The new Prologo Nago EVO Tri40 CPC Nack Saddle relies on the proven Nago EVO body as its platform, and it combines many of the Italian saddle maker's key technologies into a single, versatile Tri-specific design. Its semi-round shape, materials, and rail system have all been engineered to provide...
Prologo Nago Evo TS Saddle
Retail Price:
$235.00
Our Price: $129.95
buy now
Sure, Prologo's Evo Nack saddle's carbon rails make for a an ultralight throne and some serious bike bling, but Prologo would steer you in another direction if you're looking to rock some rocks. For cyclocross or mountain biking, the company recommends the Prologo Nago Evo TS Saddle -- and so do...
<< Prev | Back | 1 | 2 | 3 | 4 | 5 | 6 | 7 | 8 | 9 | 10 | More | Next >>