Saddles - Road Bike Shop
Shop
>
Components
>
Forks, Cockpit, Pedals
>
Saddles
Fi'zi:k Kurve Chameleon Saddle - 7x9 Aluminum Mobius Rails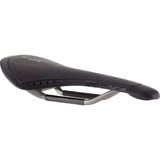 Retail Price:
$275.00
Our Price: $219.99
buy now
We can't spend every lounging by the beach in a comfy hammock with the ocean breeze and crashing waves, but we can pamper our sit bones on every ride with the Fizik Kurve Chameleon Saddle. Its shell flexes with pressure throughout the pedal stroke to provide a cozy, hammock-like experience...
Fi'zi:k Kurve Chameleon Saddle - 7x9 Carbon Mobius Rails
If you want to look at cycling as glorified sitting, then finding the perfect saddle is something deserving of real focus, and yes, real investment. Fi'zi:k's Kurve Chameleon Saddle isn't perfect for everybody, but as the versatile middle child in the Kurve lineup, it's the top-shelf saddle for...
Fi'zi:k Kurve Snake Saddle - 7x9 Carbon Mobius Rails
The comfort of the Fi'zi:k kurve Snake Saddle with 7x9 Carbon Mobius rails comes from the design of its shell, rather than from cushioning. The shell's profile is thinner at key points to allow it to conform to high-pressure areas, such as the sit bones and perineum. This flexible design provides...
Fi'zi:k Thar Saddle - K:ium Rails
Ever had to stand up in the saddle because your butt hurt and then lost traction on slick ground? Us too, which is why we've seriously thought about mounting up the Fi'zi:k Thar Saddle with K:ium Rails on our favorite 29er. That's right, the Thar is designed especially for big-wheelers, with a...
Fi'zi:k Tritone 5.5 Saddle - K:ium Rails
At first glance, the Fi'zi:k Triton 5. 5 Saddle looks--there's no other way to put it--weird. Then, when you hear it's designed to increase aerodynamics, it makes even less sense. How does a fat squared-off nose help you cut through the air more efficiently? It turns out that it's not the saddle...
Fi'zi:k Tritone 6.5 Saddle - K:ium Rails
The Fizik Tritone 6. 5 Kium Saddle is a slightly wider version of the Tritone 5. 5, designed to better support men and women with wider sit bones in a triathlon/time trial position, while also helping to reduce aerodynamic resistance. How's that possible? Read on. First, we'll point out the...
Fi'zi:k Tundra 00 Braided Saddle
Retail Price:
$350.00
Our Price: $210.99
buy now
If your tires have ever kicked up a sunbathing, trail-camouflaged snake, you know the danger of airborne serpentines. The Fi'zi:k Tundra's specially-designed Carbon Wing Flex shell will stoically deflect any potentially pissed off snake. Wing Flex shell is designed to give where the inner thigh...
Fi'zi:k Tundra M3 Saddle - 7x9 Carbon Braided Rails
Retail Price:
$199.95
Our Price: $119.95
buy now
The beauty of carbon rails is that they add a critical amount of vibration-dampening (especially to some hardtails) that make them worth it. With that in mind, if you're a hardtail-riding, cross-country enthusiast, then you could do much, much worse than the Fizik Tundra M3 with Braided Carbon...
Fi'zi:k Tundra M3 Saddle - K:ium Rails
The Fizik Tundra M3 Saddle with Kium Rails is built for cross-country riders looking for awesome performance without a hefty carbon price tag. The Tundra's long, narrow profile allows a wide range of positioning options to tackle any type of terrain, with just enough flex at the sides to reduce...
Fi'zi:k Tundra M5 Saddle
Retail Price:
$99.99
Our Price: $79.99
buy now
The Fizik Tundra M5 Saddle has just enough flex to keep things friction-free and just enough stiffness to solidly power through all your cross-country trail adventures. Its long, narrow shape lets you change position easily to meet whatever obstacles the trail throws your way. The Tundra M5 falls...
<< Prev | Back | 1 | 2 | 3 | 4 | 5 | 6 | 7 | 8 | 9 | 10 | More | Next >>