Saddles - Road Bike Shop
Shop
>
Components
>
Forks, Cockpit, Pedals
>
Saddles
Fi'zi:k Kurve Bull Saddle - 7x9 Aluminum Mobius Rails
How does a bull hide from ranchers? By painting its nails red and climbing a cherry tree. How does a bull ride a bike? On the Fizik Kurve Bull Saddle. In Fizik's Linnaean estimation of cyclists-as-animals, Bulls are less flexible and rotate their pelvises forward when they ride, an adjustment...
Fi'zi:k Kurve Bull Saddle - 7x9 Carbon Mobius Rails
In Fizik's estimation, a bull cyclist rides with his or her pelvis tilted forward more and doesn't move around much in the saddle. These riders benefit from a larger, deeper saddle pocket underneath their relatively stationery sit bones during long grinds on the open road. With a carbon fiber...
Fi'zi:k Kurve Chameleon Saddle - 7x9 Aluminum Mobius Rails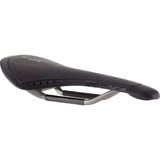 Retail Price:
$274.95
Our Price: $219.96
buy now
Falling into the middle of Fi'zi:k's flexibility Spectrum, the Chameleon is designed for the average among us in this regard (Fi'zi:k's Snake models are for the very flexible, while the Bull models are for those who are on the stiffer side). The company's revolutionary KURVE saddle platform is...
Fi'zi:k Kurve Chameleon Saddle - 7x9 Carbon Mobius Rails
Designed for riders who fall in the middle of the flexibility spectrum, the Fizik Kurve Chameleon Carbon Mobius Railed Saddle gets its shell infused with Kevlar for increased durability and greater reflexivity, and of course, the new 7x9mm carbon rail upgrade doesn't hurt. Highly flexible riders...
Fi'zi:k Kurve Snake Saddle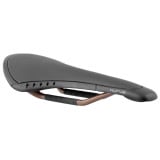 Retail Price:
$280.00
Our Price: $134.99
buy now
As cyclists, all of us have been forced at one time or another to choose between performance and comfort. If you were one of the early adopters of aluminum framesets, you especially know what we mean. Thanks to an innovative design that combines comfort and tuneability, the Fizik KURVE Snake...
Fi'zi:k Kurve Snake Saddle - 7x9 Aluminum Mobius Rails
Like all of Fizik's latest Kurves, the 2015 versions, including the Fizik Kurve Snake Aluminum Mobius Rails Saddle, get new, lighter rails in more neutral colors, and Kevlar reinforcement of the Re:Flex shell. The Snake version of the Kurve is aimed at the most flexible riders, with ample...
Fi'zi:k Thar Saddle - K:ium Rails
Fizik's research into its next generation of mountain bike saddles revealed something interesting: riders of 29ers sat differently on their saddles, farther back, often in such a way that they weren't supported the way they needed to be for optimal comfort and power transfer. The solution they...
Fi'zi:k Thar Saddle - Manganese Rails
Engineered specifically for riders of 29-inch mountain bikes, the Fizik Thar Saddle with Manganese Rails is designed with greater support toward the tail of the saddle. Fizik's research found that 29er riders often scoot back, as per the greater front-end height of their bikes, and most saddles...
Fi'zi:k Tritone 5.5 Saddle - 7x9 Carbon Braided Rails
When your events typically last between nine and 12 hours, and you spend 50% of that time in the saddle, comfort can be just as important as efficiency. Fi'zi:k's Tritone 5. 5 Carbon Braided Rails Saddle is made to offer both in spades, and also adds a nice subtraction to the mix: The Tritone...
Fi'zi:k Tritone 5.5 Saddle - K:ium Rails
At first blush, it's easy to write saddles off as having nothing to do with aerodynamics, but the saddle is one of two contact points that ultimately determine your posture on the bike. Fi'zi:k designed the Tritone 5. 5 K:ium Saddle to get you lower and present less surface to the wind by letting...
<< Prev | Back | 1 | 2 | 3 | 4 | 5 | 6 | 7 | 8 | 9 | 10 | More | Next >>