Saddles - Road Bike Shop
Shop
>
Components
>
Forks, Cockpit, Pedals
>
Saddles
Fi'zi:k Tritone K:ium Saddle
Triathletes are a special breed of cyclist. Triathletes often balance themselves on the nose of the saddle in positions that make even the toughest of bums cringe. To boot, they rarely have padded chamois, opting instead for that cushy piece of fleece as the only barrier between them and the...
Fi'zi:k Tundra 00 Braided Saddle
If your tires have ever kicked up a sunbathing, trail-camouflaged snake, you know the danger of airborne serpentines. The Fi'zi:k Tundra's specially-designed Carbon Wing Flex shell will stoically deflect any potentially pissed off snake. Wing Flex shell is designed to give where the inner thigh...
Fi'zi:k Tundra M1 Saddle
Slimy and slithering are usually the first adjectives that come to mind when we think about snakes. But when we think a little harder, we realize that they are actually very versatile creatures, at least in the movement department. Fi'zi:k thinks in a similar fashion and designed a series of...
Fi'zi:k Tundra M3 Carbon Braided Saddle
Fi'zi:k developed its Spine Concept Fit System to match riders with saddles that work in conjunction with individual flexibilities, not against them. If you flex easily to accommodate the ever changing positions necessary to move your bike any which way you desire, you're a snake. Fi'zi:k...
Fi'zi:k Tundra M3 K:ium Saddle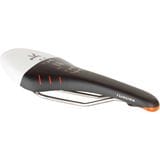 Like a snake, you slither by competition on the trails. You flex easily to accommodate the ever changing positions necessary to move your bike any which way you desire. Fi'zi:k developed the Tundra M3 Saddle to work with your body so that you'll have optimal support whenever you need it. Designed...
Fi'zi:k Tundra M5 Saddle
Designed primarily for cross-country riders, the Tundra M5 features a long (290mm) and narrow (125mm) shape that allows you to position yourself to take on whatever the terrain throws at you. According to Fi'zi:k's Spine Concept Fit system, as a snake, you are able to minimize pressure to soft...
Fi'zi:k Vesta Saddle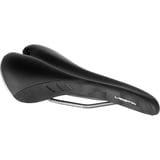 Vesta was a virgin goddess worshipped in Ancient Rome. And, much like its namesake you'll worship the Fi'zi:k Vesta saddle -- designed with input from female riders, it provides support for your sit bones and relief for your soft tissue. Its shape allows multiple riders, from the enthusiast to...
Fi'zi:k Volta R1 Snake Saddle
It's a simple fact, snakes slither. Their spines are highly flexible and uninhibited movement is natural. Fi'zi:k uses the Snake, in its Spine Concept Fit System, to describe the cyclist who is not defined by one movement. A rider who is categorized as a snake not only moves continuously on the...
ISM Adamo Breakaway Saddle
The ISM Adamo Breakaway Saddle uses a design that breaks away from the norm in order to offer more comfort for you, especially when you find yourself bent over in the drops, trying to steal away from the group. ISM has been known to the multi-sport crowd for a few years now. And their saddle...
ISM Adamo Podium Saddle
If you've been keeping your eyes on the pro peloton over the last decade, you've surely noticed how handlebars have dropped like a bad stock. It's as though stem spacers are to euro-pros what reflectors are to weekend warriors. It goes without saying that we emulate our heroes, so now scores of...
<< Prev | Back | 1 | 2 | 3 | 4 | 5 | 6 | 7 | 8 | 9 | 10 | More | Next >>