Saddles - Road Bike Shop
Shop
>
Components
>
Forks, Cockpit, Pedals
>
Saddles
Fi'zi:k Tundra M1 Saddle
Slimy and slithering are usually the first adjectives that come to mind when we think about snakes. But when we think a little harder, we realize that they are actually very versatile creatures, at least in the movement department. Fi'zi:k thinks in a similar fashion and designed a series of...
Fi'zi:k Tundra M3 K:ium Saddle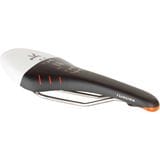 Retail Price:
$150.00
Our Price: $120.00
buy now
Like a snake, you slither by competition on the trails. You flex easily to accommodate the ever changing positions necessary to move your bike any which way you desire. Fi'zi:k developed the Tundra M3 Saddle to work with your body so that you'll have optimal support whenever you need it. Designed...
Fi'zi:k Vesta Saddle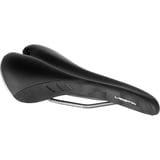 Retail Price:
$130.00
Our Price: $104.00
buy now
Vesta was a virgin goddess worshipped in Ancient Rome. And, much like its namesake you'll worship the Fi'zi:k Vesta saddle -- designed with input from female riders, it provides support for your sit bones and relief for your soft tissue. Its shape allows multiple riders, from the enthusiast to...
Fi'zi:k Vitesse HP Saddle - Women's
Retail Price:
$119.95
Our Price: $96.00
buy now
The Fizik Vitesse HP Wingflex Women's saddle is neither too stiff nor too soft. Based on the feedback we get, it's perhaps just right. The carbon reinforced nylon shell gives in the right places. It's not freakishly light, but it's not heavy either. The top is pretty flat, though with regular...
Fi'zi:k Volta R1 Snake Saddle
It's a simple fact, snakes slither. Their spines are highly flexible and uninhibited movement is natural. Fi'zi:k uses the Snake, in its Spine Concept Fit System, to describe the cyclist who is not defined by one movement. A rider who is categorized as a snake not only moves continuously on the...
ISM Adamo Breakaway Saddle
The ISM Adamo Breakaway Saddle uses a design that breaks away from the norm in order to offer more comfort for you, especially when you find yourself bent over in the drops, trying to steal away from the group. ISM has been known to the multi-sport crowd for a few years now. And their saddle...
ISM Adamo Podium Saddle
If you've been keeping your eyes on the pro peloton over the last decade, you've surely noticed how handlebars have dropped like a bad stock. It's as though stem spacers are to euro-pros what reflectors are to weekend warriors. It goes without saying that we emulate our heroes, so now scores of...
ISM Adamo Road Saddle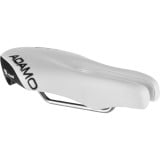 In 1999, the UCI delivered new bicycle restrictions that reduced the allowable amount of saddle setback. In the process, it forced racers into a nether world of sitting on the tips of their saddles. The change was under the guise of keeping the bikes and riders safe, but the reality is that a...
Juliana Primiero Saddle
Dedicated to the fairer side of the mountain bro-deo, Juliana's products, like this Primiero Saddle, provide the features and details to make the most of your singletrack endeavors. Like the bikes and other Juliana accessories, Futrado's input, alonside a wealth of other professional riders, have...
Prologo Nago EVO Tri40 CPC Nack Saddle
The new Prologo Nago EVO Tri40 CPC Nack Saddle relies on the proven Nago EVO body as its platform, and it combines many of the Italian saddle maker's key technologies into a single, versatile Tri-specific design. Its semi-round shape, materials, and rail system have all been engineered to provide...
<< Prev | Back | 1 | 2 | 3 | 4 | 5 | 6 | 7 | 8 | 9 | 10 | More | Next >>