Saddles - Road Bike Shop
Shop
>
Components
>
Forks, Cockpit, Pedals
>
Saddles
Fi'zi:k Gobi M3 Saddle - K:ium Rails
Carbon saddle rails play their role to save you a bit of weight and help absorb vibration from the road or trail, but for those of us willing to "rough it" to save some cash, the Fizik Gobi M3 Kium Rails Saddle provides the same comfort of the carbon-railed version, just at a friendlier price. We...
Fi'zi:k Gobi M5 Saddle - Manganese Rails
Featuring the same comfortable platform as all other Fizik Gobis, the Gobi M5 Saddle with Manganese Rails keeps support high while keeping price low, thanks to strong but inexpensive rails that weigh a touch more than Fizik's Kium alloy but save a bit of cash, too. We've always considered the...
Fi'zi:k Kurve Bull Saddle
Retail Price:
$280.00
Our Price: $155.00
buy now
Most of us roll our eyes when we hear the phrase 'comfort saddle'. After all, the term calls to mind images of boardwalk bikes and saddles with cutouts so large they look like medieval torture devices. Designed for riders seeking a saddle with a deep pocket and a slightly wider profile, the Fizik...
Fi'zi:k Kurve Bull Saddle - 7x9 Carbon Mobius Rails
In Fizik's estimation, a bull cyclist rides with his or her pelvis tilted forward more and doesn't move around much in the saddle. These riders benefit from a larger, deeper saddle pocket underneath their relatively stationery sit bones during long grinds on the open road. With a carbon fiber...
Fi'zi:k Kurve Chameleon Saddle
Retail Price:
$280.00
Our Price: $139.99
buy now
In its continuing effort to create the world's most comfortable high-performance saddles, the design team at Fizik went back to the drawing board. The result is the KURVE, a new line of saddles featuring innovations that bring increased comfort and customization to the Fizik saddle family....
Fi'zi:k Kurve Chameleon Saddle - 7x9 Aluminum Mobius Rails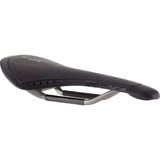 Retail Price:
$274.95
Our Price: $219.96
buy now
Falling into the middle of Fi'zi:k's flexibility Spectrum, the Chameleon is designed for the average among us in this regard (Fi'zi:k's Snake models are for the very flexible, while the Bull models are for those who are on the stiffer side). The company's revolutionary KURVE saddle platform is...
Fi'zi:k Kurve Snake Saddle
Retail Price:
$280.00
Our Price: $134.99
buy now
As cyclists, all of us have been forced at one time or another to choose between performance and comfort. If you were one of the early adopters of aluminum framesets, you especially know what we mean. Thanks to an innovative design that combines comfort and tuneability, the Fizik KURVE Snake...
Fi'zi:k Kurve Snake Saddle - 7x9 Aluminum Mobius Rails
Like all of Fizik's latest Kurves, the 2015 versions, including the Fizik Kurve Snake Aluminum Mobius Rails Saddle, get new, lighter rails in more neutral colors, and Kevlar reinforcement of the Re:Flex shell. The Snake version of the Kurve is aimed at the most flexible riders, with ample...
Fi'zi:k Thar Saddle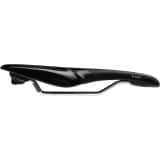 Retail Price:
$150.00
Our Price: $94.99
buy now
Twenty-niners are here to stay. They brought with them a whole new geometry and the need for cockpit components that address the unique body position of the rider. Fi'zi:k's Thar saddle was specifically developed to give you more versatility with your position when you're on a 29er. The profile...
Fi'zi:k Thar Saddle - K:ium Rails
Fizik's research into its next generation of mountain bike saddles revealed something interesting: riders of 29ers sat differently on their saddles, farther back, often in such a way that they weren't supported the way they needed to be for optimal comfort and power transfer. The solution they...
<< Prev | Back | 1 | 2 | 3 | 4 | 5 | 6 | 7 | 8 | 9 | 10 | More | Next >>