Saddles - Road Bike Shop
Shop
>
Components
>
Forks, Cockpit, Pedals
>
Saddles
Fi'zi:k Kurve Chameleon Saddle - 7x9 Aluminum Mobius Rails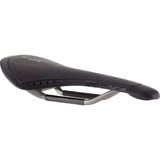 Retail Price:
$274.95
Our Price: $219.96
buy now
Falling into the middle of Fi'zi:k's flexibility Spectrum, the Chameleon is designed for the average among us in this regard (Fi'zi:k's Snake models are for the very flexible, while the Bull models are for those who are on the stiffer side). The company's revolutionary KURVE saddle platform is...
Fi'zi:k Kurve Snake Saddle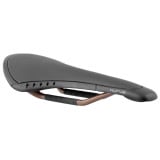 Retail Price:
$280.00
Our Price: $155.00
buy now
As cyclists, all of us have been forced at one time or another to choose between performance and comfort. If you were one of the early adopters of aluminum framesets, you especially know what we mean. Thanks to an innovative design that combines comfort and tuneability, the Fizik KURVE Snake...
Fi'zi:k Thar Saddle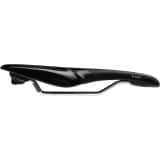 Retail Price:
$150.00
Our Price: $94.99
buy now
Twenty-niners are here to stay. They brought with them a whole new geometry and the need for cockpit components that address the unique body position of the rider. Fi'zi:k's Thar saddle was specifically developed to give you more versatility with your position when you're on a 29er. The profile...
Fi'zi:k Tritone 5.5 Saddle - 7x9 Carbon Braided Rails
When your events typically last between nine and 12 hours, and you spend 50% of that time in the saddle, comfort can be just as important as efficiency. Fi'zi:k's Tritone 5. 5 Carbon Braided Rails Saddle is made to offer both in spades, and also adds a nice subtraction to the mix: The Tritone...
Fi'zi:k Tritone 5.5 Saddle - K:ium Rails
At first blush, it's easy to write saddles off as having nothing to do with aerodynamics, but the saddle is one of two contact points that ultimately determine your posture on the bike. Fi'zi:k designed the Tritone 5. 5 K:ium Saddle to get you lower and present less surface to the wind by letting...
Fi'zi:k Tritone K:ium Saddle
Retail Price:
$200.00
Our Price: $160.00
buy now
Triathletes are a special breed of cyclist. Triathletes often balance themselves on the nose of the saddle in positions that make even the toughest of bums cringe. To boot, they rarely have padded chamois, opting instead for that cushy piece of fleece as the only barrier between them and the...
Fi'zi:k Tundra 00 Braided Saddle
Retail Price:
$319.95
Our Price: $256.00
buy now
If your tires have ever kicked up a sunbathing, trail-camouflaged snake, you know the danger of airborne serpentines. The Fi'zi:k Tundra's specially-designed Carbon Wing Flex shell will stoically deflect any potentially pissed off snake. Wing Flex shell is designed to give where the inner thigh...
Fi'zi:k Tundra M1 Saddle
Retail Price:
$300.00
Our Price: $240.00
buy now
Slimy and slithering are usually the first adjectives that come to mind when we think about snakes. But when we think a little harder, we realize that they are actually very versatile creatures, at least in the movement department. Fi'zi:k thinks in a similar fashion and designed a series of...
Fi'zi:k Tundra M3 Carbon Braided Saddle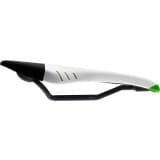 Retail Price:
$200.00
Our Price: $110.00
buy now
Fi'zi:k developed its Spine Concept Fit System to match riders with saddles that work in conjunction with individual flexibilities, not against them. If you flex easily to accommodate the ever changing positions necessary to move your bike any which way you desire, you're a snake. Fi'zi:k...
Fi'zi:k Vesta Saddle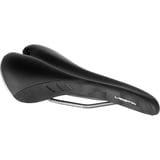 Retail Price:
$130.00
Our Price: $104.00
buy now
Vesta was a virgin goddess worshipped in Ancient Rome. And, much like its namesake you'll worship the Fi'zi:k Vesta saddle -- designed with input from female riders, it provides support for your sit bones and relief for your soft tissue. Its shape allows multiple riders, from the enthusiast to...
<< Prev | Back | 1 | 2 | 3 | 4 | 5 | 6 | 7 | 8 | 9 | 10 | More | Next >>