Saddles - Road Bike Shop
Shop
>
Components
>
Forks, Cockpit, Pedals
>
Saddles
Fi'zi:k Fizik Gobi XM with Manganese Rails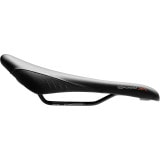 Retail Price:
$149.95
Our Price: $119.96
buy now
When you're out riding or racing, you want a saddle that allows you to move freely in response to the terrain. And, although Fi'zi:k uses its Spine Concept Fit System to help you choose a saddle that best suits your spine flexibility, the Gobi has become the go-to saddle for the mountain bike...
Fi'zi:k Gobi 00 Saddle
The Gobi 00 Saddle is Fi'zi:k's lauded mountain bike saddle, similar in design and technology to the Gobi XM, only significantly lighter. We consider it to be a dirt friendly cross between the Arione and Aliante saddles with regards to shape. It features a somewhat flat profile with WingFlex...
Fi'zi:k Gobi XM Saddle
Retail Price:
$149.95
Our Price: $120.00
buy now
We've always considered the Gobi XM Saddle to be a mountain bike friendly cross between Fizik's Arione and Aliante saddles. It features a somewhat flat profile with WingFlex technology like the Arione. The shell has tines, like a comb, which are suspended in place by an injected elastomer,...
Fi'zi:k Kurve Bull Saddle
Most of us roll our eyes when we hear the phrase 'comfort saddle'. After all, the term calls to mind images of boardwalk bikes and saddles with cutouts so large they look like medieval torture devices. Designed for riders seeking a saddle with a deep pocket and a slightly wider profile, the Fizik...
Fi'zi:k Kurve Chameleon Saddle
In its continuing effort to create the world's most comfortable high-performance saddles, the design team at Fizik went back to the drawing board. The result is the KURVE, a new line of saddles featuring innovations that bring increased comfort and customization to the Fizik saddle family....
Fi'zi:k Kurve Snake Saddle
As cyclists, all of us have been forced at one time or another to choose between performance and comfort. If you were one of the early adopters of aluminum framesets, you especially know what we mean. Thanks to an innovative design that combines comfort and tuneability, the Fizik KURVE Snake...
Fi'zi:k Thar Saddle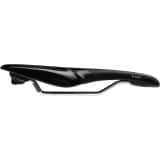 Retail Price:
$150.00
Our Price: $120.00
buy now
Twenty-niners are here to stay. They brought with them a whole new geometry and the need for cockpit components that address the unique body position of the rider. Fi'zi:k's Thar saddle was specifically developed to give you more versatility with your position when you're on a 29er. The profile...
Fi'zi:k Tritone Carbon Braided Saddle
Not being prey to UCI commissaires and the commission's seemingly endless list of guidelines for bike and equipment, triathlon has always benefited from being able to experiment with the latest, greatest, fastest, lightest bikes and components. Long course triathlons are particularly grueling as...
Fi'zi:k Tritone K:ium Saddle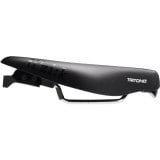 Retail Price:
$200.00
Our Price: $160.00
buy now
Triathletes are a special breed of cyclist. Triathletes often balance themselves on the nose of the saddle in positions that make even the toughest of bums cringe. To boot, they rarely have padded chamois, opting instead for that cushy piece of fleece as the only barrier between them and the...
Fi'zi:k Tundra 00 Braided Saddle
Retail Price:
$319.95
Our Price: $256.00
buy now
If your tires have ever kicked up a sunbathing, trail-camouflaged snake, you know the danger of airborne serpentines. The Fi'zi:k Tundra's specially-designed Carbon Wing Flex shell will stoically deflect any potentially pissed off snake. Wing Flex shell is designed to give where the inner thigh...
<< Prev | Back | 1 | 2 | 3 | 4 | 5 | 6 | 7 | 8 | 9 | 10 | More | Next >>