Saddles - Road Bike Shop
Shop
>
Components
>
Forks, Cockpit, Pedals
>
Saddles
Ergon SMC4 Saddle
Retail Price:
$59.95
Our Price: $53.96
buy now
When ride plans include meandering singletrack and sweeping, pine-needle filled turns through the trees, you want a saddle designed to keep you comfortable when you opt for an extra loop or three. The Ergon SMC4 Saddle's primary goal is to keep you comfortable so you're able to spin all day...
Ergon SMC4 Sport Gel Saddle
When your local trails feature miles and miles of bone-jarring rocks and washboard root sections, a saddle with a little more padding might be right up your alley. The Ergon SMC4 Sport Gel Saddle features the same foam padding and general shape as Ergon's comfort-minded SMC4 saddle with the...
Ergon SME3 Pro Saddle
Retail Price:
$129.95
Our Price: $80.57
buy now
The basic shapes of saddles tend to stay remarkably consistent, but that doesn't mean they can't be improved. Rather than relying on tradition, Ergon designed the SME3 Pro Saddle by computer mapping a whole lot of butts, basically, so it could optimize the shape of the of the saddle to provide...
Ergon SME3 Pro Titanium Saddle
Balancing a supportive platform with just the right amount of cushion to rail the descents, Ergon's SME3 Pro Titanium Saddle is something of an enduro racing dream. Starting with a thin, supportive, Y-flex carbon composite shell, the SME3 features three-dimensional pockets under the sit bone area...
Ergon SMR3 Pro Carbon Saddle
As the perch of choice for Ergon's XC race team, the Ergon SMR3 Pro Carbon Saddle adds impressively little weight to your setup for a design that focuses on long-distance comfort. Featuring a carbon composite shell that's rigid enough to transfer power, but flexes to take on harsh fire road noise...
Ergon SRX3 Saddle
Retail Price:
$79.95
Our Price: $64.03
buy now
Ergon sets its SRX3 line of saddles apart from traditional road saddle designs with a pronounced V-shape, giving road cyclists and cyclocross racers more opportunity to shift on the saddle as they move through different pedaling postures. The SRX3 Saddle occupies the entry-level space in that...
Fabric Alm Ultimate Saddle
Retail Price:
$359.99
Our Price: $299.94
buy now
One look at the Fabric ALM Ultimate Saddle and you'll know it's unlike any saddle you've ever tried. ALM stands for Additive Layer Manufacturing -- the prototype was developed using 3D printing. This technique allowed Fabric to create a saddle that would have previously been impossible to...
Fabric Cell Elite Saddle
We'll say it: Fabric's Cell Elite Saddle doesn't look much like most of the saddles on Competitive Cyclist. It it gel? Is it squishy? Both were questions we had when we first took a look at it, and we can answer that yes, it is somewhat squishy, but no, it's not made of gel. We can also say that...
Fabric Line Race Saddle
A relatively new player in the saddle game, UK-based Fabric has been seriously impressing us with its budget-minded saddles as of late. Built with clean lines and efficient materials, the saddles don't look or feel like the cheaper option; instead, they're well-executed, practical designs. Each...
Fabric Scoop Pro Saddle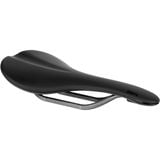 The Fabric Scoop Pro saddle is simple. It's lightweight and it's tough. The Scoop comes in four varieties: Elite, Race, Pro, and Ultimate. The Scoop Pro starts with carbon fiber rails and a nylon base. Fabric says its Scoop Saddle is "designed for everyone," and that's exactly what it is. Like...
<< Prev | Back | 1 | 2 | 3 | 4 | 5 | 6 | 7 | 8 | 9 | 10 | More | Next >>