Saddles - Road Bike Shop
Shop
>
Components
>
Forks, Cockpit, Pedals
>
Saddles
Fi'zi:k Arione R3 BMC Racing Team Saddle + Handlebar Tape
Retail Price:
$240.00
Our Price: $99.95
buy now
Unless you've been living under a rock, you've surely noticed that both Cadel and van Garderen have been putting on quite the show. And whether it be the 2013 Giro or Tejay's heroics on the Alpe d'Huez, the Fi'zi:k Arione R3 BMC Racing Team Saddle was there for the ride. That's why the Swiss...
Fi'zi:k Arione R3 SKY Pro Cycling Saddle + Handlebar Tape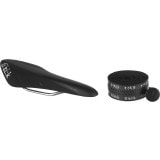 Retail Price:
$240.00
Our Price: $120.00
buy now
As you know, the past two years of the Tour have been dominated by SKY Pro Cycling. And when you look into the level of detail and planning that goes into their operation, it becomes obvious why. Every aspect of the race bike is scrutinized, and as a result, SKY strategically selects its...
Fi'zi:k Arione R3 with K:ium Rails
The Fi'zi:k Arione R3 with K:ium Rails uses a fiberglass and thermoplastic composite shell in order to provide one of the best stiffness-to-weight ratios of any saddle on the market. And not only is this essential for support, but its also a key component to the Arione R3's 'Snake' shell profile...
Fi'zi:k Arione R5 Saddle
The Spine Concept Fit System is Fi'zi:k's method of ensuring you choose a saddle that is designed for the way you position yourself on a bike. It realizes that cyclists are not all bendy-straws, and that different degrees of flexibility affect riding behavior, as well as comfort. It uses three...
Fi'zi:k Arione Saddle
The Arione is the only rival out there for the Fizik Aliante in terms of popularity. Why? The key is the Arione's Wing Flex technology, allowing the saddle to flex in key areas to yield a virtually custom fit without sacrificing the critical shell rigidity and support you need for optimal power...
Fi'zi:k Arione Tri 2 Carbon K:IUM Saddle
Retail Price:
$270.00
Our Price: $118.80
buy now
Fi'zi:k designed the Arione Tri 2 Carbon K:IUM Saddle for the triathlete with a flexible frame who primarily focuses his or her seated weight on the sit-bones. The Arione has a flat and narrow shape to allowthe greatest range of motion.
Fi'zi:k Arione Versus Carbon Saddle
We know that there are many among us who love a thin, firm racing saddle. But there are plenty of folks who prefer something with a bit more padding. That's why Fi'zi:k added the Arione Versus Carbon to its lineup. Based on the beloved Arione shape, it adds a pressure relief channel down the...
Fi'zi:k Arione Versus K:IUM Saddle
The Fizik Arione's board flat profile makes it distinct in a sea of same things. The reason for it is flexibility. We're not talking about shell flex, though it has that in spades thanks to their Wingflex Technology where the rearward part of the saddle conforms to your body as you pedal. No,...
Fi'zi:k Fizik Gobi XM with Manganese Rails
When you're out riding or racing, you want a saddle that allows you to move freely in response to the terrain. And, although Fi'zi:k uses its Spine Concept Fit System to help you choose a saddle that best suits your spine flexibility, the Gobi has become the go-to saddle for the mountain bike...
Fi'zi:k Gobi 00 Saddle
The Gobi 00 Saddle is Fi'zi:k's lauded mountain bike saddle, similar in design and technology to the Gobi XM, only significantly lighter. We consider it to be a dirt friendly cross between the Arione and Aliante saddles with regards to shape. It features a somewhat flat profile with WingFlex...
<< Prev | 1 | 2 | 3 | 4 | 5 | 6 | 7 | 8 | 9 | 10 | Next >>