Saddles - Road Bike Shop
Shop
>
Components
>
Forks, Cockpit, Pedals
>
Saddles
Brooks England Flyer Special Saddle - Men's
The Brooks Heritage Flyer Special Saddle combines the styling of the B17 with the suspension of two large steel springs for a clean retro look and added comfort.
Brooks England Team Pro Classic Saddle - Men's
The Brooks Team Pro Classic Saddle is a simpler, more modern version of the Team Professional, which Brooks has been making for over half a century. The Team Pro Classic features modern tubular steel rivets instead of the large hand-hammered copper rivets made famous by the original Brooks...
Brooks England Team Pro Saddle - Men's
Part of the Brooks Special range, the Team Pro Saddle incorporates proven tour techniques to lengthen the life of the leather. This saddle's copper rivets are gentler to the leather top and are hand hammered by Brooks' skilled craftsmen, so you know you're sitting on superb quality.
Ergon SM3 Pro Saddle
Retail Price:
$169.95
Our Price: $118.99
buy now
When you're pushing hour six into an endurance race, 20 millimeters might not seam like a great distance. But, that's the difference between a Small and Large Ergon SM3 Pro Saddle. And when it comes down to determining long-term comfort on the trail, it's a significant factor. That's why Ergon...
Ergon SME3 Pro Saddle
Just as Ergon changed the way we look at bar grips, it has taken the saddle and redefined it. Using FEM analysis to map the load and stress areas, it optimized the shape for more shock absorption while providing ample sit bone support. The SME3 Pro Saddle was designed specifically for enduro...
Ergon SR3 Pro Carbon Saddle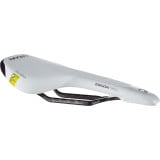 Retail Price:
$239.95
Our Price: $171.00
buy now
Ergon's carved out a niche among endurance mountain bikers by taking rider comfort to new heights, and now it's set sights on the road market. The SR3 Pro Carbon Saddle tops this new range of saddles with carbon rails, a composite shell, and three widths. Ergon's first products were handlebar...
Ergon SR3 Pro Saddle
Retail Price:
$169.95
Our Price: $145.00
buy now
Like the range-topping road saddle from Ergon, the SR3 Pro Saddle shares the attention-to-detail expected from this German company. This means that you'll find the same respected shape, in three separate widths, as the Pro Carbon in order to ensure the long-ride support that's only achievable...
Fi'zi:k Aliante Braided Carbon Saddle
Retail Price:
$270.00
Our Price: $204.99
buy now
When researching your next saddle, browsing manufacturer website info and reading highly subjective Internet reviews can only get you so far. Beyond actually taking a demo saddle out and trying one, the true selling power of a bike's most personal component is spread by word of mouth; at...
Fi'zi:k Aliante Gamma K:IUM Saddle
Retail Price:
$139.95
Our Price: $112.00
buy now
The Fizik Aliante Gamma Twin Flex K:ium Saddle is built with a Twin Flex shell. It's not unlike the Wing Flex technology used on the Arione saddle, but at the same time, it's totally different. The general concept of creating controlled flex is the same; Fizik uses two different materials to...
Fi'zi:k Aliante Gamma Versus Saddle - K:ium Rails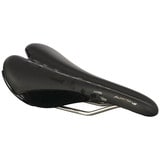 Retail Price:
$150.00
Our Price: $120.00
buy now
Fi'zi:k's Aliante Gamma Versus K:ium saddle was designed to provide the utmost comfort for the everyday cyclist, without sacrificing Fi'zi:k's key engineering ideals. To do this, Fi'zi:k had to determine a generalized, yet proper fit, and so the Spine Concept was created. Within this concept, Fi...
<< Prev | Back | 1 | 2 | 3 | 4 | 5 | 6 | 7 | 8 | 9 | 10 | More | Next >>