Saddles - Road Bike Shop
Shop
>
Components
>
Forks, Cockpit, Pedals
>
Saddles
Brooks England Flyer Saddle - Men's
Add vintage flair to your new touring bike with the Brooks Heritage Saddles Men's Flyer Saddle. The two springs absorb road and trail vibration the old-school way to reduce fatigue after hours in the saddle. The leather cover is comfortable and durable. Aside from its performance advantages, the...
Brooks England Flyer Select Saddle - Men's
The Brooks Flyer Select Saddle offers the classic looks and legendary comfort that the English brand has refined for over a century. There's no denying the olde-timey appeal, but there's a reason that this saddle has remain nearly unchanged since its predecessor, the B66 Champion, was rolled out...
Brooks England Flyer Special Saddle - Men's
The Brooks Heritage Flyer Special Saddle combines the styling of the B17 with the suspension of two large steel springs for a clean retro look and added comfort.
Brooks England Team Pro Classic Saddle - Men's
The Brooks Team Pro Classic Saddle is a simpler, more modern version of the Team Professional, which Brooks has been making for over half a century. The Team Pro Classic features modern tubular steel rivets instead of the large hand-hammered copper rivets made famous by the original Brooks...
Brooks England Team Pro Saddle - Men's
Part of the Brooks Special range, the Team Pro Saddle incorporates proven tour techniques to lengthen the life of the leather. This saddle's copper rivets are gentler to the leather top and are hand hammered by Brooks' skilled craftsmen, so you know you're sitting on superb quality.
Ergon SM3 Pro Saddle
Retail Price:
$169.95
Our Price: $109.99
buy now
When you're pushing hour six into an endurance race, 20 millimeters might not seam like a great distance. But, that's the difference between a Small and Large Ergon SM3 Pro Saddle. And when it comes down to determining long-term comfort on the trail, it's a significant factor. That's why Ergon...
Ergon SME3 Pro Carbon Saddle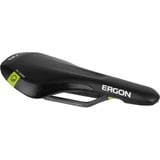 Even riders whose penchant is screaming downhill need supportive saddles. Ergon designed its SME3 Pro Carbon Saddle with input from former World Champion Fabien Barel and created a lightweight, and supremely supportive saddle optimized for the weight transfer required for downhill racing....
Ergon SME3 Pro Saddle
Just as Ergon changed the way we look at bar grips, it has taken the saddle and redefined it. Using FEM analysis to map the load and stress areas, it optimized the shape for more shock absorption while providing ample sit bone support. The SME3 Pro Saddle was designed specifically for enduro...
Ergon SR3 Pro Carbon Saddle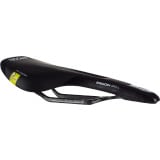 Retail Price:
$239.95
Our Price: $179.98
buy now
Ergon's carved out a niche among endurance mountain bikers by taking rider comfort to new heights, and now it's set sights on the road market. The SR3 Pro Carbon Saddle tops this new range of saddles with carbon rails, a composite shell, and three widths. Ergon's first products were handlebar...
Ergon SR3 Pro Saddle
Like the range-topping road saddle from Ergon, the SR3 Pro Saddle shares the attention-to-detail expected from this German company. This means that you'll find the same respected shape, in three separate widths, as the Pro Carbon in order to ensure the long-ride support that's only achievable...
<< Prev | Back | 1 | 2 | 3 | 4 | 5 | 6 | 7 | 8 | 9 | 10 | More | Next >>