Saddles - Road Bike Shop
Shop
>
Components
>
Forks, Cockpit, Pedals
>
Saddles
Ergon SR3 Pro Carbon Saddle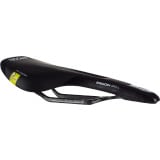 Ergon's carved out a niche among endurance mountain bikers by taking rider comfort to new heights, and now it's set sights on the road market. The SR3 Pro Carbon Saddle tops this new range of saddles with carbon rails, a composite shell, and three widths. Ergon's first products were handlebar...
Ergon SR3 Pro Saddle
Like the range-topping road saddle from Ergon, the SR3 Pro Saddle shares the attention-to-detail expected from this German company. This means that you'll find the same respected shape, in three separate widths, as the Pro Carbon in order to ensure the long-ride support that's only achievable...
Fi'zi:k Aliante Braided Carbon Saddle
When researching your next saddle, browsing manufacturer website info and reading highly subjective Internet reviews can only get you so far. Beyond actually taking a demo saddle out and trying one, the true selling power of a bike's most personal component is spread by word of mouth; at...
Fi'zi:k Aliante Carbon K:IUM Saddle
In every critical respect the k:ium-railed version of the Aliante is identical to its braided carbon brother: It's built with Fizik's patented Twin Flex shell. The exterior shell is a 35g multidirectional carbon fiber shell that surrounds a 15g bi-directional carbon and Kevlar weave interior...
Fi'zi:k Aliante Gamma K:IUM Saddle
Retail Price:
$139.95
Our Price: $111.96
buy now
The Fizik Aliante Gamma Twin Flex K:ium Saddle is built with a Twin Flex shell. It's not unlike the Wing Flex technology used on the Arione saddle, but at the same time, it's totally different. The general concept of creating controlled flex is the same; Fizik uses two different materials to...
Fi'zi:k Aliante Gamma XM Saddle
When you set out to buy a new saddle, you'd like to be able to demo each and every one and put it through the wringer. But, that's not practical. So what do you do? You rely on word of mouth and friend's recommendations. The Fi'zi:k Aliante Gamma XM Saddle's praises are being sung loudly. The...
Fi'zi:k Antares 00 Carbon Braided Saddle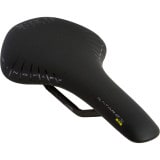 There's a truism that the harder you ride, the harder you want your saddle to be. Ride an exercise bike at 60rpm and 40% of your max heart in the gym while reading genre fiction and you'll want a la-z-boy disguised as an overstuffed saddle. Storm up a mountain at your threshold power while...
Fi'zi:k Antares R3 Braided Saddle
Fi'zi:k's Antares R3 Braided Saddle lives in a third dimension. No, really. It is the third 'A' between Fi'zi:k's Aliante and Arione saddles and it embodies comfort, flexibility, and an out-of-this-world lightness. Contrary to popular belief, a stiffer saddle is more comfortable than a highly...
Fi'zi:k Ares Saddle
Retail Price:
$199.95
Our Price: $79.98
buy now
The Fi'zi:k Ares Saddle uses its model name to represent what the saddle is all about. Basically, the differences between the Ares and the Antares amount to a shortened front end -- Antares minus 34mm in length equals the Ares. Take off the 'Ant,' leave the 'Ares,' and you've got the new saddle....
Fi'zi:k Arione 00 - 7x9 Braided Rails
It doesn't get much lighter than 135g. Sure, there are saddles out there claiming lower weights, but we'd argue that they weren't built with the same innovative and purposeful construction as Fi'zi:k's new Arione 00. After all, numbers on the scale are one thing, but when it really comes down to...
<< Prev | 1 | 2 | 3 | 4 | 5 | 6 | 7 | 8 | 9 | 10 | Next >>