Saddles - Road Bike Shop
Shop
>
Components
>
Forks, Cockpit, Pedals
>
Saddles
Brooks England Flyer Special Saddle - Men's
The Brooks Heritage Flyer Special Saddle combines the styling of the B17 with the suspension of two large steel springs for a clean retro look and added comfort.
Brooks England Swift Saddle - Men's
Brooks England drew its inspiration for the Men's Swift Saddle from its 1890 catalog. This vintage-looking leather bike saddle features firm, high-quality leather that breaks in to fit your bum like leather boots form to fit your feet--say goodbye to having a sore backside. Also, leather is...
Brooks England Team Pro Classic Saddle - Men's
The Brooks Team Pro Classic Saddle is a simpler, more modern version of the Team Professional, which Brooks has been making for over half a century. The Team Pro Classic features modern tubular steel rivets instead of the large hand-hammered copper rivets made famous by the original Brooks...
Ergon SMC3 Comp Saddle
Retail Price:
$99.95
Our Price: $47.99
buy now
In contrast to its race-oriented SMR3 line, Ergon developed its SMC mountain saddles for riders who don't want to spend every trail ride on an unforgiving carbon shelf but who don't want to ride the equivalent of a throw pillow on a stick. The SMC3 Comp Saddle's titanium rails place it in the...
Ergon SMC3 Pro Saddle
Retail Price:
$129.95
Our Price: $79.99
buy now
Comparing a comfortable, touring saddle and a light, stiff race saddle doesn't have to resemble putting a pillow and a brick side by side. It can, but manufacturers like Ergon have managed to construct saddles that focus on comfort without sacrificing a race-able weight by using effective...
Ergon SMC3 Saddle
Racing saddles certainly have their place on the trails, but harsh, weight-reducing designs need not make an appearance on all-day weekend rides spent exploring rolling ribbons of singletrack and hairpin turns through the trees. Whether you're looking for a saddle for your easy days or an...
Ergon SMC4 Comp Gel Saddle
Head out for a day-long excursion of sweeping singletrack and shaded switchbacks on the Ergon SMC4 Comp Gel Saddle. It features the same foam padding and extra gel inserts as its SMC4 Sport Gel sibling, but loses a bit of weight without sacrificing long mile comfort. Ergon swaps out the CroMo...
Ergon SMC4 Saddle
When ride plans include meandering singletrack and sweeping, pine-needle filled turns through the trees, you want a saddle designed to keep you comfortable when you opt for an extra loop or three. The Ergon SMC4 Saddle's primary goal is to keep you comfortable so you're able to spin all day...
Ergon SMC4 Sport Gel Saddle
When your local trails feature miles and miles of bone-jarring rocks and washboard root sections, a saddle with a little more padding might be right up your alley. The Ergon SMC4 Sport Gel Saddle features the same foam padding and general shape as Ergon's comfort-minded SMC4 saddle with the...
Ergon SME3 Pro Carbon Saddle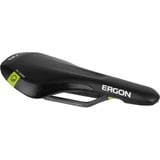 Retail Price:
$199.95
Our Price: $122.99
buy now
Ergon's SME3 Pro Carbon Saddle strikes the balance between a saddle stiff enough to not rob you of precious power, and a saddle that provides enough comfort that you can continue to ride. The shell of the SME3 is constructed from carbon fiber with pockets molded in where your sit bones will hit....
<< Prev | Back | 1 | 2 | 3 | 4 | 5 | 6 | 7 | 8 | 9 | 10 | More | Next >>