Saddles - Road Bike Shop
Shop
>
Components
>
Forks, Cockpit, Pedals
>
Saddles
Brooks Heritage Saddles Team Pro Saddle - Men's
Part of the Brooks Special range, the Team Pro Saddle incorporates proven tour techniques to lengthen the life of the leather. This saddle's copper rivets are gentler to the leather top and are hand hammered by Brooks' skilled craftsmen, so you know you're sitting on superb quality.
Ergon SM3 Pro Saddle
When you're pushing hour six into an endurance race, 20 millimeters might not seam like a great distance. But, that's the difference between a Small and Large Ergon SM3 Pro Saddle. And when it comes down to determining long-term comfort on the trail, it's a significant factor. That's why Ergon...
Ergon SME3 Pro Carbon Saddle
Even riders whose penchant is screaming downhill need supportive saddles. Ergon designed its SME3 Pro Carbon Saddle with input from former World Champion Fabien Barel and created a lightweight, and supremely supportive saddle optimized for the weight transfer required for downhill racing....
Ergon SME3 Pro Saddle
Just as Ergon changed the way we look at bar grips, it has taken the saddle and redefined it. Using FEM analysis to map the load and stress areas, it optimized the shape for more shock absorption while providing ample sit bone support. The SME3 Pro Saddle was designed specifically for enduro...
Ergon SR3 Pro Carbon Saddle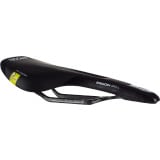 Ergon's carved out a niche among endurance mountain bikers by taking rider comfort to new heights, and now it's set sights on the road market. The SR3 Pro Carbon Saddle tops this new range of saddles with carbon rails, a composite shell, and three widths. Ergon's first products were handlebar...
Ergon SR3 Pro Saddle
Like the range-topping road saddle from Ergon, the SR3 Pro Saddle shares the attention-to-detail expected from this German company. This means that you'll find the same respected shape, in three separate widths, as the Pro Carbon in order to ensure the long-ride support that's only achievable...
Ergon SRX3 Pro Carbon Saddle
Every range of saddles has a top-tier model--that model that the pros turn to for support and comfort for long training hours and even longer races. The Ergon SRX3 Pro Carbon Saddle takes the top step on Ergon's road line with lightweight construction and body-mapped support. Ergon constructed...
Ergon SRX3 Pro Saddle
Ergon stepped into the saddle world by first developing the SM range of thrones specifically for mountain biking. The saddles were fantastic, and the company's rapidly-earned following asked for a range of road and 'cross saddles, too, so the SR series was born. The Ergon SRX3 Pro Saddle swaps...
Fi'zi:k Aliante Carbon K:IUM Saddle
Retail Price:
$200.00
Our Price: $160.00
buy now
In every critical respect the k:ium-railed version of the Aliante is identical to its braided carbon brother: It's built with Fizik's patented Twin Flex shell. The exterior shell is a 35g multidirectional carbon fiber shell that surrounds a 15g bi-directional carbon and Kevlar weave interior...
Fi'zi:k Aliante Gamma Versus Saddle - K:ium Rails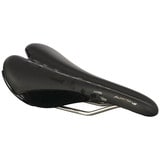 Retail Price:
$150.00
Our Price: $120.00
buy now
Fi'zi:k's Aliante Gamma Versus K:ium saddle was designed to provide the utmost comfort for the everyday cyclist, without sacrificing Fi'zi:k's key engineering ideals. To do this, Fi'zi:k had to determine a generalized, yet proper fit, and so the Spine Concept was created. Within this concept, Fi...
<< Prev | Back | 1 | 2 | 3 | 4 | 5 | 6 | 7 | 8 | 9 | 10 | More | Next >>