Saddles - Road Bike Shop
Shop
>
Components
>
Forks, Cockpit, Pedals
>
Saddles
Selle SMP Composit 70th Anniversary Limited Edition Saddle
Selle SMP is turning 70 the way any dedicated cyclist would like to: by maintain a trim, lightweight, padding-free, race-focused body. Case in point: the Composit 70th Anniversary Limited Edition Saddle, which maintains the same sleek profile as the standard Composit but with a few celebratory...
Selle SMP Drakon
Selle SMP's new Drakon is designed to give you support, and relief, where you need it most. The Drakon's pressure-free perineum region ensures the comfort you need for a long day in the saddle. The Drakon falls between the Lite 209 and Dynamic in Selle SMP's lineup. It features a moderate profile...
Selle SMP Drakon 70th Anniversary Limited Edition Saddle
If Selle SMP's lightweight, minimalist saddles are designed for the tiny climbers, the Drakon is its rouleur model. The wide-bodied Drakon Saddle is part of SMP's 70th Anniversary Edition collection, which adds a few celebratory embellishments to the already impressive SMP aesthetics. These...
Selle SMP Dynamic 70th Anniversary Limited Edition Saddle
In 2017, Selle SMP turned 70, and to celebrate the occasion it's releasing several saddles in special editions. The Dynamic 70th Anniversary Limited Edition Saddle is functionally equivalent to the standard Dynamic--it does, however, feature a splash of Italian flair in the form of tricolor...
Selle SMP Dynamic Saddle
Undercarriage starting to tingle, in a bad way, during a long ride? It might be time for a new saddle, like the Selle SMP Dynamic Saddle. It's all about reducing pressure in key sensitive zones, with a dramatically dropped nose to provide a flat base without exerting excess stress on your...
Selle SMP Evolution
A saddle is more than just something to sit on. It's a key interface between you and your bike, a place where you can feel the road underneath you and exert control over your steed, so having a saddle that suits your physiology and riding style is important. Selle SMP's Evolution Saddle is...
Selle SMP Extra Saddle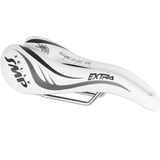 Retail Price:
$119.00
Our Price: $57.99
buy now
Extra Saddle
Selle SMP Glider 70th Anniversary Limited Edition Saddle
Over the past 70 years, Selle SMP has gradually developed one of the most--if not the most--signature saddle profiles in the industry. To celebrate those seven decades, SMP is releasing a batch of 70th Anniversary Edition Glider Saddles, which feature some special branding and aesthetic...
Selle SMP Glider Saddle
Upon initial inspection, the Selle SMP saddles may not look like they would be your first choice in comfort. But, looks are deceiving, and once you try it, the Glider saddle may just end up being your favorite saddle. They aren't the lightest saddle on the market, but they have been developed and...
Selle SMP Hybrid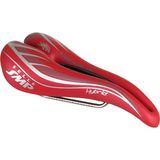 Retail Price:
$144.00
Our Price: $65.99
buy now
The Hybrid saddle features Selle SMP characteristic pressure-free design and is built to be versatile for all types of cyclists. The Hybrid offers a moderate profile and is best suited for riders with average-width pelvises. Selle SMP's unique "beak" shape provides a flat base without putting...
<< Prev | Back | 11 | 12 | 13 | 14 | 15 | 16 | 17 | 18 | 19 | 20 | More | Next >>