Saddles - Road Bike Shop
Shop
>
Components
>
Forks, Cockpit, Pedals
>
Saddles
Selle SMP Pro
Selle SMP's uniquely designed saddle features a wide cutout to reduce pressure from the inside of the saddle, while also giving you a medium to wide platform to support your pelvis. The shape of the nose is distinct and it serves to provide a flat base while seated. Some riders, especially TT...
Selle SMP Stratos
One glance at the Selle SMP Stratos will tell you that this saddle is a bit different. That odd shape is 100% dedicated to relieving the pressure that most road bike saddles place on your genitals and pudendal nerve areas, causing numbness and discomfort. The Selle SMP Stratos' pronounced central...
Selle SMP T2 Saddle
The Selle SMP T2 saddle is designed to give triathletes with a medium to large pelvis size the support and comfort needed to navigate the bike leg at speed. Boasting longer rails than many other saddles, the T2 provides a huge range of fore/aft adjustability to dial in the perfect bike fit. A...
Selle SMP TRK Man
Retail Price:
$79.00
Our Price: $69.00
buy now
For those looking for a reasonably priced saddle with plenty of cushion, a central pressure-relief channel, and a fairly wide platform, Selle SMP's TRK saddle answers the call. The TRK is best suited for cyclists with medium-wide and wide pelvises, as it features a longer and wider body, with...
Selle SMP Well Saddle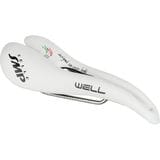 Retail Price:
$144.00
Our Price: $139.00
buy now
The Well Saddle combines a relatively wide frame with light padding and Selle SMP's signature drooping beak profile for a saddle that privileges pudendal comfort for riders with wide sit bones. The body is carbon-reinforced nylon, which adds a slight bump-absorbing give but doesn't become a...
Syncros XR1.0 Carbon Saddle
Syncros has embraced mountain biking since before it was cool, and the brand builds solid, dependable components specifically for the dirt-loving set. Weighing in at a claimed 170g, the XR1. 0 Carbon Saddle is a race-ready example of Syncros' mountain bike acumen. It uses 7 x 9mm carbon rails to...
Syncros XR1.0 Carbon Saddle - Women's
Syncros' top-end XR 1. 0 Carbon Saddle was designed with a women's-specific fit and just enough cushioning for roosting berms and railing turns down singletrack all day. The addition of 7 x 9mm carbon rails and a carbon-injected nylon base add to the saddle's vibration damping powers across...
Syncros XR1.5 Saddle
Dirt-loving Syncros offers its minimal, race-ready XR saddle in a more wallet-friendly option with the XR1. 5 Saddle. Still designed for long rides and fast races on singletrack, the XR1. 5 is made with durable hollow titanium rails instead of carbon. Unlike their carbon counterparts, titanium...
Syncros XR1.5 Saddle - Women's
If you like the feel and low weight of Syncros' XR1. 0 saddles but aren't as enamored with the higher price, consider Syncros' XR1. 5 Women's Saddle. With the same women's-specific shape and race-ready weight, the saddle is constructed with hollow titanium rails instead of carbon to absorb...
Terry Bicycles Butterfly Carbon Saddle - Women's
In 1985, upon introducing a women's specific bicycle frame design to the industry, Georgena Terry created a company destined to become a household name among women cyclists throughout the world. True to her passion for cycling gear that specifically addresses the fit and needs of women, she...
<< Prev | Back | 11 | 12 | 13 | 14 | 15 | 16 | 17 | 18 | More | Next >>