Saddles - Road Bike Shop
Shop
>
Components
>
Forks, Cockpit, Pedals
>
Saddles
Selle SMP Evolution
A saddle is more than just something to sit on. It's a key interface between you and your bike, a place where you can feel the road underneath you and exert control over your steed, so having a saddle that suits your physiology and riding style is important. Selle SMP's Evolution Saddle is...
Selle SMP Glider 70th Anniversary Limited Edition Saddle
Over the past 70 years, Selle SMP has gradually developed one of the most--if not the most--signature saddle profiles in the industry. To celebrate those seven decades, SMP is releasing a batch of 70th Anniversary Edition Glider Saddles, which feature some special branding and aesthetic...
Selle SMP Glider Saddle
Upon initial inspection, the Selle SMP saddles may not look like they would be your first choice in comfort. But, looks are deceiving, and once you try it, the Glider saddle may just end up being your favorite saddle. They aren't the lightest saddle on the market, but they have been developed and...
Selle SMP Hybrid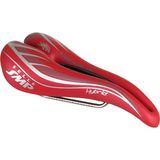 Retail Price:
$144.00
Our Price: $65.99
buy now
The Hybrid saddle features Selle SMP characteristic pressure-free design and is built to be versatile for all types of cyclists. The Hybrid offers a moderate profile and is best suited for riders with average-width pelvises. Selle SMP's unique "beak" shape provides a flat base without putting...
Selle SMP Lite 209
Designed to relieve the pressure that many race saddles place on the pudendal nerve and surrounding soft tissue, the Selle SMP Lite 209's pronounced central channel eliminates numbness to reduce fatigue. the unique beak shape provides a flat base while sitting, but reduces pressure on the genital...
Selle SMP Plus
The Selle SMP Plus saddle is designed to give you the support and crucial relief you need when you're logging serious hours on the bike. The Plus offers a longer and wider body and is suited for cyclists with medium-wide to wide pelvises. The saddle features Selle SMP distinctive beak shape to...
Selle SMP Pro
Selle SMP's uniquely designed saddle features a wide cutout to reduce pressure from the inside of the saddle, while also giving you a medium to wide platform to support your pelvis. The shape of the nose is distinct and it serves to provide a flat base while seated. Some riders, especially TT...
Selle SMP Stratos
One glance at the Selle SMP Stratos will tell you that this saddle is a bit different. That odd shape is 100% dedicated to relieving the pressure that most road bike saddles place on your genitals and pudendal nerve areas, causing numbness and discomfort. The Selle SMP Stratos' pronounced central...
Selle SMP Stratos 70th Anniversary Limited Edition Saddle
Selle SMP bills the Stratos as its most versatile pro-tier saddle. Fitting, then, that it's one of the headliners of the brand's 70th Anniversary Limited Edition Saddle line. Selle SMP has always been obsessed with details, but the anniversary Stratos gets some additional love in the form of...
Selle SMP T2 Saddle
The Selle SMP T2 saddle is designed to give triathletes with a medium to large pelvis size the support and comfort needed to navigate the bike leg at speed. Boasting longer rails than many other saddles, the T2 provides a huge range of fore/aft adjustability to dial in the perfect bike fit. A...
<< Prev | Back | 11 | 12 | 13 | 14 | 15 | 16 | 17 | 18 | 19 | More | Next >>