Saddles - Road Bike Shop
Shop
>
Components
>
Forks, Cockpit, Pedals
>
Saddles
Selle Italia SLR Superflow L Saddle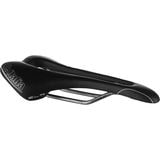 Retail Price:
$299.95
Our Price: $249.95
buy now
There are few things more important in fitting a new bike than choosing the right saddle. It's often a laborious affair with all the complexity and false leads of a noir thriller, and there's no guarantee that it'll end happily. Selle Italia doesn't claim to have a single silver bullet for saddle...
Selle Italia SLR Superflow S Saddle
Retail Price:
$299.95
Our Price: $269.96
buy now
The Selle Italia SLR line of saddles has a long tradition of durable comfort among cyclists of all levels. The SLR Superflow S Saddle lives up to this tradition and delivers even more comfort wrapped up in a lightweight package to get you through all the miles you want to ride. The Superflow S...
Selle Italia SLR Team Edition Flow Saddle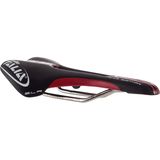 The SLR Team Edition Flow Saddle is the missing link between Selle Italia's regular SLR models and the lightweight Carbonio line. It adopts the same shape as the Carbonio and the TI 316 rails and additional padding of the standard SLR Flow. Like its stablemates, the SLR Team has forgiving cushion...
Selle Italia SLR Tekno Flow Saddle
The Selle Italia SLR Tekno Flow Saddle is an exercise in minimalism, and surprisingly, that's a good thing. You're looking at a saddle that only weighs around 115 grams, but despite its light weight, the Tekno Flow takes advantage of an anatomic cutout and a low-profile Lorica cover in order to...
Selle Italia SLR Tekno Saddle
Carbon fiber saddles have been around for a while, but they typically belong on weight-weenie wall-art builds, rather than a bike that sees dozens of rides a year. Why? Because they have a track record of favoring light weights over comfort. Selle Italia took this as a challenge, and delivered...
Selle Italia SLR Tri Gel Saddle - TI Rails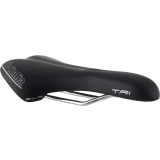 Retail Price:
$224.99
Our Price: $145.99
buy now
The bike portion of a triathlon is essentially a time trial, which to most doesn't sound all that terrible. But then you add in the swim beforehand. and the run, sometimes an entire marathon, afterwards, and things start to look a bit different. To set it apart even further, in the interest of...
Selle Italia SLR XC Flow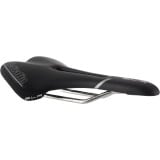 Retail Price:
$219.99
Our Price: $209.99
buy now
Designing a comfortable mountain bike saddle for riding long distances is a tricky affair. If a saddle has too much flex, you bob around while pedaling; too little, and you're riding a brick. Too much padding, and your weight can shift around too much, which can lead to hotspots and blisters on...
Selle Italia Turbo 1980 Saddle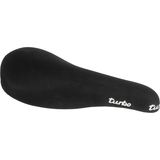 Long before carbon and titanium, gel and cutouts, and saddles stripped of all but the most essential features in the name of saving a few grams, Selle Italia's Turbo 1980 Saddle was introduced to the cycling world and enjoyed resounding success. Now, the classic Italian brand has brought back its...
Selle SMP Composit
You--and everyone else--can recognize Selle SMP saddles at a glance, but can you explain why they look so distinctive? Selle didn't design the beaked nose, high back, and large central channel for no reason, after all, and while all the above are common features on Selle saddles, each has been...
Selle SMP Drakon
Selle SMP's new Drakon is designed to give you support, and relief, where you need it most. The Drakon's pressure-free perineum region ensures the comfort you need for a long day in the saddle. The Drakon falls between the Lite 209 and Dynamic in Selle SMP's lineup. It features a moderate profile...
<< Prev | Back | 11 | 12 | 13 | 14 | More | Next >>