Saddles - Road Bike Shop
Shop
>
Components
>
Forks, Cockpit, Pedals
>
Saddles
Selle Italia SLR XC Flow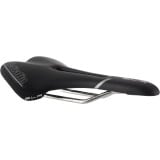 Retail Price:
$219.99
Our Price: $209.99
buy now
Designing a comfortable mountain bike saddle for riding long distances is a tricky affair. If a saddle has too much flex, you bob around while pedaling; too little, and you're riding a brick. Too much padding, and your weight can shift around too much, which can lead to hotspots and blisters on...
Selle Italia Turbo 1980 Saddle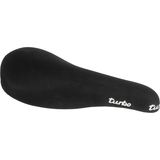 Long before carbon and titanium, gel and cutouts, and saddles stripped of all but the most essential features in the name of saving a few grams, Selle Italia's Turbo 1980 Saddle was introduced to the cycling world and enjoyed resounding success. Now, the classic Italian brand has brought back its...
Selle Italia Turbomatic Gel Flow Saddle
Selle Italia boasts one of the most distinguished reputations in the industry for its durable, comfortable, and race-proven saddles. The Turbomatic has been a staple in this line since it was unveiled in 1998, and the newer versions continue to improve on that heritage. The Selle Italia...
Selle Italia Turbomatic Saddle
Retail Price:
$158.00
Our Price: $134.29
buy now
Behind the SLR and Flite, Selle Italia's Turbomatic has been their most successful racing saddle among riders in the pro peloton. When it debuted, it was a radical departure from the norm with its minimalist shell design and shock absorbing attachments for the rails. After a number of years out...
Selle Italia X1 Plus Saddle
Retail Price:
$59.95
Our Price: $39.95
buy now
Take Selle Italia's X1 Plus Saddle with you onto the roughest, muddiest courses without giving a second thought to whether or not it's up for the job. Designed to handle gravel, dirt, and anything else that you might be riding over during the course of a 'cross race, the X1 Plus relies on careful...
Selle SMP Composit
You--and everyone else--can recognize Selle SMP saddles at a glance, but can you explain why they look so distinctive? Selle didn't design the beaked nose, high back, and large central channel for no reason, after all, and while all the above are common features on Selle saddles, each has been...
Selle SMP Drakon
Selle SMP's new Drakon is designed to give you support, and relief, where you need it most. The Drakon's pressure-free perineum region ensures the comfort you need for a long day in the saddle. The Drakon falls between the Lite 209 and Dynamic in Selle SMP's lineup. It features a moderate profile...
Selle SMP Dynamic
Undercarriage starting to tingle, in a bad way, during a long right? It might be time for a new saddle, like the Selle SMP Dynamic Saddle. It's all about reducing pressure in key sensitive zones, with a dramatically dropped nose to provide a flat base without exerting excess stress on your...
Selle SMP Evolution
A saddle is more than just something to sit on. It's a key interface between you and your bike, a place where you can feel the road underneath you and exert control over your steed, so having a saddle that suits your physiology and riding style is important. Selle SMP's Evolution Saddle is...
Selle SMP Glider Saddle
Upon initial inspection, the Selle SMP saddles may not look like they would be your first choice in comfort. But, looks are deceiving, and once you try it, the Glider saddle may just end up being your favorite saddle. They aren't the lightest saddle on the market, but they have been developed and...
<< Prev | Back | 11 | 12 | 13 | More | Next >>