Pedals - Road Bike Shop
Shop
>
Components
>
Forks, Cockpit, Pedals
>
Pedals
Crank Brothers Bike Shoe Shields
We generally love Crankbrothers pedals for their light weight and bulletproof entry and exit in mucky conditions but the retention bars that are so key to their wonderful functionality unfortunately sometimes have a tendency to dig into the soles of our favorite (and expensive) shoes....
Crank Brothers Candy 7 Pedals
Crank Brothers Egg Beater pedals are renowned for their mud-shedding power, easy four-sided entry design, and minimalist platform-free construction. For those of us that don't mind a few extra grams and want a bit of platform for added support and security, the Crank Brothers Candy 7 Pedals...
Crank Brothers Mallet 3 Pedals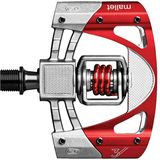 Designed as an elite downhill pedal for crushing high-speed descents, the Crankbrothers Mallet 3 Pedals offer bombproof durability and a large platform for pushing your limits on the trail. Designed a bit larger than your average trail pedal, the Mallet 3 obviously caters to gravity junkies, but...
Crank Brothers Mallet DH Race Pedal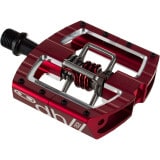 Retail Price:
$165.00
Our Price: $89.95
buy now
Take a glance at any World Cup Downhill race and you'll readily spot the slick anodized appearance of a Crankbrothers Mallet DH Race Pedal. And that's for good reason. Between its user-friendly Egg Beater retention system, extra-large concave platform, and smooth-spinning inner needle bearings,...
Crank Brothers Tread Contact Sleeves for Egg Beater
The Crank Brothers Tread Contact Sleeves give your Egg Beaters a tighter fit. Each strip includes 1mm, 2mm, and 3mm thicknesses.
Easton Flatboy Pedal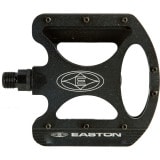 Simple flats have always been the pedal of choice for DH riders, freeriders, and jump-park rippers. True badassses, like Brian Lopes, choose the Easton Flatboy pedal. Easton didn't build the Flatboy with any fancy gimmicks. It's just a super-tough, grippy flat that can take abuse all day, every day.
Garmin Vector 2S Upgrade Pedal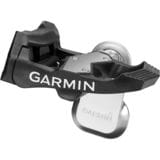 Upgrade your Garmin Vector 2S Pedals with the Vector 2S Upgrade Pedal and get rolling with even more data tracking. This pedal replaces the right pedal of the standard Vector 2S system, adding a right-side tracking pod to turn your bike into a dual-sensing data gathering machine. With readings...
HT Components AE03 Evo Pedals
The lightweight AE03 Evo Pedals clock in at a claimed 352g, making them the lightest of HT Components' EVO line. Like the rest of the EVO family, they still provide a beefy platform with replaceable pins for your soles to grip as you tackle rough trails, session the park, and slice through...
HT Components X1 Clipless Pedals
HT Components wanted to design a secure, high-tension pedal for the downhill crowd, so the company decided to get some feedback on its early designs by sending pro Mr. Gwin down a few wild descents on the World Cup circuit on an early version of the pedal they hoped to create. It must have gone...
HT Components X2 Clipless Pedals
To create its new X2 Clipless Pedals, HT Components logically started with the effective design of its X1 downhill pedals. They worked closely with World Cup fixture Mr. Gwin to gain feedback early versions of the downhill pedals, which led them to alter the X1's platform to make the X2's easier...
<< Prev | Back | 1 | 2 | 3 | 4 | 5 | 6 | 7 | 8 | 9 | 10 | More | Next >>