Pedals - Road Bike Shop
Shop
>
Components
>
Forks, Cockpit, Pedals
>
Pedals
TIME Xpresso 10 Pedal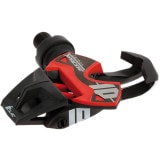 Aside from a hollow titanium axle, the Xpresso 10 shares everything with Time's top-of-the-line Xpresso 12 pedal, and what differentiates it from the 8 are carbon base plates used in place of steel. This allows the 10 to comfortably weigh in below the 100g mark for significantly less money than...
TIME Xpresso 12 Titan Carbon Pedals
No two cyclists are the same. If they were, custom frame builders wouldn't be gainfully cutting and welding tubes. Accordingly, the ability to tune and customize gear for its intended purpose, and end user, is essential to this sport. And, no other pedal manufacturer provides the range or number...
TIME Xpresso 4 Pedals
Designing pedals is a delicate balance of foot position, ease of entry and release, and weight. However, after leading the clipless movement from its inception, TIME has proven itself to be no novice when it comes to pedal technology and engineering. Case in point are TIME's new Xpresso 4 Pedals....
TIME Xpresso 6 Pedals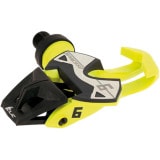 While most pedals aim to simply lock you in, the TIME Xpresso 6 are specifically designed to provide an uncanny level of adjustability to not only ease ingress and egress, but efficiency as well, so you can concentrate on strategy, not aching knees. The Iclic concept enables this pedal to provide...
Twenty6 Products Predator Pedal with Cromoly Axle
The Twenty6 Predator is the low-profile standard in flat pedals. The revolutionary design is lightweight, comfortable, and extremely durable. The Predator's unique pin design and placement also gives you an edge where you need it most--the grip department. Concave platform supports the foot...
VP Components VP-001 Pedal
VP Components makes a variety of pedals to suit virtually every rider no matter what type of bike they ride. The VP-001 are lightweight, flat pedals that take you from your local pump track straight to the pub. Constructed from a CNC machined aluminum body the VP-001 weight in at only 345grams...
VP Components VP-69 Pedal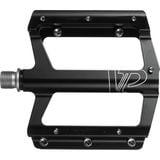 Whereas the VP-Vice was designed to use with virtually any shoe, VP Component's VP-69 pays special attention to shoes with sticky soles. The extruded and CNC-machined aluminum body features 6 of VP's tallest and sharpest pins on each side. The platform is concave which grips the sole for maximum...
VP Components VP-BLK 6 Cleat
Don't fumble with replacing your road cleats. The VP Components VP-BLK 6 Cleat makes it easy to not only change your cleats, they ensure that they are always in the same position. This innovative design features a two-part construction that locks together. Once you place them in position, it's...
VP Components VP-C01 2-Bolt Cleats
The VP Components VP-C01 2-Bolt Cleats replace your worn cleats so that your shoe-to-pedal interface is positive. They are compatible with all VP mountain bike pedals and with cycling shoes that have a 2-bolt cleat pattern. The VP Components VP-C01 2-Bolt Cleats are available in one size and one...
VP Components VP-CVR Cleat Cover
Walking in road cleats not only makes you stride like a penguin, it also increases the chance that you'll slip on ceramic floors or scuff up hardwood ones. Carry the VP Components' Cleat Covers to keep you from falling-- though we won't guarantee that your walk will look any less awkward. The...
<< Prev | 1 | 2 | 3 | 4 | 5 | 6 | 7 | 8 | 9 | Next >>