Pedals - Road Bike Shop
Shop
>
Components
>
Forks, Cockpit, Pedals
>
Pedals
TIME I-Clic Cleat
The TIME I-Clic Cleat is just the ticket to replacing your worn-out I-Clic Cleats. They're compatible with Time iClic2 and Xpresso pedals.
TIME MX12 Ti-Carbon Pedal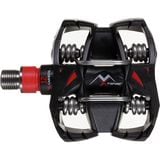 The Time MX12 Ti-Carbon Pedal's lightweight, oversized design allows you to dial in a precise and custom fit, delivering the confidence you demand under foot to attack any terrain. The MX12 features a carbon body and an oversized titanium axle, which offers a low rotational weight for quicker...
TIME MX2 Pedal
Time's entry-level all-mountain pedal, the MX2, provides riders on a budget with large, durable bearings, proven ATAC retention, and a lightweight composite body. Time's ATAC (Auto Tension Adjust Concept) is a simple design, with easy engagement and plenty of float. The spring tension never needs...
TIME MX6 Pedal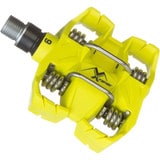 The Time MX6 pedals feature a composite body, rather than full carbon, which gives it a bit more durability. To keep the weight under the 200-gram mark, Time uses hollow axles and shaft springs with oversized bearings for added durability. The ATAC (Auto Tension Adjust Concept) gives you quick...
TIME MX8 Carbon Pedal
Time's MX8 Carbon Pedal uses a carbon composite body and hollow axle to drop ten grams from the MX6. This places the MX8's weight under 185 grams while retaining the wide body, oversized bearings, and proven ATAC retention system that all-mountain riders love. Time's ATAC (Auto Tension Adjust...
TIME Xpresso 10 Pedal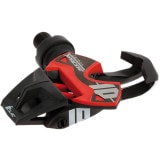 The Time Xpresso Pedal sits squarely between the line's 12 and 8, with low weight and durable construction at a price that is just right. Using a carbon baseplate, Time keeps the weight of the Xpresso 10 below 100 grams. While they do not have the titanium axles of their big brother, the pedals...
TIME Xpresso 10 Pedals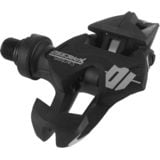 The only difference between Time's Xpresso 10 Pedals and the top-end models are ceramic bearings and titanium axles. While these changes have a nominal effect on weight, the Xpresso 10s' combination of carbon bodies and hollow steel axles mean they pack more than enough lightweight punch for even...
TIME Xpresso 12 Titan Carbon Pedals
The TIME Xpresso 12 Titan Carbon Pedals are the epitome of high-tech adjustability and lightweight acceleration. A connoisseur's pedals, the Xpresso 12s drop 40 grams of rotational weight from the Xpresso 8s by using titanium axles instead of stainless steel. Their oversized platforms, Q-Factor...
TIME Xpresso 2 Pedals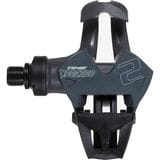 Weighing in under 250 grams for the pair, and at an entry price that's less than a racing license, the TIME Xpresso 2 Pedals are revolutionizing the clipless paradigm. New technology enables this brand new pedal to provide faster engagement without any rubbing. With the Iclic concept of a...
TIME Xpresso 4 Pedals
Designing pedals is a delicate balance of foot position, ease of entry and release, and weight. However, after leading the clipless movement from its inception, TIME has proven itself to be no novice when it comes to pedal technology and engineering. Case in point are TIME's new Xpresso 4 Pedals....
<< Prev | 1 | 2 | 3 | 4 | 5 | 6 | 7 | 8 | 9 | 10 | Next >>