Pedals - Road Bike Shop
Shop
>
Components
>
Forks, Cockpit, Pedals
>
Pedals
TIME MX2 Pedal
Time's entry-level all-mountain pedal, the MX2, provides riders on a budget with large, durable bearings, proven ATAC retention, and a lightweight composite body. Time's ATAC (Auto Tension Adjust Concept) is a simple design, with easy engagement and plenty of float. The spring tension never needs...
TIME MX8 Carbon Pedal
Time's MX8 Carbon Pedal uses a carbon composite body and hollow axle to drop ten grams from the MX6. This places the MX8's weight under 185 grams while retaining the wide body, oversized bearings, and proven ATAC retention system that all-mountain riders love. Time's ATAC (Auto Tension Adjust...
TIME RXS Carbon Pedal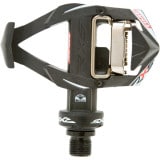 The Time RXS Carbon pedals are ready for those long, false-flat slogs--or lightning-burst sprints to the line. The RXS provides a mild helping of rotational float (+/- 5 degrees), catering to roadies who want just enough movement without feeling the 'slippery' feel. The RSX's composite body keeps...
TIME RXS First Pedal
The TIME RXS First Road Bike Pedal uses a steel axle and composite body for strength and durability--and at 260 grams a pair, the RSX Pedals are far from hefty. The narrow Q-factor allows for an aerodynamic pedaling style, and the galvanized engagement arch provides confident clicks in and out so...
TIME Xpresso 12 Titan Carbon Pedals
No two cyclists are the same. If they were, custom frame builders wouldn't be gainfully cutting and welding tubes. Accordingly, the ability to tune and customize gear for its intended purpose, and end user, is essential to this sport. And, no other pedal manufacturer provides the range or number...
TIME Xpresso 2 Pedals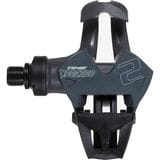 Weighing in under 250 grams for the pair, and at an entry price that's less than a racing license, the TIME Xpresso 2 Pedals are revolutionizing the clipless paradigm. New technology enables this brand new pedal to provide faster engagement without any rubbing. With the Iclic concept of a...
TIME Xpresso 4 Pedals
Designing pedals is a delicate balance of foot position, ease of entry and release, and weight. However, after leading the clipless movement from its inception, TIME has proven itself to be no novice when it comes to pedal technology and engineering. Case in point are TIME's new Xpresso 4 Pedals....
VP Components VP-Blade Pedal
If you are looking for that extra special touch for your urban commuter, the VP Components Blade Pedal may just fit the bill. This minimalist platform pedal guarantees a few glances as you roll through town. Although many companies choose to use carbon in the construction of their top-tier pedals...
VP Components VP-CVR Cleat Cover
Walking in road cleats not only makes you stride like a penguin, it also increases the chance that you'll slip on ceramic floors or scuff up hardwood ones. Carry the VP Components' Cleat Covers to keep you from falling-- though we won't guarantee that your walk will look any less awkward. The...
VP Components VP-Push N2 Pedal
For urban riding or playing around on your local pump track, the VP Components' VP Push N2 combines a tough nylon body with VP's proprietary push pin system for secure grip and durability. The proprietary Push pin system pushes a sleeve through the pedal body with pins threaded in from the...
<< Prev | 1 | 2 | 3 | 4 | 5 | 6 | 7 | 8 | 9 | Next >>