Pedals - Road Bike Shop
Shop
>
Components
>
Forks, Cockpit, Pedals
>
Pedals
Speedplay Zero Stainless Road Pedals
Identical in design to the Zero Ti, except for the fact that the spindle is made from Stainless Steel instead of Titanium. This adds a total 42g to a pair of Zero Stainless -- meaning it weighs in at 206g/pr. Like the Ti, the Zero Stainless allows you to choose either a fixed position or up to 15...
Speedplay Zero Titanium Road Pedals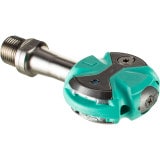 The Speedplay Zero Pedal System allows you to choose either a fixed position or up to 15 degrees of float. Zero pedals maintain the traditional feel of a fixed system while incorporating all the well-known advantages of Speedplay X Pedal Systems. Dual-sided Zero pedals offer light weight, easy...
Speedplay Zero Track Special Pedals
The Speedplay Zero Track Special is identical in every way to the standard Zero Stainless road pedal, but has an extra-stiff release tension for maximum security under massive torque. It was designed with beasts like Marty Nothstein in mind, and he used these pedals to earn US National...
TIME ATAC Cleat
Time ATAC Replacement Cleats prevent worn cleats from premature ejection or stubborn release. Brass cleats and hardware give just a little without feeling sloppy, like a handmade steel frame only way, way cheaper.
TIME ATAC DH 4 Pedals
Retail Price:
$123.45
Our Price: $117.00
buy now
If the Time ATAC DH 4 Pedal looks like something from outer space, that's just a coincidence. It's actually much tougher than anything from outer space. The DH 4's oversized axle and large aluminum platform make absolutely certain that if anything on your DH bike fails, it won't be your pedals....
TIME ATAC XC 12 Titan Carbon Pedals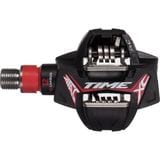 Retail Price:
$399.99
Our Price: $380.00
buy now
The pedal is one of the more crucial components. However, its importance is often overshadowed by the latest drivetrain, suspension, or wheel trends. Pedals have mountain on their plate, as they need to be light, tough, and easy to use. TIME accomplishes this with its range topping ATAC XC 12...
TIME ATAC XC 6 Pedals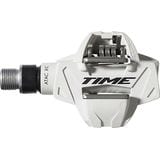 For some companies, keeping weight down means a compromise of durability and function. Not for Time. The full-featured, composite-bodied ATAC XC 6 weighs a hair over 10 ounces, performs like a thoroughbred, and takes a beating like bare-fisted pugilist from the '20s.Time's ATAC (Auto Tension...
TIME ATAC XC 8 Carbon Pedals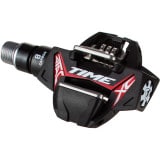 Most companies give you the weight of their bikes without pedals, This has nothing to do with weight, of course. It's because different riders prefer different pedal systems. It's a bummer, though, to buy an ultralight XC race bike only to find out that once you get it all kitted out it's not so...
TIME I-Clic Cleat
The Time I-Clic Cleat replaces your old, worn out iClic cleats, and is compatible with iClic2 and Xpresso pedals.
TIME MX12 Ti-Carbon Pedal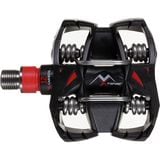 Retail Price:
$398.95
Our Price: $379.00
buy now
The ability to tune and customize gear for its intended purpose and end user is essential to not only performance, but comfort as well. And, no other pedal manufacturer provides the variety and number of adjustments that Time places into its range-topping MX12 Ti-Carbon. What differentiates the...
<< Prev | 1 | 2 | 3 | 4 | 5 | 6 | 7 | 8 | 9 | 10 | Next >>