Pedals - Road Bike Shop
Shop
>
Components
>
Forks, Cockpit, Pedals
>
Pedals
TIME MX4 Pedal
Time's MX4 Pedal drops nearly ten grams from the MX2 for less rotational weight and a smoother spin. But, it does retain the oversized bearings, proven ATAC retention, and a lightweight composite body, making it perfect for all-mountain riding. Time's ATAC (Auto Tension Adjust Concept) is a...
TIME MX8 Carbon Pedal
Time's MX8 Carbon Pedal uses a carbon composite body and hollow axle to drop ten grams from the MX6. This places the MX8's weight under 185 grams while retaining the wide body, oversized bearings, and proven ATAC retention system that all-mountain riders love. Time's ATAC (Auto Tension Adjust...
TIME RXS Carbon Pedal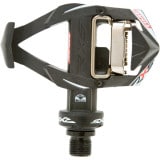 The Time RXS Carbon pedals are ready for those long, false-flat slogs--or lightning-burst sprints to the line. The RXS provides a mild helping of rotational float (+/- 5 degrees), catering to roadies who want just enough movement without feeling the 'slippery' feel. The RSX's composite body keeps...
TIME Xpresso 12 Titan Carbon Pedals
No two cyclists are the same. If they were, custom frame builders wouldn't be gainfully cutting and welding tubes. Accordingly, the ability to tune and customize gear for its intended purpose, and end user, is essential to this sport. And, no other pedal manufacturer provides the range or number...
TIME Xpresso 2 Pedals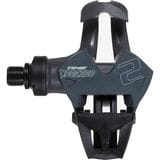 Weighing in under 250 grams for the pair, and at an entry price that's less than a racing license, the TIME Xpresso 2 Pedals are revolutionizing the clipless paradigm. New technology enables this brand new pedal to provide faster engagement without any rubbing. With the Iclic concept of a...
TIME Xpresso 4 Pedals
Designing pedals is a delicate balance of foot position, ease of entry and release, and weight. However, after leading the clipless movement from its inception, TIME has proven itself to be no novice when it comes to pedal technology and engineering. Case in point are TIME's new Xpresso 4 Pedals....
TIME Xpresso 6 Pedals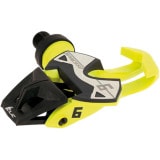 While most pedals aim to simply lock you in, the TIME Xpresso 6 are specifically designed to provide an uncanny level of adjustability to not only ease ingress and egress, but efficiency as well, so you can concentrate on strategy, not aching knees. The Iclic concept enables this pedal to provide...
VP Components VP-69 Pedal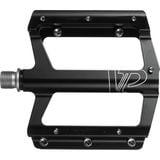 Whereas the VP-Vice was designed to use with virtually any shoe, VP Component's VP-69 pays special attention to shoes with sticky soles. The extruded and CNC-machined aluminum body features 6 of VP's tallest and sharpest pins on each side. The platform is concave which grips the sole for maximum...
VP Components VP-Blade Pedal
If you are looking for that extra special touch for your urban commuter, the VP Components Blade Pedal may just fit the bill. This minimalist platform pedal guarantees a few glances as you roll through town. Although many companies choose to use carbon in the construction of their top-tier pedals...
VP Components VP-BLK 6 Cleat
Don't fumble with replacing your road cleats. The VP Components VP-BLK 6 Cleat makes it easy to not only change your cleats, they ensure that they are always in the same position. This innovative design features a two-part construction that locks together. Once you place them in position, it's...
<< Prev | 1 | 2 | 3 | 4 | 5 | 6 | 7 | 8 | 9 | Next >>