Pedals - Road Bike Shop
Shop
>
Components
>
Forks, Cockpit, Pedals
>
Pedals
Speedplay Dust Cap Kit
In order to do routine maintenance on the internals of your Speedplay road pedals you need to remove its dust cap. If you remove & reinstall your dust caps enough times, you'll probably want to replace them in order to ensure that they'll stay firmly in place as you ride. Please Note: Due to...
Speedplay Fore/Aft Extender Base Plate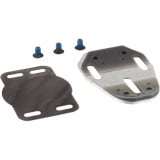 This kit replaces the standard 4-bolt-to-3-bolt base plate that comes with Speedplay cleats. It gives you a significant increase in cleat positioning possibilities. In comparison to the standard base plate, it provides you with 5mm additional forward positioning, and 14mm of rearward positioning....
Speedplay Frog Chrome-Moly Pedals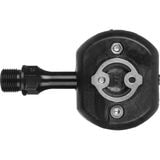 The Frog Chrome-Moly is built on a Chrome-Moly steel spindle to make it the most affordable option in the Speedplay Frog Family. It's not just a great off-road pedal system, Speedplay Frog pedals are ideal for road riders who prefer a recessed, walkable cleat. Like their amphibious namesake, Frog...
Speedplay Frog Stainless Mountain Bike Pedals
The Frog Stainless is built on a super-strong, corrosion-resistant stainless steel spindle. While it's a few grams heavier than the titanium version, it has no weight limit and costs 30% less than the Frog Ti. The Frog Stainless is our best-selling Speedplay mountain pedal. Not just a great...
Speedplay G3 Frog Cleats
These replacement cleats are exactly what comes standard with Frog pedals. They include mounting hardware. They're strong, durable, easier to mount and compatible with virtually all two-hole style shoes in the marketplace. These are for the Frog Titanium, the Frog Stainless, and the Frog Chrome...
Speedplay Leg Length Kit V2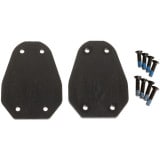 If you and your doctor determine that you have a leg length discrepancy, this kit is possibly what you need: Each Speedplay Leg Length Kit V2 contains several thin shims in the shape of a Snap Shim cleat. You can add and remove shims to equalize the distance between your Speedplay pedal and the...
Speedplay Nanogram Road Cleat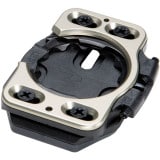 Speedplay Nanogram cleats are lighter and wear quicker than their standard Zero road cleats. So if you've already got the cleats and want to replace them with something equally svelte, or want to shave some weight off your Speedplay Zero cleat/pedal combo without splurging on Nanogram pedals,...
Speedplay Nanogram Zero Titanium Pedals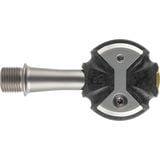 Speedplay Zeros have proven to be one of the best pedals to dance with; light, low stack height, and incredible cornering clearance. The Speedplay Zero Nanogram Titanium is that much better and represents a major step forward for what is already the pedal of choice for Team Saxobank-Sungard....
Speedplay Platformer 2.0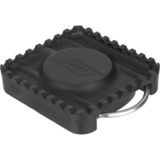 Speedplay's innovative pedal design effectively moves the pedal platform from the spindle to the sole of your shoe. While this design nets benefits in weight, it has one drawback: no cycling shoes; no cleats; no pedal platform. The Platformer 2. 0 addresses this with a simplified, one-piece...
Speedplay SYZR Chrome-Moly Pedals
We've long been fans of Speedplay's innovative solutions to the common ailments of clipless road pedals, and the SYZR Chrome-Moly Pedals bring the same customizability, low weight, and durability to the off-road world. Despite being relatively new, the SYZR has already made a splash in the...
<< Prev | Back | 1 | 2 | 3 | 4 | 5 | 6 | 7 | 8 | 9 | 10 | More | Next >>