Pedals - Road Bike Shop
Shop
>
Components
>
Forks, Cockpit, Pedals
>
Pedals
Shimano XT PD-M8020 Trail Pedal
Retail Price:
$119.99
Our Price: $67.99
buy now
Revamped with an 11. 7 percent increase in pedal-to-shoe contact over its PD-M785 predecessor, the Shimano XT PD-M8020 Trail Pedal provide supreme stability for conquering formidable stretches of trail. The 3. 3 millimeter wider profile over the previous iteration makes the M8020 Trail Pedal even...
Shimano XTR PD-M9000 Race Pedal
Retail Price:
$179.99
Our Price: $95.99
buy now
For a sport that relishes in mud and sand, paying a premium for components seems counter-intuitive. Once in a while something comes along that is worth every grain of sand. The Shimano XTR M-9000 Race Pedals are just that something. Most noticeable is the weight. The M-9000 pedals are nearly 100...
Shimano XTR PD-M9020 Trail Pedals
Retail Price:
$179.99
Our Price: $99.95
buy now
Shimano's SPD (Shimano Pedaling Dynamics) pedal system has been a favorite among commuters, recreational roadies, and XC chargers for nearly a quarter-century. With the XTR-PD M9020 Trail Pedal, Shimano has managed shave weight from this vetted design without sacrificing performance. The M9020...
Speedplay 4x16-8 Screw Pack V2
Some shoes have especially deep wells in their soles for housing the threads into which you fasten your pedal cleat screws. Speedplay is aware of this, which is why they offer these 4 x 15mm bolts for mounting Zero, X Series, and Light Action cleats. One packet of these screws is enough for two...
Speedplay Base Plate Kit V2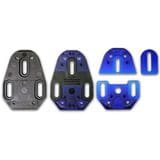 The Speedplay Base Plate Kit V2 is for the 'whoops moment' where you bought three-hole mount shoes that don't accommodate your four-hole Speedplay cleats. Don't worry, we've got your back. The Speedplay Base Plate Kit V2 replaces your four-hole base plates with three-hole base plates. The kit...
Speedplay Brass Knuckles Pedals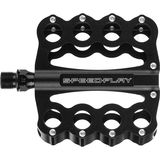 The Speedplay Brass Knuckles Pedals are built to take a beating so you don't have to, delivering you a super-thin profile that's designed to carry you to the podium. The Brass Knuckle's feature a thin, CNC-machined profile with a huge footprint and removable pins on either side to provide you...
Speedplay Drillium Platform Pedals
When was the last time looking at a pedal raised your pulse? The Speedplay Drillium Pedals show that platform pedal design doesn't have to be boring or mundane. They're the ultimate racing flats thanks to the details of their construction. Speedplay incorporates three precision bearings (one...
Speedplay Dust Cap Kit
In order to do routine maintenance on the internals of your Speedplay road pedals you need to remove its dust cap. If you remove & reinstall your dust caps enough times, you'll probably want to replace them in order to ensure that they'll stay firmly in place as you ride. Please Note: Due to...
Speedplay Fore/Aft Extender Base Plate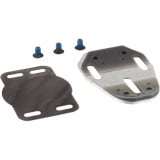 This kit replaces the standard 4-bolt-to-3-bolt base plate that comes with Speedplay cleats. It gives you a significant increase in cleat positioning possibilities. In comparison to the standard base plate, it provides you with 5mm additional forward positioning, and 14mm of rearward positioning....
Speedplay Frog Chrome-Moly Pedals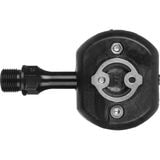 The Frog Chrome-Moly is built on a Chrome-Moly steel spindle to make it the most affordable option in the Speedplay Frog Family. It's not just a great off-road pedal system, Speedplay Frog pedals are ideal for road riders who prefer a recessed, walkable cleat. Like their amphibious namesake, Frog...
<< Prev | Back | 1 | 2 | 3 | 4 | 5 | 6 | 7 | 8 | 9 | 10 | More | Next >>