Pedals - Road Bike Shop
Shop
>
Components
>
Forks, Cockpit, Pedals
>
Pedals
Speedplay Speedplay 4x16-8 Screw Pack V2
Some shoes have especially deep wells in their soles for housing the threads into which you fasten your pedal cleat screws. Speedplay is aware of this, which is why they offer these 4 x 15mm bolts for mounting Zero, X Series, and Light Action cleats. One packet of these screws is enough for two...
Speedplay Speedplay Dust Cap Kit
In order to do routine maintenance on the internals of your Speedplay road pedals you need to remove its dust cap. If you remove & reinstall your dust caps enough times, you'll probably want to replace them in order to ensure that they'll stay firmly in place as you ride. Please Note: Due to...
Speedplay Speedplay Frog Chrome-Moly Pedals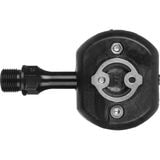 The Frog Chrome-Moly is built on a Chrome-Moly steel spindle to make it the most affordable option in the Speedplay Frog Family. It's not just a great off-road pedal system, Speedplay Frog pedals are ideal for road riders who prefer a recessed, walkable cleat. Like their amphibious namesake, Frog...
Speedplay Speedplay G3 Frog Cleats
These replacement cleats are exactly what comes standard with Frog pedals. They include mounting hardware. They're strong, durable, easier to mount and compatible with virtually all two-hole style shoes in the marketplace. These are for the Frog Titanium, the Frog Stainless, and the Frog Chrome...
Speedplay Speedplay Light Action Cromoly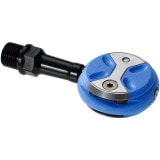 The Speedplay Light Action Pedal System is designed for the seasoned cyclist or for the first time clipless user. It features an advanced hybrid-pedal technology that combines the most user-friendly characteristics found in Speedplay's popular X and Zero road pedals. At a mere 210 grams per pair,...
Speedplay Speedplay Snap Shim Road Cleats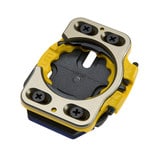 The Snap Shim Road Cleats includes a set of two replacement cleats and complete cleat hardware for Speedplay road pedals. Please note that you must purchase the proper set of cleats for your pedals. Each system has their own cleats and they are not interchangeable. All styles of Zero pedals (Ti,...
Speedplay Speedplay Zero Cromoly Pedals
The Chrome-Moly spindles on Speedplay's entry-level set of Zero pedals makes them the most affordable in the Zero family. They only cause them to weigh 4g more than the Zero stainless, though. 210g/pr. You can choose either a fixed position or up to 15 degrees of float. Zero pedals maintain the...
Speedplay Team Green Zero Stainless Pedals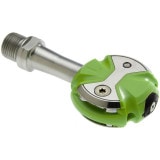 We love limited edition components, and that's exactly what we have here. It's a set of Team Liquigas Green Zero Stainless pedals. They're everything you know and love about the Speedplay Zero Stainless, but in a fresh color. The Zero Stainless is identical in design to the Zero Ti, except for...
Speedplay Team Green Zero Titanium Pedals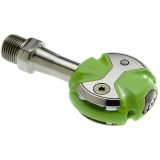 Call them what you will: Team Liquigas Green, Minty Green, Basso or Pelizotti Green -- it doesn't matter to us! What DOES matter is the sex appeal of seeing a set of Speedplay Zero Ti pedals in a fresh color. The Speedplay Zero Pedal System allows you to choose either a fixed position or up to 15...
Speedplay V2 Protector Shim Kit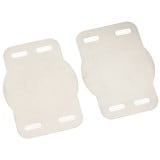 When you bolt clipless pedal cleats onto the bottom of your road shoes they make an impression on them -- regardless of pedal brand. Speedplay makes these carbon sole wear protector shims to serve two purposes: (1) To minimize the deformation of your carbon sole's clear coat. (2) To help keep the...
<< Prev | Back | 1 | 2 | 3 | 4 | 5 | 6 | 7 | 8 | 9 | 10 | More | Next >>