Pedals - Road Bike Shop
Shop
>
Components
>
Forks, Cockpit, Pedals
>
Pedals
Speedplay X5 Road Pedals
Speedplay's most economical X-series pedal. The X5 uses a Chrome-moly steel spindle. They're built with needle and cartridge bearings to give them superior smoothness and longevity. The X5 incorporates an earlier release angle than the race-oriented X1 and X2 -- you'll need only a slight heel...
Speedplay Zero Pave Stainless
The most obvious difference between the Speedplay Zero Pave Stainless and Speedplay's standard Zero pedals is that all of the excess, non-essential material on the pedals has been cleared out. This means that there's less of a chance that road-side debris will accumulate on the pedals and jam...
Speedplay Zero Pave Titanium
Spring may be a long way away, but for some of us, the love of pave lasts all year long. If your cycling routes are rough enough to rival the hardships of the northern classics, then Speedplay's new Zero Pave Titanium pedals are your ticket to a worry-free ride. Used by the pro peloton since 2006...
Speedplay Zero Stainless Road Pedals
Identical in design to the Zero Ti, except for the fact that the spindle is made from Stainless Steel instead of Titanium. This adds a total 42g to a pair of Zero Stainless -- meaning it weighs in at 206g/pr. Like the Ti, the Zero Stainless allows you to choose either a fixed position or up to 15...
Speedplay Zero Titanium Road Pedals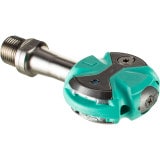 The Speedplay Zero Pedal System allows you to choose either a fixed position or up to 15 degrees of float. Zero pedals maintain the traditional feel of a fixed system while incorporating all the well-known advantages of Speedplay X Pedal Systems. Dual-sided Zero pedals offer light weight, easy...
TIME ATAC XC 12 Titan Carbon Pedals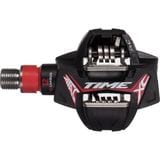 The pedal is one of the more crucial components. However, its importance is often overshadowed by the latest drivetrain, suspension, or wheel trends. Pedals have mountain on their plate, as they need to be light, tough, and easy to use. TIME accomplishes this with its range topping ATAC XC 12...
TIME ATAC XC 6 Pedals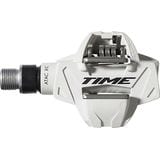 For some companies, keeping weight down means a compromise of durability and function. Not for Time. The full-featured, composite-bodied ATAC XC 6 weighs a hair over 10 ounces, performs like a thoroughbred, and takes a beating like bare-fisted pugilist from the '20s.Time's ATAC (Auto Tension...
TIME MX12 Ti-Carbon Pedal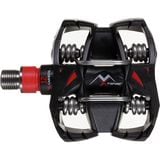 The ability to tune and customize gear for its intended purpose and end user is essential to not only performance, but comfort as well. And, no other pedal manufacturer provides the variety and number of adjustments that Time places into its range-topping MX12 Ti-Carbon. What differentiates the...
TIME MX2 Pedal
Time's entry-level all-mountain pedal, the MX2, provides riders on a budget with large, durable bearings, proven ATAC retention, and a lightweight composite body. Time's ATAC (Auto Tension Adjust Concept) is a simple design, with easy engagement and plenty of float. The spring tension never needs...
TIME RXS Carbon Pedal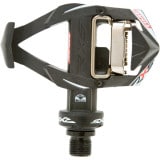 The Time RXS Carbon pedals are ready for those long, false-flat slogs--or lightning-burst sprints to the line. The RXS provides a mild helping of rotational float (+/- 5 degrees), catering to roadies who want just enough movement without feeling the 'slippery' feel. The RSX's composite body keeps...
<< Prev | 1 | 2 | 3 | 4 | 5 | 6 | 7 | 8 | 9 | Next >>