Pedals - Road Bike Shop
Shop
>
Components
>
Forks, Cockpit, Pedals
>
Pedals
Shimano PD-M785 XT Trail Pedal
Retail Price:
$119.95
Our Price: $74.99
buy now
While lightness is always a good thing, there are a few places on the bike that deserve a look at function first. Perhaps you like more surface area than the standard XT pedals offer. These Shimano XT PD-M785 Pedals have an integral cage that gives you a greater area to hit when you have to "stab...
Shimano SH51 SPD Cleats
Retail Price:
$20.95
Our Price: $13.65
buy now
These are the cleats that come with your Shimano SPD Pedals. The SH-51 Cleats are black and have four degrees of float for your feet. Compared to the SH-56 Multi-Release Cleats, these are much more secure and are generally preferred for the experienced rider. To get out of your pedal, you'll have...
Shimano SH56 SPD Cleat Set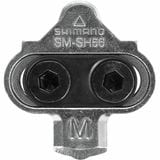 Retail Price:
$20.95
Our Price: $12.99
buy now
The Shimano SH-56 cleats are multi-release, which means you can clip out either to the outside or the inside of the pedal. The cleats can also be released by lifting and twisting your heel which makes them a great choice for those first learning to ride with clipless pedals. Please note that if...
Shimano SPD-SL Long Cleat Bolt Set
Retail Price:
$7.99
Our Price: $5.20
buy now
Some shoes -- especially those made by our French friends at Carnac -- have especially deep wells in the soles for housing the threads into which you screw your pedal cleat bolts. Shimano is aware of this, which is why they supply the world with long bolts for use in this case on the cleats for...
Shimano XTR PD-M985 Trail Pedal
Retail Price:
$179.95
Our Price: $126.00
buy now
While racers often look for the lightest possible parts to lessen their burden, ultimate lightness may not be your first priority. Perhaps you'd like a greater platform to support your shoe when you stand up to bomb down a rocky descent, or to make clipping-in in the midst of a steep climb easier...
Speedplay Base Plate Kit V2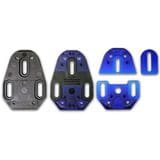 The Speedplay Base Plate Kit V2 is for the 'whoops moment' where you bought three-hole mount shoes that don't accommodate your four-hole Speedplay cleats. Don't worry, we've got your back. The Speedplay Base Plate Kit V2 replaces your four-hole base plates with three-hole base plates. The kit...
Speedplay Brass Knuckles Pedals
Don't be fooled -- the Speedplay Brass Knuckles Pedals may look ready to brawl, but they're just as ready for the podium. The super-thin, CNC'd profile hides a burly spindle that's built to take a beating, and the proprietary pins employed on either side keep your foot locked in place. If you...
Speedplay Drillium Platform Pedals
When was the last time looking at a pedal raised your pulse? The Speedplay Drillium Pedals show that platform pedal design doesn't have to be boring or mundane. They're the ultimate racing flats thanks to the details of their construction. Speedplay incorporates three precision bearings (one...
Speedplay Fore/Aft Extender Base Plate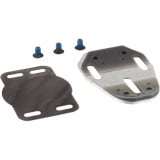 This kit replaces the standard 4-bolt-to-3-bolt base plate that comes with Speedplay cleats. It gives you a significant increase in cleat positioning possibilities. In comparison to the standard base plate, it provides you with 5mm additional forward positioning, and 14mm of rearward positioning....
Speedplay Frog Stainless Mountain Bike Pedals
The Frog Stainless is built on a super-strong, corrosion-resistant stainless steel spindle. While it's a few grams heavier than the titanium version, it has no weight limit and costs 30% less than the Frog Ti. The Frog Stainless is our best-selling Speedplay mountain pedal. Not just a great...
<< Prev | 1 | 2 | 3 | 4 | 5 | 6 | 7 | 8 | 9 | 10 | Next >>