Pedals - Road Bike Shop
Shop
>
Components
>
Forks, Cockpit, Pedals
>
Pedals
Speedplay Drillium Platform Pedals
When was the last time looking at a pedal raised your pulse? The Speedplay Drillium Pedals show that platform pedal design doesn't have to be boring or mundane. They're the ultimate racing flats thanks to the details of their construction. Speedplay incorporates three precision bearings (one...
Speedplay Fore/Aft Extender Base Plate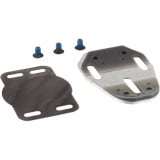 This kit replaces the standard 4-bolt-to-3-bolt base plate that comes with Speedplay cleats. It gives you a significant increase in cleat positioning possibilities. In comparison to the standard base plate, it provides you with 5mm additional forward positioning, and 14mm of rearward positioning....
Speedplay Frog Stainless Mountain Bike Pedals
The Frog Stainless is built on a super-strong, corrosion-resistant stainless steel spindle. While it's a few grams heavier than the titanium version, it has no weight limit and costs 30% less than the Frog Ti. The Frog Stainless is our best-selling Speedplay mountain pedal. Not just a great...
Speedplay Light Action Stainless Pedals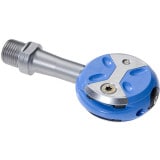 This version of the Light Action pedal comes with spindles made from stainless steel, instead of Titanium or CroMoly steel. These weigh in at 206g, 42g more than the Ti version. It features an advanced hybrid-pedal technology that combines the most user-friendly characteristics found in Speedplay...
Speedplay Light Action Titanium Pedals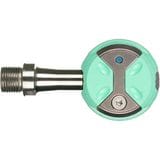 Named "Light Action" after its unique low-force, high-security latch mechanism, the Speedplay Light Action Pedal System provides the easiest and most intuitive entry and release functions ever offered by Speedplay. Its design makes sense for both the seasoned cyclist and for the first time...
Speedplay Nanogram Road Cleat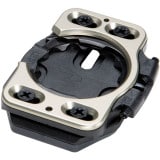 Speedplay Nanogram cleats are lighter and wear quicker than their standard Zero road cleats. So if you've already got the cleats and want to replace them with something equally svelte, or want to shave some weight off your Speedplay Zero cleat/pedal combo without splurging on Nanogram pedals,...
Speedplay Nanogram Zero Titanium Pedals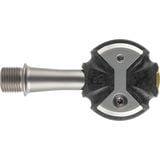 Speedplay Zeros have proven to be one of the best pedals to dance with; light, low stack height, and incredible cornering clearance. The Speedplay Zero Nanogram Titanium is that much better and represents a major step forward for what is already the pedal of choice for Team Saxobank-Sungard....
Speedplay Speedplay Carbon Sole Wear Protector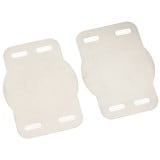 When you bolt clipless pedal cleats onto the bottom of your road shoes they make an impression on them -- regardless of pedal brand. Speedplay makes these carbon sole wear protector shims to serve two purposes: (1) To minimize the deformation of your carbon sole's clear coat. (2) To help keep the...
Speedplay Speedplay Dust Cap Kit
In order to do routine maintenance on the internals of your Speedplay road pedals you need to remove its dust cap. If you remove & reinstall your dust caps enough times, you'll probably want to replace them in order to ensure that they'll stay firmly in place as you ride. Please Note: Due to...
Speedplay Speedplay Frog Chrome-Moly Pedals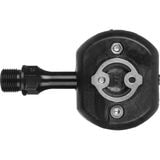 The Frog Chrome-Moly is built on a Chrome-Moly steel spindle to make it the most affordable option in the Speedplay Frog Family. It's not just a great off-road pedal system, Speedplay Frog pedals are ideal for road riders who prefer a recessed, walkable cleat. Like their amphibious namesake, Frog...
<< Prev | 1 | 2 | 3 | 4 | 5 | 6 | 7 | 8 | 9 | Next >>