Pedals - Road Bike Shop
Shop
>
Components
>
Forks, Cockpit, Pedals
>
Pedals
Look Cycle S-Track Pedals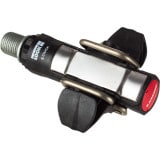 Retail Price:
$99.99
Our Price: $40.00
buy now
When it comes to pedaling efficiency, few manufacturers can claim the experience or the technical know-how that Look can. With that experience, the move from pavement to dirt wasn't a huge leap. The Look S-Track Pedal has made a huge impact on the mountain bike industry, and has excelled where...
OneUp Components Aluminum Pedal
Born ready to grip it and rip it, the OneUP Components Aluminum Pedal offers a grippy, smooth-rolling, and durable platform for big days out on the bike. It's designed from stealth rubber down and shaped with a subtle convex profile to provide you with more grip thanks to the pedal sitting in the...
PowerTap P1 Power Meter Pedals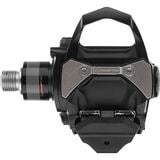 Freedom to measure power data from any bike you've got stashed in the garage is a valuable thing, and until now, it wasn't an option available from PowerTap. The P1 Power Meter Pedals represent a huge step forward for the brand's versatility, measuring power entirely from one mechanism contained...
PowerTap P1 Road Cleats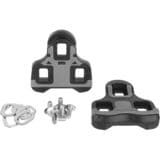 We've recently seen some misinformation circulating around the Internet about cleat compatibility for PowerTap's P1 pedals. A few reviews from popular sites noting that certain cleats from other manufacturers sorta kinda work with the pedals has led to people trying to mash cleats into pedals...
PowerTap P1S Power Meter Pedal
Given the ever evolving options in frameset aerodynamics, tire clearance, gram reduction, brake standards, and our own dogged adherence to the n+1 rule, we often find ourselves with a variety of different options in the stable. Climbing bikes, crit sleds, TT rockets, gravel adventurers--every...
Race Face Atlas Pedals
Retail Price:
$179.99
Our Price: $152.99
buy now
If you're strong enough, you can lock your bike into a stand, put all your power into the RaceFace Atlas Pedals, and actually slow down the Earth's rotation. It'll have all sorts of unfortunate consequences, probably, but it'd impress the hell out of a lot of people. If you're more interested in...
Race Face Chester Pedal
Retail Price:
$54.95
Our Price: $46.99
buy now
Having a place to put your feet is a pretty non-negotiable part of cycling, but, you don't want to spend your post-ride refreshment budget (and part of next month's rent) on flashy pedals, either. Race Face's Chester Pedals don't have the shiny aluminum construction of some of their pricier...
Shimano A530 SPD Pedals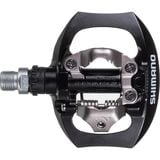 Retail Price:
$79.95
Our Price: $37.95
buy now
Changing pedals is a task even the most diehard mechanic dislikes. Clockwise, counterclockwise, right thread, left thread -- do any of us ever get it right the first time? For this reason the Shimano A530 SPD Pedals may just become your pedal of choice. While most pedals feature either a...
Shimano Dura-Ace 9000 Cleats
Retail Price:
$27.00
Our Price: $16.98
buy now
If you've upgraded your pedals to the Dura-Ace 9000 series, no doubt you're putting in the miles. When your cleats wear out, as they will, you'll need the Dura-Ace 9000 Cleats to keep you locked in. These are the 9000-series Blue cleats, which give you one degree of float, a new option for...
Shimano Dura-Ace PD-R9100 +4mm SPD SL Pedals
Retail Price:
$279.99
Our Price: $181.99
buy now
No bike build is complete without the right set of pedals, and if you've just upgraded to a shiny new Dura-Ace R9100 groupset, the Shimano Dura-Ace PD-R9100 +4mm SPD SL Pedals are the natural choice to complete. As we'd expect from anything branded Dura-Ace, these pedals boast a race-worthy blend...
<< Prev | Back | 1 | 2 | 3 | 4 | 5 | 6 | 7 | 8 | 9 | 10 | More | Next >>