Pedals - Road Bike Shop
Shop
>
Components
>
Forks, Cockpit, Pedals
>
Pedals
Speedplay Nanogram Zero Titanium Pedals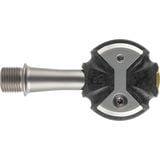 Speedplay Zeros have proven to be one of the best pedals to dance with; light, low stack height, and incredible cornering clearance. The Speedplay Zero Nanogram Titanium is that much better and represents a major step forward for what is already the pedal of choice for Team Saxobank-Sungard....
Speedplay Platformer 2.0
Speedplay's innovative pedal design effectively moves the pedal platform from the spindle to the sole of your shoe. While this design nets benefits in weight, it has one drawback: no cycling shoes; no cleats; no pedal platform. The Platformer 2. 0 addresses this with a simplified, one-piece...
Speedplay Speedplay Dust Cap Kit
In order to do routine maintenance on the internals of your Speedplay road pedals you need to remove its dust cap. If you remove & reinstall your dust caps enough times, you'll probably want to replace them in order to ensure that they'll stay firmly in place as you ride. Please Note: Due to...
Speedplay Speedplay G3 Frog Cleats
These replacement cleats are exactly what comes standard with Frog pedals. They include mounting hardware. They're strong, durable, easier to mount and compatible with virtually all two-hole style shoes in the marketplace. These are for the Frog Titanium, the Frog Stainless, and the Frog Chrome...
Speedplay Speedplay Leg Length Kit V2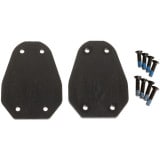 If you and your doctor determine that you have a leg length discrepancy, this kit is possibly what you need: Each Speedplay Leg Length Kit V2 contains several thin shims in the shape of a Snap Shim cleat. You can add and remove shims to equalize the distance between your Speedplay pedal and the...
Speedplay Speedplay Light Action Cromoly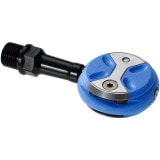 The Speedplay Light Action Pedal System is designed for the seasoned cyclist or for the first time clipless user. It features an advanced hybrid-pedal technology that combines the most user-friendly characteristics found in Speedplay's popular X and Zero road pedals. At a mere 210 grams per pair,...
Speedplay Speedplay Snap Shim Road Cleats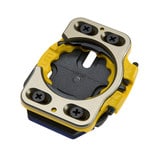 The Snap Shim Road Cleats includes a set of two replacement cleats and complete cleat hardware for Speedplay road pedals. Please note that you must purchase the proper set of cleats for your pedals. Each system has their own cleats and they are not interchangeable. All styles of Zero pedals (Ti,...
Speedplay Speedplay Zero Cromoly Pedals
The Chrome-Moly spindles on Speedplay's entry-level set of Zero pedals makes them the most affordable in the Zero family. They only cause them to weigh 4g more than the Zero stainless, though. 210g/pr. You can choose either a fixed position or up to 15 degrees of float. Zero pedals maintain the...
Speedplay SYZR Cleat Set
The SYZR Cleat Set is built to take full advantage of Speedplay's revolutionary foray into the world of off-road pedals. The pedal system's ten degrees of customizable float is located in the cleat, which means that you don't have to reposition the cleat in order to adjust the angle. The float...
Speedplay Team Green Zero Stainless Pedals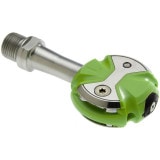 We love limited edition components, and that's exactly what we have here. It's a set of Team Liquigas Green Zero Stainless pedals. They're everything you know and love about the Speedplay Zero Stainless, but in a fresh color. The Zero Stainless is identical in design to the Zero Ti, except for...
<< Prev | 1 | 2 | 3 | 4 | 5 | 6 | 7 | 8 | 9 | Next >>