Pedals - Road Bike Shop
Shop
>
Components
>
Forks, Cockpit, Pedals
>
Pedals
Look Cycle Keo Road Cleat
Look's Keo Road Cleats are built to last longer than the previous generation of Look cleats, and they also engage and disengage with less friction. The cleat is made from polyamide nylon with co-molded Teflon toe and heel inserts. The Keo cleats are available in two options: red (for 9 degrees of...
Look Cycle S-Track Carbon Ti Pedals
Versatile, lightweight, and reliable, the Look Cycles S-Track Carbon Ti Pedals is ready to tackle any and all enduro, all-mountain, or cross-country rides. A first in the mountain biking world, the S-Track offers a dual-contact surface area which not only allows spikes to be installed by...
Look Cycle S-Track Pedals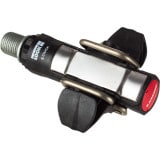 When it comes to pedaling efficiency, few manufacturers can claim the experience or the technical know-how that Look can. With that experience, the move from pavement to dirt wasn't a huge leap. The Look S-Track Pedal has made a huge impact on the mountain bike industry, and has excelled where...
Look Cycle S-Track Race Pedals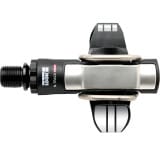 Look Cycle has been designing clipless pedals as long as just about anyone, and the S-Track Race Pedals leverage those decades of expertise into a new pedal design that's user-friendly and highly-customizable. However, it's the new cleat design that makes these one of the best mud-shedding pedals...
Look Cycle S-Track Race Ti Pedals
There are a ton of ways to increase pedaling efficiency. Stiff-soled shoes, clipless pedals, stiff crankarms, and on and on. To that end, the Look uses a few different approaches to increasing pedaling efficiency. In doing so, it created the S-Track Race Ti Pedal. The S-Track implements a large,...
OneUp Components Aluminum Pedal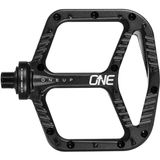 Born ready to grip it and rip it, the OneUP Components Aluminum Pedal offers a grippy, smooth-rolling, and durable platform for big days out on the bike. It's designed from stealth rubber down and shaped with a subtle convex profile to provide you with more grip thanks to the pedal sitting in the...
OneUp Components Composite Pedal
Based on the same confidence-inspiring platform as OneUp Components' Aluminum Pedal, the OneUp Composite Pedal brings you similar performance with ideal grip, size, and weight, but at less than half the price. DU and cartridge bearing technology delivers easy serviceability, smooth rotation, and...
PowerTap P1 Power Meter Pedals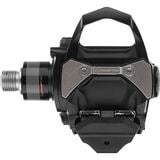 Freedom to measure power data from any bike you've got stashed in the garage is a valuable thing, and until now, it wasn't an option available from PowerTap. The P1 Power Meter Pedals represent a huge step forward for the brand's versatility, measuring power entirely from one mechanism contained...
PowerTap P1 Road Cleats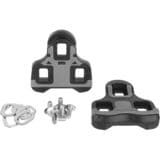 We've recently seen some misinformation circulating around the Internet about cleat compatibility for PowerTap's P1 pedals. A few reviews from popular sites noting that certain cleats from other manufacturers sorta kinda work with the pedals has led to people trying to mash cleats into pedals...
PowerTap P1S Power Meter Pedal
Given the ever evolving options in frameset aerodynamics, tire clearance, gram reduction, brake standards, and our own dogged adherence to the n+1 rule, we often find ourselves with a variety of different options in the stable. Climbing bikes, crit sleds, TT rockets, gravel adventurers--every...
<< Prev | Back | 1 | 2 | 3 | 4 | 5 | 6 | 7 | 8 | 9 | 10 | More | Next >>