Pedals - Road Bike Shop
Shop
>
Components
>
Forks, Cockpit, Pedals
>
Pedals
Shimano PD-M540 SPD Pedals
Retail Price:
$79.95
Our Price: $49.99
buy now
Unless your daily bread depends on your race resume, or you just won the lottery, saving money in areas where it doesn't compromise performance is just a smart choice. The Shimano PD-M540 SPD Pedals include many of the same features of the XTR pedals at a fraction of the cost. The open binding of...
Shimano SH51 SPD Cleats
Retail Price:
$16.00
Our Price: $10.98
buy now
The Shimano SH51 SPD Cleats offer four degrees of float, and more experienced riders will typically prefer these over the Multi-Release SH-56 cleats. They take a bit more to get unclipped, but the added security in rough terrain is a worthy tradeoff.
Shimano SH56 SPD Cleat Set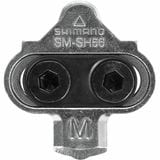 Retail Price:
$16.00
Our Price: $11.95
buy now
Clip in and get going with the Shimano SH56 SPD Cleat Set. Designed to pair with Shimano SPD pedals, these cleats are multi-release so you can clip out by twisting your foot to either the inside or outside of the pedal. With the option to lift and twist your heel to unclip, these cleats are a...
Shimano SPD-SL Cleat Set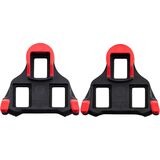 Retail Price:
$27.00
Our Price: $18.93
buy now
Shimano's SPD-SL Cleat Set includes two cleats and all the installation hardware you'll need. The cleat set is compatible with all Shimano SPD-SL pedals, including the Dura-Ace PD-7810 and the Ultegra PD-6620 models. The SM-SH11s are the Black/Yellow floating cleats with 6 degrees of float--this...
Shimano XT PD-M8000 XC Pedal
Retail Price:
$119.99
Our Price: $67.99
buy now
The Shimano XT PD-M8000 XC Pedals combine bombproof durability with lightweight efficiency for cross-country racers, dedicated trail riders, 'cross enthusiasts, and even road riders. Redesigned for 2016, the M8000 XC Pedals benefit from a 7. 7 percent increase in pedal-to-shoe contact while...
Speedplay 4x16-8 Screw Pack V2
Some shoes have especially deep wells in their soles for housing the threads into which you fasten your pedal cleat screws. Speedplay is aware of this, which is why they offer these 4 x 15mm bolts for mounting Zero, X Series, and Light Action cleats. One packet of these screws is enough for two...
Speedplay Brass Knuckles Pedals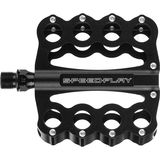 The Speedplay Brass Knuckles Pedals are built to take a beating so you don't have to, delivering you a super-thin profile that's designed to carry you to the podium. The Brass Knuckle's feature a thin, CNC-machined profile with a huge footprint and removable pins on either side to provide you...
Speedplay Cleat-Fastening Screw Torque Wrench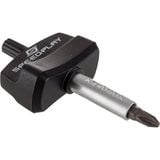 Attach your cleats just right with the Speedplay Cleat-Fastening Screw Torque Wrench. The wrench makes sure you install your cleats to the correct torque, so your cleat setup will be secure every time you're in the saddle.
Speedplay Drillium Platform Pedals
When was the last time looking at a pedal raised your pulse? The Speedplay Drillium Pedals show that platform pedal design doesn't have to be boring or mundane. They're the ultimate racing flats thanks to the details of their construction. Speedplay incorporates three precision bearings (one...
Speedplay Dust Cap Kit
In order to do routine maintenance on the internals of your Speedplay road pedals you need to remove its dust cap. If you remove & reinstall your dust caps enough times, you'll probably want to replace them in order to ensure that they'll stay firmly in place as you ride. Please Note: Due to...
<< Prev | Back | 1 | 2 | 3 | 4 | 5 | 6 | 7 | 8 | 9 | 10 | More | Next >>